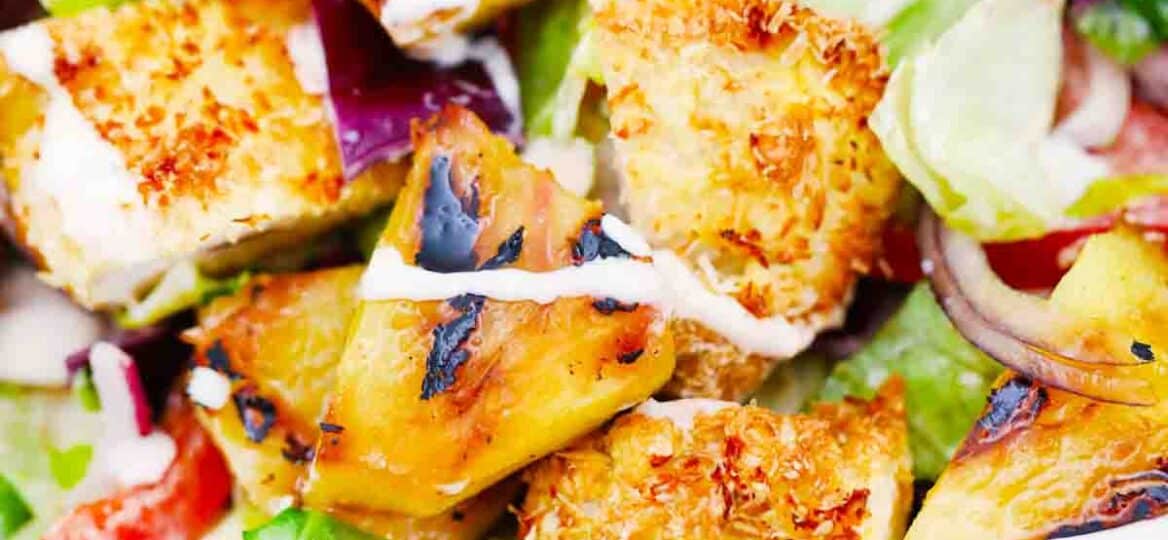 Pina Colada Chicken Salad Recipe
Pina Colada Chicken Salad is a delicious, refreshing dinner with unique flavors and textures in every juicy bite! The mouthwatering chicken salad flavors meld perfectly with each other to use as a sandwich spread as well for a hearty lunch. The taste is both sweet and savory, so it goes with just about any side dish too from veggies to fruits.
Chicken salad is a distinctly American meal made with any kind of chicken combined with mayo, celery, eggs, pickles, and onion. According to historians, it was first made in 1863 when a shop owner, Liam Gray, mixed up some leftover chicken with grapes, spices, herbs, and mayonnaise. But it was first recorded in The Carolina Housewife by Sarah Rutledge in 1847 and Abby Fisher's cookbook in 1881. They both used homemade mayo and similar ingredients.
For this luscious pina colada chicken salad, all you need are a handful of ingredients including chicken, pineapple, red bell peppers, onion, lettuce, and some homemade dressing. In this dish, we use a creamy coconut milk dressing with lime and pineapple for a tangy and mouthwatering flavor. Whether you are serving it as a meal, appetizer, or side dish, you will get many compliments.
Ingredients needed:
These are the simple ingredients for this pina colada chicken salad. Scroll down to our recipe card for the complete instructions and measurements.
Boneless skinless chicken breasts: Cut into tenders.
Pineapple
Red bell pepper: Thinly sliced.
Sliced red onion
Romaine lettuce: Chopped.
Radicchio: Chopped.
All-purpose flour
Shredded coconut
Large eggs: At room temperature.
Lime zest
Lime juice
Maple syrup
Kosher salt
Freshly ground black pepper
Dressing:
Full-fat coconut milk
Juice of 1 lime
Avocado oil
Balsamic vinegar
Pineapple juice
Crushed red pepper flakes
Kosher salt
Freshly ground black pepper
Garnish:
Toasted coconut
Macadamia nuts
Chopped fresh basil
How to make pina colada chicken salad from scratch?
Preheat oven: First, preheat your oven to 400 degrees F.

Prep your coating: In the meantime, mix salt, pepper, and flour in a large bowl. In a separate bowl, beat eggs. Fill another bowl with coconut.

Dry and dredge: Now, pat chicken tenders dry with a paper towel before dredging them in flour, egg, and coconut in that order. Place them on a baking sheet lined with parchment paper as you go.

Bake the chicken: The oven should be hot by now so go ahead and bake the coated chicken for about 12 minutes or until it is cooked and the coconut is golden brown.

Season the pineapple: While you wait, mix the maple syrup and lime together in a small bowl. Then, slice the pineapple and brush it with the lime and maple mixture. Cut the slices into small bite-sized chunks.
Make the pineapple lime dressing: Next, whisk together the dressing ingredients in a small bowl.

Prepare the salad: After, mix the romaine lettuce, pineapple, chicken, and red peppers in a large bowl.

Garnish and serve: Finally, top your salad with dressing and serve with chopped macadamia nuts, toasted coconut, and fresh basil.
Recipe variations:
Greek yogurt: For less fat in your pina colada chicken salad, use plain Greek yogurt instead of coconut milk.

Other cuts: Instead of using chicken breasts, you could use meat from the thigh, wing, or drumstick.
Different meats: Feel free to try a different meat in this salad like turkey, pork, or tuna.

Other zest: For a completely different flavor, use orange or lemon zest instead of lime.

Too sweet: If you want to balance out the sweetness, replace half of the pineapple juice with chicken broth.

Other milk: You could also cut down on fat and calories using regular or almond milk. Regular milk will make it less sweet and almond milk has the least calories and fat.

Add fresh herbs and spices: Be creative. Add whatever fresh herbs and spices you like such as thyme, smoked paprika, rosemary, garlic powder, or onion powder.
How to serve:
You can serve this tropical-style salad as a whole meal, a hearty side dish, or a snack anytime. Here are some great serving ideas you can use. Or share some of your own ideas in the comments section at the bottom of the page. I love to hear from my readers!
Sprinkle some shredded cheese on top like mozzarella, cheddar, or Monterey Jack.

For a tropical dessert to go with this salad, try our rich and creamy instant pot pina colada cheesecake.

Similarly, you can add a handful of dry cheese such as romano or parmesan.

Instead of our pineapple lime dressing, feel free to use whatever kind you like. Or try one of our recipes like this lively homemade Italian dressing.

Another way to top this delicious dish is with some crunchy croutons or crostini.

This pineapple mango daiquiri would be the perfect beverage to go with your pina colada chicken salad.

Alternatively, make pineapple lemonade for the kids and non-drinkers.
Frequently asked questions
What is radicchio?
Similar to red cabbage, radicchio is a red chicory that is leafy and almost looks like lettuce. The flavor is bitter, and it is often found in Italian dishes to balance out a sweet flavor such as with this pina colada chicken salad. It comes in different forms like lettuce including stalk, round, or chopped, often used as a garnish or in a salad.
How do I toast coconut?
First, preheat your oven to 325 degrees F and spread coconut flakes on a baking sheet in a single thin layer. The pan should be lightly sprayed with nonstick cooking spray or olive oil. You could also cover it with parchment. Then, bake for 10 minutes, stirring them every few minutes.
What is the difference between red and green bell peppers?
Actually, they are the exact same vegetable, but they come in different colors depending on their ripeness. The red ones are fully ripened so they are sweeter and softer. Green peppers are the least ripe and are more bitter than the others. Then there are orange and yellow in between those. The riper they are, the more nutrients they have as well.
What other kind of vinegar can I use?
There are quite a few different types of vinegar including white wine, malt, apple cider, and red wine as well as white or rice vinegar. In fact, if you do not have any vinegar at all, substituting it with lemon or lime juice will also work. Another great stand-in for balsamic vinegar is red wine.
What are the nutrition facts in this recipe?
Each serving of this pina colada chicken salad has 354 calories, 54 carbs, 30 grams of fat, 12 grams of saturated fat, and 1 gram of trans fat. It also has 1,232 mg of sodium, 37 grams of sugar, and 54 mg cholesterol. But on the good side, you also get 17 grams calcium, 23 units of vitamin A, 1 mg iron, 6 mg vitamin C, and 349 mg potassium.
More salad recipes to try:
How to store leftovers:
Store: Refrigerate your leftover pina colada chicken salad in an airtight container right away. It will stay fresh in the fridge for up to a week.
Freeze: To freeze, pack your leftovers in a freezer bag and it will last up to 90 days in the freezer.
Thaw: Thaw your pina colada chicken salad in the refrigerator overnight before serving for the best flavor and texture. You may have to drain some water if it is too runny.
Recipe tips:
Make sure your chicken is done before serving. It should read 160 degrees F on an instant-read thermometer.

Shorten prep time considerably using rotisserie chicken (or any pre-cooked chicken), precut veggies, and premade dressing.

Be sure to taste the salad before and after adding salt and pepper.

To make every single bite equally tasty, try to chop all the pieces about the same size.

Make sure your eggs are warmed to room temperature before using them.

If you are not a fan of spicy food, leave out the red pepper flakes.

Instead of maple syrup, you can use agave syrup or honey.

No coconut milk? No problem! Try almond, cashew, soy, or oat milk instead.
Pina Colada Chicken Salad
Ingredients
1/2

c.

all-purpose flour

Kosher salt and freshly ground black pepper

2

large eggs

1

cup

shredded coconut

unsweetened

1

teaspoon

lime zest

1

lb.

chicken breasts

boneless skinless - cut into tenders

1

large head romaine lettuce

chopped

1

radicchio

chopped

1/2

red onion

thinly sliced

1

red bell pepper

thinly sliced
Grilled pineapple:
2

tablespoons

maple syrup

1

tablespoon

lime

1/2

pineapple
Dressing:
1/3

cup

full-fat coconut milk

1

lime

juiced

3

tablespoons

avocado oil

1

tablespoon

balsamic vinegar

1

tablespoon

pineapple juice

Pinch

crushed red pepper flakes

Salt and pepper

to taste
Garnish:
1

teaspoon

fresh basil

chopped

Macadamia nuts

Toasted coconut
Instructions
Preheat oven to 400 degrees F.

In a shallow bowl, mix flour with some salt and pepper. In another shallow bowl, beat the eggs. In a third shallow bowl, add shredded coconut and lime zest, and stir to combine.

Dredge chicken in flour, after that in the egg, then in shredded coconut, well to coat, and transfer to a parchment paper lined baking sheet.

Bake chicken until cooked through and golden, about 12-15 minutes.

Slice the pineapple, brush the slices with maple syrup and lime mixture.

Cut it into chunks and cook on the hot grill for a few minutes on both sides, it should be nicely charred.

In a large bowl combine romaine lettuce, radicchio, red onion, bell pepper, grilled pineapple, and baked chicken.

In a small bowl, whisk together dressing ingredients and drizzle it over the salad.

Garnish with basil, some toasted coconut, and chopped macadamia nuts. Serve.
Deliciousness to your inbox
Enjoy weekly hand picked recipes and recommendations