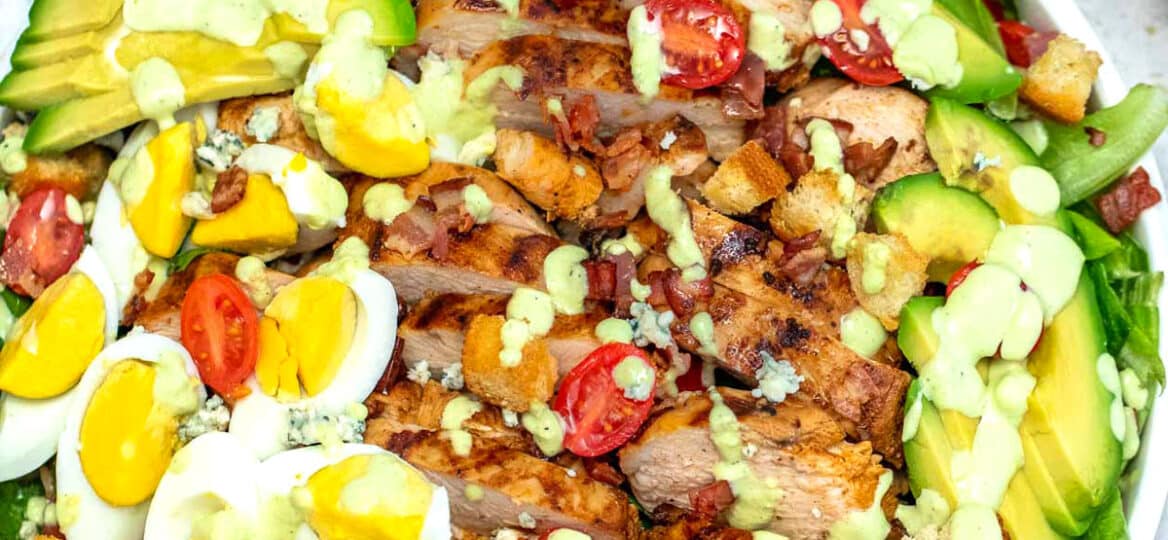 Classic Cobb Salad Recipe [Video]
Cobb Salad features a bed of romaine lettuce, blue cheese, grilled chicken breast, tomato, hard-boiled eggs, all tossed in a creamy homemade dressing! This is a healthy salad with plenty of proteins that can easily be considered a full meal!
I love making homemade salads because they are healthy, fresh, and delicious. My other go-to favorites during the summer season are Crab Salad, Arugula Salad, and Cucumber Salad.
This Cobb Salad is totally a classic and quintessential American dish. Its history dates back to 1937 when it was first put together by Robert Cobb. Since then, this dish has become popular everywhere around the world. And to be honest, it is one of my favorite dishes to serve during the summer times.
We love it because it is flavorful, hearty, and comforting! It has excellent combinations of flavors that are tried and tested over the years. The homemade creamy dressing simply ties the whole thing together.
To be honest, this is a complete meal on its own as it has fiber, protein, fat, and carbohydrates. So, it is quite healthy and filling, and can easily be served as a main dish.
And, its ease of preparation makes it an ideal meal to serve a large crowd. So, if you have a huge family, then, this is a great option to include in your regular menu rotation!
Salad Ingredients:
Greens – I use romaine lettuce here because I easily find them in my local grocery store. However, feel free to use iceberg or watercress lettuces as well. Both will work just as fine.
Chicken – During summer days, I use grilled chicken. But you can also use leftovers from roast chicken, or rotisserie chicken.
Bacon – Who doesn't like bacon? 🙂 Crispy bacon adds a nice crunch to it and plenty of flavors. So, do not be afraid to add some extra.
Hard-boiled eggs – Cut into smaller pieces.
Olive oil and lemon juice
Seasoning – Paprika, salt, and black pepper to taste.
Avocado
Garlic – Freshly minced garlic.
Grape tomatoes
Blue cheese
Croutons – To garnish and add some extra crunch to it.
Mayonnaise, Parmesan cheese, and Greek yogurt – Used to make the homemade dressing.
How to make the best Cobb Salad?
Prepare the meat: First, season the chicken and heat the non-stick grill pan with olive oil. Cook the chicken breasts until done on both sides. Once done, remove it from heat and set it aside. While grilling, you may cook the bacon, and boil the eggs.
Make the dressing: Next, put all the dressing ingredients in the blender and season with salt and pepper. Add a bit of cold water if you find it too thick.
Assemble: Cut the chicken, eggs, and bacon. Arrange the lettuce in a big bowl and top it with the rest of the ingredients.
Toss: Lastly, top everything with the dressing and croutons. Toss and serve!
What is a Cobb Salad?
It is a healthy salad made with chicken, bacon, eggs, cheese, and a lot more ingredients served on a bed of greens. This dish is said to have been named after the owner of the Hollywood Brown Derby restaurant who popularized this recipe.
Whether it was Robert Howard Cobb himself who combined leftovers and came up with this dish or it was simply named after him by another chef, the history of this dish is unverified.
What is the difference between Cobb and Chef Salad?
Both dishes sport some meat and hard-boiled eggs over a bed of lettuce. But the key difference is that the Cobb Salad has avocado and tomatoes which lend it a flair of Southwestern flavors.
More Dressing options:
Want more dressing options to go with it? Then, try the following:
Add some red wine vinegar
Dijon mustard
Is it healthy?
Yes! It has lots of vegetables that give you fiber and nutrients. You get protein from bacon and eggs. Calcium is what you get from the cheeses. And you get healthy fat from avocado and olive oil.
While this is a high-calorie recipe overall, the calories come from fresh and healthy ingredients. Just remember proper portioning to maintain your caloric intake at a healthy level.
What goes with Cobb Salad?
How to store it?
You can prepare and store the leftover ingredients separately, especially the dressing, and keep in the fridge for up to a week.
When storing the romaine lettuce, it is better to line the container with paper towels to absorb excess moisture to retain the crispness.
Then, just assemble everything later.
More delicious salads to try: