Bacon Cheddar Corn Fritters [Video]
Corn Fritters are crispy on the outside but fluffy on the inside! Make this classic favorite with this recipe for a quick breakfast or side dish! The good news about this recipe is that you can use fresh or frozen corn!
Looking for quick snacks to serve like this? Check out our recipes for Crack Turkey Pinwheels, Microwaved Sweet Potato, and Instant Pot Cinnamon Apples!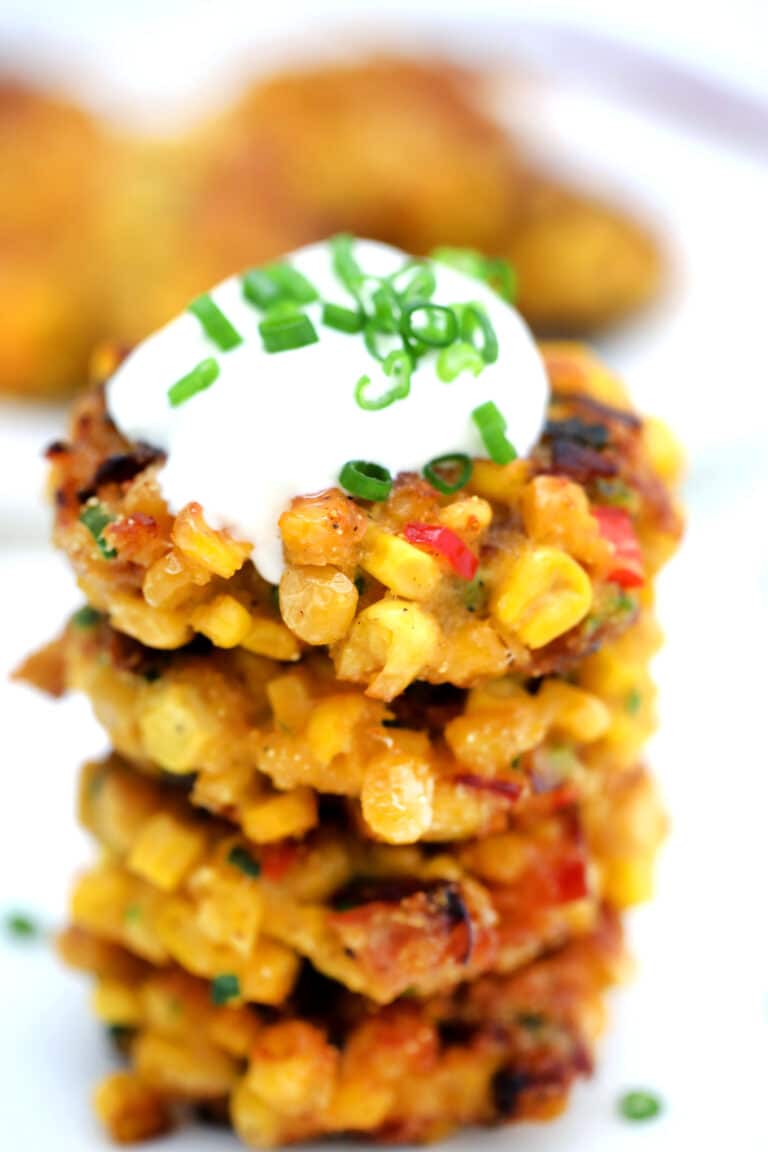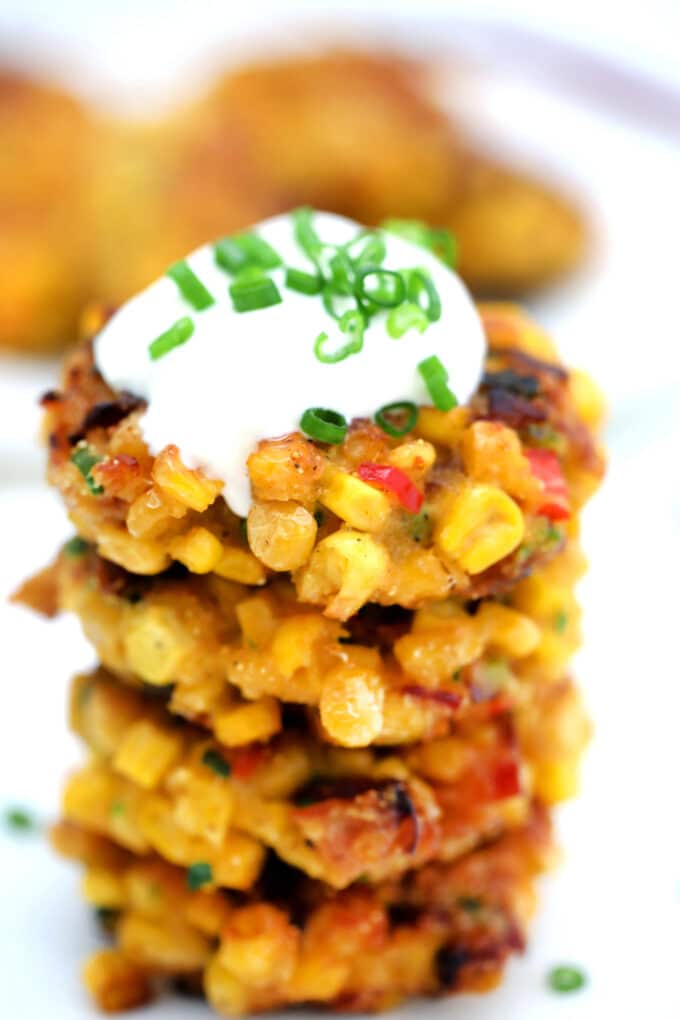 Bacon Cheddar Corn Fritters
Corn Fritters are a classic! I grew up eating this pastry and my mother used to cook it for us in the afternoon. It has long been invented probably by people in the South with their long history of deep-frying.
Cultivation of maize has long started by Native Americans. When the Europeans arrived, frying and making bread recipes out of this local grain started.
It is not surprising that dishes out of maize are still popular to this day. Besides, it is still a staple food for a lot of people all over the world. Feel free to make it with fresh or frozen corn. This way you can enjoy them year-round!
I grew up eating the sweet version of this dish but this time, I will share how I do it savory-style. Isn't it versatile? Let me show you how!
What are corn fritters?
They are like mini pancakes but with maize kernels added in the batter. Some versions call for pan-frying them while others call for deep-frying. Either way, they produce puffy and delightful pastries flavored with corn.
In this version, in addition to the kernels, vegetables, herbs, cheese, and other seasonings are also mixed in the batter.
What are corn fritters made of?
To make the savory version of this dish, you need to have the following:
corn
bacon
cornmeal
all-purpose flour
egg
green onion
jalapeno
cheddar cheese
smoked paprika
salt and pepper
milk
oil
sour cream as a topping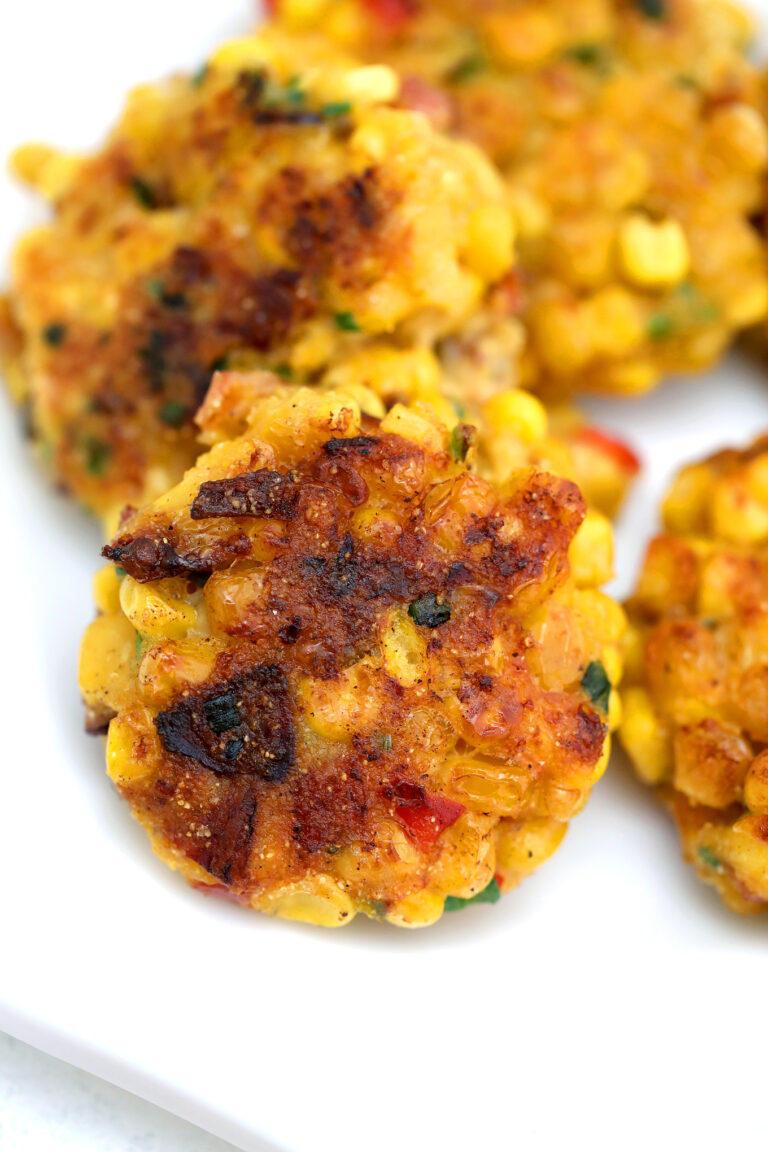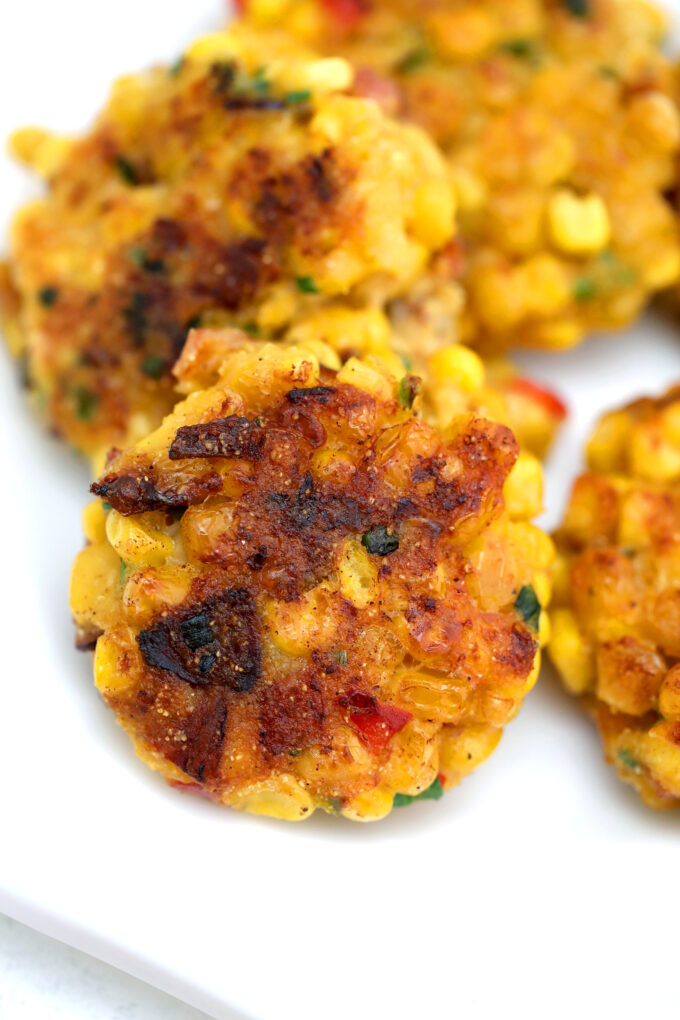 How do you make corn fritters:
Mix the batter: In a bowl, mix all the ingredients except for the oil and milk. Leave out the sour cream, too, since it is the topping.
Stir in the milk: Then, slowly add in the milk just until the mixture is moist but not overly wet. It must be able to maintain its shape when formed.
Fry: Heat some oil and start frying. In the pan, put 2 to 3 spoonfuls of the mixture at a time. Wait until the underside turns golden before you flip each piece. Each side may take 3 to 4 minutes of cooking.
Serve: Top with sour cream then, serve!
Recipe Variations:
This recipe is for the savory version. If you want to make it into a dessert, then, you can simply change up the ingredients. Just follow the same procedure described in this recipe but use this set of ingredients instead:
cream-style corn
egg
all-purpose flour
baking powder
salt
sugar
maple syrup as a topping
Are corn fritters healthy?
Yes since the cereal grain used in this recipe is healthful. Though frying can pose some health concerns, the overall caloric value of this dish is not so high considering that.
It is because that maize has only 96 calories per 100 grams. Though slightly sweet-tasting, it has a low glycemic index which means that your blood sugar will not spike up rapidly after consuming it.
It has various vitamins, minerals, and antioxidants that can improve your health, most especially, your eyesight. It has protein and fiber, too!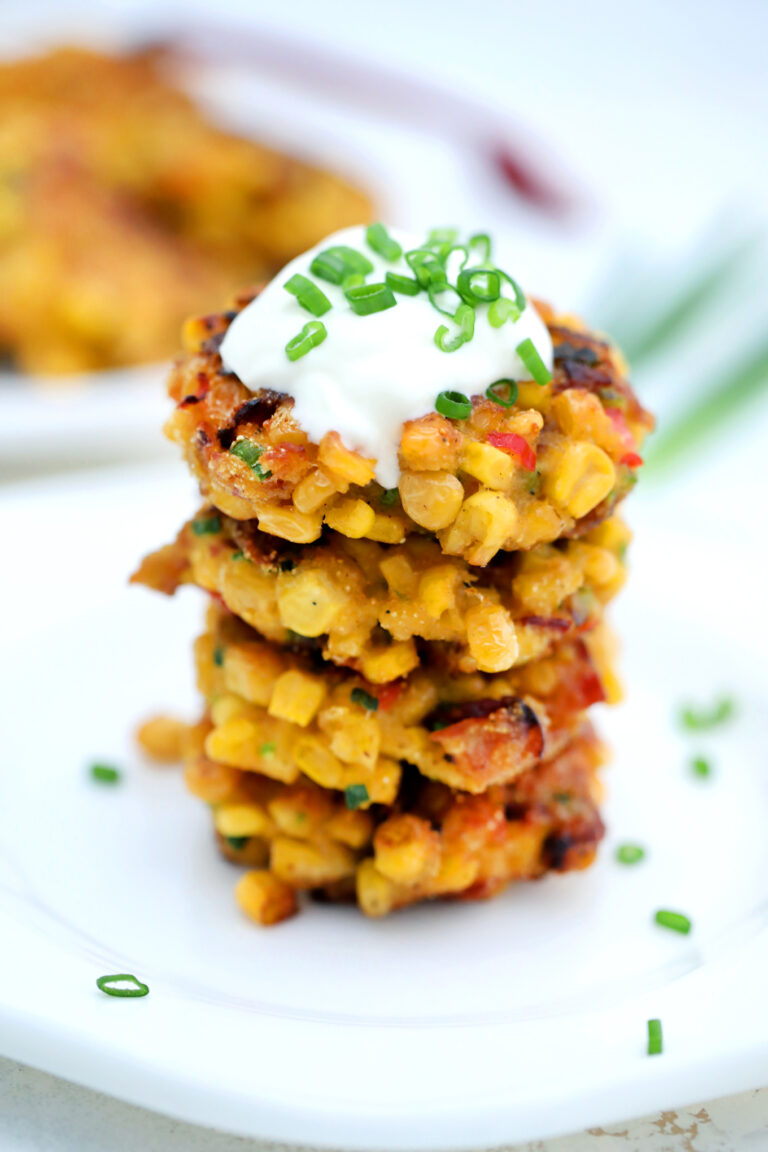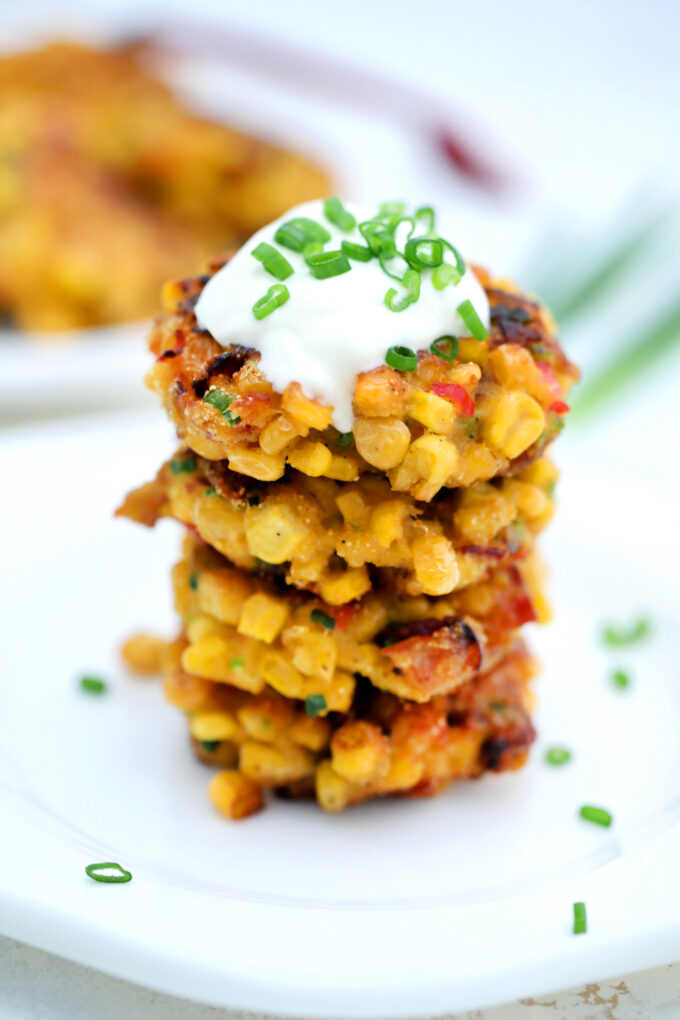 How to Store:
Refrigerate: Simply put them in airtight containers and refrigerate for up to 3 days.
Freeze: They freeze well for up to 3 months. You can opt to put each piece in individual freezer bags.
To reheat: Let frozen ones thaw in the fridge then, you can reheat them by frying again in a pan or by heating in a toaster.
More delicious breakfast recipes:
California Chicken Breakfast Buritto
Croissant French Toast Casserole
Recipe Tips:
When frying, be sure to not overcrowd the pan. Overcrowding will lower the temperature of the oil. Remember that quick frying will give you crispy ones.
If you have leftover corn on the cob, then, this recipe is a great solution to make another dish out of it. You can use fresh, canned, or frozen. When using canned ones, drain the kernels completely. The same goes for the frozen ones which you will have to thaw first.
Also, to drain excess oil put the cooked pieces on a paper-lined plate. You may have to put some more oil in the pan before starting with another batch.
This dish makes for a great lunchbox meal! Serve with pork or beef.
You may change up the veggies included in the batter as well as the combination of herbs. If you will serve this to kids, you may have to leave out the jalapeno.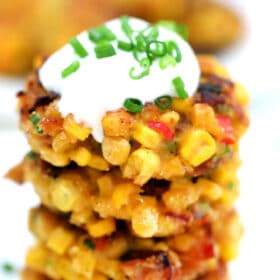 Bacon Cheddar Corn Fritters
Corn Fritters are crispy on the outside but fluffy on the inside! Make this classic favorite with this recipe for a quick breakfast or side dish!
Save
Share
Print
Pin
Rate
Ingredients
2

cups

corn fresh

(frozen or leftover corn on the cob)

1/3

cup

bacon

(finely chopped bacon)

1/3

cup

cornmeal

1/3

cup

all-purpose flour

1

egg

1/4

cup

green onion

(diced)

1

jalapeno

(minced)

1/2

cup

cheddar cheese

(shredded)

1/4

teaspoon

smoked paprika

1/4

cup

milk

(or more if needed)

3

tablespoons

oil

Salt and pepper

(to taste)
Instructions
Combine all ingredients except the milk and oil in a small bowl and mix well.

Add milk little by little to get a moist mixture that can still hold its shape.

Cover a cutting board with parchment paper and set aside.

Spoon 3 tablespoons of the corn mixture onto your hands, form a ball after which press to form a patty. Place onto the prepared cutting board. Repeat with the rest of the mixture. Freeze for 15-20 minutes.

Heat oil over medium heat in a large pan. Once hot, add the patties and cook 3-4 minutes per side or until golden. Repeat with the remaining patties.

Top with sour cream before serving.
Nutrition
Calories:
121
kcal
|
Carbohydrates:
13
g
|
Protein:
4
g
|
Fat:
6
g
|
Saturated Fat:
1
g
|
Cholesterol:
19
mg
|
Sodium:
55
mg
|
Potassium:
130
mg
|
Fiber:
1
g
|
Sugar:
2
g
|
Vitamin A:
172
IU
|
Vitamin C:
4
mg
|
Calcium:
40
mg
|
Iron:
1
mg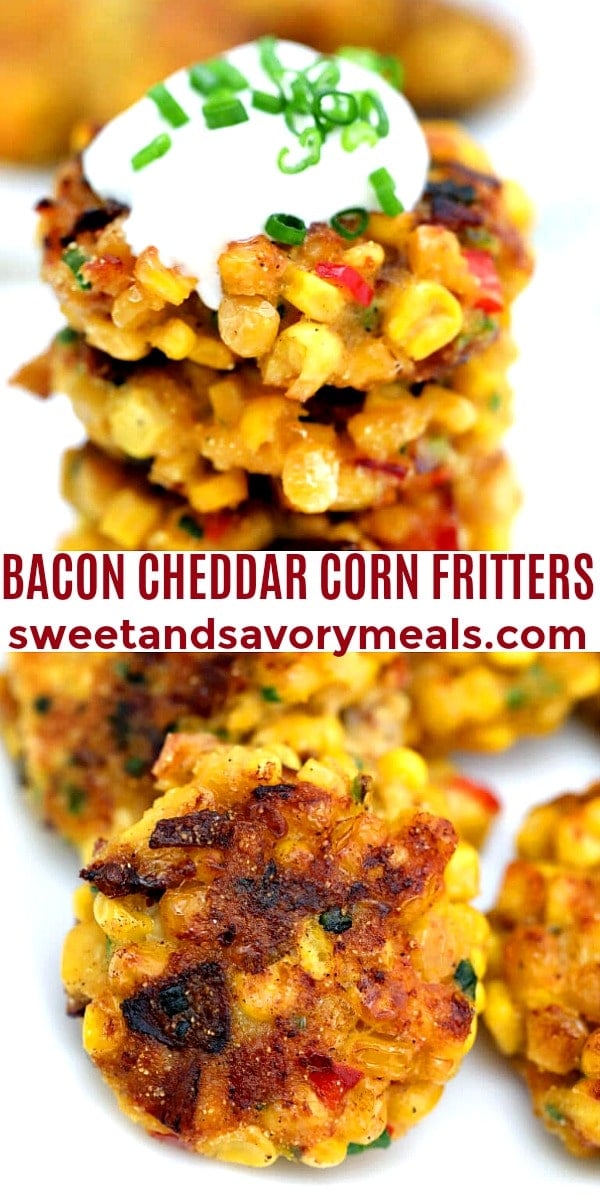 More recipes you might love