One Pan Lemon Chicken [Video]
Garlic Lemon Chicken is very easy to make and cooked together with the rice in one pan for a well-rounded dinner. Finished with a sticky honey lemon glaze, that is impossible to resist.
This easy chicken and rice dinner is a twist on our very popular One Pan Honey Garlic Chicken and Rice. This weeknight staple is incredibly easy to make and with budget-friendly ingredients. If you are a fan of quick and easy dinners, check our Orange Beef and Spicy Bourbon Chicken.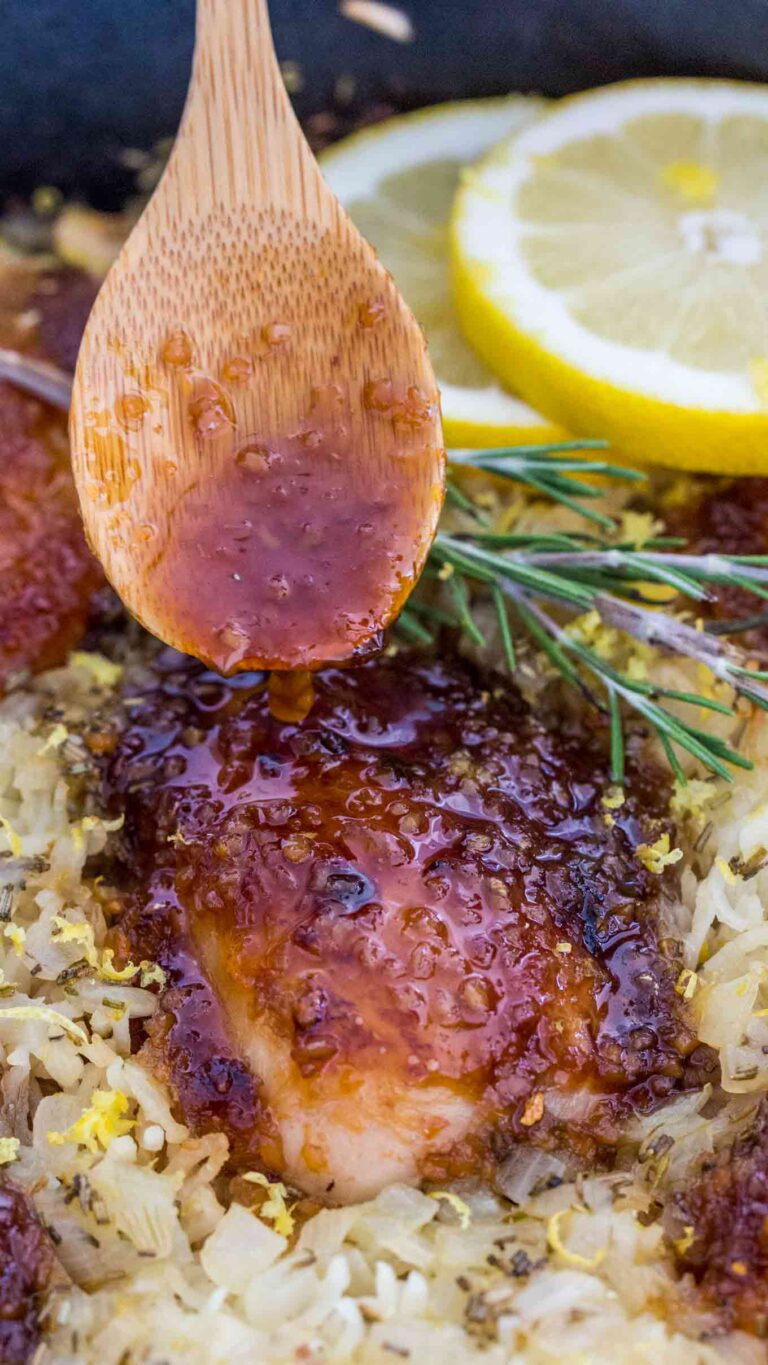 Homemade One Pan Lemon Chicken
One Pan Lemon Chicken with Rice is such an amazing dinner, that once you try it, you will make it over and over again. This dish is loaded with fresh lemon flavor, that is perfectly balanced by the savory garlic and the sweet honey.
This meal can be made with chicken thighs, either boneless or bone-in, and as well you can easily make it with chicken breasts. We prefer to use thighs as they are usually more tender, and once baked with the rice, they become extra soft and juicy.
The honey lemon glaze is a MUST have and its the star of this recipe. It elevates a regular chicken and rice dinner from basic to amazing. The glaze is so good and can be used in many other recipes, including top beef or fish.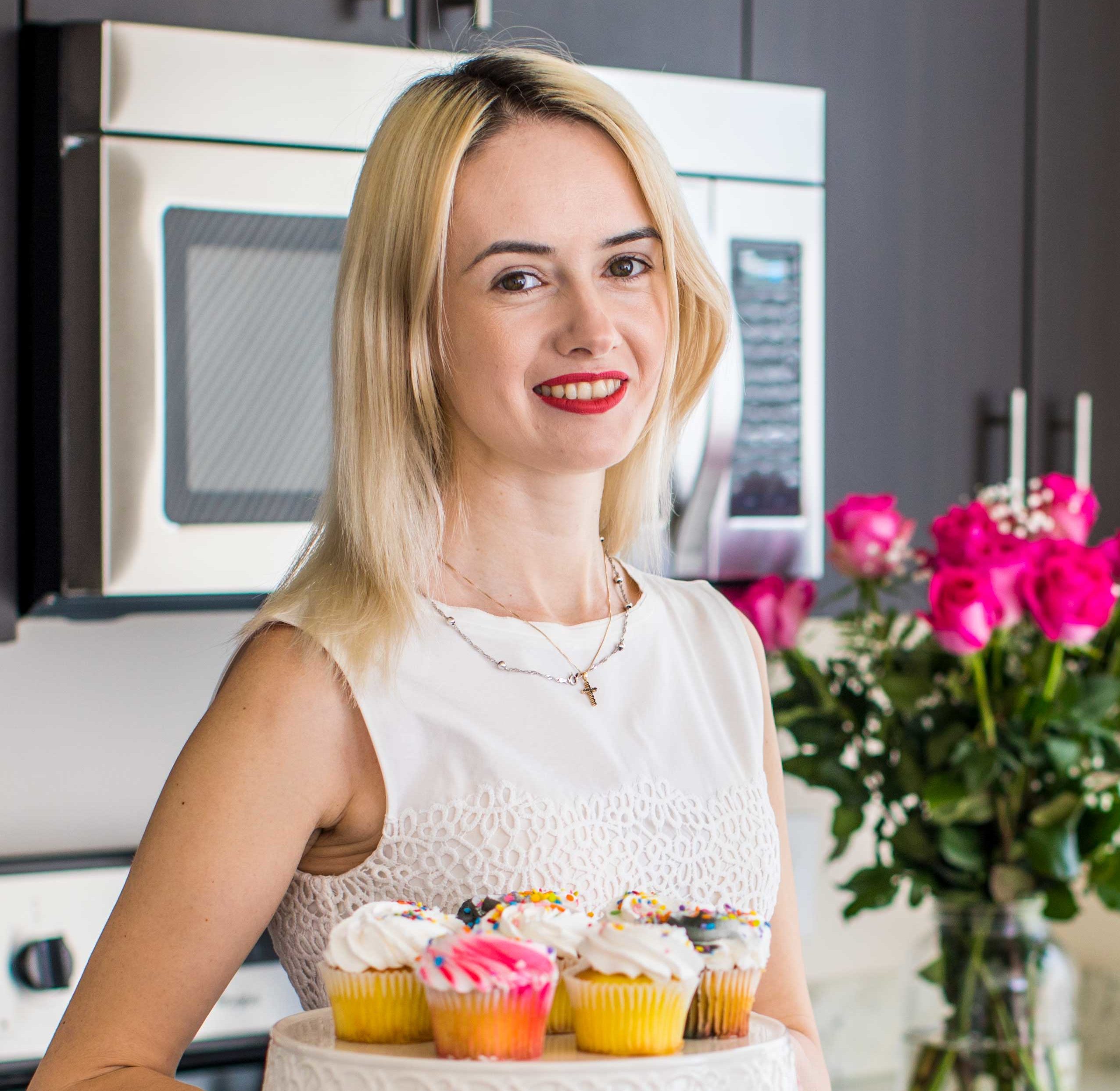 Follow us on Pinterest for more delicious recipes!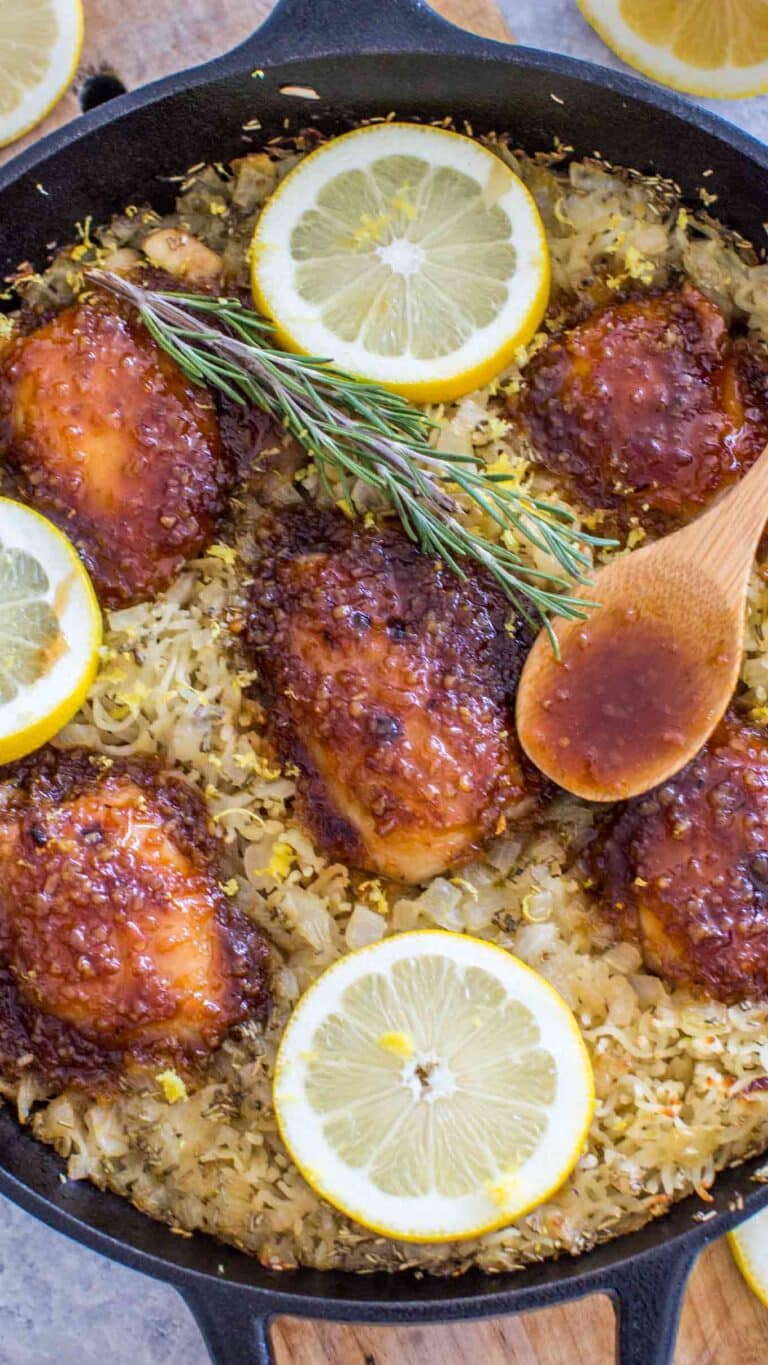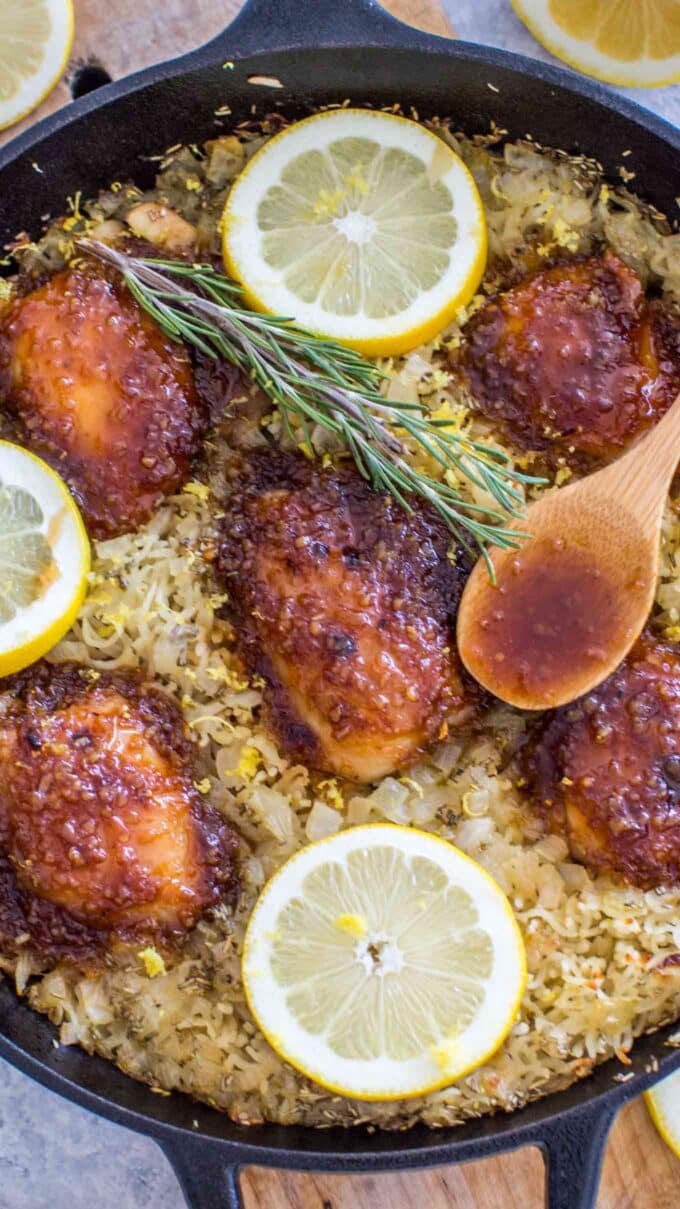 How to make Lemon Chicken and Rice?
The recipe consists of a few very easy steps described below. Also, please watch the recipe video attached and see how easy this dish is to prepare!
Brown the chicken: This step will add a nice golden-brown color and also lock in the flavors and juices, which will make the meat more tender and incredibly good.
Prepare the sauce: After the thighs have been good and set aside, add the ingredients to make the sauce into the same. The sauce needs to be simmer until its smooth, glossy and thick. To thicken it more add the cornstarch slurry. Transfer it to a bowl once cooked and set aside.
Brown the rice: Add the butter, onion, rosemary, lemon zest and rice to the same pan and lightly brown, stirring for 1 minute. Next, add the broth.
Add back the meat: Add back the meat to the pan, on top of the rice. Cover tightly with foil and cook. A few minutes before removing it from the oven, top the thighs with the glaze and cook uncovered until nicely browned.
DO I HAVE TO MARINATE the chicken?
If you want more flavor to it, marinating the meat is the best option. However, if you are in a hurry, you can absolutely skip the marinating time in this recipe. The chicken won't have absorbed as much flavor, but it will still delicious. We recommend to marinate it for at least 30 minutes.
HOW TO MAKE THIS MEAL USING BONELESS CHICKEN BREAST?
First, sear the chicken in some oil, until it is golden brown about 4-5 minutes on each side. Set aside.
Next, follow the instructions on how to cook the sauce and after that the rice.
Cover the pan with THE RICE with foil and transfer into the preheated oven, cook covered for 25 minutes. After that, add the chicken breasts on top of the rice, cover again with foil and cook for another 20 minutes.
Follow the instructions on how to add the sauce to the meat. Bake until nicely browned uncovered and serve.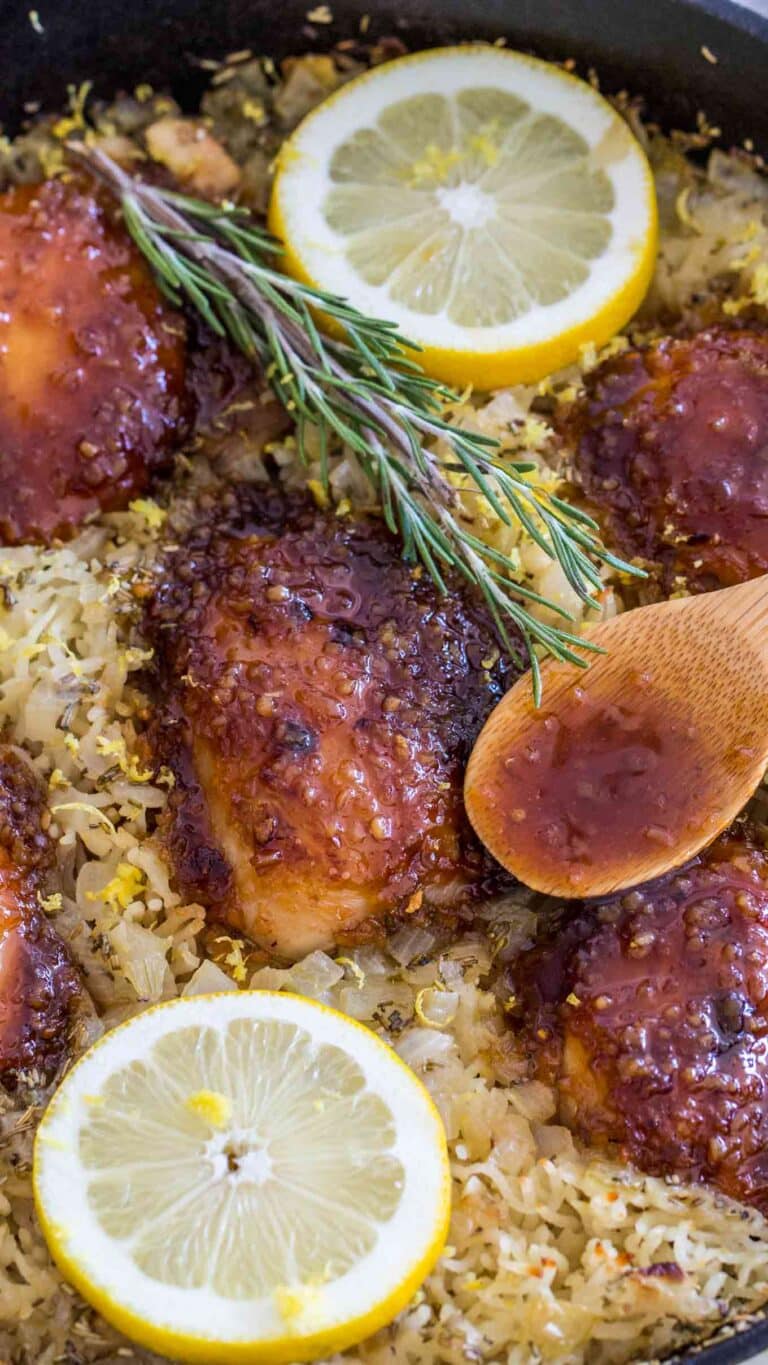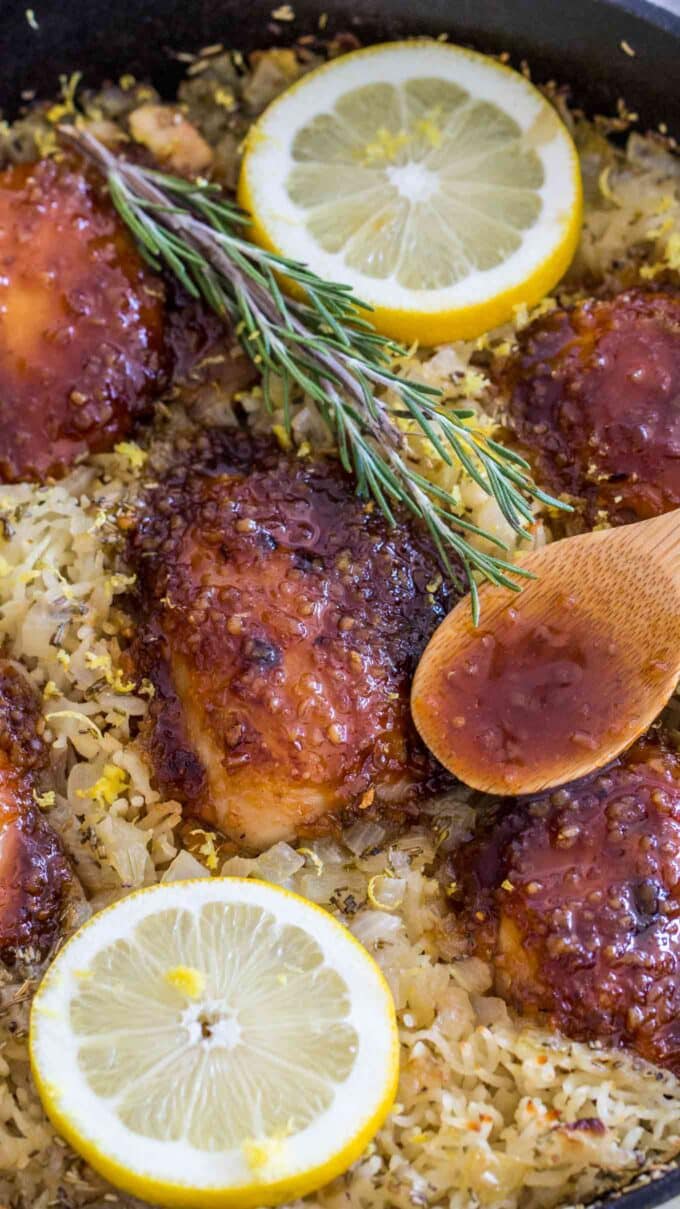 What do you eat ONE PAN LEMON CHICKEN WITH?
The beauty of this recipe is that everything is cooked in the same pan, the protein, and the side. Since a full dinner is cooked, we recommend just adding a light salad on the side and choose a light and refreshing wine to go with the meal.
How long do you cook chicken in the oven?
To be safe that you are no consuming raw poultry we recommend that you always check the internal temperature of the meat with an instant thermometer. Poultry is done cooking when it reaches an internal temperature of 165 degrees F.
How to reheat this dish:
This dinner is not only easy, but it also makes delicious leftovers.
Store any leftover glaze sauce into an airtight container and store separately the chicken and rice. When ready to reheat and everything to a microwave-safe plate, drizzle the glaze onto the meat and microwave until hot.
Recipe TIPS and Tricks:
Use quality meat as it will make a difference. This recipe can be made with skin-on – bone-in chicken thighs and with chicken breast. You don't have to adjust the cooking time for bone-in chicken thighs. If you intend to use chicken breasts, check below the cooking time adjustments.
If you don't like the skin, you can remove it. However, cooking with the skin not only protects the meat from drying out. It also gets the meat bathed with the flavor from the skin while it cooks.
Also, if you are allergic to honey, you can replace it with maple syrup.
Similarly, use fresh garlic and ginger to add a punch of extra flavor to this dish.
If you would like to spice it up, add more red pepper flakes.
Rice vinegar can be replaced with apple cider vinegar or any white vinegar.
Lemon is ideal in this recipe because it is acidic. This helps balance the stronger flavor of the dark meat in thighs and legs and the fat from the chicken skin.
The lemon juice and zest can be replaced with orange juice and orange zest for an Orange Chicken and Rice version.
Save Recipe
One Pan Lemon Chicken
Honey Garlic Lemon Chicken is very easy to make and cooked together with the rice in one pan for a well-rounded dinner. Topped with the perfect honey lemon glaze.
Author: Catalina Castravet
Serves: 6 servings
Prep time:

20

minutes
Cook time:

50

minutes
Total time:

1

hr

10

mins
Ingredients
Honey Lemon Sauce:
Cornstarch Mix:
Rice:
Garnish:
Instructions
Cook Chicken:
Sauce:
Rice:
Nutrition information
Calories: 397 Carbohydrates: 45 Protein: 25 Fat: 12 Saturated Fat: 2 Cholesterol: 107 Sodium: 748 Potassium: 424 Fiber: 0 Sugar: 16 Vitamin A: 110 Vitamin C: 10.1 Calcium: 28 Iron: 1.6
Save Recipe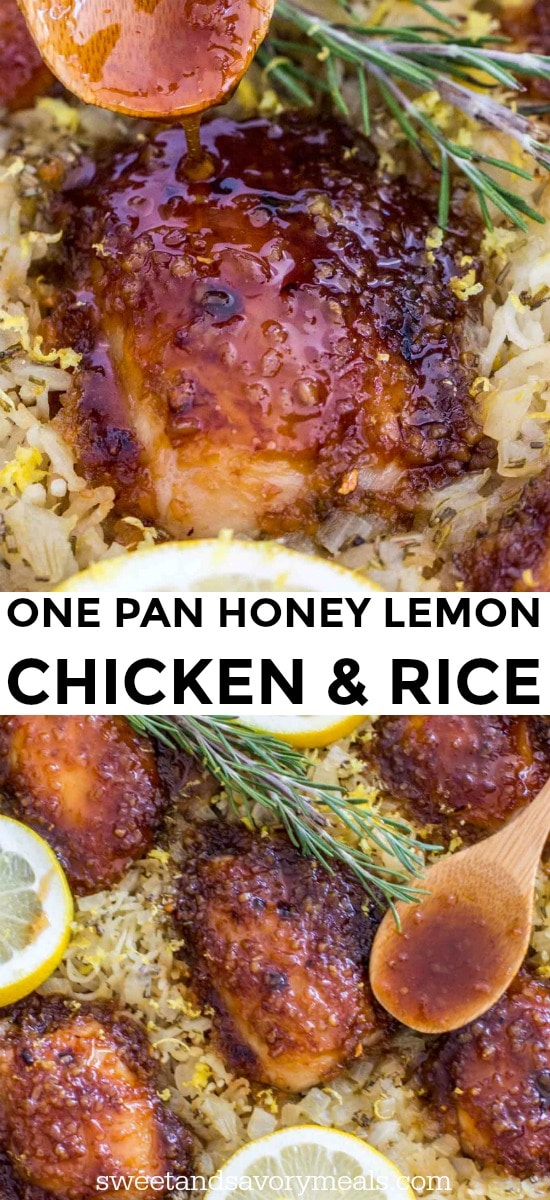 More recipes you might love
Categories: