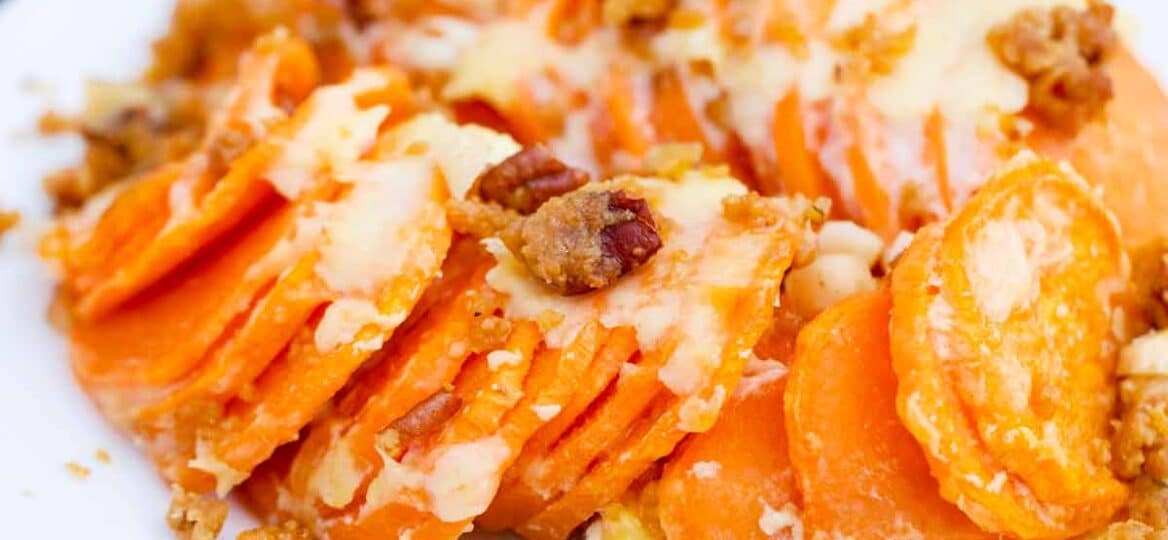 Hasselback Sweet Potato Casserole Recipe
Hasselback Sweet Potato Casserole is a fun twist on the traditional casserole, with thinly sliced spuds, in a creamy sauce, under a crunchy topping. Just slicing sweet potatoes into an intricate pattern makes this dish so much more flavorful. Because sweet potato casserole is good, but this is amazing! These thinly sliced sweet potatoes will be the hit of the Thanksgiving feast this year! If you love sweet potatoes, you need to try this recipe.
Interestingly, sweet potatoes were considered to be a savory food just like regular potatoes until the holiday sweet potato casserole came along in the late 1700s. The first recipe found for candied sweet potatoes was in American Cookery in 1796, written by Amelia Simmons. And marshmallows were not added until the 1800s when the man who invented Cracker Jacks suggested it.
This Hasselback sweet potatoes recipe is a bit healthier than the traditional sweet potato casserole because it has less sugar and butter. You can use almond flour if you want your casserole to be gluten-free and you can even make it vegan if you use vegan butter and cream. No matter how you make it, it will always be delicious as well as attractive.
Ingredients needed:
Each of these ingredients has a purpose in this delicious recipe. Take the time to read what each one is for before changing or leaving out anything. Then, scroll down to our printable recipe card for the details.
Sweet potatoes: Get potatoes with smooth skins that are plump and juicy looking. For the best presentation, try to find potatoes that are about the same size and shape.
Mini marshmallows: Using marshmallows is a sweet way to top your yummy casserole without adding too much sugar. And the minis melt better.

Chopped pecans: Slightly sweet with a delicate nutty taste, pecans are the perfect topping for this casserole.

Chopped macadamia nuts: We added macadamia nuts for a unique nutty flavor and crunch to go along with the chopped pecans.

Heavy cream: To make your casserole even creamier.
Melted butter: Unsalted is best so you get the butter flavor without the salt.
All-purpose flour: Any kind will do. You just need a little for thickening.

Light brown sugar: Light or dark will work but we used light for just a slight caramel flavor.
Nutmeg: The spice of the nutmeg tree, this warm fall spice is sweet and light and goes with all the flavors of the holidays.

Cinnamon: Cinnamon is an ingredient that goes in almost all of my sweet fall dishes.
Kosher salt: Divided.
Black pepper
How to make hasselback sweet potato casserole from scratch?
Preheat oven: First, preheat the oven to 350 degrees F.
Prepare sweet potatoes: Then, peel and cut sweet potatoes hasselback style, cutting them into thin slices using a sharp knife or mandoline.

Boil the potatoes: Next, bring a large pot of water to boil on high heat. Add sweet potato slices and cook for about three to four minutes. You want them tender but not too soft.

Drain and cool: Now, drain the potatoes and spread them on a rimmed baking sheet covered with a paper towel to dry. Let them sit until they are completely cool and all the way dry. This should take about 20 minutes. Once they are dry, arrange them in a greased baking dish.

Make the cream sauce: While you are waiting for them to dry and cool, simmer the cream over medium heat in a medium saucepan. Then, whisk in brown sugar, black pepper, and one teaspoon of salt. Continue to cook for about 10 minutes, stirring occasionally, until it starts to thicken.

Bake the potatoes: After, pour sauce on top of the potatoes and bake, covered with aluminum foil, for 45 minutes.
Prepare the nut topping: Meanwhile, mix the butter, flour, brown sugar, and salt in a small bowl. Then, stir in the nuts and set it aside.

Add the topping: After 45 minutes, uncover the potatoes and top with the nut mixture. Continue baking for another 15 minutes.

Broil marshmallows: Immediately, sprinkle mini marshmallows on top and turn your oven to broil. Put the potatoes back in the oven for about five minutes, until the top is golden brown.

Serve: Finally, let it stand for 10 minutes before serving.
Recipe variations:
Maple syrup: Add some maple syrup or honey for extra sweetness to your sweet potatoes.

Regular potatoes: If you want to make this dish with regular russet potatoes, adjust the cooking time to 60 minutes.

No cream: Instead of cream, you could use sour cream or plain Greek yogurt.

Spicy casserole: Those who love everything spicy can add some red pepper flakes or cayenne pepper to the topping.

Different nuts: Feel free to use different kinds of nuts like chopped peanuts, walnuts, or slivered almonds.

No nuts: If you do not want nuts, you can use cornflakes to get the crunchy topping.

More spices: Add your own favorite spices like ginger, cloves, mace, or cardamom.
Add meat: To make this a hearty entree, add some chopped chicken, turkey, or pork.
How to serve:
You can make hasselback sweet potatoes in minutes and have them as a main dish or tasty side dish. Feel free to add your own special touches. You do not need to make it exactly as the recipe calls for. Try one of our serving ideas or share some of your own in the comments below.
Everything is better with bacon. Sprinkle bacon pieces all over the top before you serve it.
Add whipped cream on top before serving. You can use our easy homemade whipped cream recipe.

Serve sweet potatoes with toasted coconut on top for an even more delicious flavor.

Give your sweet potatoes a rich topping of thick caramel sauce. We have a simple recipe for caramel sauce that does not even require a thermometer.

You can make your Hasselback sweet potato casserole more savory by leaving out the sugar and replacing the marshmallows with crushed crackers.
For the perfect holiday spread, serve this yummy casserole with a perfect oven-roasted turkey.

Why not add some gravy to your potatoes? Use a nice creamy white gravy instead of the butter mixture.
Frequently asked questions
Why is it called Hasselback?
The name Hasselback comes from the restaurant in Djurgarden, Sweden, where the recipe was first served. It was the Hasselbacken Restaurant where Chef Leif Elisson prepared this wonderful dish with regular potatoes in 1953. However, there was a recipe called oven-fried hasselback potatoes in a cookbook from 1929 written by Jenny Akerstrom.
What is the easiest way to cut hasselback potatoes?
You can just put two wooden spoons on a chopping board and set the potato in the middle. Rub the outside of the potatoes with olive oil. Then, cut through the potato until you reach the wooden spoon. This will stop you from cutting all the way through and give you perfect hasselback sweet potatoes every time.
Why boil potatoes before baking?
Boiling the potatoes first helps remove the starch as well as softening the potatoes to make them easier to cook. They will cook more evenly in the oven since they are already started. It also gives your sweet potatoes a better flavor and texture. Just as this recipe states, you only boil them for a few minutes.
Do I have to peel sweet potatoes?
The skin of sweet potatoes is very safe as well as healthy. There are so many vitamins, minerals, and antioxidants as well as fiber in the skin. In fact, you can eat it raw if you wash it well first. However, in a dish like this, removing the skin is recommended for a softer and creamier texture. The skin would also stop the potatoes from soaking up the sauce.
More recipes with sweet potatoes:
How to store leftovers:
Store: After cooling, store leftover hasselback sweet potato casserole in the refrigerator for four to five days in an airtight container.
Freeze: You could also freeze your leftover hasselback sweet potato casserole for up to three months. Place it in a freezer-safe container or freezer bag and it will stay fresh for 90 days.
Thaw: Thaw your leftovers in the fridge overnight for the best results.

Reheat: To reheat, put potatoes in a microwave-safe dish and heat in the microwave for one to two minutes. You can add more marshmallows if you have them. Add butter if your potatoes are too dry.
Cooking tips:
For the thinnest slices, use a very sharp knife or mandoline.

You can prepare this delicious dish ahead of time. Just peel and slice sweet potatoes and put them in a large bowl of water for up to eight hours. When you are ready, pat them dry before using.

To get the middle of the potatoes coated as much as possible, brush half of the sauce on top and bake it for 30 minutes. Then, use a fork and lift the potatoes to make them open up more. Pour the rest of the sauce on top and continue baking for another 15 to 20 minutes. This also helps them cook evenly.

Another way to get the middle of the potatoes coated is to put the sliced uncooked potatoes in a large bowl and pour the sauce on top. Open them up with your fingers and rub it into all the crevices of the entire potato.
For the prettiest presentation, look for sweet potatoes of a similar size and shape.
Cooking time will vary depending on the size of the potatoes and the oven temperature. Not all ovens cook at the same temperature.
For nutrition, serving size, and extra tips, scroll down to the bottom of the page.
We have more sweet potato recipes on our food blog and all sorts of side dish cuisine like this recipe.
Hasselback Sweet Potato Casserole
Ingredients
3 1/2

pounds

sweet potatoes

2

cups

heavy cream

1/8

teaspoon

ground black pepper

2

tablespoons

light brown sugar

1 1/2

teaspoons

kosher salt

divided
Topping:
1/2

cup

all-purpose flour

1/2

teaspoon

cinnamon

1/4

teaspoon

nutmeg

2

tablespoons

light brown sugar

4

tablespoons

unsalted butter

melted

1/2

cup

chopped pecans

1/3

cup

chopped macadamia nuts

1

cup

mini marshmallows
Instructions
Peel, wash, and cut sweet potatoes into 1⁄8-inch-thick slices, using a mandoline or a knife.

Bring a large pot of water to a boil, add the sweet potato slices, and cook just until slightly softened, 3 to 4 minutes. Drain and spread the potato slices in a single layer on a paper towel-lined baking sheet. Pat dry and let them stand until cool and dry, about 20-30 minutes.

After that, arrange the slices, vertically, in a lightly greased 13-9inch baking dish.

In a medium saucepan over medium heat, add cream and bring it to a simmer. Whisk in the black pepper, 2 tablespoons of brown sugar, and salt. Cook, stirring, until thickened slightly, about 10 minutes.

Pour the cream mixture over the potatoes. Cover with plastic wrap and chill until ready to bake, for up to 1 day, or make the topping and bake immediately.

Stir together the topping ingredients in a medium bowl, except marshmallows, and set aside.

Bake, the prepared casserole covered with foil, for 45 minutes. Uncover and sprinkle the topping mixture evenly. Return to oven, and bake for 15 more minutes.

Add mini marshmallows on top, and broil until the topping is golden brown, about 3-5 minutes.

Let stand for 10 minutes before serving the dish.