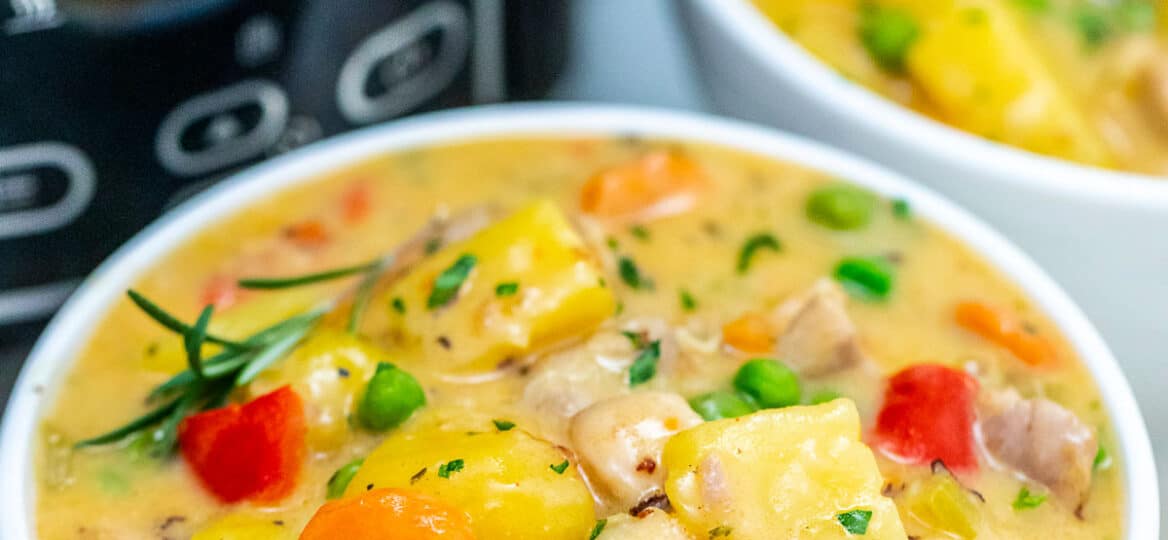 Slow Cooker Chicken Stew is hearty, filling, made with tender chicken and lots of veggies. This comforting dish will warm you up with its layers of flavors!
I love using the crockpot for soup recipes like this as it is simply practical and hassle-free. Imagine making Stuffed Cabbage Rolls, Sloppy Joes, and Ham Split Pea Soup practically hands-free with the crockpot. And you will be able to do other things as you prepare dinner!
Crockpot Chicken Stew Recipe
Slow Cooker Chicken Stew is that kind of dish that will make you stay at home for dinner no matter how busy you are. It is appetizing and after the long hours of cooking, you are guaranteed a restaurant-quality meal waiting for you to try out.
Assemble and set it up in the morning and it will finish cooking just in time for dinner. Run errands, work, or go somewhere else in the hours in between!
It is so easy to just give in and choose to order takeout. But recipes as easy as this makes me reconsider my commitment to home-cooking!
Yes, the ingredient list may be long, but everything in it is easy-to-find and you may already have everything in your kitchen. The main ingredient itself is affordable and abundant, and you can omit and add vegetables and spices as you want.
This recipe is quite versatile as you may see. So, there is practically no reason for you not to try this easy recipe!
How do you make Slow Cooker Chicken Stew
Brown: In a skillet, put some oil and brown the meat. It is okay if you do not thoroughly cook it. You can also add in the aromatics and the veggies minus the spuds and green beans. Sauté everything lightly.
Assemble: Place everything in the crockpot except for the slurry and cream. Set to low for 8 hours. To avoid getting too mushy, you can also add the spuds mid cooking. Add the slurry and the cream 30 minutes towards the end of cooking.
Serve: Discard the bay leaf and garnish. Then, serve while still warm.
How to thicken Slow Cooker Chicken Stew:
This step is optional as it can thicken naturally. It has potatoes in it which are rich in starch.
But if you find that it is too thin, you can add the slurry of cornstarch and broth towards the end, at around the last 30 minutes. Just make sure that it forms no lump and that the cornstarch dissolves well. Do this by shaking the mixture inside a mason jar.
Can Slow Cooker Chicken Stew be frozen?
Yes! You can freeze it in individual freezer bags, and it will still be good up to 4 to 6 months later. However, certain ingredients in it can change in texture once frozen and thawed.
Among the veggies, the spuds may not freeze well. The dairy may also separate. So, if you intend to make this a freezer meal, then, do not add the cream just yet (and spuds if you like).
Also, you can use flour in the slurry instead of cornstarch. Stew thickened using flour in the slurry has a different texture.
How to Reheat:
Just thaw overnight in the fridge, reheat on the stovetop until bubbling, then, add the dairy to make it creamy.
What goes with Slow Cooker Chicken Stew:
I can eat it on its own, but, if you like to eat it with something and could not pinpoint it, then, this list will help you with that:
Recipe Tips:
If you do not want to freeze it, you can simply divide the batch among individual airtight containers and refrigerate for up to 4 days.
You can opt to use bone-in thighs or drumsticks for this but without the skin.
You may leave out the cream entirely.