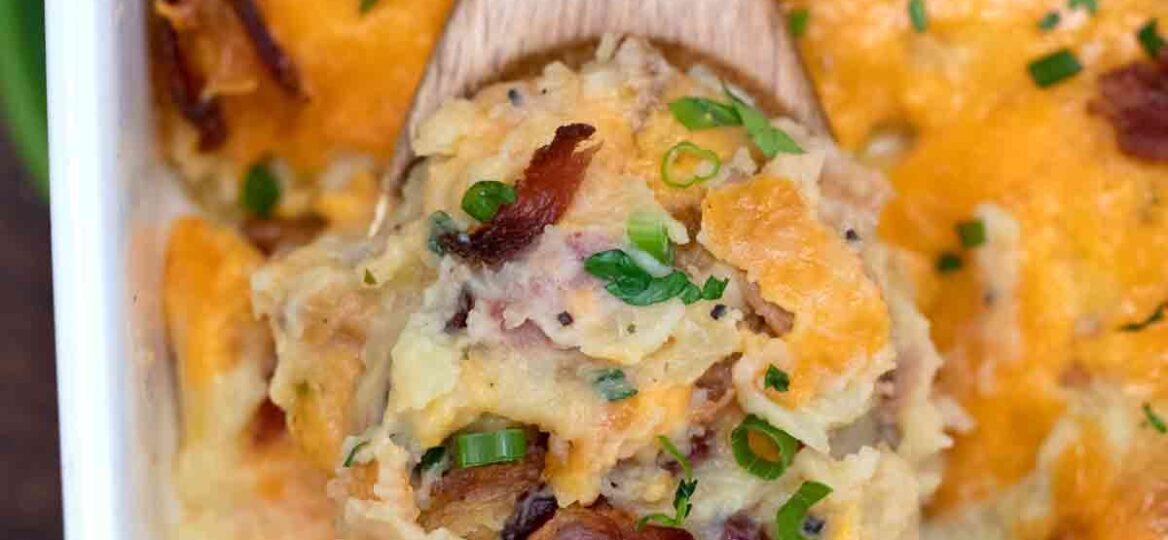 Cheesy Mashed Potato Casserole Recipe
Mashed Potato Casserole is a super creamy, fluffy, and cheese side dish that is ready in less than one hour. Loaded with extra melty cheese, crispy bacon, and sour cream, this recipe will quickly become the highlight of any meal or gathering! It is easily one of the best household favorites comfort food that goes well with just about anything!
Making homemade casserole is one of my obsessions. They are flavorful, delicious, and the perfect side to any holiday meal. If you like spuds as much as I do, then, this will not disappoint! Here are some of my spud recipes that you may also like: Hash Browns, Grilled Potatoes, and Tater Tots!
Make-Ahead Mashed Potato Casserole
This is a great holiday side dish and can easily be made ahead of time. This Loaded Mashed Potato Casserole recipe will come in handy during the holiday season. It is easy to prepare with easy-to-find ingredients. And the best part is that this dish alone can feed a huge crowd during Thanksgiving or Christmas dinner.
This potato recipe is very similar to my loaded twice-baked potato one but in a casserole form. I am yet to meet a person who isn't a fan of mashed potatoes. It goes well with meaty dishes, especially with beef roast and oven baked chicken breasts.
Also, I like mine creamy and smooth, and with a crunchy topping thanks to the bacon or bread crumbs. It is very versatile as well, so you can add pretty much anything to it.
And with this recipe, you get to elevate it into another comfort food – a baked dish topped with your favorite crunchy bacon, cheddar cheese, and chopped chives. The flavor combination is a classic.
You can never go wrong with this easy side dish. Feel free to prepare it in advance so you will not be as busy on the day of the celebration. Impress your family and friends and make it a part of your holiday menu!
Ingredient list:
Russet potatoes: This variety is mealy and fluffy when baked. However, feel free to use any kind of potatoes you have on hand.
Half and half or milk: Use 1%, 2%, 3%, or whole milk.
Butter: I like mine loaded with it!
Sour Cream: It adds richness, creaminess, and tartness.
Shredded cheddar cheese: It adds richness. You can make yours as cheesy as you like, using your favorite cheese.
Crumbled bacon: For a savory and crunchy texture. Here are the steps on how to make your bacon at home.
Green onions: To garnish the dish. It also gives it a nice pop of color that makes everything look so appetizing.
Kosher salt and black pepper: To taste
Cooking spray: Use any type you can find at your local grocery store.
Ranch seasoning
Chives: This is optional, but I like to incorporate it from time to time.
How to make loaded Mashed Potato Casserole?
Boil the potatoes: In a large pot, add some cold water. Bring to a boil over medium-high heat. Then, add some salt and the spuds. Let the spuds boil until they become tender after about 15 to 20 minutes. Then, drain.
Mash the spuds: Using a potato masher or electric mixer, mash the spuds to have an even consistency. Then, put them back in the pot.
Season: Add the cream cheese along with the rest of the dairy ingredients. Season with salt and pepper to taste, and stir. At this point, stir in only a cup of cheese.
Prepare for baking: Preheat the oven. Place the potato mixture into a baking pan, or casserole dish greased with cooking spray. Sprinkle the remaining cheese on top.
Bake: Next, cover the pan with foil then pop it in the oven for about 20 minutes. Remove the foil and add the bacon. Bake it again until the cheese toppings become bubbly.
Serve: Garnish with the chopped herbs and serve!
Optional Flavor Additions:
Extra Cheesy: If you want it extra creamy and cheesy, simply add one more cup of shredded cheddar cheese into the mixture before spreading in the casserole dish.
Onion Mashed Potato Casserole: For onion lovers, add 1/2 cup of finely minced onions into the mashed potato mixture prior to baking.
Sweet Potato Casserole: Turn this into Sweet Potato Casserole by substituting regular potatoes with sweet potatoes.
Add more veggies: Feel free to add more veggies to it. Some great addition would be broccoli florets, tomatoes, French onion rings, green beans, mushrooms, etc.
Instant Pot: Alternatively, feel free to make this dish in the Instant Pot, here is the Instant Pot version.
Swap the Cheese: Instead of cheddar, you can always use other types of cheese entirely, or a combination of a few. Gouda, parmesan cheese, Parmigiano, Asiago, Pepper Jack, Monterey jack cheese, and Gruyere cheeses are great alternatives. Also, feel free to mix it with cream cheese.
Add proteins: To make it part of your main dishes, simply add 1 cup of shredded chicken, rotisserie chicken, shredded turkey, or sausage to it. This will make a great addition to the Thankgiving table.
Milk substitute: As a milk substitute, try using cream or creme fraiche.
Toppings: Add more texture by topping it with a layer of panko crumbs, crushed crackers, or some crispy onion rings!
Can I make this recipe in the Slow Cooker?
Absolutely! Instead of cooking the spuds on the stovetop, you can easily make this Slow Cooker Mashed Potatoes recipe. This gives you the option to utilize other kitchen appliances to focus on other dishes that will require your stovetop.
This also becomes extremely helpful during the holidays, and a perfect dish to enjoy.
What type of potatoes are best to use?
Russet potatoes are commonly used for potato casseroles due to their high starch content, which helps create a creamy texture. However, you can also use Yukon Gold or red potatoes for a slightly different texture and flavor.
Is it necessary to peel the potatoes for potato casserole?
No, it is just a matter of preference. Leaving the skins on can add texture and a rustic feel to the casserole. If you choose to leave the skins on, make sure to scrub and wash the potatoes thoroughly.
What to serve with this side dish?
This hearty and comfort side dish goes well pretty much with anything meaty such as the following:
Can I make Mashed Potato Casserole ahead?
Yes! You can prepare this dish a day in advance. Just cook the potatoes and mash them. After that, place potatoes into a casserole dish. Cover and refrigerate overnight. When ready to bake the next day, simply pop it in the oven and add the topping ingredients.
Can I freeze it?
Yes, you can freeze it for months tightly covered.
To reheat, simply bake it in the oven for an extended period (about 10-15 minutes at 350 degrees F) to ensure that it is heated through.
More delicious side dishes: