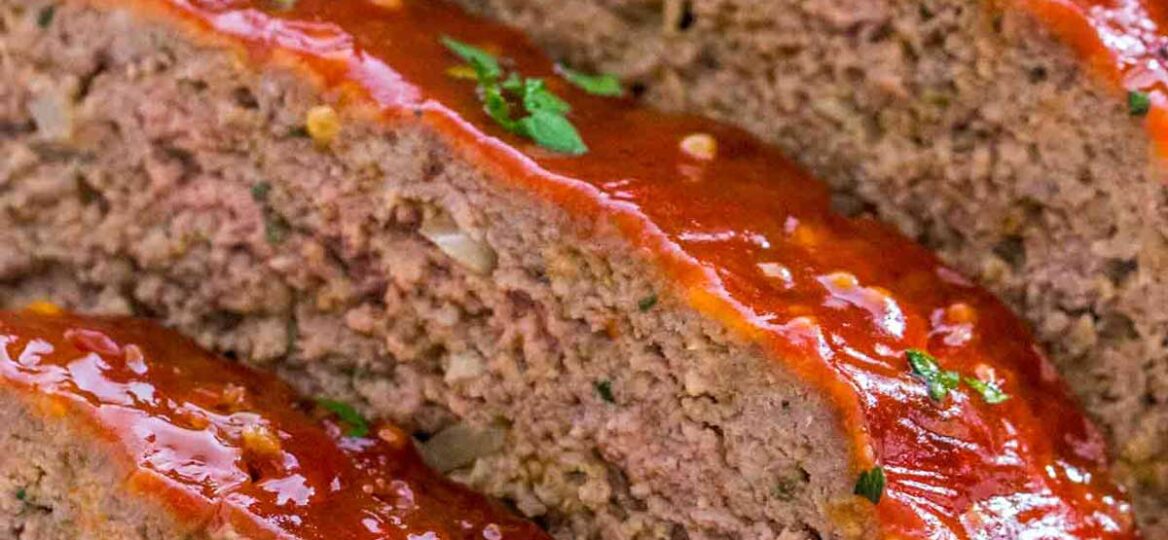 Best Meatloaf Recipe with Homemade Glaze [Video]
Homemade Meatloaf Recipe that is flavorful, tender, and juicy on the inside, with a delicious sweet and tangy chili glaze spread on the outside. This dish is easy to make for dinner and is guaranteed to be your favorite homemade comfort food. It is the best meatloaf recipe you can get, with minimal preparation work required.
This best savory meatloaf recipe will quickly win you over. It is so rich and tender, that you will not get enough of it. It is the perfect main dish to serve during busy weeknights and make sandwiches with leftovers. Serve the easy meatloaf alongside Creamy Mashed Potatoes or a side of Mac and Cheese Casserole for a complete meal.
This is our family's favorite dinner meal because it is packed with delicious flavors and has the perfect texture. While the meat is juicy and tender it does not fall apart or crumble when sliced.
The best part is that it's simple to make, cheap, and can feed a larger crowd. Simply, assemble the meatloaf, put it in the pan, and let the oven do all the work. As a result, you will be rewarded with the most amazing, tender, and fantastic meal.
Just check the stellar feedback from those who made this recipe!
"Outstanding! I will be making this again. Turned out perfectly including our favorite crunchy ends pieces. Used a baking sheet as suggested instead of the usual loaf pan and it made a difference."
"Amazing!!!!! This savory meatloaf reminds me of my mom's cooking when I was a child. Great!!!!"
"I just made it and the whole gang devoured it. I have an aspiring high school chef who is so picky always rating the recipes I make and he gave it 💯. Thanks so much for sharing, looking forward to following you and making other delicious recipes."
It requires affordable ingredients, such as ground beef, bread crumbs, onions, and parsley. And to finish it off perfectly, top the dish with the most amazing caramelized shiny glaze.
Follow us on Pinterest for more delicious recipes!
Ingredients Needed:
Ground beef – we prefer to use 90% lean.
Herbs – a mixture of dried parsley and Italian seasoning.
Spices – we used paprika, red pepper flakes, salt, and pepper.
Worcestershire sauce – it elevates the beef flavor!
Onion – make sure to finely dice it, the tinier the better.
Garlic – for the best flavor use fresh garlic and mince it.
Bread crumbs – use plain or flavored.
Milk – for a denser texture use half and half.
Eggs
Cheddar cheese – the recipe can be made without the cheese as well.
Sweet Chili Meatloaf Glaze:
Ketchup – use your favorite brand and replace it with BBQ sauce if you don't have ketchup on hand.
Tomato paste – adds some extra tanginess.
Brown sugar – absolutely delicious and a must ingredient in this glaze, it adds a subtle deep molasses flavor.
Sweet chili sauce – the combination of sweet and spicy takes this comfort food to the next level.
Mustard – honey mustard is extra delicious and it adds a bit of bitterness to the glaze.
Apple cider vinegar – just a little to balance the sweetness of the other ingredients.
How to make the best meatloaf recipe from scratch?
This is a simple classic dish that should be ready in no time. For a quick reference, please watch the recipe video on the recipe card. But the general steps are as follows:
Prep: First, preheat the oven to 400 degrees Fahrenheit. After that, prepare a loaf pan or line a baking sheet with aluminum foil and set it aside.
Combine: First, in a large bowl add 90% lean ground beef. Then, add dried parsley, dried Italian herbs, paprika, red pepper flakes, Worcestershire sauce, garlic, and onion. Next, add the breadcrumbs, season with salt and pepper, and mix to combine.
Add the Rest of the ingredients: After that, add the milk, and egg and use your hands to mix the mixture. At this point stir in the cheese.
Shape: Next, shape the meat mixture into a loaf, and transfer it to the prepared rimmed baking sheet.
Make the glaze: Also, in a small bowl mix the glaze ingredients and brush the loaf on top with the mixture.
Bake: Finally, bake it for about 45 minutes, or until the internal temperature is 160 degrees F.
Serve: Once done cooking, let it rest for 10-15 minutes, and after that slice and serve.
Store: First, let it fully cool and after that add it to a sealed airtight container. Then, store it in the fridge for 3-4 days.
Freeze: Simply cover it tightly with plastic wrap and foil and then place it in the freezer for up to 3 months.
Defrost: Actually to defrost it, transfer the frozen meatloaf to the refrigerator the night before consuming it and let it thaw. After that, reheat it in the oven or the microwave. Also, I recommend making some glaze and adding it when reheating.
Recipe Variations:
Frequently Asked Questions:
What is the best meat for meatloaf?
We have made a variety of meatloaf recipes and with certainty would say that using leaner ground beef that is 85% to 90% lean. Many people think that the opposite is true. But our experience tells us otherwise.
The main problem in using high-fat ground beef is that once cooked, it makes a greasy mess. Also, since you will be mixing the lean beef with milk, egg, ketchup, and onion, it will help keep it juicy and moist. More importantly, it will keep the shape intact, and give the dish the perfect look.
How to make the chili glaze?
We use a mixture of ketchup, tomato paste, chili sauce, a hint of light brown sugar, and some cider vinegar. This simple yet delicious sauce truly complements the dish completely. It has a perfect balance and gives the meal a rich and flavorful taste. Don't skip it!
How to shape it?
There are a few ways you could do that. You could either:
Place it in a loaf pan. This is a quick and easy option, which also results in a uniform meatloaf shape. The negative to it is that it may result in soggy edges instead of crispy ones.
Another option, which we mostly use, manually form a loaf about 8″x4″ in size and place it onto a baking tray. This might take a few extra minutes to do, but is what gives the loaf a homemade look. Also, this guarantees to have crispy edges throughout.
How long to cook a meatloaf recipe?
The cooking time will vary based on the size. For our dish, we use 2lb beef, which needs to be cooked at 400°F (200°C) for about 45 minutes. Then, spread a little more sauce on top and bake for an additional 15 minutes, until the glaze is nice and sticky.
Below you can find the general oven cooking time for a 2lb meatloaf:
If baked at 350 degrees F, go for about 55-65 minutes.
If baked at 375 degrees F, go for about 50-55 minutes.
At 400 degrees F, the cooking time should be about 45-50 minutes.
Remember, to check the internal temperature of the loaf with a meat thermometer. This is the best way to ensure an accurate reading. Fully cooked, it should have an internal temperature of 160°F. Lastly, let your meatloaf rest for 10 minutes before slicing to allow the juices to absorb into it. Also, resting will ensure not to fall apart.
Can I bake meatloaf on a baking sheet?
Absolutely! However, keep in mind that using a loaf pan keeps all the glaze in place perfectly and the meat is juicier. Also, the shape is adorable.
But, you could bake it on a baking sheet with aluminum foil. Then, create a self-made pan with uniform edges to keep the dripping as it is baking. Simply, shape the loaf, glaze it, and then bake. This will also result in crispier edges.
Do you cook it covered or uncovered?
Based on its size, it may take longer to bake it, therefore to keep it juicy and avoid burning the top cover it with a piece of aluminum foil. However, make sure to remove it during the last 15 minutes of baking.
Should I drain the grease?
It depends on you bake it, if using a baking sheet, then no. But, if you are using a loaf pan, the grease will keep it moist and extra juicy. However, make sure to drain it for 15 minutes before cooking it.
Why does my meatloaf always fall apart?
As stated above, it is important to use leaner meat but mixed it with milk and panko breadcrumbs. Usually, if fatty ground beef is used, especially with too much liquid, when cooked, the fat gets out, and the dish could fall apart.
To avoid this problem, use leaner ground beef, but balanced it out with eggs, milk, and bread crumbs. These are key ingredients for a perfect and savory meatloaf recipe. It will also help keep the dish together and give it a correct balance.
Similarly, you could add some cheese to the mix. This will also help it keep its form while maintaining a puffy look.
How to make a pork meatloaf recipe?
Simply replace the ground beef with ground pork and follow the same instructions. Then, cook it for about 40 minutes until you end up with a savory meatloaf.
What to do with leftover meatloaf?
If you end up with leftovers, we have some great meatloaf ideas on how to utilize them:
What to serve with meatloaf?
I will be honest, this is probably one of the most flavorful meatloaf recipes I have ever made. It goes pretty much with anything.
My favorite way to serve it is on a pile of creamy mashed potatoes or some oven-roasted asparagus.
More Dinner Recipes:
Recipe Tips:
This recipe is very easy to make. However, it is important to note a few crucial steps to ensure the perfect dish.
Leaner beef: As stated above, use leaner ground beef. This will result in a moist and great-looking dish.
Do not over-mix the ingredients: As stated above, do not over-mix the ingredients. This will cause the dish to be dense and not very juicy.
Finely chopped ingredients: Also, ensure to chop the onion finely. This way, it integrates nicely with ground beef.
Add moisture: Using milk is important because it gives this homemade recipe the needed moisture. So try not to skip it.
Shape: Feel free to shape the loaf on your own. Alternatively, you can use a loaf pan.
Glaze it properly: Brush the loaf with sauce during cooking. This will ensure the flavor is locked in, and also add some moisture to it.
Cooking time: Keep in mind that cooking time may vary based on how thick your meatloaf is. Therefore, check on it, and it's ready when the internal temperature reaches 160 degrees F.
Panko breadcrumbs: Feel free to use panko breadcrumbs instead of regular breadcrumbs for a softer and juicier meatloaf.
Let it rest: Once cooked, let it rest for about 10 minutes. This helps with flavors to soak in, and also makes sure it won't fall apart.
Homemade Meatloaf Recipe
Ingredients
Meatloaf:
2

lbs

ground beef

90% lean

1

teaspoon

dried parsley

1

teaspoon

Italian seasoning

1/2

teaspoon

ground paprika

1/4

teaspoon

red pepper flakes

1

tablespoon

Worcestershire sauce

1/8

teaspoon

ground black pepper

1/4

teaspoon

Kosher salt

1

small onion

finely diced

1

tablespoon

garlic

minced

1

cup

bread crumbs

plain

1

cup

milk

2

eggs

beaten

1

cup

cheddar cheese

shredded
Meatloaf Glaze:
1/3

cup

ketchup

1

tablespoon

tomato paste

3

tablespoons

brown sugar

1

teaspoon

apple cider vinegar

2

tablespoons

sweet chili sauce

1

tablespoon

mustard
Instructions
Preheat oven to 400 degrees F.

Cover a rimmed baking sheet with aluminum foil. Lightly spray with oil. Set aside.
Make Meatloaf:
Combine all the "Meatloaf" ingredients, in the order listed up to the bread crumbs. Stir well to combine, and after that add the milk and beaten egg. Stir just until combined.

Add the cheddar cheese and again mix well, but do not over-beat.

Shape the beef mixture into a loaf and place it on the prepared baking sheet.
Glaze:
Add all the glaze ingredients in a small bowl and stir until well combined, set aside. Brush about half of the glaze all over the meatloaf.
Bake:
Transfer meatloaf to the oven and bake for about 45 minutes, or until the internal temperature is 160F degrees. Brush the remaining glaze all over the surface and bake for another 15 minutes.

Once it is done, let it cool for 10-15 minutes before slicing and serving.