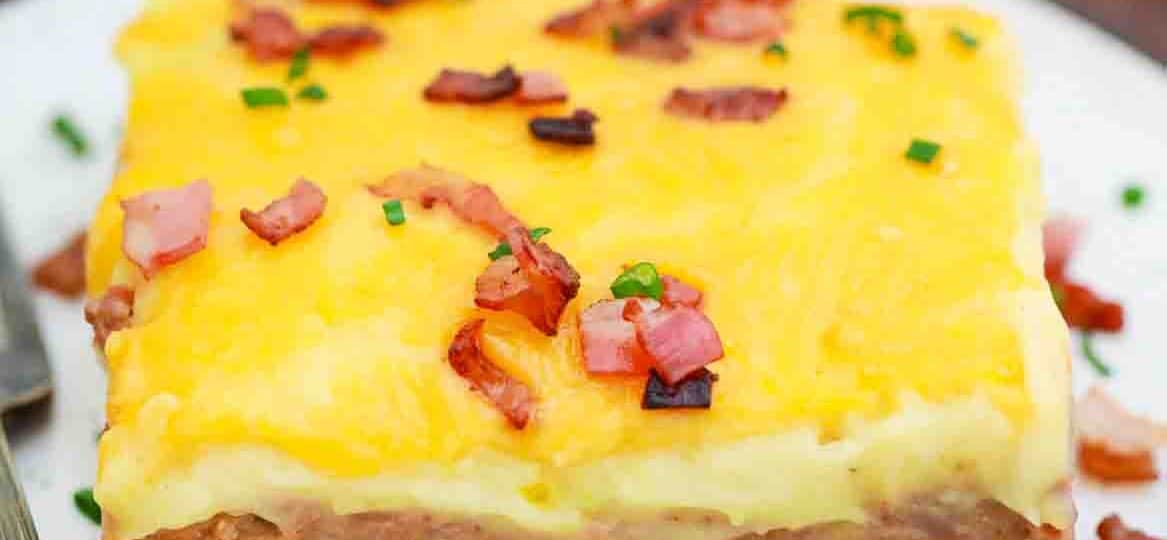 Potato and Meatloaf Casserole Recipe
Potato and Meatloaf Casserole is made of a savory and filling meatloaf layer, topped with fluffy mashed potatoes and bacon that takes this casserole to the next level of deliciousness. The melted cheese and sour cream make creamy mashed potatoes that are also light and scrumptious.
Not a potato fan? That's okay. Try our Best Crockpot Meatloaf with brown sugar, sweet chili sauce, and apple cider vinegar glaze. If you want your dinner in a hurry, use this Instant Pot Meatloaf and Mashed Potatoes recipe made from ground beef and sour cream.
Casseroles have been around for a long time. In fact, there was a macaroni and cheese casserole recipe in a Latin cookbook back in 1250! Then, in 1787, the daughter of Thomas Jefferson made pasta casserole after the president brought a pasta machine home from Monticello. This famous dish was officially served as dinner in the White House in 1824 and the recipe was in her cookbook published in 1824.
This loaded potato meatloaf casserole is the best of both dishes. You get juicy meatloaf with loaded mashed potatoes for an incredible taste explosion in every bite. The potato meatloaf ingredients include a mashed potato layer made with sour cream and ranch seasoning and a juicy meatloaf layer on the bottom.
This is the perfect meal for a large family, also it makes great leftovers that are easy to reheat. In addition, to make it more nutritious, you can saute some veggies and mix them with the meat. This casserole dinner is satisfying, easy to make, and perfect for busy weeknights.
Looking for other casserole recipes? Try our loaded sweet potato casserole with mini marshmallows, cinnamon, and brown sugar. Your family may also like this cheeseburger casserole made with rotini noodles, bell peppers, and tomatoes.
Ingredients needed:
To make this potato meatloaf casserole, all you need are the ingredients listed below. Then, when you are ready to begin, scroll down to the bottom of the page where you can find the instructions and measurements on our recipe card.
Lean ground beef or turkey
Small white onion: Chopped.
Garlic cloves: Minced.
Seasoned bread crumbs
Worcestershire sauce
Large egg: Lightly beaten, at room temperature.
Ricotta cheese
Bbq sauce
Sweet chili sauce
Potatoes: Peeled and diced.
Butter: Softened to room temperature.
Sour cream
Half and half: Warm.
Ranch seasoning mix
Kosher salt
Ground black pepper
Thick bacon: Cooked and crumbled.
Cheddar cheese: Shredded.
Pepper jack cheese: Shredded.
How to make potato and meatloaf casserole from scratch?
Preheat: Preheat the oven to 375 degrees F. Then, spray a 9×13-inch pan with nonstick cooking spray and set aside.
Make the meat mixture: While you wait for the oven to heat, add bread crumbs, ground beef, onions, egg, garlic, Worcestershire sauce, BBQ sauce, sweet chili sauce, and ricotta cheese in a large bowl.
Bake the meatloaf: Then, add the meat mixture to the greased baking dish and spread it into an even layer. Cover the dish with aluminum foil and place in the oven and bake for 30 minutes.
Boil the potatoes: While the meatloaf mixture is cooking, in a medium saucepan, bring water to a boil and add the potatoes. Cook over medium heat until tender.
Make mashed potatoes: Now, drain the water and add the butter. Beat with an electric mixer to combine. Add the warm half and half, ranch seasoning, sour cream, salt, and pepper, and continue mixing.
Drain the meat: Once it is done cooking, remove the meatloaf from the oven and pour off the excess grease.
Add potatoes: After, remove foil and spread the mashed potatoes over the meatloaf with a rubber spatula. Then add the shredded cheese and bacon bits on top.
Bake some more: Next, put the meatloaf back into the oven and continue cooking for an additional 15 minutes or until the cheese has melted and the potatoes are hot.
Serve the casserole: Finally, remove the pan and garnish with the rest of the bacon bits before serving.
How to make air fryer potato and meatloaf casserole from scratch?
Preheat and prep: First, preheat the air fryer to 375 degrees F and prepare a baking dish with non-stick cooking spray or oil.
Mix the meatloaf: Then, in a large mixing bowl, combine the beef, Worcestershire sauce, barbecue sauce, chili sauce, ricotta cheese, egg, garlic, and bread crumbs.
Air fry the meatloaf: Now, press the meat mixture evenly into the pan and place it in the air fryer basket to cook for 15 minutes.
Boil your taters: While the meatloaf is cooking, boil potatoes in a saucepan over medium-high heat for about 15 minutes or until they are tender.
Drain and beat: Afterward, drain the water from the potatoes and add the butter. Beat with a hand mixer for about one minute. Then add ranch dressing, warm milk, sour cream, salt, and pepper. Stir again to combine.
Drain the grease: Now, remove the meatloaf and pour off any extra grease.
Add the potatoes and toppings: Spread the mashed potatoes over the meatloaf evenly before adding the two cheeses and half of the bacon.
Cook some more: Then, put the meatloaf back into the air fryer and cook for an additional five minutes until it is hot and the cheese is melted.
Garnish and serve: Garnish with bacon bits and serve with your favorite side dishes.
Recipe variations:
Add veggies: Feel free to add your favorite veggies like chopped green onions and bell peppers.
Different meat: You could also use ground turkey, pork, or chicken instead of ground beef.
Different potatoes: For fewer carbs, try mashed sweet potatoes or cauliflower instead of regular potatoes.
Make it Italian: Rather than using ranch seasoning, use Italian dressing or just add basil and oregano to your meat mixture.
Other cheese: Alternatively, make your meatloaf casserole even more cheesy by adding shredded American or swiss cheese.
No cheese: In fact, you do not have to use any cheese at all if you do not want to.
Pizza meatloaf casserole: Another way to enjoy this dish is with pizza seasoning and chopped pepperoni and sausage inside and top it with mozzarella cheese.
Oats: To make your meatloaf even heartier, use quick oats instead of bread crumbs.
How to serve:
This easy meatloaf mashed potato casserole is ready in less than an hour and can be served alone as a whole meal. Try one of these serving ideas or share some of your own in the comments below.
Make a delicious glaze for your meatloaf casserole. Just mix, ketchup, barbecue sauce, brown sugar, and Worcestershire sauce.
Serve your tasty meatloaf casserole with a nice salad.
Alternatively, add some spice to your meatloaf casserole by using a glaze of hot sauce and cayenne pepper.
Another way to serve this dish is with air fryer corn on the side.
Sprinkle grated cheese and bacon bits on top of your casserole before serving for extra flavor.
This dish goes great with your favorite side dishes like peas, corn, or green beans. Our cheesy baked green beans are amazing.
Use leftovers to make a hearty meatloaf sandwich for lunch the next day.
You can also use leftovers to make a whole new casserole dish.
Frequently asked questions
What is the best potato for this recipe?
You can find over 100 different varieties of potatoes sold just in the United States and thousands around the world. But we like to think of them as waxy or starchy. The latter is the best mashing potato. Although we like to use russet potatoes, you can also use Yukon gold or King Edwards. They are easy to mash and do not take long to cook.
Why is my meatloaf dry?
You may have overcooked your meat, causing it to dry out. Or it could be that you added too many bread crumbs and not enough wet ingredients. Instead of using dry bread crumbs, add bread crumbs to a bowl of milk and let them soak up the liquid. The best way to determine if you have enough liquid is to see if it sticks to the bowl. If it sticks add more moisture.
Why do people put milk in their meatloaf?
Although we did not do that for this recipe, adding milk to your meatloaf helps soak the bread crumbs and adds moisture to the meat. You could also use chicken or beef broth or stock, water, or even vegetable broth. It is also fine to soak the bread crumbs in liquid before using them.
What are the nutrition facts in this recipe?
Each serving of this delicious casserole has 494 calories with 36 grams of fat and 17 grams of saturated fat. It also has 16 grams of carbohydrates, 133 milligrams of cholesterol, 1,200 milligrams of sodium, and 2 grams of sugar.
But you also get 30 grams of protein, 3 grams of fiber, 633 units of vitamin A, 227 milligrams of calcium, and 2 milligrams of iron.
How to store leftovers:
Store: You can store your leftover potato and meatloaf casserole wrapped in plastic wrap in an airtight container or gallon-size zip baggie. Refrigerate for up to three days.
Freeze: It is also safe to freeze your potato and meatloaf casserole for up to three months.
Thaw: Be sure you remember to put your frozen leftovers in the fridge to thaw overnight before serving for the best results.
Reheat: To reheat, put the casserole in a microwave-safe dish and heat in the microwave for one to two minutes, depending on how much you are reheating.
More meatloaf recipes to try:
Cooking tips:
For a thicker casserole, use an 8-inch square baking dish but you will need to adjust the cooking time.
Use an instant-read thermometer or meat thermometer to check the temperature before you take it out of the oven. It should read 160 degrees F.
For a shorter prep time, use instant mashed potatoes instead of making your own from scratch.
Add milk to your bread crumbs before using them for an extra moist meatloaf.
Try not to overmix your meat mixture. It can make it tougher.
For more flavor, use ground beef with a bit of fat in it like 75/25.
Potato and Meatloaf Casserole
Ingredients
1 1/2

pounds

lean ground beef

or turkey

1

small onion

very finely chopped

4

cloves

garlic

minced

1

cup

seasoned bread crumbs

1

tablespoon

Worcestershire sauce

1

large egg

lightly beaten

1/4

cup

ricotta cheese

1/4

cup

BBQ sauce

1/4

cup

sweet chili

2

pounds

Yukon gold potatoes

peeled and diced

1/3

cup

unsalted butter

1/2

cup

sour cream

1/2

cup

half and half

warm

1

oz

packet ranch seasoning mix

1

teaspoon

kosher salt

or to taste

1

teaspoon

ground black pepper

or to taste

12

slices

thick bacon

cooked until crispy and crumbled

1

cup

cheddar cheese

shredded

1

cup

pepper jack cheese

shredded
Instructions
Preheat the oven to 375 degrees F.

Spray a 9x13-inch pan with nonstick cooking spray and set it aside.

In a large mixing bowl, combine the ground beef, onion, garlic, bread crumbs, Worcestershire sauce, egg, ricotta cheese, chili sauce, and BBQ sauce. Mix until thoroughly combined.

Spread the beef mixture on the bottom of the pan in an even layer. Place in the oven, and bake for 40-45 minutes.

While the meatloaf is cooking, add the potatoes to a large pot and cover with water, over medium-high heat. Cook until fork tender.

Drain the water from the potatoes, and add the butter. Beat with a hand mixer to combine.

Next, add the sour cream, warm half and half, ranch seasoning, and add salt and pepper to taste. Mix well to combine.

Remove the meatloaf from the oven, and discard any excess grease.

Spread the mashed potatoes in an even layer over the meatloaf, then sprinkle the cheddar cheese on top, half of the bacon pieces, and after that the pepper jack cheese.

Return the meatloaf to the oven for an additional 15-20 minutes, until the potatoes are hot and the cheese has melted.

Remove the pan from the oven, and garnish with the remaining bacon and chopped green onions.

Serve as is or with your favorite side dishes.
Deliciousness to your inbox
Enjoy weekly hand picked recipes and recommendations