Slow Cooker Chicken Salad Recipe
Slow Cooker Chicken Salad is made with juicy and tender chicken breasts, perfectly cooked in the crockpot. This is a great make-ahead dish that is ideal for lunch, dinner, or during summer potlucks.
During summer times, I love making this recipe since it is great to make it in advance and refrigerate for days to come. You can use the juicy, slow-cooked chicken on Lettuce Wraps, Tacos, or Casserole.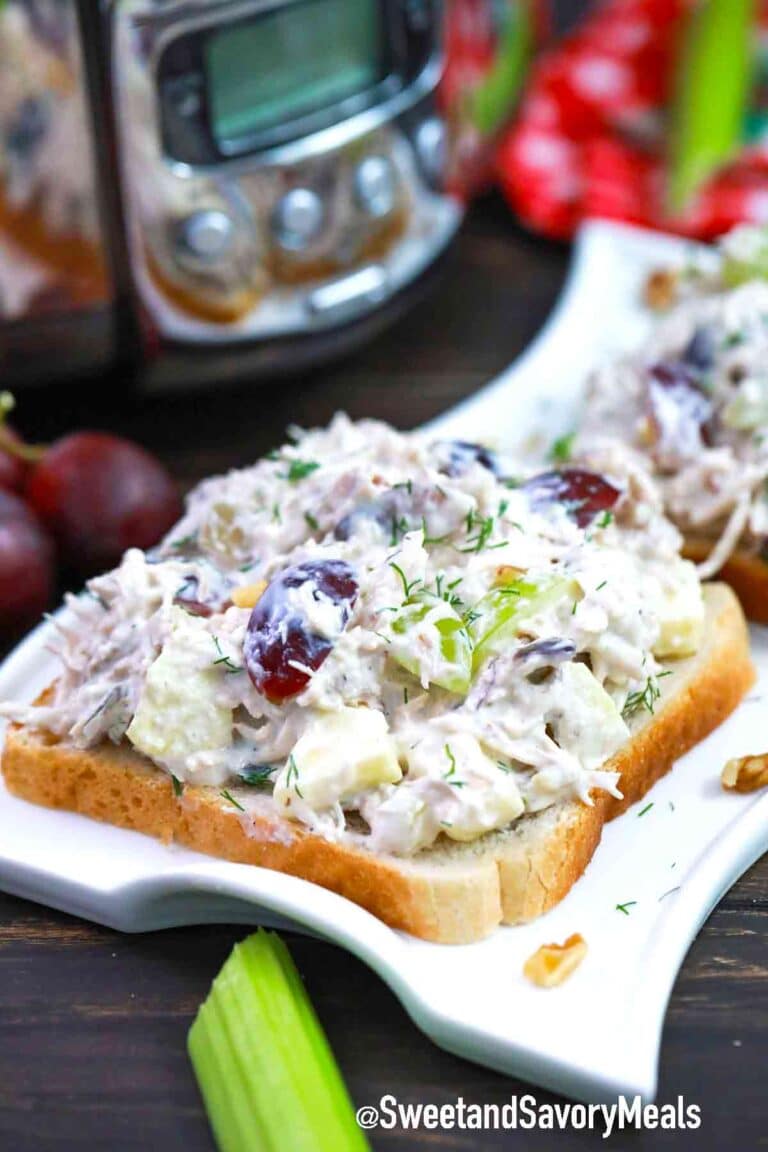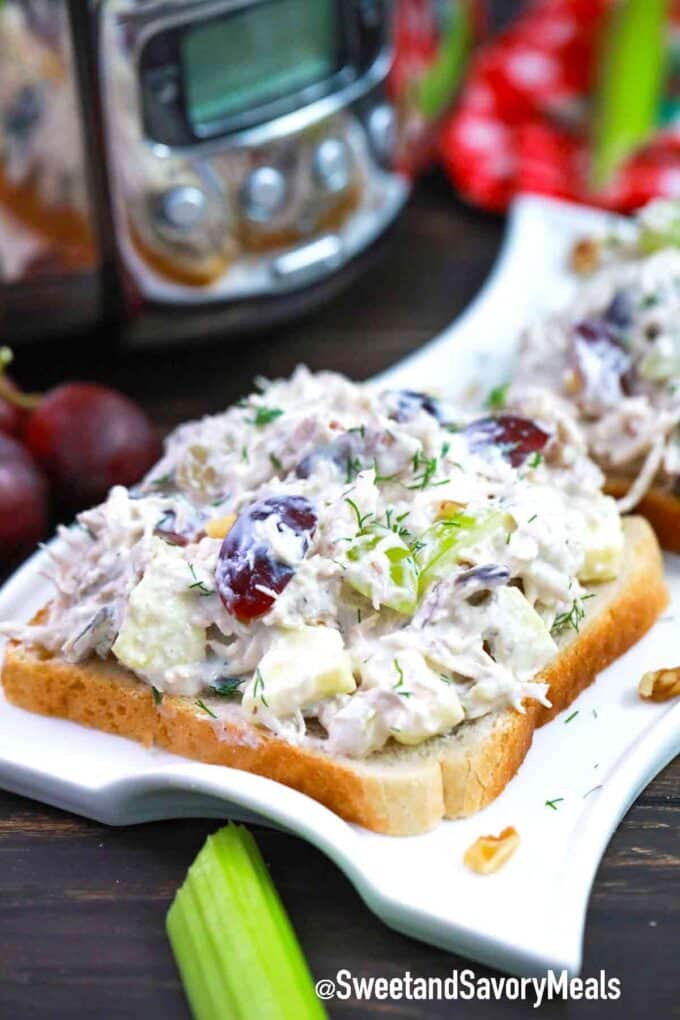 Slow Cooker Shredded Chicken Salad
This Slow Cooker Chicken Salad is the perfect summer comfort food. Firstly, it is super easy to make. You simply dump the ingredients in the crockpot, season them, and let them cook to tender perfection. With the summer heat, you want to avoid the stove as much as possible, and this recipe is a good alternative!
Also, it is a perfect make-ahead dish. As it sits, the flavors blend together, and it tastes even better the following days. You can easily make it over the weekend and serve it during the whole week. Or, if you are hosting a party, make it a day ahead and refrigerate, it would be delicious!
The meat is very tender and flavorful and easily modifiable. I love using chicken breasts here, in combination with veggies, such as celery. However, feel free to use thighs and various other extras, like diced apples, tomatoes, dried cranberries, etc.
Use it on sandwiches, salads, and so much more. Follow the recipe steps below, and learn how to easily make this meal on your own – quickly and effortless!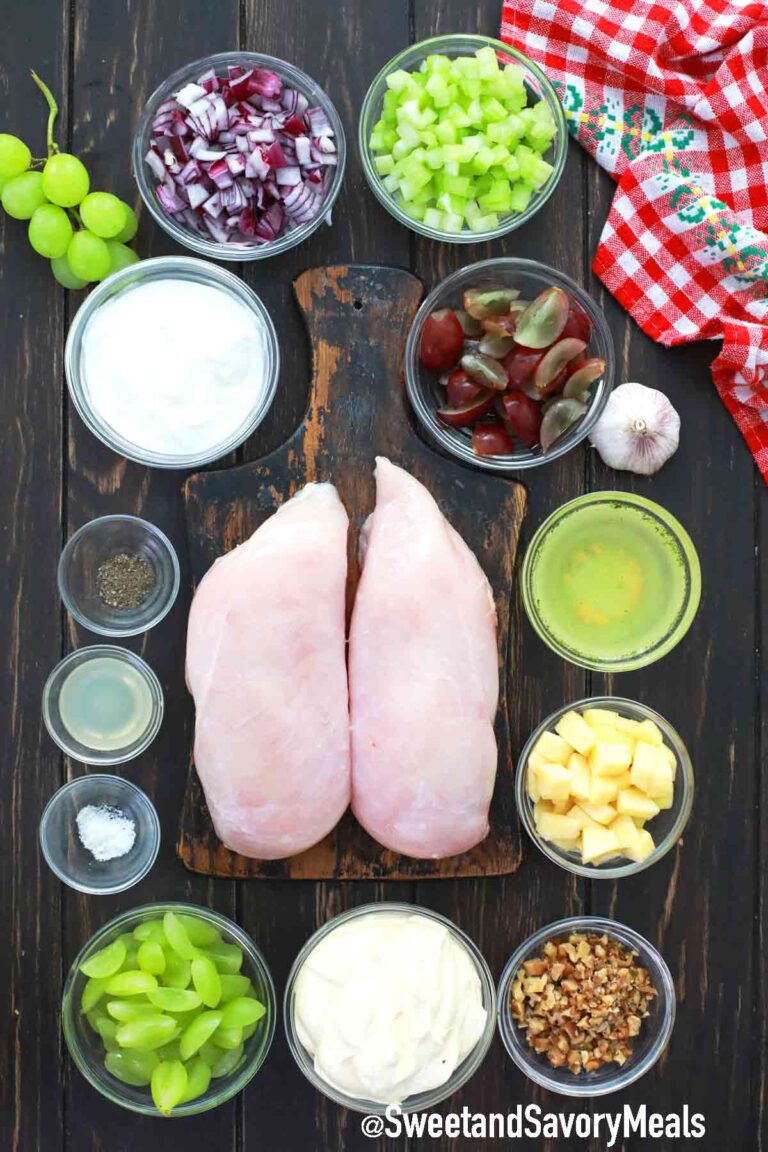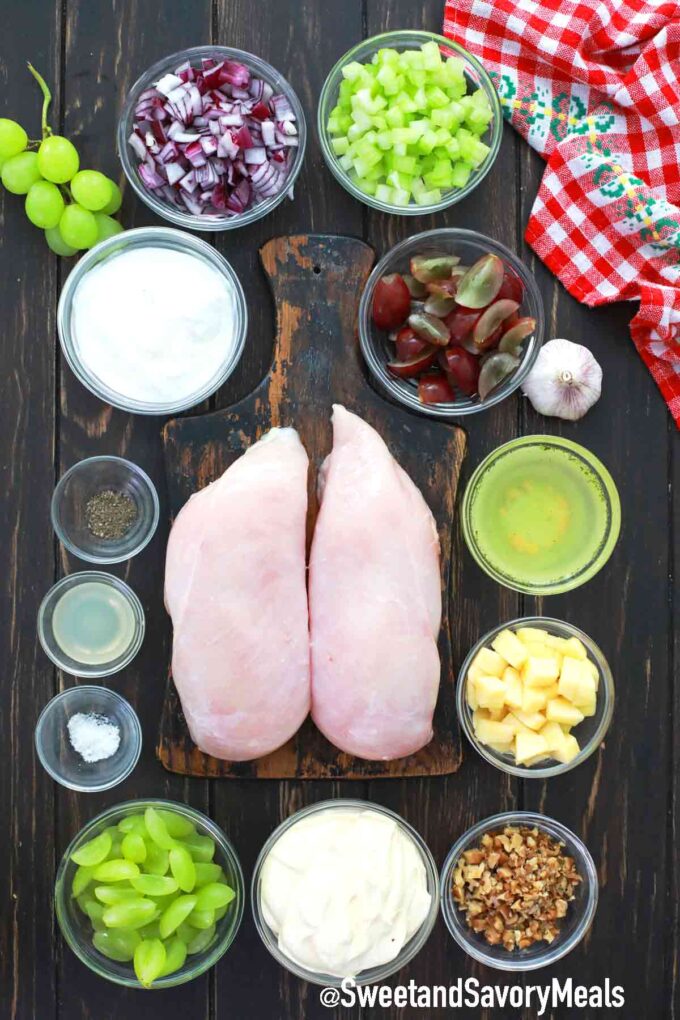 Ingredients needed:
For the exact measures, please refer to the recipe card below. But you will need the following ingredients:
Chicken: I love using boneless and skinless chicken breasts here. However, you can use thighs, or even turkey breasts as well.
Stock: Homemade Chicken Stock is the best! It is so flavorful and you know exactly what you put into it. Alternatively, feel free to use store-bought stock. Try using a good brand and organic.
Vegetables: Onion, and celery. Also, add some freshly minced garlic if desired.
Fruits: Red or white seedless grapes.
Nuts: Pecans work really well here. But you can also go with walnuts, etc.
Mayonnaise or Greek yogurt: It and creaminess and keeps the meat moist and tender.
Seasoning: Salt, ground black pepper, and fresh or dried dill.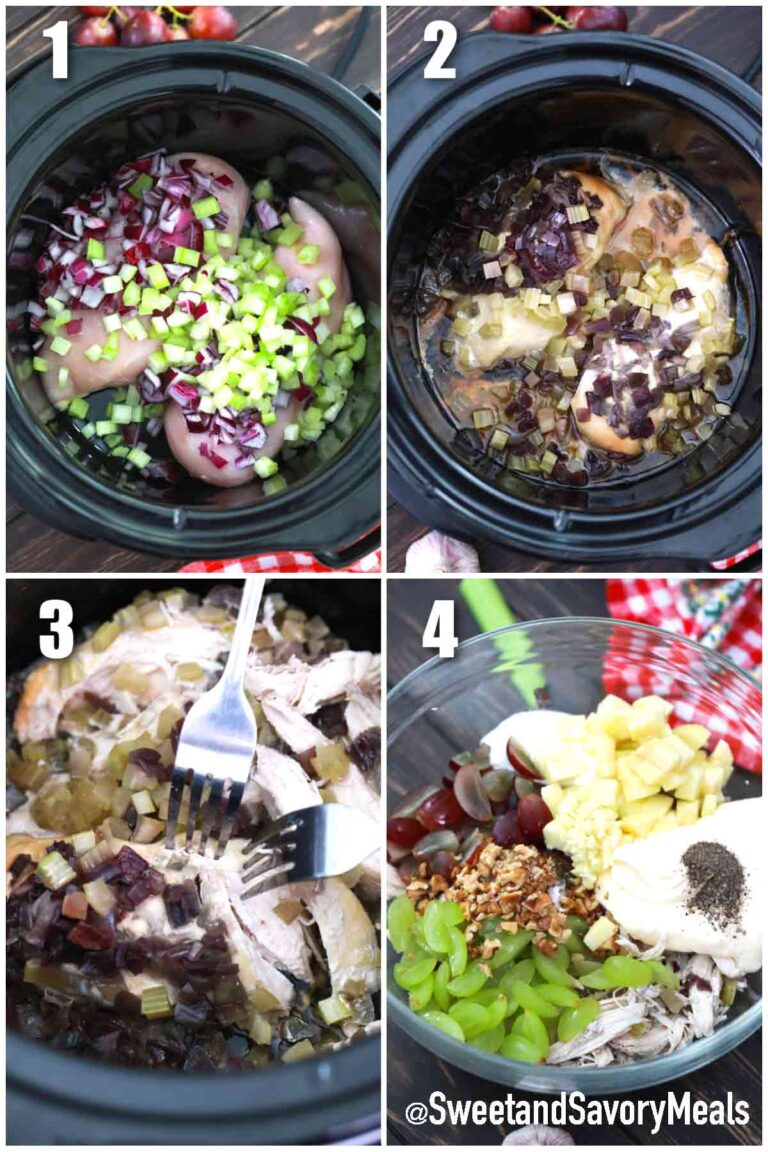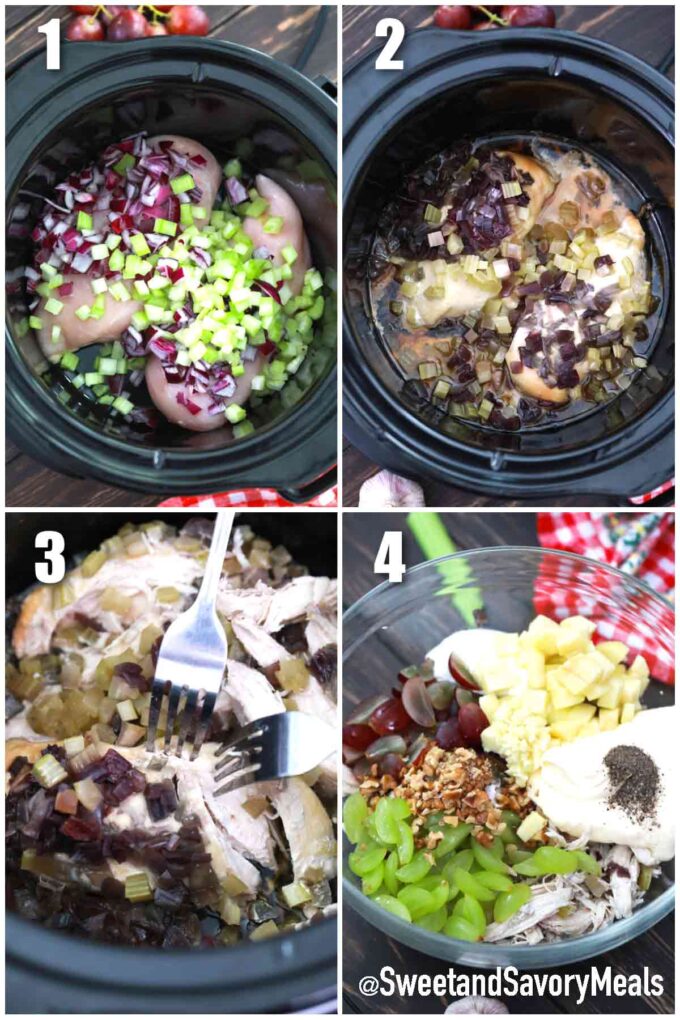 How to Make an Easy Slow Cooker Chicken Salad?
Season and cook the meat: First, sprinkle some salt and black pepper over 2 pounds of boneless and skinless chicken breasts. Then, place the poultry in the bottom of the pot along with vegetables.
Add the stock: Next, add the stock. Preferably to use low sodium stock, so you can control the saltiness.
Cook: Close the lid, and cook on LOW for 3-4 hours, until the meat is fully cooked and tender.
Shred: Next, shred the poultry either by fork, hand, or mixer. Let it cool completely.
Add the rest of the ingredients: Once the meat is cooled, mix in the remaining ingredients, such as mayo, grapes, nuts, etc.
Serve: Enjoy it right away over some bread or croissant.
Variations and substitutions:
Cajun Style Chicken Salad: Add some cajun seasoning and turn this dish into a souther one.
Mix in some avocado: Feel free to add some sliced avocado.
Pasta Chicken Salad: Want something more feeling? Then, cook some pasta and mix it in. It would be a quick dinner meal for the whole family!
Waldorf Style Chicken Salad: Instead of shredding the poultry, you can cut it into cubes.
Curry: Another great alternative would be to make it into a creamy and curry chicken salad.
Grilled Chicken: During summer pool times, you can easily grill the chicken breasts instead of slow-cooking them.
Turkey breasts: Alternatively, feel free to use turkey instead.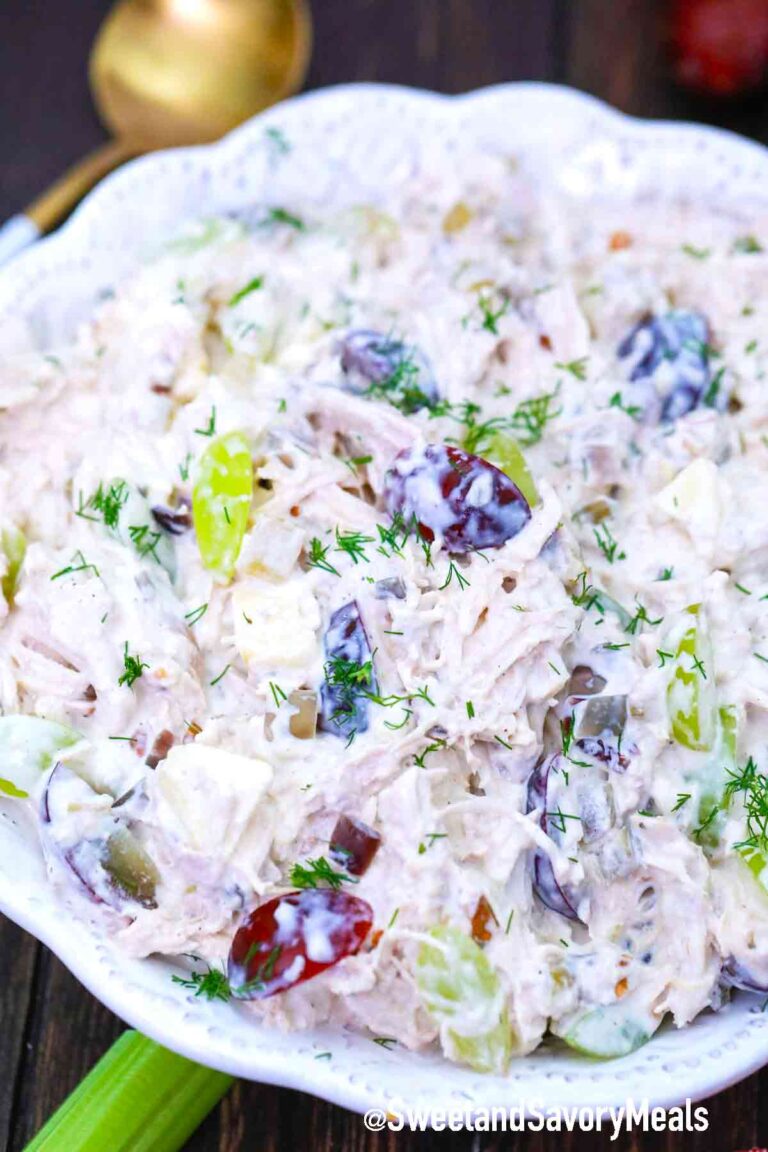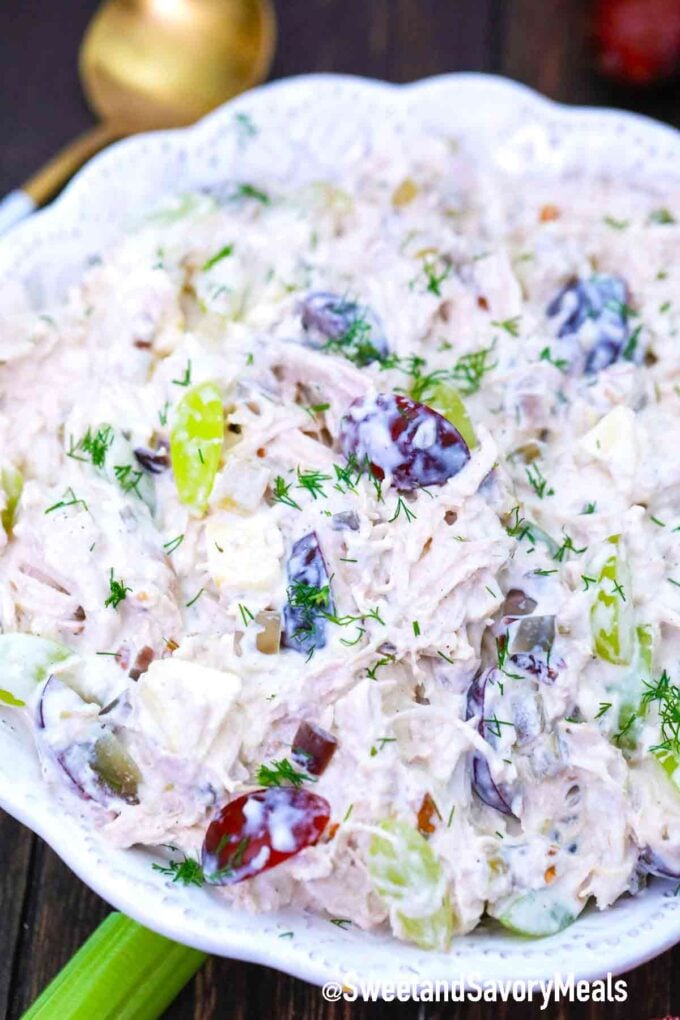 How to cook the chicken breast on the stove-top?
Another alternative would be to boil the chicken breast on the stovetop.
For more flavor, boil the meat in poultry herbs seasoning and broth, otherwise, simply use water.
Bring the water to boil, and cook the breasts for 40-60 minutes, or until cooked. Depending on the size and cut, the cooking time should be adjusted accordingly.
Check the doneness by using a meat thermometer, it should read 165 degrees F when fully cooked.
Next, simply shred and mix in the rest of the ingredients.
Can you make Shredded Chicken in the Instant Pot?
Yes! Learn how to easily make shredded chicken in the Instant Pot here. Making it in the pressure cooker is super quick and easy. Also, you can cook frozen meat in it as well, so it is pretty handy!
How to shred chicken?
By mixer: The quickest way is to shred it by the mixer. Simply place the cooked meat inside the mixing bowl, and shred the meat at low speed.
By fork: If you do not have a mixer, a simpler way would by using 2 forks. Just stick one fork in the breast and use the other fork to pull it apart. Continue this until fully shredded.
Can you cook frozen meat in the slow cooker?
Yes! Frozen chicken breasts can be cooked in the crockpot as well. The only difference would be the cooking time. You will have to increase the cooking time by about 45-60 minutes when cooking frozen meat in it.
Just remember to always check the doneness by using a thermometer. The temperature should read 165 degrees F.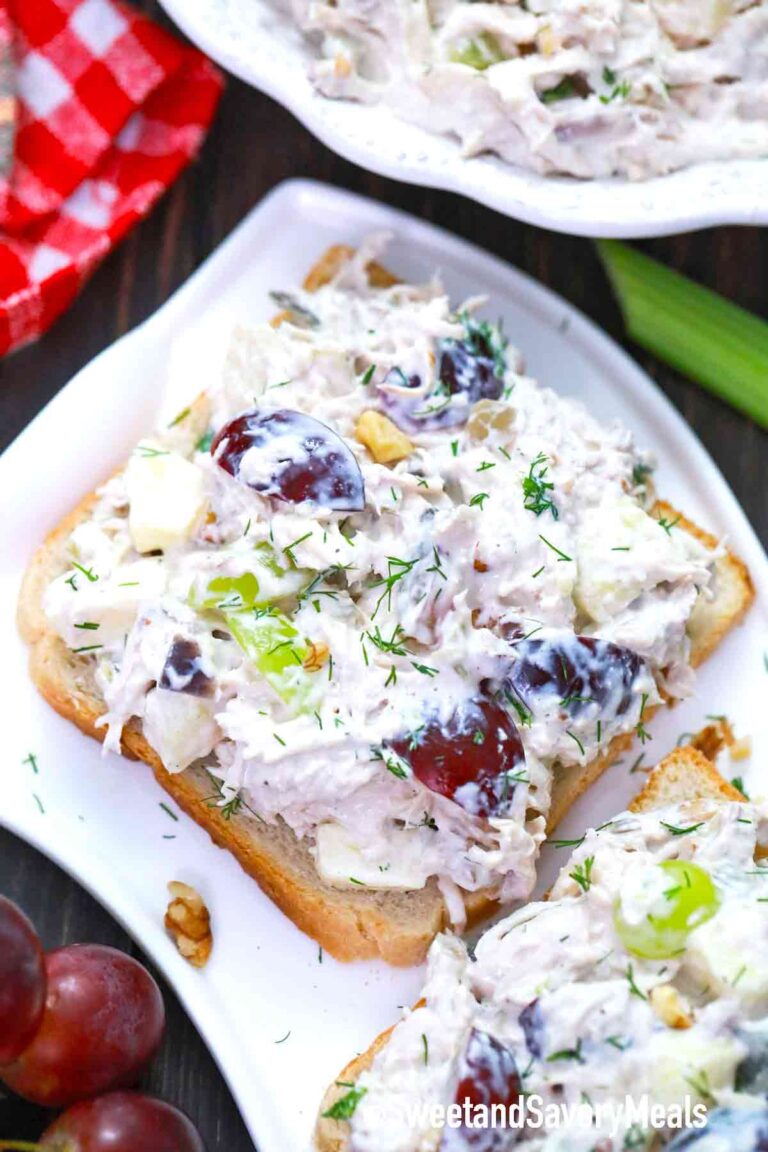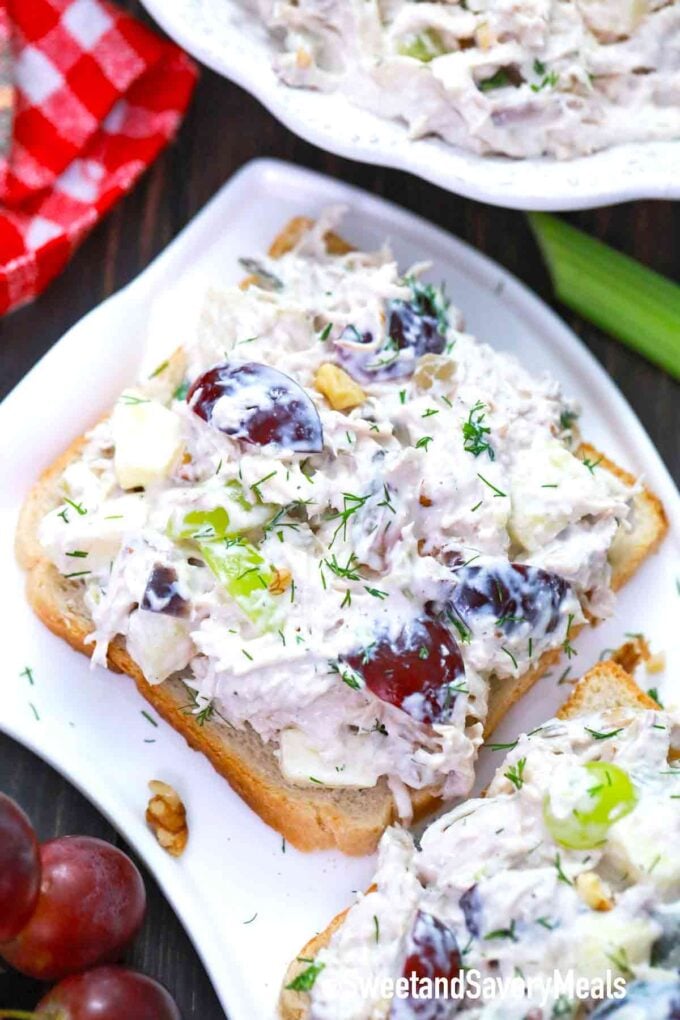 Serving suggestions:
This dish can be served in many ways. Some suggestions are:
More easy slow cooker recipes to try:
How to store leftovers?
The great thing about this recipe is that leftovers are delicious, and taste even better the following days as the flavors get together. Simply store them in an airtight container and refrigerate them for up to 4 days.
Recipe Tips:
Instead of chicken breasts, you can use thighs or even turkey meat.
Also, if you like it on a spicier side, add some freshly chopped jalapeno.
Mayo can be substituted with Greek yogurt.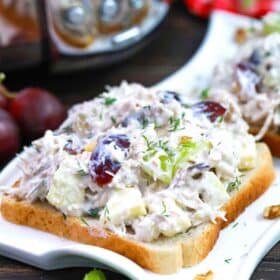 Slow Cooker Chicken Salad
Slow Cooker Chicken Salad is made with juicy and tender chicken breasts, perfectly cooked in the crockpot.
Save
Share
Print
Pin
Rate
Ingredients
2 1/2

pounds

chicken breasts

(skinless and boneless)

1

red onion

(diced)

1

cup

celery

(diced)

1/2

cup

chicken broth

(low-sodium)

1

cup

mayonnaise

1/2

cup

greek yogurt

1/2

cup

red seedless grapes

(quartered)

1/2

cup

green seedless grapes

(quartered)

1/2

cup

chopped walnuts

(or pecans)

1

red apple

(diced into small cubes)

1/4

teaspoon

salt

1/4

teaspoon

pepper

1

tablespoon

lemon juice

2

cloves

garlic

(minced)
Instructions
In a 6 or 8qt slow cooker combine chicken, onion, celery and broth.

Cook on low for 3 to 4 hours, or until chicken is cooked through, tender, and the internal temperature of the meat is 165 degrees F.

Shred the chicken in the slow cooker and let it cool to room temperature.

Add the cooled chicken to a large bowl, spoon and add some of the veggies from the slow cooker.

Add in the rest of the ingredients and stir to combine.

Adjust for salt and pepper.

Serve on bread, or with crackers and veggies.
Nutrition
Calories:
591
kcal
|
Carbohydrates:
13
g
|
Protein:
44
g
|
Fat:
40
g
|
Saturated Fat:
6
g
|
Polyunsaturated Fat:
22
g
|
Monounsaturated Fat:
9
g
|
Trans Fat:
1
g
|
Cholesterol:
137
mg
|
Sodium:
646
mg
|
Potassium:
944
mg
|
Fiber:
2
g
|
Sugar:
10
g
|
Vitamin A:
194
IU
|
Vitamin C:
9
mg
|
Calcium:
57
mg
|
Iron:
1
mg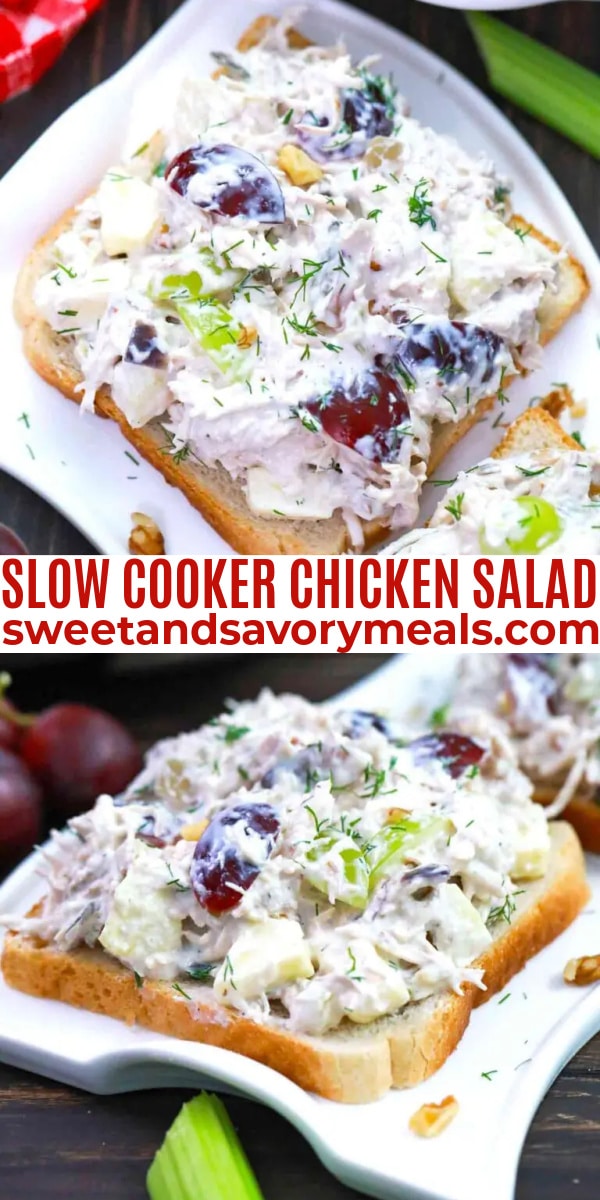 More recipes you might love