Easy Boiled Chicken Recipe [video]
Boiled Chicken is a perfectly healthy meal that is tender, flavorful and full of proteins. Use this easy recipe for sandwiches, tacos, or soups. No matter how you utilize the chicken, it is guaranteed to be super juicy and flavorful!
There are no limits on how you could incorporate this recipe. We love to enjoy it on Casseroles, Tostadas, or simply in a Salad.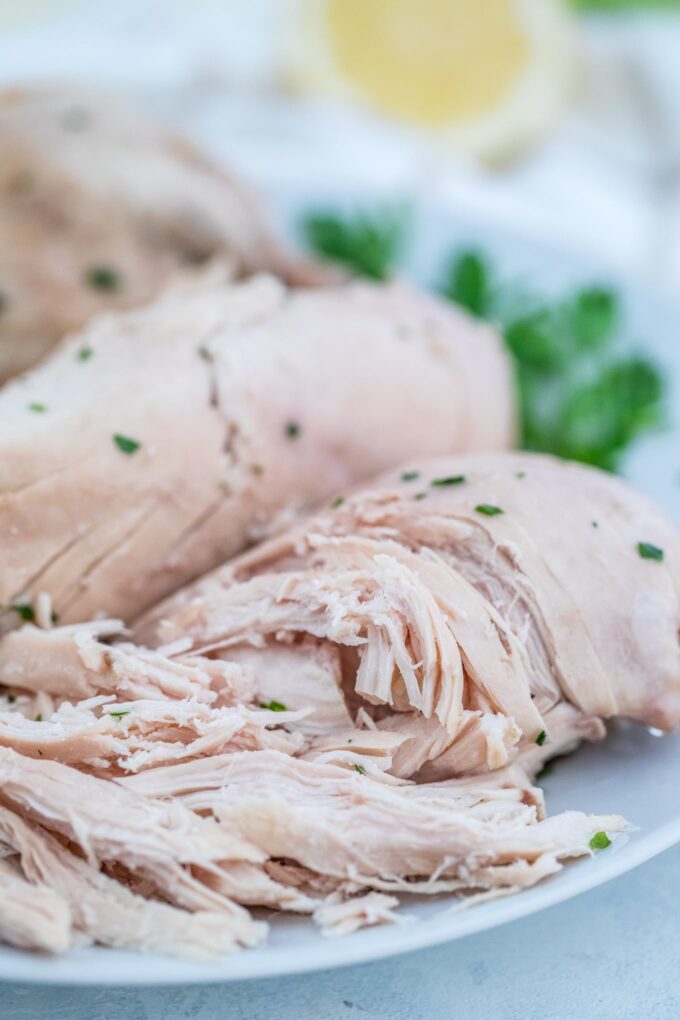 How to whole Boil Chicken
Boiling a Chicken is probably one of those essential dishes that everyone should eventually learn to cook. It is such a basic recipe, yet so important, that we believe it should be one of the first dishes on the learner's list.
Because chicken is so popular and versatile, it is essential to know the basics of how to cook and boil it properly. This recipe will show you exactly that. Just because we are boiling the poultry, it does not meat the meat is bland or boring. We season it with flavors and aromas. You see, with this recipe not only you get perfectly cooked meat, but you also get a deliciously healthy, homemade chicken broth!
This is a fool-proof recipe, that once you try it, you will realize how simple yet versatile it can be. Whether you want to make a flavorful homemade broth, a salad, or soup, use this dish to guide it through.
How to Boil a Chicken Perfectly?
Boiling is very simple and easy. Also, watch the recipe video tutorial attached. However, to properly do so, we follow the below steps:
Pick the chicken – try to go with the best quality meat, and younger poultry, as the older they get the rougher the meat is.
Season it – Place the whole poultry in a large pot and add enough water to it, so it is fully covered. To get the best broth, and flavorful meal, seasoning is essential here. So, use some black pepper, salt, minced garlic, some bay leaf, fresh vegetables such as sliced carrots, onions, fresh herbs, peppercorns. You might add also some sliced celery. The veggies really add a lot of flavor to it, so use the one you love most.
Bring it to Boil – the secret here is to simmer it over a longer period on lower heat. This way the meat slowly and surely absorbs all the flavors, while becoming perfectly moist and tender. Once the water boiled, cover the pot and let it continue cooking at low heat.
Rest and shred it – Once cooked, remove it from the water, and let it rest for about 10-15 minutes. After, you can cut it into desired pieces, or shred it with a fork.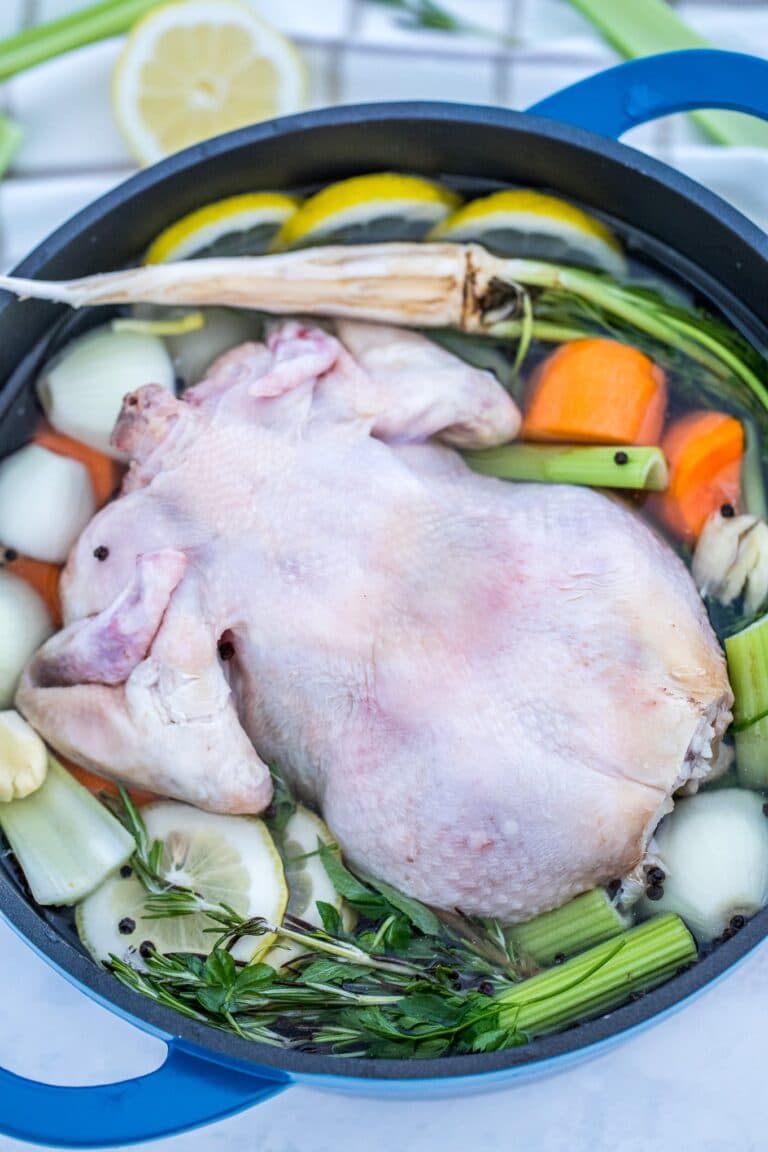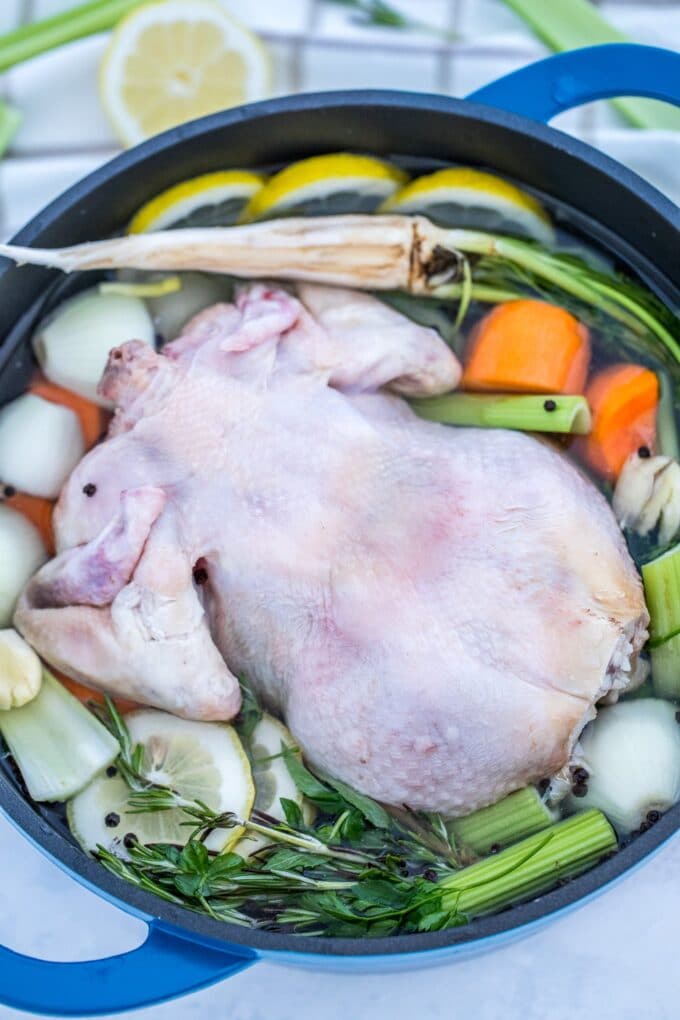 How Long to Boil Chicken?
As stated above the secret here is to cook it on low for a longer period of time. Also, please note, that the amount of time will depend on the size of the bird, whether it is a young/old bird, and whether it is fresh or frozen.
We usually go with fresh poultry when making this dish, and therefore our cooking time is about 90 to 105 minutes. If the chicken is larger than 4lb, then we would add an additional 15 minutes, so the total time will be closer to 2 hours.
Also, if you do not want to boil a whole chicken, but rather different parts, you could easily do so. The cooking time, in that case, will be much lower. For boiled thighs or wings, you will only need about 45 minutes.
How long to boil frozen chicken?
If you do not have a fresh bird and do not want to thaw it, boiling it right away is also an option. Simply follow the same instructions above. The only difference will be the cooking time, you will have to add an additional 10 minutes to it. That is it!
In addition, you could use a meat thermometer to check the doneness. The best way to check is to insert the meat thermometer into the thigh. The internal temperature should read 165 degrees F.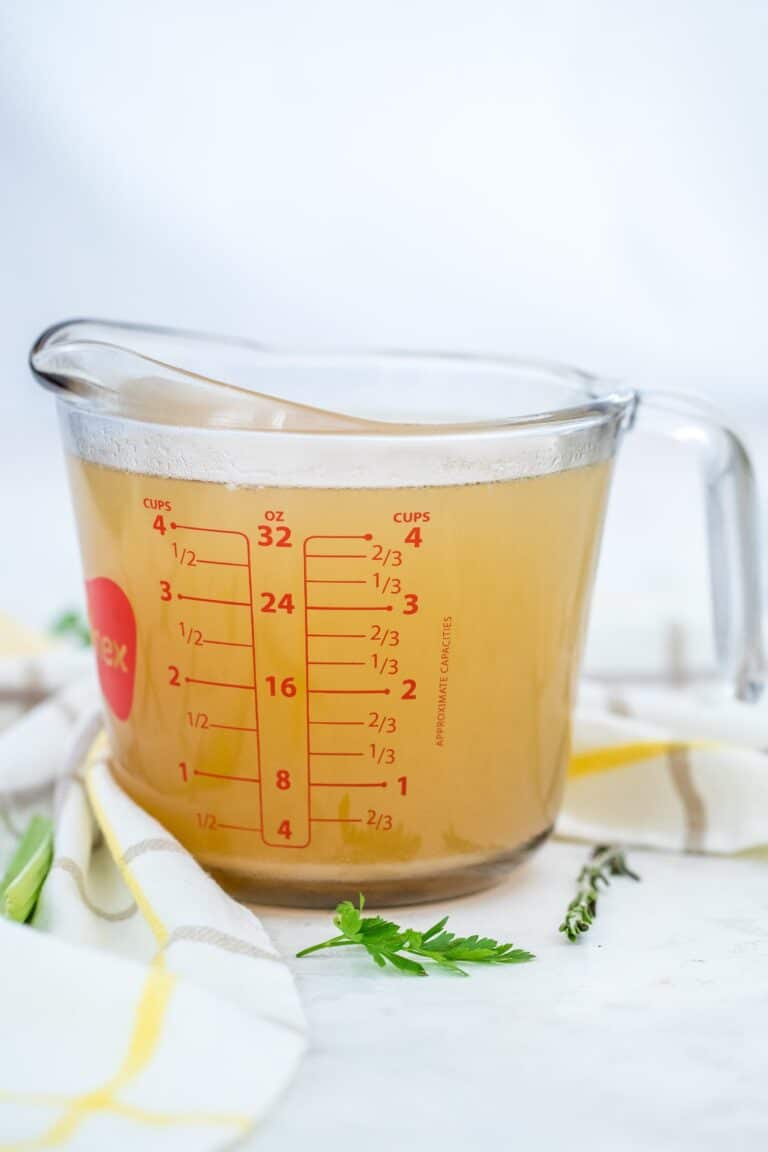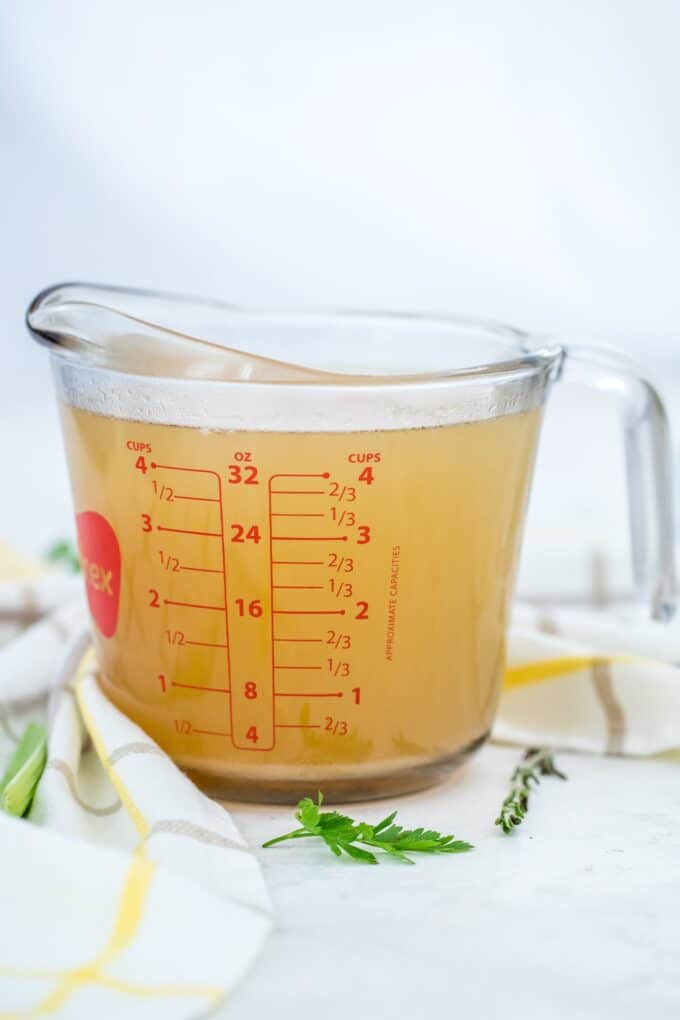 How to Boil Chicken Breast?
Follow the same instruction as you would for the whole-bone in chicken. Use the same ingredients, such as herbs, and veggies, as they give the most flavor and aromas. In addition, please note, breasts are much leaner. Therefore, it is important not to overcook them, as they might become dry.
Place the breasts in the water mixture and bring to boil.
Then, reduce the heat to low, and cook them for about 25-30 minutes. This time is for 6 breast pieces. If you are only cooking 3, the time will be reduced to 10-15 minutes.
Check the internal temperature using a meat thermometer. It should be 165 degrees F.
Shred and enjoy with your favorite dishes!
What to do with
boiled
chicken?
There are unlimited ways you could use it. First of all, you will end up with a flavorful homemade broth, that beats any store-bought version. You can utilize the broth in various other dishes, such as soups. Also, you can store the broth in a lidded jar in the fridge for up to 1 week, and use it when needed.
Other ways to use the meat is in: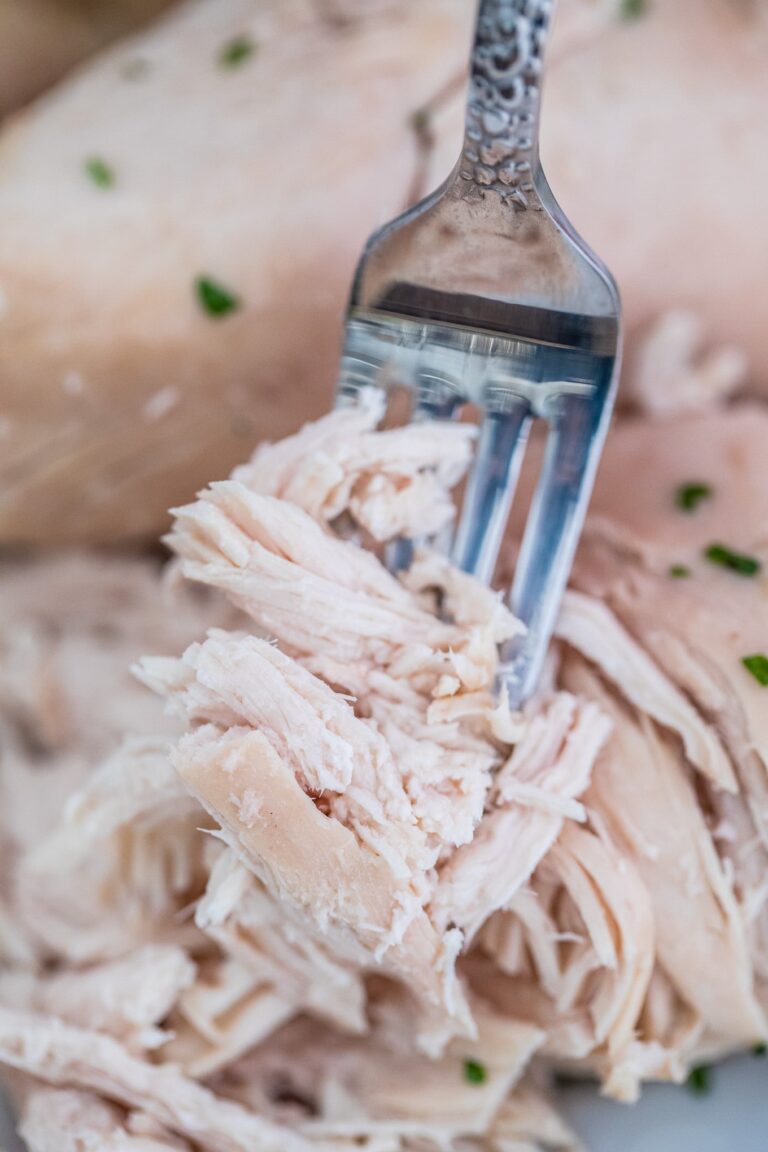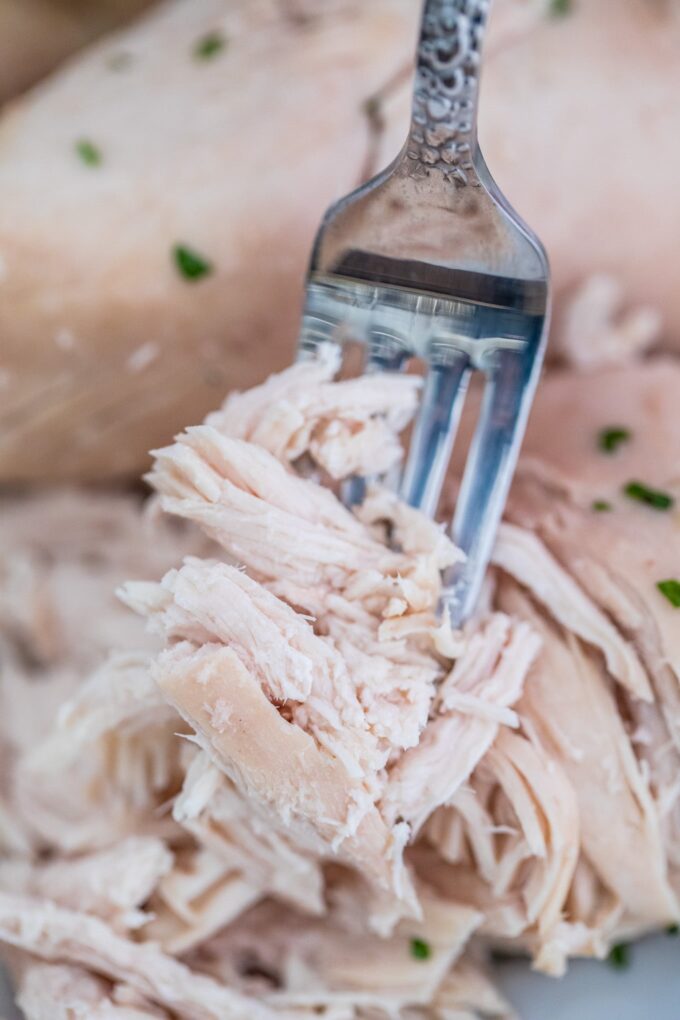 How long does
boiled

chicken

last in the fridge?

According to USDA, cooked poultry is best to refrigerate for up to 3-4 days. Ensure it is properly wrapped and stored.

Also, it can be frozen. To freeze it, use airtight containers or freezer bags, and freeze it for up to 3 months. Defrost and reheat prior to serving.
Easy Boiled Chicken Recipe Tips
You can also cook a whole chicken in the Instant Pot.
The flavors will tremendously depend on what herbs and veggies you use in the broth. Therefore, try using fresh herbs as stated above. You can also add thyme, dried basil, rosemary, sage, etc.
Also, is very important to simmer the meat at low heat but for a longer period of time. This way the flavors and aroma are slowly reflecting into this dish.
In addition, instead of water, you can boil it in chicken broth. This will enhance the flavors as well.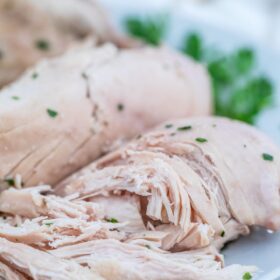 How to Boil Chicken
Boiled Chicken is a perfectly healthy meal that is tender, flavorful and full of proteins. Use this easy recipe for sandwiches, tacos, or soups. No matter how you utilize the chicken, it is guaranteed to be super juicy and flavorful!
Save
Share
Print
Pin
Rate
Ingredients
1

whole chicken

(about 3-4 lbs)

2

medium onions

(quartered)

2

large carrots

(cut into large chunks)

6

cloves

garlic

(smashed)

6

lemon slices

1/2

lemon

(for stuffing the chicken)

2

celery stalks

(cut into large chunks)

4

sprigs fresh thyme

5

sprigs fresh rosemary

4

sprigs fresh oregano

6

sprigs fresh parsley

1

bunch parsley with root on

3

bay leaves

1

tablespoon

whole peppercorns

2

teaspoons

salt

Enough water to cover the chicken
Instructions
Cut the onions into quarters, the carrots, and the celery into large chunks.

Place one of the onions, 2 cloves garlic, and half a lemon into the cavity of the chicken.

Place chicken into a large pot or dutch oven and add the rest of vegetables, fresh herbs, bay leaves, peppercorns, and salt. Add enough water to cover the chicken.

Cover pot and bring to a boil over high heat. Once boiling, reduce the heat down to low-medium and simmer partially covered for 1 1/2 – 2 hours.

Remove chicken and allow to cool before removing the meat from the bones.

Strain and reserve the broth for later use.

Use chicken meat in sandwiches, salads, wraps or serve as is with a healthy side dish.
Nutrition
Calories:
258
kcal
|
Carbohydrates:
13
g
|
Protein:
19
g
|
Fat:
15
g
|
Saturated Fat:
4
g
|
Cholesterol:
71
mg
|
Sodium:
662
mg
|
Potassium:
406
mg
|
Fiber:
3
g
|
Sugar:
4
g
|
Vitamin A:
2730
IU
|
Vitamin C:
51.7
mg
|
Calcium:
52
mg
|
Iron:
1.7
mg
More recipes you might love