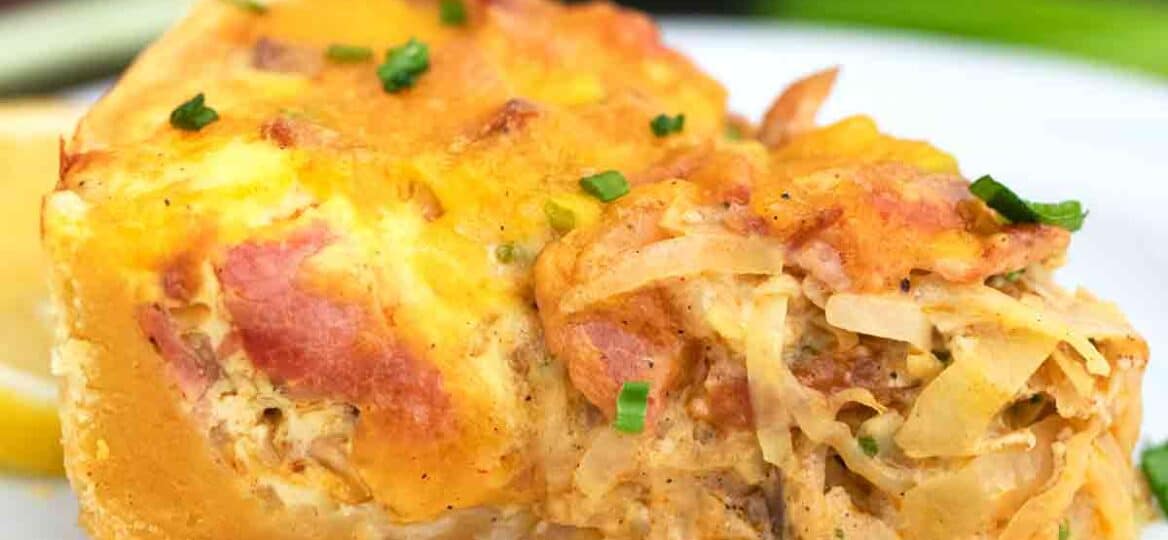 Bacon Cabbage Quiche [Video]
Bacon Cabbage Quiche is filled with crispy bacon plus cheddar cheese, caramelized cabbage, and onions baked with a creamy egg mixture inside a flaky crust. A showstopping brunch, snack, or meal any time of the day!
Brighten up your brunches with this quiche, and complete your spread with this Chocolate French Toast Casserole, Shakshuka, and Apple Cider Mimosas!
Cabbage Quiche Loraine Recipe
Bacon Cabbage Quiche is the ultimate comfort food brimming with bacon, veggies, and cheese covered in the richest egg custard, then baked inside a homemade short-crust.
It's insanely delicious as is, but your filling options are endless. Throw in whatever veggies and meats are in your fridge, and experiment with seasonings, cheeses, and other mix-ins. If you're intimidated by the thought of making French pastry, this recipe will change your mind!
What is a quiche?
This French pastry is basically an egg and cream custard with other savory fillings, which are then baked within a flaky pie crust.
What pastry is quiche made from?
We're using short-crust pastry, aka your basic pie or tart dough. It's crumbly and flaky, but with enough integrity to hold in our custard and other ingredients.
What makes a quiche different from a quiche Lorraine?
They're very similar in structure, except Lorraine is traditionally made with cheese (Gruyere, swiss, or Emmental) plus heavy cream and bacon, all baked in short-crust. On the other hand, you can fill the basic quiche with anything you want!
More Breakfast Recipes:
What kind of cheese is best for quiche?
Melty cheeses like cheddar and swiss work well, because they help hold the filling together as they melt. However, you can definitely throw in your favorites, too! Other great options are feta, gruyere, goat cheese, mozzarella, Emmental, and gouda.
What do you need to make Bacon Cabbage Quiche?
For the pie crust:
Prepare a cup of flour, about 6 tbsp of ice water, very cold butter, and some salt.
For the filling:
Bacon: Use any flavor you like, fry it up, and chop.

Cabbage: We recommend regular green and white for their subtle, slightly sweet flavor. Make sure to remove the core before shredding.
Aromatics: Very thinly sliced red onions and minced garlic.
Eggs: We're using three WHOLE plus 3 YOLKS. This makes for a really rich custard that doesn't fall apart when you slice into it.

Cream: Adds extra richness and gives the filling a silky texture.
Milk: Helps our filling come together and stay tender.
Cheddar: Melts into the custard to make it cheesy and amazing.

Spices: Smoked paprika plus fresh-ground pepper and sea salt.
How do you make Bacon Cabbage Quiche from scratch?
Prep the shortbread crust: Pulse the flour with the salt and butter in your food processor until it looks coarse and crumbly. Finish the dough by adding ice water. Shape quickly into a disk, completely wrap in cling plastic, then chill for at least 2 hrs. to overnight.

Roll the short-crust. Flatten your chilled crust disc into a 13-inch round, then lay it loosely in your pan. Freeze for about an hour before pre-baking.

Prep the filling. Sauté the aromatics, then add your cabbage until it's really tender and fragrant, then set aside. Beat the yolks and eggs together (use some of it to brush the crust), followed by the cream, salt, milk, and fresh-ground pepper.
Assemble. Take your crust, and layer bacon and cabbage on the bottom. Cover that carefully with the egg custard.
Bake. Place in your 350F oven for 30-35 mins until golden on top and the filling has set. Rest for 10 mins.
Serve. Slice, garnish with green onions and serve with lemon wedges on the side.
Recipe variations:
Vegetarian: Skip the bacon and add more veggies like baby spinach, broccoli, kale, and mushrooms. Asparagus, roasted peppers, and baby tomatoes are delicious too!
Crustless: Bake the filling directly in the pan.

Try other meats and seafood: Your options are endless! Add diced ham, sliced sausages, shredded turkey or chicken, deli meats, and even shrimp and other seafood.
Quiche Lorraine: For the filling, use Gruyere or Swiss plus parmesan, bacon, onions, cream, and eggs. Add a dash of nutmeg to the salt and fresh-ground pepper.
Gluten-Free: Sub the regular flour with 1:1 Gluten-free flour.
How do you make Bacon Cabbage Quiche low carb?
The easiest way is to skip the crust altogether— just bake the filling directly in the pan! But if you want the full quiche experience, it's a breeze to make the crust keto. Just swap the regular flour with a blend of coconut and almond flour.
How to serve Bacon Cabbage Quiche?
It looks so beautiful served as a slice with some green onions or fresh parsley on top. This hearty pie is perfect with some fresh-baked rolls, soup, or a side salad, but if you want a heavier meal, you can also pair it with some simple pasta. We also love balancing this decadent dish with a nice fruit salad!
More Cabbage Recipes:
How to store leftovers?
Once the pie is cool, slice it into single-serve portions before placing it in a big container. Store in the fridge for up to 4 days.
To freeze, slice into individual portions and flash-freeze on a baking sheet. Then, wrap each frozen piece in cling plastic then foil. Place everything in a large freezer bag, and store frozen for up to 3 months.
To reheat, defrost if heating up from frozen. Re-bake at 400F for 10 to 15 mins, or microwave until hot.
Recipe tips:
For the bacon, try this clever oven method so you can cook a big batch at once with very little mess!
Make sure the water is ICE COLD and your butter is extremely cold. This is key to a flaky crust.

Move quickly while working with your short-crust, because you don't want the butter to melt while you're handling it.
Deliciousness to your inbox
Enjoy weekly hand picked recipes and recommendations