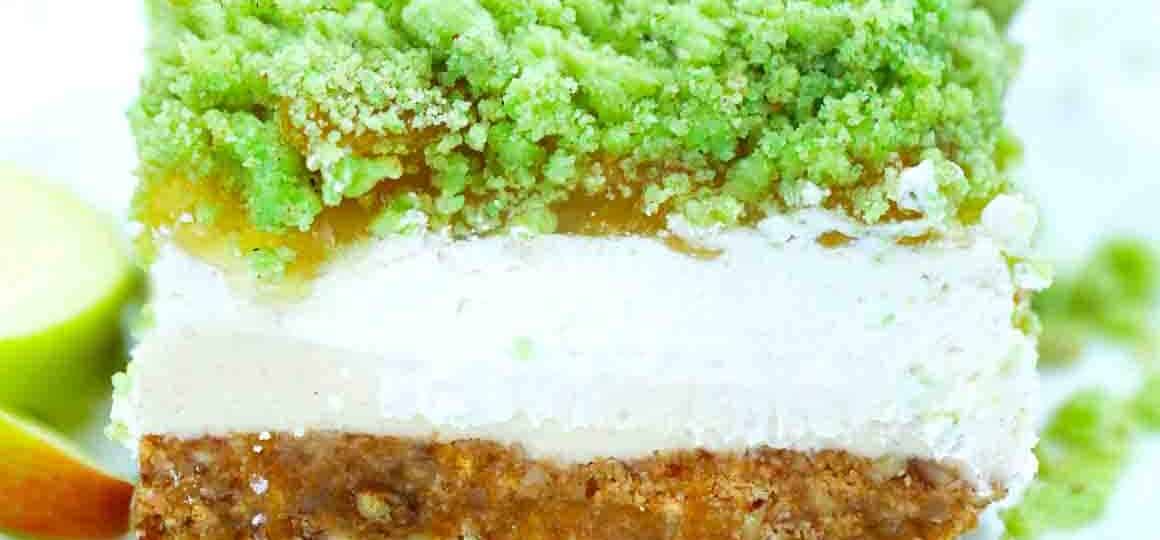 Apple Pie Dream Dessert Recipe [Video]
Apple Pie Dream Dessert is full of sweet and gooey apple filling, covered with a crunchy lime crumble, and it is all packed into a delicious pecan and graham cracker crumb pie crust on the bottom. This treat has all the favorites including caramel, graham crackers, cream cheese, and whipped cream.
Looking for other delicious recipes? Our No-Bake Pineapple Dream Dessert is a tropical delight with crushed pineapple and graham cracker crumbs. And this Creamy Strawberry Pie is made with fresh strawberries, brown sugar, and sour cream. And these small and sweet Raspberry Dessert Shots are perfectly flavored with candy canes and cool whip.
Although we tend to brag that apple pie is an American dessert we created ourselves, it was originally published in a cookbook in England in the 1600s. And they got the recipe by combining different dishes from their Swedes and Dutch descendants.
In fact, we did not even have apple trees until the Europeans came in the 1800s. But no matter who made it first, you can make it best with this recipe.
If you are craving apple pie but do not feel like baking, your search is over. Just try our recipe for apple pie dreamy dessert. This works fine as a breakfast dish too. If you love apples and whipped cream, this is one of those super simple fruit desserts that look like you spent all day on.
Are you looking for more fruit desserts? Our strawberry shortcake pie made with strawberry jello and whipped cream is delightful and this maraschino cherry pie is easy and creamy with mascarpone cheese and cherries. And chocolate fans will fall in love with this simple chocolate fudge recipe.
Follow us on Pinterest for more delicious recipes!
Ingredients needed:
To make this dreamy apple pie dessert, you will need the following ingredients. When you are ready to begin, scroll down to our recipe card at the bottom of the page where you will find the step-by-step instructions and exact measurements.
Crumble topping:
Lime flavored Jell-O
All-purpose flour: Divided.
Unsalted butter: Divided and cold.
White granulated sugar
Vanilla extract
Crust:
Graham crackers: Crumbled.
Pecans: Finely chopped.
Unsalted butter: Melted.
Nutmeg
Cinnamon
Filling:
Cream cheese: Softened to room temperature.
Butter: Softened to room temperature.
Powdered sugar: Or confectioners' sugar.
Frozen whipped topping: Thawed.
Caramel sauce: Try this recipe for easy caramel sauce or use our recipe for keto caramel sauce.
Apple pie filling: We also have an amazing recipe for apple pie filling.
Vanilla extract
Nutmeg
Cinnamon
How to make apple pie dream dessert from scratch?
Make the topping:
To start, preheat the oven to 350 degrees F and line a baking sheet with parchment paper.
In the meantime, stir the jello with the cold butter, nutmeg, cinnamon, and flour until it is crumbly. You can use your hands or a pastry cutter to make it easier.
Then, sprinkle the crumbles onto the parchment paper and bake for seven to eight minutes. Do not stir them.
Remove the crumbles after the time is up but still you should not mix until you are ready to use them. However, when they cool completely, you can put them in an airtight container in the fridge.
Make the crust:
Mix all of the crust ingredients in a large bowl until they are thoroughly mixed.
Press the crust mixture into a 9×9-inch square baking dish.
Chill the crust in the fridge uncovered for 15 minutes.
How to make the filling:
Beat the butter and cream cheese: First, beat the cream cheese and butter in the bowl of your stand mixer until it is creamy.
Mix in the sugar and spice: Next, add the spices and powdered sugar and beat on low until it is smooth before adding the vanilla extract. Make sure to scrape the sides and bottom of the bowl as you go.
Add the cream cheese mixture: Then, spread this cream cheese mixture onto the chilled graham cracker crust.
Whisk the whipped cream: In a medium bowl, use the whisk attachment on your mixer to combine the whipped cream and caramel sauce until it is completely combined.
Spread on the whipped cream topping: Next, carefully spread the whipped cream topping onto the cream cheese layer using the back of a spoon.
Add the other layers: After, spread the apple pie filling on top of the whipped cream layer, and then sprinkle on the crumbs.
Chill: Lastly, cover with plastic wrap and chill in the refrigerator for four hours or overnight.
Slice and eat Finally, slice the chilled apple pie dessert and eat with your favorite toppings.
Recipe variations:
Add spices: Feel free to use other spices you like such as ginger, allspice, cardamom, or cloves.
Dream whip: Instead of whipped cream, try using a box of Dream Whip and 1/4 cup of almond milk instead. The flavor is intense and has a bit more texture than using Cool Whip.

Other Jello: You can use any flavor of Jello you like. Lemon or orange would both be delicious for this recipe.

Creamier: In fact, you can use pudding instead of jello for a creamier texture. Vanilla, chocolate, or whatever flavor you want.

Extra flavor: For an intense flavor kick, add an extra teaspoon of cinnamon to your crushed graham crackers, or just use cinnamon graham cracker crumbs.

Any fruit: Really, you could use any kind of pie filling for this including blueberry, strawberry, or cherry.
How to serve:
This delicious apple dessert is perfect with a scoop of vanilla ice cream on top or try one of these great serving suggestions:
Every bite is like a burst of apples and sweetness in your mouth, so you do not need anything except a fork.

Add a dollop of whipped cream on top to make it extra creamy. You can use our recipe for homemade whipped cream.
Top your dreamy treat with fresh fruit like sliced peaches or strawberries.

Add some of these cinnamon fried pineapples to the top of your dessert for an extra bit of crunch and flavor.

If you do not feel like cooking, you can substitute the pie crust with a cookie crust you get from the store.

Rather have a different fruit? Make this strawberry dream dessert instead.
Frequently asked questions
How can I make this dessert healthier?
If you want less sugar, use sugar-free jello and whipped cream and make your own apple pie filling with Splenda or another sugar substitute. You can also use a sugar substitute for the crumbles and use honey instead of powdered sugar in the filling.
Can I use fresh apples?
Yes, you can make your own apple pie filling. Just use five or six medium-sized peeled and chopped apples, lemon juice, two tablespoons of flour, 1/2 cup brown sugar, 1 teaspoon cinnamon, and a teaspoon of apple pie spice. Cook the apples in a saucepan with the rest of the ingredients and let them cool before using.
What can I do with extra apples?
There are literally thousands of recipes you can make with fresh apples. Besides eating them fresh, you can also use them in a cake like this Irish apple cake recipe or instant pot apple cake.
Or you can make apple butter, preserves, muffins, a danish or coffee cake, or try these air fryer apple fries. Then again, you could also make a pitcher of boozy apple iced tea.
What are the nutrition facts in this recipe?
In one serving of this apple pie dessert, you get 450 calories, 45 grams of carbs, 32 grams of fat with 19 grams of saturated fat, 105 milligrams of cholesterol, and 25 grams of sugar. But you also get 1,160 units of vitamin A, 60 milligrams of calcium, and 2 grams of fiber.
How to store leftovers:
Store: You can refrigerate the rest of your leftover dream dessert in an airtight container for several days.

Freeze: It is also safe to freeze this dessert for 90 days.
Thaw: Be sure to put your frozen leftovers in the fridge to thaw overnight before serving for best results.
Reheat: No need to reheat. It will melt your whipped cream and make the whole dessert runny.
More apple desserts:
Recipe tips:
Cut down on prep time! Use a premade graham cracker crust, and canned apple pie filling, and simply make the crumble the day before. Then you can have it all put together before dinner.

You can use any kind of nuts you want for your crust or don't use any at all.

The only thing you have to bake is the crust so if you use a premade crust, this is a no-bake dessert that your whole family will love.

If you do not have a blender or food processor, just put the graham crackers in a baggie and crush them with something heavy. A rolling pin will work fine.
How often can you cook up a whole apple pie dessert without milk, eggs, or even cooking? With this easy recipe, you do not have to do much at all.

Add a pinch of salt to your pie crust to bring out the flavors better.

For the best texture and consistency, refrigerate overnight before you eat.
If you do not want to cook your pie crust, just chill it for 15 minutes instead.
Apple Pie Dream Dessert
Ingredients
Crumble topping:
3

ounces

box lime flavored Jell-o

or pistachio Jell-o

1

cup

all-purpose flour

divided

1/2

cup

unsalted butter

cold and divided

1/2

cup

white granulated sugar

1

teaspoon

vanilla
Crust:
2

cups

graham cracker crumbs

1

cup

pecans

finely chopped in a food processor - or use more crackers if you are allergic to nuts

1/2

cup

unsalted butter

melted

1

teaspoon

cinnamon

1/2

teaspoon

nutmeg
Filling:
8

ounces

cream cheese

softened to room temperature

1/2

cup

butter

softened to room temperature

2 1/3

cups

powdered sugar

8

oz

container frozen whipped topping

thawed

1/2

cup

caramel sauce

1

can apple pie filling

1

teaspoon

cinnamon

1

teaspoon

nutmeg

1

teaspoon

vanilla extract
Instructions
Crumble:
Preheat the oven to 350 degrees F.

In a medium bowl using a fork stir Jell-o with flour, cinnamon, nutmeg, and butter. Make a fine and crumble.

Line a baking sheet with parchment paper and sprinkle on it the crumbles.

Bake for 7-8 minutes and do NOT stir.

Remove from the oven and let cool completely before storing in an airtight container in the fridge.

When ready to use, take a fork and stir them first. The recipe makes 3 cups of crumbles.
Make the crust:
In a large bowl mix all the crust ingredients and stir until combined.

Transfer the crust mixture to a 9 x 9 square baking dish and press it firmly into the bottom of the pan.

Chill in the fridge for 15 mins. In the meantime make the filling.
Make the filling:
In the bowl of a stand mixer or using an electric mixer, beat the cream cheese and butter together until creamy.

Add the powdered sugar, cinnamon, and nutmeg, and beat on low-medium speed until smooth. Stop to scrape the sides and bottom of the bowl.

Next, add the vanilla extract. Stir to combine.

After that, spread the cream cheese mixture over the chilled graham cracker crust.

In a separate bowl, combine the whipped topping with the caramel. Stir well until fully combined.

Spread the caramel whipped topping mixture over the cream cheese layer evenly and gently using the back of a spoon to make it even.

Spread the apple pie filling evenly on top.

Finally, sprinkle the lime crumbs.

Cover the baking dish with plastic wrap and refrigerate it for at least 4 hours or overnight.

Slice and serve.