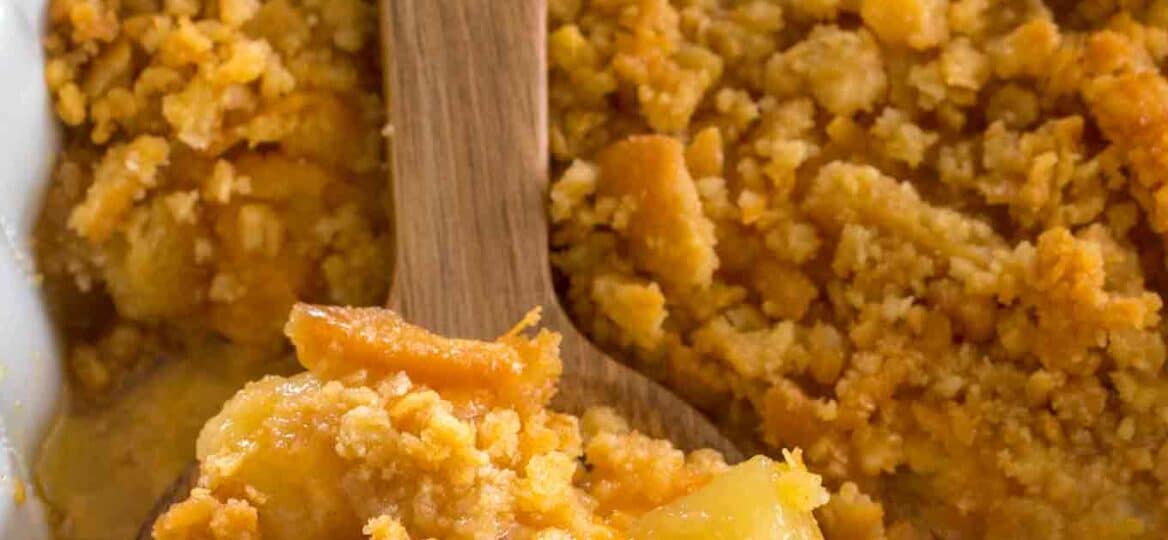 The Best Pineapple Casserole [Video]
Pineapple Casserole is a classic Southern casserole made with sugar, pineapple, cheese, and butter Ritz crackers. A sweet and savory side dish, that is always a huge hit. Also, for a quick step-by-step tutorial, check out the full recipe video below.
This is the perfect side dish or dessert for Thanksgiving. You can also try our Instant Pot Ham, Scalloped Potatoes, and Corn Casserole.
Southern Pineapple Casserole
Pineapple Casserole is such an unusual and delicious dish that I fell in love with it after the first bite. If you like pineapple in savory recipes, you have to try this very easy vegetarian casserole. Sweet canned pineapple chunks are mixed with a bit of flour, sugar, and lots of cheddar cheese.
Then, the mixture is topped with crushed Ritz crackers that have been mixed with melted butter. The result is nothing short of amazing. Also, the sharp cheddar cheese compliments the juicy and sweet pineapple. Similarly, the brown sugar adds a deep caramel underdone, and the top gets buttery and crunchy.
My secret to making this easy casserole is to add a few simple ingredients that will take it up a notch. In addition, adding brown sugar works well, as it caramelizes and it compliments the pineapple flavor. Similarly, if you want to go all fancy, you can add just a little freshly grated nutmeg.
I like to add an extra layer of cheese, so there is cheese mixed with the pineapple, but also there is another top layer of cheese, on which the cracker crumb rest. Similarly, having that extra layer makes an outstanding casserole as the crackers are baked into the melted cheese and create a cheesy, crunchy top that is impossible to resist. Adding more cracker topping is always a good idea as well.
Main ingredients:
For exact measures please see the recipe card below. Also, I have attached a step-by-step video instruction on how to prepare this dish.
White sugar
Brown sugar
Cheddar cheese
Canned pineapple chunks or crushed pineapple, drained
Flour
Ritz crackers or any other buttery cracker
Unsalted butter
All-purpose floured
How to make the classic Pineapple casserole?
Combine the ingredients: In a large bowl, combine the drained pineapple chunks, granulated sugar, all-purpose flour, and nutmeg. Mix well to ensure the pineapple is evenly coated. Then, add the rest of the ingredients to the mixture.
Spread it: Next, spread the pineapple mixture evenly in the prepared baking dish. Sprinkle the shredded cheddar cheese over the pineapple mixture, creating an even layer.
Bake it: Bake the casserole in the preheated oven for about 25-30 minutes, or until the top is golden brown and the casserole is heated through.
Let it rest: Remove from the oven and let it cool slightly before serving. If desired, garnish with maraschino cherries before serving for a pop of color.
Serve: Enjoy it as a side dish alongside your main meal.
What cheese is best to use?
The classic recipe is made with cheddar cheese, which I usually don't substitute. However, if you would like to use something else, some great choices would be Tillamook, Longhorn, Double Glouster, and Colby cheese. Also, you can even go for an agenda Gouda cheese.
Is pineapple casserole a sweet or savory dish?
It is both! It has a combination of sweet and savory flavors. The crushed pineapple provides natural sweetness, while the buttery cracker topping and cheese add some creamy elements to it. Also, it can be used as a side dish or dessert on the holiday tables.
Can I use fresh pineapple instead of canned?
While canned pineapple is commonly used due to its moisture content and uniformity, you can use fresh pineapple if desired. But keep in mind that fresh pineapple might have a different texture and flavor.
What do I serve the Pineapple Casserole with?
The casserole can be served on its own or as a side dish, I like to serve it alongside:
How to store it?
I like to wrap it in plastic wrap or just cover it with foil and refrigerate. In addition, the casserole should only be kept at room temperature when served. It can be stored in the fridge for up to 5 days. Similarly, it can be served warm or cold, based on taste preference.
To reheat it, you can cover it with foil and put it in a hot oven for about 10 minutes. Also, you can microwave it in a microwave-safe bowl. I do not recommend freezing this casserole.