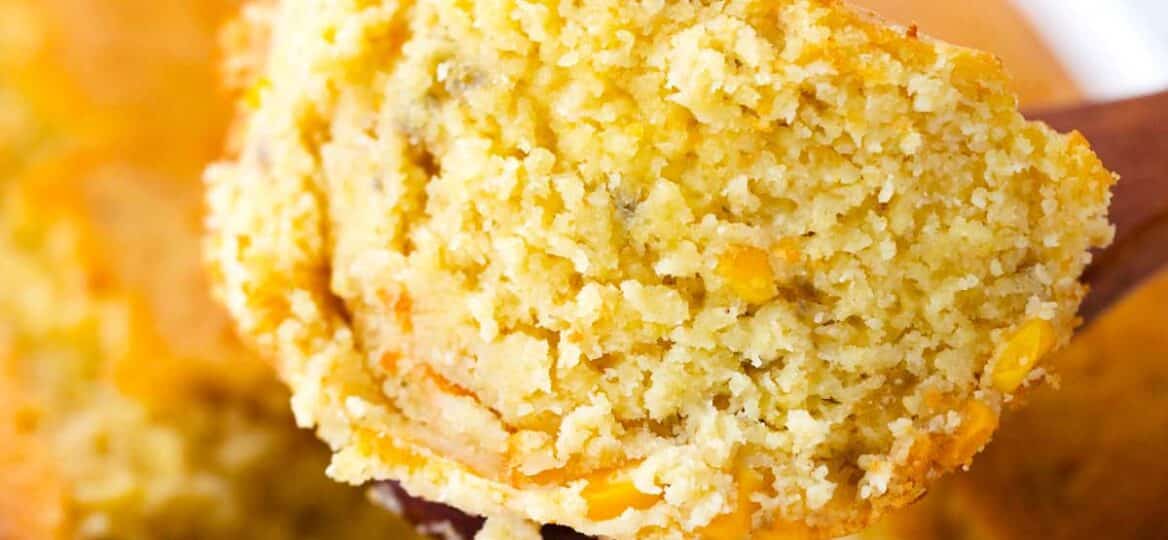 BEST Corn Pudding Casserole Recipe
Corn Pudding Casserole, also known as Southern corn pudding casserole, is a delicious corn dish made with canned corn, cream, butter, and basic baking ingredients. Or you can make it easier by replacing the dry ingredients with Jiffy Corn Muffin Mix.
Corn pudding originated in the 1700s with the Native Americans. The casserole came from the southern United States though. Some say it was Louisiana, some say Texas, we just do not know for sure.
The side dish recipe has been around since the 1950s and became popular around the same time as other casseroles. There are a lot of delicious recipes out there for holiday dinners, but this is the best corn casserole recipe I have tried.
This delicious corn pudding casserole recipe is a good alternative to the traditional green bean casserole everyone brings to Thanksgiving dinner. We added some gruyere cheese, diced shallots, and brown sugar as well as garlic and onion powder for extra delicious flavor. Our easy corn casserole recipe is perfect for Thanksgiving dinner, Christmas dinner, or any holiday meal.
It is actually great for any holiday table or just a family dinner any night of the week. You can add meat or more veggies for a hearty main entree or just have it as a side dish.
Ingredients needed:
Each one of these ingredients is important to this creamy corn pudding recipe. Be sure to take a minute to read this before making any substitutions or deletions. Then, when you have everything ready, find the recipe card at the bottom of the page for the details.
Whole kernel corn: You can use canned, fresh, or frozen. But if you use frozen, thaw it out and drain the excess moisture.
Shredded gruyere cheese: This mild and nutty cheese adds a unique taste to your casserole recipe.
Finely diced shallots: For a delicate onion flavor without the bite.
Melted butter: Use unsalted butter so it does not make your dish too salty.
Heavy cream: Mixed with whole milk, the cream is what gives this dish its extra creaminess.
Milk: Whole milk is best for the creamiest casserole. But you can use skim or even plant-based milk instead.

Large eggs: Make sure the eggs are at room temperature, so they blend in better.

All-purpose flour: Any kind is fine. Just for thickening.
Brown sugar: A little brown sugar (light or dark) gives your corn pudding casserole a rich sweetness.
Granulated sugar: You can skip this if you want your casserole to be more savory than sweet.
Yellow corn meal: For the corn taste and thickening.
Baking powder: Not baking soda.
Garlic powder: Just a bit for a nice garlicky flavor.
Onion powder: Perfect for an extra onion boost.
Nutmeg: The sweet nuttiness of nutmeg blends well with the rest of the flavors.
Kosher salt: This evens out the sweetness in the ingredients.
How to make corn pudding casserole from scratch?
Preheat oven: First, preheat your oven to 350 degrees F and grease a casserole dish (or any baking dish) with unsalted butter or nonstick cooking spray.
Sauté shallots: While you wait for the oven to heat, add butter and chopped shallots to a cast iron skillet over medium heat and sauté until they are soft.
Whisk dry ingredients: Next, in a large bowl, whisk the corn meal, flour, baking powder, sugar, onion powder, garlic powder, nutmeg, and salt.

Mix wet ingredients: In another large mixing bowl, mix together the milk, cream, and eggs.

Combine it all: Now, add the wet ingredients to the dry ingredients and whisk in the shallots. Stir in the cheese and corn.

Bake: Last, pour the corn mixture into the prepared casserole dish and bake for 55 to 60 minutes or until the center is set and the top is golden brown. Do not overbake!
Serve: Finally, let your corn pudding casserole sit for 10 minutes before serving.
Recipe variations:
Sour cream: You can use sour cream instead of heavy cream.

Greek yogurt: Similarly, for less fat and fewer calories, try using plain Greek yogurt instead of cream.
Milk and butter: If you do not have either of those, you can mix 1/4 cup of melted butter with 3/4 cup of whole milk.

Jiffy corn casserole: Shorten prep time by using Jiffy cornbread mix instead of flour, cornmeal, and baking powder.

Other cheese: Instead of (or in addition to) gruyere cheese, you can use any kind of shredded cheese like pepper jack, cheddar cheese, or Swiss cheese.

Add meat: Make it a hearty one-pan meal by adding some chicken, pork, turkey, or sliced beef.

Add veggies: Another way to make this corn pudding casserole heartier is to add some beans or other veggies like bell peppers, peas, green beans, asparagus, and mushrooms.
How to serve:
This holiday season, you can plan to serve this cheesy corn casserole with any holiday meal no matter what you are making. It is the perfect side dish cuisine because it goes with anything just like regular corn. This creamy corn casserole with gruyere cheese is going to be your new favorite so keep the recipe in your recipe box.
Sprinkle some romano or parmesan on top for a rich and salty topping.
This delicious side dish goes with any meat. Try it with our oven-roasted turkey.

If you have any remaining cheese, sprinkle it on top of your corn casserole while it is still hot.
Use leftovers to mix with this great recipe for slow cooker corn casserole.

Since everything tastes better with bacon, why not sprinkle on some bacon bits?
Another way to use your leftover corn pudding casserole is to make our instant pot corn chowder.
Make your corn pudding casserole spicy with a dash of cayenne pepper or red pepper flakes on top.
Frequently asked questions
What is corn pudding?
Corn pudding is a delicious dish made with stewed corn (creamed corn), milk, eggs, and butter. It is called corn pudding because it is a mixture of corn kernels and a creamy sauce similar to pudding. It is often just made with whole kernel corn, and a thickening agent like corn meal, cornstarch, or flour. You can also use canned cream corn (cream-style corn) instead of regular for a creamier dish.
Why is my casserole so mushy?
If your corn casserole is runny, you may not have drained the canned corn well enough. The extra moisture can cause a runny side dish. It could also be caused by using frozen corn that has not been thawed out. If you are using frozen, be sure to thaw it completely and drain the excess water. You can add extra cornstarch to thicken it up.
What is spoonbread?
Spoonbread is made from cornmeal and is soft and creamy enough to eat with a spoon. It is basically the same thing as corn pudding, but it does not necessarily have eggs and milk. It could just be made with creamed corn and cornbread mix or some flour and corn meal.
What is the difference between shallots and green onions?
They are very similar but with green onions, the white and green parts are typically used in different cooking situations. But shallots have the same flavor and texture throughout with a stronger taste of onion like the white part of the green onion. This recipe calls for shallots, but you can use green onions instead.
More casseroles that you should try:
How to store leftovers:
Store: You can store your leftover corn pudding casserole in an airtight container in the fridge for four days. Or you can just cover your casserole dish with aluminum foil.

Freeze: You can also freeze corn pudding. Just put it in a freezer-safe container, which can stay in the freezer for up to 90 days.
Thaw: Make sure you thaw your frozen corn pudding casserole the night before serving for the best results.

Reheat: If you are reheating a large amount, put it in a casserole dish and reheat in the oven for 20 minutes at 375 degrees F. Smaller amounts can be reheated in the microwave.
Cooking tips:
Jiffy mix is what I use but you can use any corn muffin mix or corn bread mix to replace the dry ingredients.

You can use any kind of large skillet. It does not have to be cast iron.

The nutrition, calories, and fat content are listed at the bottom of the page from saturated fat, carbs, and cholesterol, to monounsaturated fat, and polyunsaturated fat.

Ensure you do not overcook your corn pudding casserole or it will dry out.
Feel free to use fresh garlic and onions instead of powdered.
Use the best cheese and cream to get the creamiest corn pudding casserole.
If you are looking for other side dish recipes, we have lots of them on our food blog. From crock pot glazed carrots to air-fried asparagus, you can find all sorts of delicious dishes.
Creamy Corn Pudding Casserole
Ingredients
1

shallot

finely diced

1

cup

all-purpose flour

3/4

cup

yellow corn meal

1/2

cup

granulated sugar

1/4

cup

brown sugar

light or dark - packed

1 1/2

tablespoon

baking powder

1

teaspoon

kosher salt

1/4

teaspoon

garlic powder

1/4

teaspoon

onion powder

1/4

teaspoon

nutmeg

5

large eggs

room temperature

1 1/2

cup

heavy whipping cream

1/4

cup

milk

1/2

cup

melted butter

2 1/2

cups

corn kernels

fresh, canned, or if using frozen thaw them first

1

cup

Shredded Gruyere cheese
Instructions
Preheat oven to 350 degrees F. Arrange the oven rack in the middle of the oven.

Grease a 3-quart baking dish and set it aside.

Place a large skillet over medium heat, add a bit of oil, and add the diced shallot, sauté stirring until soft, a few minutes. Set aside.

In a large mixing bowl, whisk together the dry ingredients: flour, cornmeal, sugar, baking powder, salt, onion powder, garlic powder, and nutmeg.

In a separate bowl, whisk together eggs, cream, and milk, until combined.

After that, stir in the egg mixture into the dry mixture, and mix until combined. Then whisk in melted butter and the sautéed shallot.

Lastly, stir in corn kernels and shredded cheese.

Pour the batter into the prepared baking dish, and level the top with an offset spatula. and bake until the center is set 55 to 60 minutes. Do not over-bake as the pudding should be soft and creamy!

A toothpick inserted into the center of the pudding should come clean, with NO raw batter.

Let the corn pudding cool for 10 minutes and serve.