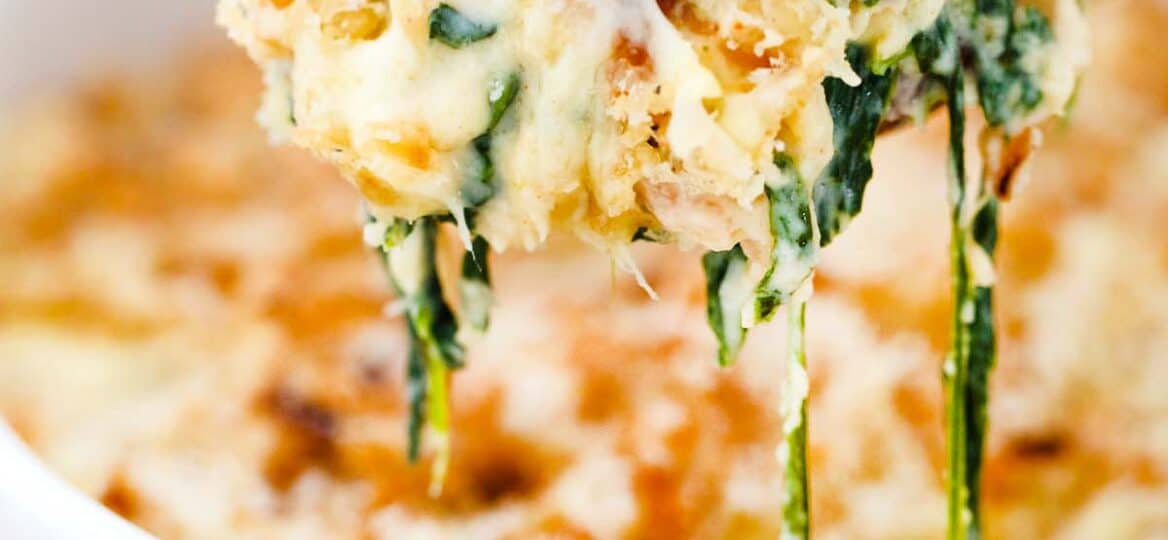 Cheesy Spinach Casserole – with Crispy Topping
Spinach Casserole is a creamy, cheesy side dish with the tangy flavors of lemon zest, garlic, and cream cheese blended with fresh spinach, cream, and lots of melted cheese. The sauce has a buttery flavor mixed with a bit of spice from the red pepper flakes and paprika and the crunchy top makes it perfect.
Although the food experts give credit to French Canadian Elmire Jolicour for inventing the casserole in 1866, the earliest recipe of a casserole-type dish was in 1250. It was more like lasagna than casserole with pasta sheets, grated cheese, and spices. But even before that, in ancient times, tossing meat, rice, veggies, and other ingredients together has always been done.
If you love spinach, this casserole is perfect for you to try. It works great as a side dish or add some more veggies or meat for a main entree. You only need a handful of basic ingredients to make it. Just butter, milk, cream cheese, cream, gruyere cheese, and panko along with flour, parmesan, fried onions, and some herbs and spices.
Ingredients needed:
All the ingredients for this easy spinach casserole recipe are important in achieving the best flavors. Before you substitute or remove anything, take a look at why it is used. Then, when you are ready to cook, find the recipe card at the bottom of the page for the details.
Fresh spinach: Fresh spinach is best, but you can use frozen spinach instead.

Melted butter: If you do not have unsalted butter, just omit the salt from the ingredients.
Cream cheese: Cream cheese is what makes your spinach mixture so thick and creamy.
Whole milk: Although whole milk works best for the creaminess, you can substitute it for skim milk if you are worried about fat and calories.

Heavy cream: Adding heavy cream along with the milk will also make an extra creamy sauce.

Shredded gouda cheese: One of the most popular cheeses, this sweet and creamy cow's milk cheese is from the Netherlands and has been around since the late 13th century. The flavor is wonderful in this dish.
Shredded gruyère cheese: This creamy cheese has a slightly sweet and nutty flavor, perfect for a creamed spinach casserole.

Flour: We used all-purpose flour, but you can use what you like.
Panko breadcrumbs: These will give your topping a silky but crunchy topping.

French fried onions: Crushed lightly and divided, you will use part of this for the topping and the rest in the sauce.
Grated parmesan: Freshly grated parmesan gives your spinach casserole a more flavorful taste, but you can use the stuff in the can if that is all you have.

Lemon zest: This ingredient gives your casserole dish a little pop of lemony flavor.
Minced garlic cloves: If you do not have fresh, you can use garlic powder instead.

Paprika: This spice comes in many different spiciness grades from sweet to fiery. The mild sweet flavor is perfect, but you can use whatever you like.
Red pepper flakes: This is optional, but it gives this dish a bit of a kick.
Olive oil
Kosher salt
Black pepper
How to make spinach casserole from scratch?
Preheat oven: First, preheat the oven to 350 degrees F and spray a casserole dish with baking spray.
Make the topping: In the meantime, mix panko breadcrumbs, and Gouda cheese, with half of the fried onions in a small bowl and set it aside until later.

Cook the spinach: Next, heat olive oil in a large skillet over medium heat. Add raw spinach and cook until wilted, which takes about five minutes. Put the cooked spinach in a large bowl and set it to the side.

Make the sauce: Now, add butter to the skillet and let it melt until it is golden and bubbly. Add flour and garlic, constantly stirring with a wooden spoon for two minutes.

Let it thicken: Then, add milk, heavy cream, paprika, red pepper flakes, salt, and pepper and whisk frequently until it is thick. It will take about five to seven minutes.

Add the cheeses: After, reduce to medium-low heat and stir in the cream cheese, stirring until combined. Add the gruyere and gouda cheeses a little at a time, letting it incorporate before adding more. Add the parmesan and give it another stir.

Finish it up: Immediately, add the spinach to the cheese sauce and stir well before adding the rest of the fried onions.

Bake your spinach casserole: Last, pour the mixture into your prepared baking dish, add the panko mixture, and bake for 30 to 35 minutes. The topping should be light golden brown, and the casserole will be bubbling before you remove it from the oven.

Serve: Finally, let it sit for 10 minutes before you sprinkle on the lemon zest and serve.
Recipe variations:
Another oil: Feel free to use a different kind of oil like vegetable or whatever you usually use for cooking.

Add some veggies: Make this a heartier dish by adding some veggies like chopped bell peppers, sautéed mushrooms (or fresh mushrooms), diced carrots, or whatever you like.

Different cheese: Alternatively, you can use a different cheese instead of gruyere like Monterey jack, pepper jack, or cheddar cheese. Sharp cheddar would be perfect.
Ranch seasoning: Add some ranch seasoning to your cream sauce for an extra boost of flavor.

Add meat: Make this a meal by adding some meat like grilled chicken, ground beef, or chopped turkey or pork.

Make it Italian: Add Italian seasoning to give this casserole dish the flavors of oregano, sage, rosemary, basil, and thyme.
No lemon: Instead of lemon zest, you could also try using lime zest for a different citrus taste.
How to serve:
Our spinach casserole recipe is ready in less than an hour and can be served alone as a whole meal. Here are some great serving ideas or you can share some of your own ideas in the comments section.
For a richer topping, sprinkle on some romano cheese or extra parmesan.
As a side dish, it goes great with pork chops. Try our delicious recipe for grilled pork chops you can make in less than 30 minutes.

You can never have too much cheese. Add some shredded mozzarella or cheddar on top before serving.

Any meat would go great with this delicious casserole dish. We have an air fryer chicken parmesan that would be perfect.

You can save leftovers for a breakfast sandwich or omelet.
Leftover casserole can also be added to other recipes like one of our top 10 casserole recipes.

Spinach goes great with everything. You can even mix it into soup or dip.
Frequently asked questions
Can I use frozen or canned spinach?
You will get the best results if you use fresh spinach, but you can use frozen spinach if that is all you have. Canned spinach is usually too soft but if you want to use it, you will have to drain the excess liquid. Also, when using canned spinach there is typically a lot of salt and other additives that you do not need for this recipe.
Why is my spinach casserole so runny?
As mentioned above, if you use canned spinach, it can make your casserole too watery. It would help if you wring as much liquid from it as you can. The excess water can be good in some cases, but you do not want too much. You could also use a bit more flour or add some cornstarch to your mixture to thicken it up.
Do I have to rinse my spinach?
It is always a good idea to rinse any raw produce you get from the grocery store or farmers' market. Unless it is coming from your garden, you do not know what has been used on it. In fact, you should still wash it if it comes from your garden because nobody wants dirty spinach. Just put it in a large mixing bowl or colander and rinse with cold water. Then, squeeze out excess moisture with a paper towel or clean dish towel.
Is spinach really good for you?
Absolutely. Spinach is packed with vitamins and minerals as well as fiber and antioxidants. According to the experts, spinach can help improve your immune system, strengthen bones, promote good brain health, even out blood glucose, prevent heart disease, and boost eye health. In one serving, you get over 100% of your daily value of vitamin K and it provides iron, vitamin C, and potassium. Look for the nutrition information at the bottom of the page.
More casseroles to try:
How to store leftovers:
Store: Refrigerate leftover spinach casserole for up to three days in an airtight container.

Freeze: We do not recommend freezing this spinach casserole. Cream cheese does not freeze well.

Reheat: You can reheat your spinach casserole in the microwave for 60 to 90 seconds. You will have to add the crunchy topping back on after reheating because the refrigerated stuff will be too soggy.
Cooking tips:
This may seem like too much spinach, but it reduces to almost nothing when cooked.

Add spinach a little at a time to your pan for easier incorporation.

You could also microwave your spinach. Just use the package instructions as a guide.

Looking for more spinach recipes? We have many of them and other side dishes on our food blog.

For a one-pan dish, use a cast iron skillet so it can go into the oven right in the pan.

Feel free to use low-fat and sugar-free ingredients as needed. Just remember that some reduced-fat ingredients will not be as thick and creamy.

You can replace the cream cheese with cottage cheese to cut saturated fat and calories.

Similarly, sour cream would be a good low-carb alternative to heavy cream if you do not have it.
Cheesy Spinach Casserole
Ingredients
Topping:
1

cup

fried onions

lightly crushed, use store-bought or homemade

1/2

cup

Panko breadcrumbs

1/2

cup

shredded Gouda
Sauce:
2

tablespoons

olive oil

18

oz.

fresh spinach

2 bags

3

tablespoons

butter

4

cloves

garlic

minced

3

tablespoons

flour

1

cup

whole milk

2/3

cup

heavy cream

1/2

teaspoon

kosher salt

or to taste

1/4

teaspoon

black pepper

or to taste

1

teaspoon

paprika

1/4

teaspoon

red pepper flakes

4

oz.

cream cheese

1 1/2

cup

shredded Gruyère cheese

1/3

cup

grated parmesan

Zest of 1 lemon

optional - but delicious
Instructions
Topping:
Preheat the oven to 350 degrees F.

Combine the topping ingredients in a small bowl, mix, and set aside.
Sauce:
In a large skillet over medium heat, add the olive oil. After that, add the spinach in batches, and cook, stirring until wilted, about 5 minutes. Transfer to a bowl and set aside.

Next, in the same skillet add the butter, melt it, and stir it until bubbly. Add the minced garlic and flour and stir constantly with a wooden spoon, for 2 minutes, until a roux forms.

Have the milk next to you and once the flour and butter are combined, whisk in the milk and cream little by little. Season the mixture with salt, pepper, paprika, and red pepper flakes. Cook, stirring frequently, until the mixture thickens, about 5 to 7 minutes.

Reduce the heat to low and stir in the cream cheese until completely combined.

After that, add the shredded Gruyère little by little, stirring well after each addition to make sure the cheese is fully incorporated before adding more.

Stir in the parmesan cheese. The mixture will be very thick at this point.

Add the spinach with juices from the bowl back to the pan, and stir until well combined.

Add the remaining 1/2 cup of French fried onions and stir.

Transfer the mixture to an 8-by-8-inch baking dish.

Sprinkle with the prepared topping.

Bake in the preheated oven until the casserole is bubbling and the topping is golden brown, about 30 to 35 minutes.

Let sit for at least 10 minutes before serving. Top with freshly grated lemon zest before serving.