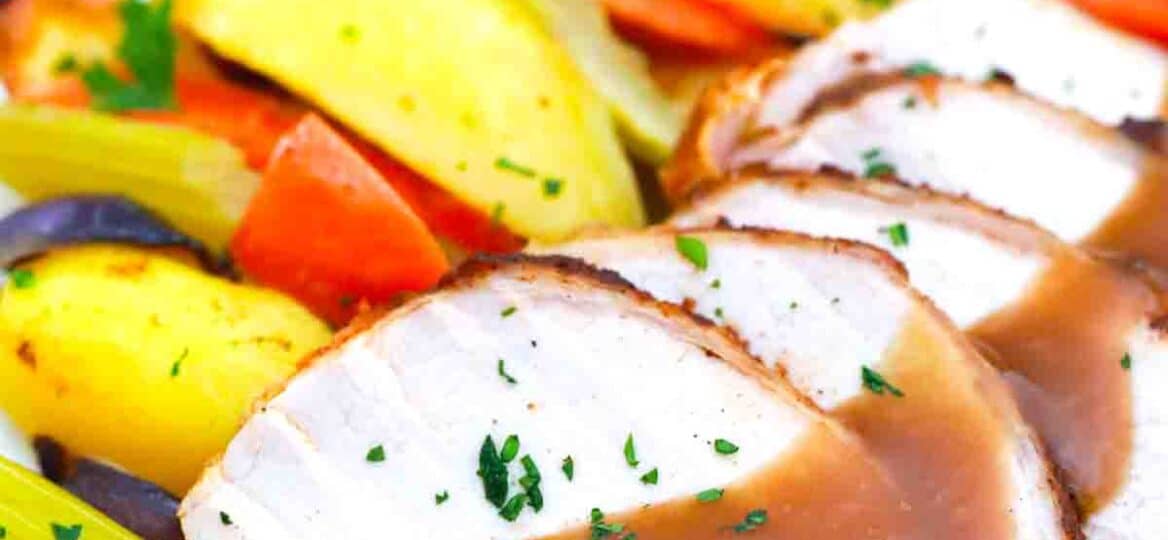 Maple Pork Roast Recipe [Video]
Maple Pork Roast is a delicious dinner made with pork loin in a maple glaze, over hearty veggies, and served with an apple cider gravy. This is such a great recipe; you will want to serve it for dinner tonight. It is super simple with just a handful of common ingredients you may already have in your kitchens such as potatoes, carrots, celery, and onions.
Another way to enjoy pork loins is with this Slow Cooker Pineapple Pork Loin made with garlic, pineapple chunks, and soy sauce. Or you could try our Cranberry Orange Pork Tenderloin baked in balsamic vinegar, orange juice, and maple syrup.
It was Turkey where the first pigs were domesticated for food way back in 9000 BC. Evidence also shows that humans started eating wild boar as far back as 13000 BC. However, pork roasts are an American tradition starting in the south from Florida to Virginia.
Some call it a pig roast. Whatever you call it, roasted pork is delicious, and we have found thousands of ways to prepare it from all over the world.
This maple pork roast recipe is juicy and full of flavor, coated with a white wine gravy that makes this one of the best pork roast recipes you have ever had. Your family will be asking for seconds so make sure you make plenty. Whether you make it in the oven or crock pot, this easy pork roast recipe is perfect for any meal.
Looking for other recipes to make for dinner tonight? How about pork chops? Try our delicious skillet pork chops seasoned with parsley, rosemary, and maple syrup. For something different, this instant pot Mongolian beef is scrumptious with sesame oil and soy sauce.
Ingredients needed:
To make this delicious maple pork roast recipe, gather these ingredients. And when you are ready, scroll down to the bottom of this page to get the instructions and exact measurements from our recipe card.
Pork roast:
Carrots: Peeled and cut into 1½ inch chunks.
Celery: Cut in 1½ inch pieces.
A whole head of garlic: Top removed.
Potatoes: If using medium-sized potatoes, cut them into quarters. If using small potatoes, cut them in half.
Medium red onion: Cut into 1½ inch pieces.
Extra virgin olive oil: Divided.
Pure maple syrup
Smoked paprika
Center-cut boneless pork loin roast with fat cap
Chicken broth: Warmed, plus more if needed.
Kosher salt: Divided.
Freshly ground black pepper
Unsalted butter: Thinly sliced.
Gravy:
Chicken stock: Warmed.
White wine: Table wine or sauvignon blanc.
Apple cider vinegar
Cornstarch
Cold water
Brown sugar
How to make maple pork roast from scratch?
Make the pork:
Preheat oven: First, preheat the oven to 350 degrees F and place your oven rack on the middle shelf.
Parboil potatoes: while you wait, bring water and one teaspoon of salt to a full boil in a large pot before adding potatoes. Parboil for about six minutes. Then, remove them and place them in cold water for three minutes to stop the cooking process. This usually takes about three minutes.
Let them dry: After, transfer roasted potatoes to a baking sheet or baking pan covered with paper towels to dry.
Cut the veggies: Meanwhile, cut the carrots, celery, and onion and toss them with the garlic head, olive oil, and one tablespoon of salt in a shallow roasting pan. Add the potatoes and toss to coat completely.
Rub the roast: Next, push the veggies to the side and place the pork roast in the pan with the fat cap side up and rub it evenly with one teaspoon of olive oil.
Season it all: Now, mix the paprika and maple syrup together and rub it all over the pork as well. Sprinkle it with salt and pepper before placing the butter slices on top.
Bake the roast: Finally, pour 1/2 cup of the chicken broth on top of the veggies and place the pan in your preheated oven to cook for 45 minutes. Remove the pan and baste before rotating it and putting it back to cook for another 15 or 18 minutes. Cooking time will vary depending on the size of the meat. The internal temperature should be 140 degrees F when it is done.
Let it rest: Afterward, transfer the pork roast to a cookie sheet or cutting board and put the veggies in a bowl, and cover with aluminum foil while you are making the gravy.
Make the gravy:
Simmer the juices: To make the gravy, put the roasting pan on the stovetop and bring the juice to a low simmer on medium heat.
Add wine: Then, add chicken stock and wine. Stir again and let it simmer for another minute. You will need to keep moving the pan around on the stovetop to make sure it is all heating equally.
Make and add slurry: Meanwhile, combine cornstarch and very cold water in a small bowl to make a slurry before adding the apple cider vinegar and the cornstarch slurry to the pan. Make sure you combine it thoroughly.
Cook the gravy: Last, add the apple cider vinegar and sugar, mixing thoroughly. Let it simmer for about five minutes, stirring occasionally to get the delicious bits off the bottom. Pour any remaining juices that leaked out onto the cookie sheet into the gravy and mix well.
Time to eat: Finally, pour the gravy into a gravy boat or small dish. Put the roast and veggies back into the roasting pan and serve with the gravy on the side.
How to make crock pot maple pork roast from scratch?
Make the pork roast:
Make the syrup mixture: To begin, mix the smoked paprika with the maple syrup in a small bowl until it is combined well.
Fill the crock pot with veggies: After, add the onion, potatoes, garlic, celery, chicken broth, and carrots with olive oil and one tablespoon of salt to your slow cooker and give it a good stir to combine.
Rub and cook: Then, place pork roast on top of the vegetable fat side up and rub olive oil all over it. Rub it with the maple syrup mixture before adding the salt and pepper. Place butter slices on top and cook for five hours on high or nine hours on low.
Check the temp: Before removing the roast from the pan, check the internal temperature with a meat thermometer. Be sure to place it in the center of the side of the meat. It should read 140 degrees F when it is done.
Let it all rest: Lastly, turn the heat off and place pork roast and veggies on a serving platter covered in aluminum foil to rest.
Make the gravy:
Bring it to a simmer: While the food rests, pour the juices into a saucepan and bring them to a low simmer on medium-high heat before adding the white wine and chicken stock. Let it simmer for about a minute while stirring lightly to get it all evenly heated and then add the apple cider vinegar.
Make your cornstarch slurry: Meanwhile mix cold water and cornstarch to make a slurry, stirring to combine well before pouring the cornstarch mixture into the pot with the gravy.
Cook and scrape: Next, add sugar and let it simmer for five minutes. Scrape the bottom and sides to get all the tasty brown bits from the pot.
Ready to eat: Finally, pour the gravy into a gravy dish and serve pork roast and veggies with the gravy on the side.
Recipe variations:
Sweet potatoes: For a different flavor, why not try using sweet potatoes instead of regular ones?
More vegetables: In fact, you can also add more veggies to this meal like corn, peas, bell peppers, and broccoli.
Add fruit: To make this dish sweeter, toss in some chopped apples, pineapples, pears, or even mandarin oranges.
Dijon mustard: This delicious sweet meat is even better when you add dijon mustard to the sauce.
Another oil: Feel free to use another oil such as avocado oil, vegetable oil, or whatever you like cooking with.
Other meat: Instead of pork, you could also use a beef roast.
Other broth: If you do not have chicken stock or broth, you can use vegetables or beef.
Make it hot: For a spicier pork roast, add a pinch of red pepper flakes, cayenne pepper, or chopped jalapenos.
How to serve:
This easy dinner recipe is ready to eat in about an hour and is full of flavor. Try one of these serving suggestions or one of your own.
Instead of using this gravy, try our tangy teriyaki sauce or sweet honey mustard sauce.
This meat is also greatly used for pulled pork sandwiches. Serve on buns or crusty French bread.
Although this dish already has potatoes and carrots, you can still have a side dish. Try our air fryer corn or this savory rice made with a whole stick of butter.
You could also try this meat with a salad or soup.

Use leftovers to make sandwiches for lunch the next day.

Another way to use your leftover maple pork roast is to add it to your favorite casserole.
Frequently asked questions
What cut of pork is best for this recipe?
You really want to have a thick slice of fat at the top to add flavor and keep it moist. The pork loin is what we use for this recipe because it has a nice-sized fat cap to keep it juicy. You can also use pork shoulder or pork leg because they have a lot of fat as well. Pork tenderloin is a lean meat that should be cooked fast.
Why is my maple pork roast dry?
The main reason for dry pork roast of any kind is overcooking. You should remove your meat when it reaches an internal temperature of 140 degrees. Then, let it rest for at least 20 minutes before slicing so it can absorb all the juices.
Another common mistake is using the wrong cut of meat. Although pork tenderloin is a delicious cut, it is made to be cooked fast as it does not have all the fat that keeps it juicy when cooking for a longer time.
What is the difference between a pork loin and pork tenderloins?
A pork tenderloin is a long and skinny cut of pork that comes from the muscle along the backbone. It is always boneless and very lean. A pork loin is typically wide and flat and comes with or without a bone. A boneless pork roast is usually a single loin while bone-in roasts are double loins. A pork loin roast is better for this recipe because of the fat cap.
What are the nutrition facts in this recipe?
Each serving of this maple pork roast has 400 calories and 12 grams of fat with 5 grams of saturated fat. It also has 35 grams of carbohydrates, 95 milligrams of cholesterol, 610 milligrams of sodium, and 27 grams of sugar.
In addition, you get 35 grams of protein, 15 milligrams of vitamin C, 45 milligrams of calcium, 2 milligrams of iron, and 70 units of vitamin A.
How to store leftovers:
Store: If you have any leftovers, put them in an airtight container and refrigerate for up to four days.
Freeze: Leftover maple pork roast can also be frozen for three or four months.
Thaw: Thaw leftovers in the fridge overnight for the best flavor.
Reheat: To reheat, microwave for 60 to 90 seconds.
More pork dinner recipes:
Cooking tips:
Make sure you cut the veggie pieces about the same size so they are evenly cooked.
To save prep time, buy vegetables already chopped or use frozen veggies.
You can use pancake syrup or Karo syrup if you do not have pure maple syrup.
After making the gravy, add the remaining sauce to the platter that came from the meat. You want to make sure you have all the tasty juices.
Make sure when checking the internal temp, put it in the side, not the fat cap.
Let your meat and other ingredients come to room temperature before cooking.
Score the meat to allow the fat to drizzle down onto the meat.
Maple Pork Roast
Ingredients
For the Pork Roast:
2

medium carrots

peeled cut into 2 inch pieces

1

cup

celery

cut into 1½-inch pieces

1

whole head garlic

gently cleaned on the outside and top sliced

1 1/2

pounds

potatoes

roughly cut into 2 inch pieces

1

medium red onion

cut into eighths

2 1/2

tablespoons

extra virgin olive oil

divided

2

tablespoons

kosher salt

or to taste - divided

1

teaspoon

freshly ground black pepper

1

teaspoon

smoked paprika

1/4

cup

maple syrup

5 1/2 - 6

pound

center cut boneless pork roast

with fat cap

3

tablespoons

unsalted butter

thinly sliced

1/2

cup

chicken stock

warmed, plus more if needed
Gravy:
1/2

cup

chicken stock

warmed

1/2

cup

white wine

Sauvignon Blanc or table wine

1/2

cup

apple cider

1

tablespoon

cornstarch

1

tablespoon

cold water

more if needed

1

tablespoon

brown sugar
Instructions
Prep the pork and veggies:
Preheat the oven to 350 degrees F and place an oven rack in the middle of the oven.

In a large pot, bring water with 1 teaspoon of salt to a boil. Once boiling, add the sliced potatoes and parboil them for about 6 minutes.

Remove and place in cold water to stop them from continuing to cook, after that discard the cold water and transfer the potatoes to a baking sheet lined with paper towels. Pat dry them, so they are completely dry before using.

In a 9x13 inches roasting pan, combine the carrots, celery, whole garlic head, potatoes, and onion with 2 tablespoons of olive oil and 1 tablespoon salt, and toss to coat evenly.

Push the vegetables to the sides of the pan so the middle is free for the meat.

Next, add the pork to the pan, fat cap side up, and using your hands, rub the meat with 1/2 tablespoon of olive oil.

Next, rub the paprika and maple syrup mixture. Sprinkle on all sides with 1 tablespoon of salt and 1 teaspoon of pepper. Top the meat with the butter slices, and pour the chicken stock over the vegetables, distributing evenly.

Place in the oven and roast for 45 minutes. Remove and baste, and rotate the pan. Roast for 15 minutes, then using a meat thermometer, check the internal temperature, it should be 140F in the center of the roast. If not, return to the oven and cook until done, careful not to overcook.

Once done remove the pan from the oven, and carefully transfer the pork roast to a cutting board, the vegetables into a separate bowl, and the cooking juices to a separate bowl.

Cover the meat and the veggies with aluminum foil and let rest.
Make the gravy:
In the meantime, make the gravy.

Place a saucepan over medium heat on the stovetop, add the cooking juices and bring the mixture to a low simmer.

Next, add the chicken stock and white wine, stir, and bring to a simmer, simmer for about a minute.

Add the apple cider to the pan and stir to combine.

In a small bowl, combine the cornstarch and cold water to make a slurry, stirring until well combined and dissolved.

Pour the slurry into the pan and stir to combine.

Add the brown sugar, stir, and simmer, for about 5 minutes total.

If you have any juices from the cutting board where you placed the pork, you can also add them to the mixture.

Transfer the gravy to a gravy dish.

Slice the pork roast and serve with vegetables and gravy on the side. Enjoy!
Deliciousness to your inbox
Enjoy weekly hand picked recipes and recommendations