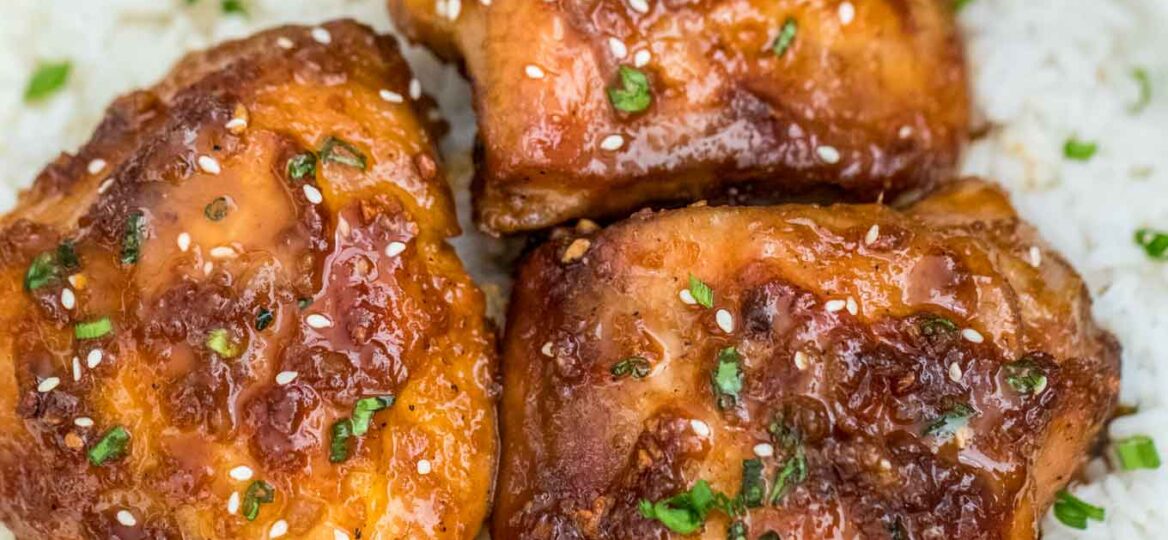 Instant Pot Brown Sugar Garlic Chicken
Instant Pot Brown Sugar Garlic Chicken is the perfect family dinner easily made in the pressure cooker. It is rich and flavorful ready in about 30 minutes.
We love easy and delicious Instant Pot dishes. If you are a chicken fan, you might also like BBQ chicken, orange chicken, and Mongolian chicken.
Instant Pot Brown Sugar Garlic Thighs
This recipe is one of our old-time favorite comfort food. We are big thighs lovers, and making them in the pressure cooker glazed with the most delicious sauce, is a win-win recipe! This Instant Pot Brown Sugar Garlic Chicken is the perfect recipe to make for dinner. The meat is super flavorful, juicy, moist, and perfectly cooked at the fraction of the time.
The sauce is to die for. The combination of garlic and brown sugar works amazingly well in this dish. It coats the thighs nicely with a rich and deep flavor.
Also, this is such an easy and quick meal to make at home, that it will take you more time to drive to a restaurant to order takeout! We like serving it over some rice or veggies, and leftovers are equally delicious!
How long to Cook Chicken in the Pressure Cooker?
The pressure cooker does a great job of cooking meat quickly. For this recipe, we cook the thighs for 10 minutes. However, this might vary if you are using larger sized thighs.
Below are the general guidelines on the time for cooking chicken in an Instant Pot:
Wingettes and drumettes – 5 – 7 minutes
Whole chicken wings – 6 – 8 minutes
Chicken drumsticks and chicken thighs – 8 – 10 minutes
Chicken breasts – 10 – 12 minutes
Please note the above guidelines are for fresh or thawed meat. If you want to use frozen meat, you can still cook it. However, the cooking time will increase. We have a good article and recipe on how to cook frozen poultry in the pressure cooker, you can access it here.
How to cook Instant Pot Brown Sugar Garlic Chicken?
In this recipe, we choose skin on thighs (because they taste amazing and extremely juicy). As with any meat cooked on the bone, this has tons of flavor. Also, you could use other cuts if desired, however, for a deeper flavor, we recommend sticking with thighs.
You will need at least 1/2 cup of liquid to the pot to pressure cook chicken.
Cover the lid, and cook for 10 minutes.
Once done, arrange chicken on a baking sheet or in a baking pan.
Then, mix the sauce ingredients together, and pour the sauce over the thighs.
Broil and serve.
Can you make this dish in the Slow Cooker?
Absolutely! Cooking this dish for a longer period of time in the crockpot is the perfect alternative. The meat turns out flavorful, and extremely juicy. You can check the slow cook version of it at this link.
CAN You MAKE THIS RECIPE IN THE OVEN?
Yes! The oven backed version with potatoes can be found here.
WHAT to serve with Instant Pot Brown Sugar Garlic Chicken?
This recipe yields amazingly delicious and mouthwatering chicken which is great for dinner. We love serving it with either brown or white rice and some roasted vegetables, such as asparagus, brussels sprout.
Also, you can mix it up with roasted potatoes or mashed potatoes as well. No matter how you serve it, it will be just delicious!
How to freeze Instant Pot Brown Sugar Garlic Chicken?
Prior to freezing, ensure that the dish is completely cooled. Then, transfer it to an airtight container and freeze for up to 3 months.
The night before serving, transfer it to the refrigerator to thaw. Also, you could warm it up in the microwave or oven for a few minutes and enjoy it with your favorite side dish.
More pressure cooker recipes to try:
RECIPE TIPS and Notes:
We use a 6-qt Instant Pot and we love it. However, if you plan on cooking a larger portion, go with the 7-qt size.
If desired, you can use other meats, such as breasts or drumsticks.
In addition, for a spicier kick, add some jalapeno or red pepper flakes to the dish.
Always try using fresh minced garlic vs the canned version, as it gives a deeper and richer flavor.
When the dish is ready, you can top it with some green onions if desired.
The pressure cooker does a great job of producing juicy and tender meat. Also, if you want it extra crispy on the outside, we recommend to broil it for a few minutes once it's done cooking under pressure. This is one easy step, but it is totally worth it.