Easy Allspice Substitute Recipe
Last updated on May 4th, 2023 at 05:05 pm
Allspice Substitute can be used in anything from sweet dishes to savory dishes and can be easily made at home with just a few ingredients. But the best allspice substitute is the one you make yourself. You will only need a teaspoon of ground cinnamon, nutmeg, and cloves for this warm spice flavor. For the most distinct spice, grind your own from fresh the day you make your mixed spice and put it in an airtight container right after to preserve the complex flavor.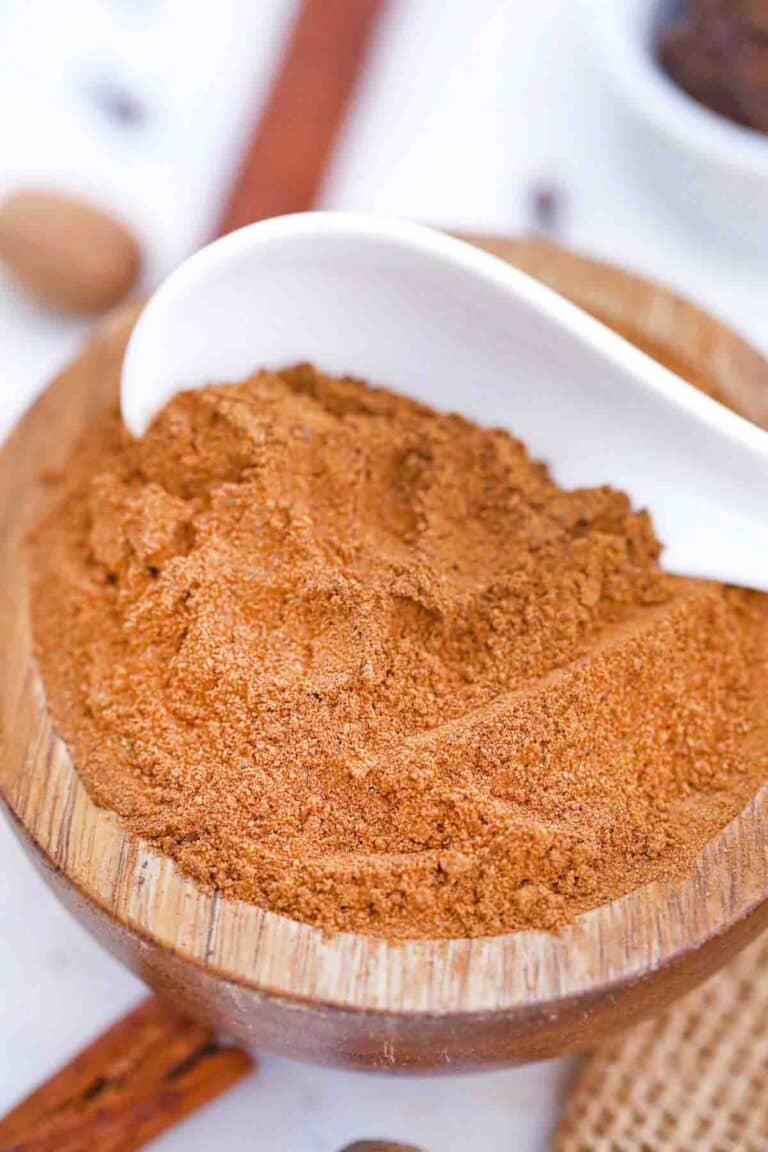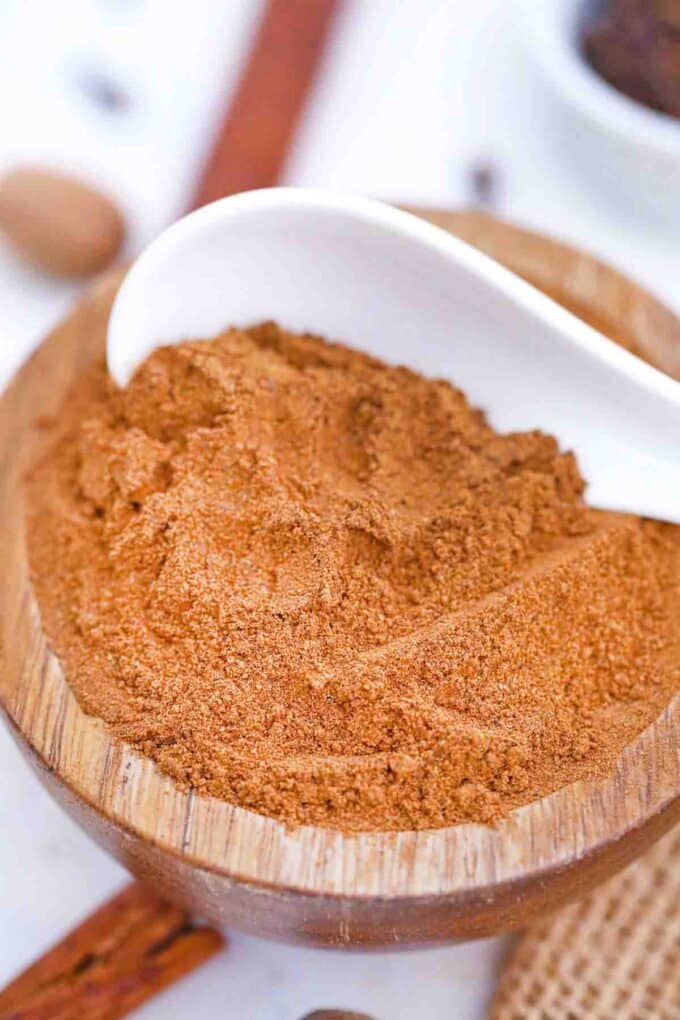 Allspice berries are a major ingredient in pickling foods like our recipe for Homemade Corned Beef Brine. If you are planning to make corned beef, try this recipe with allspice, ginger, mustard seeds, coriander, red pepper, peppercorns, cloves, cardamom pods, and bay leaves. For something sweet, try our Gingerbread Fudge. It is made with white chocolate, sweetened condensed milk, molasses, vanilla, allspice, ginger, nutmeg, and butter.
You can find ground allspice at almost any grocery store in the spice aisle, but this may just be the ground allspice berries without the cinnamon, cloves, and nutmeg. But, if a recipe calls for the ground version, you can grind your own allspice berries for the same flavor. Whether you are looking for an allspice substitution with warm spices for sweet recipes or a savory recipe, the key spices in this allspice replacement are perfect.
For this warm allspice substitute recipe, you only need three ingredients including nutmeg, cinnamon, and cloves. You can also add your own favorites to the mixture like rosemary, star anise, pepper, or fennel. The best substitute for allspice depends on the flavor profile you are going for. If you want it sweeter, you can alter the mixture to fit the recipe you are making.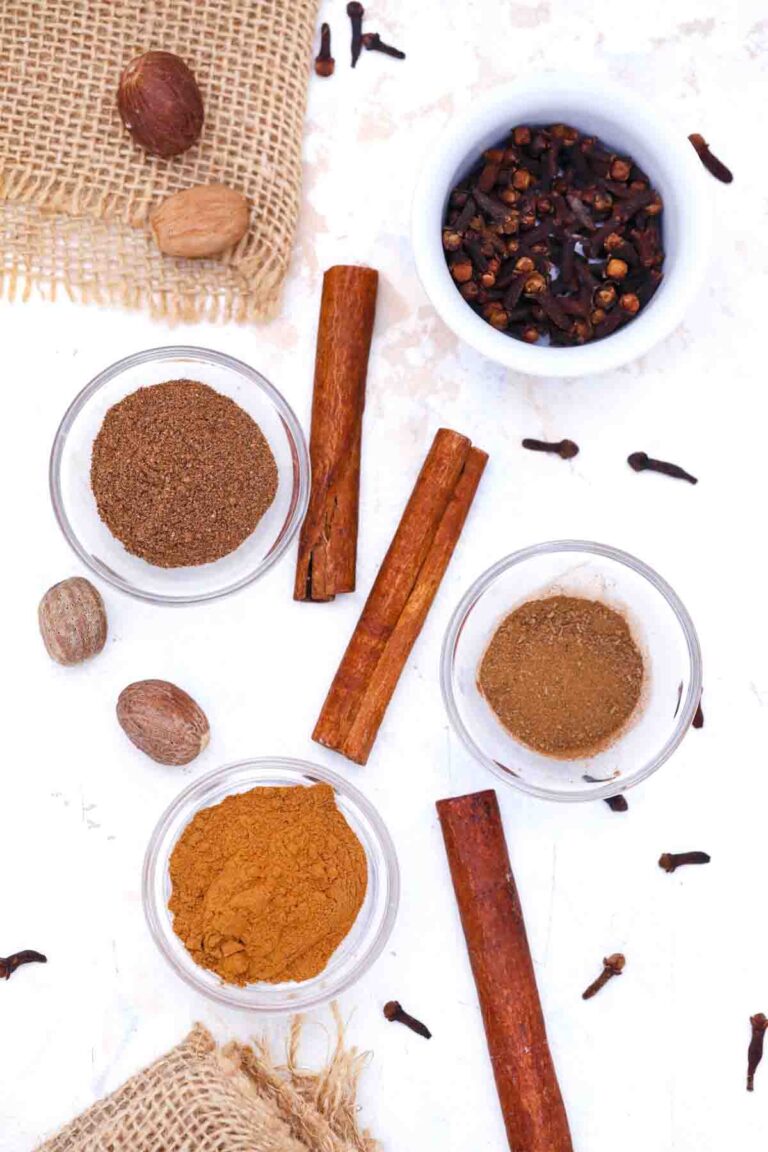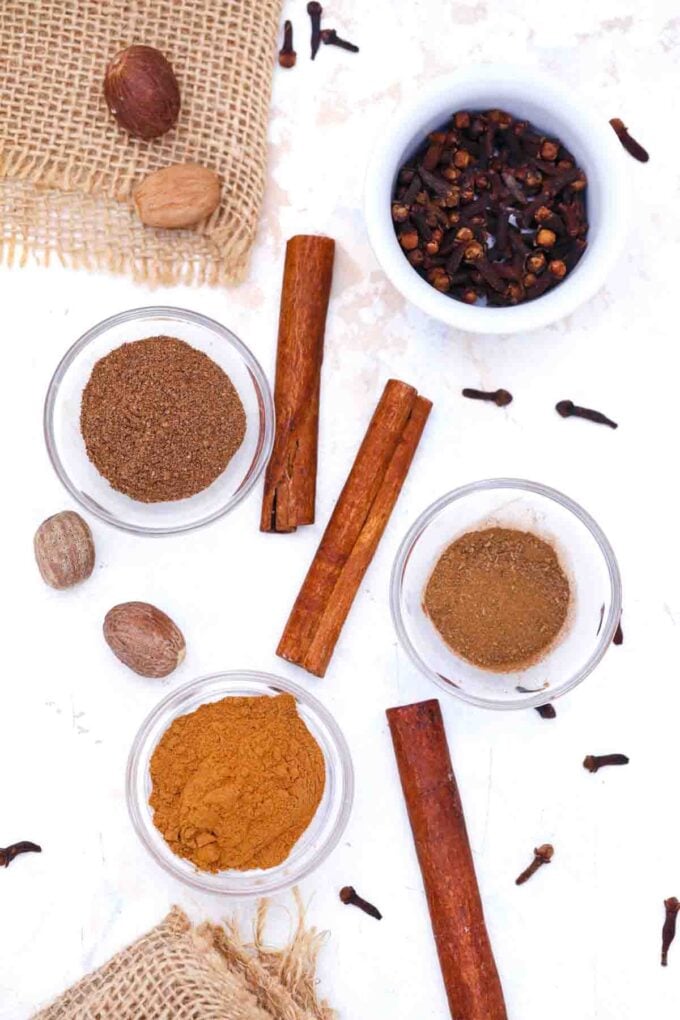 Ingredients needed:
Here are the three ingredients you need to make this allspice substitute. When you are ready to prepare your mixture, find our recipe card at the bottom of the page to get the exact measurements and steps.
Ground cinnamon
Ground cloves
Ground nutmeg
How to make allspice substitute from scratch?
Grind your spices: First, grind each spice fresh before adding them to a small mixing bowl. Stir thoroughly until it is completely mixed.

Pour into a container: Then, pour your allspice substitute into a sealed container to keep it from losing its flavor. Use immediately for best results.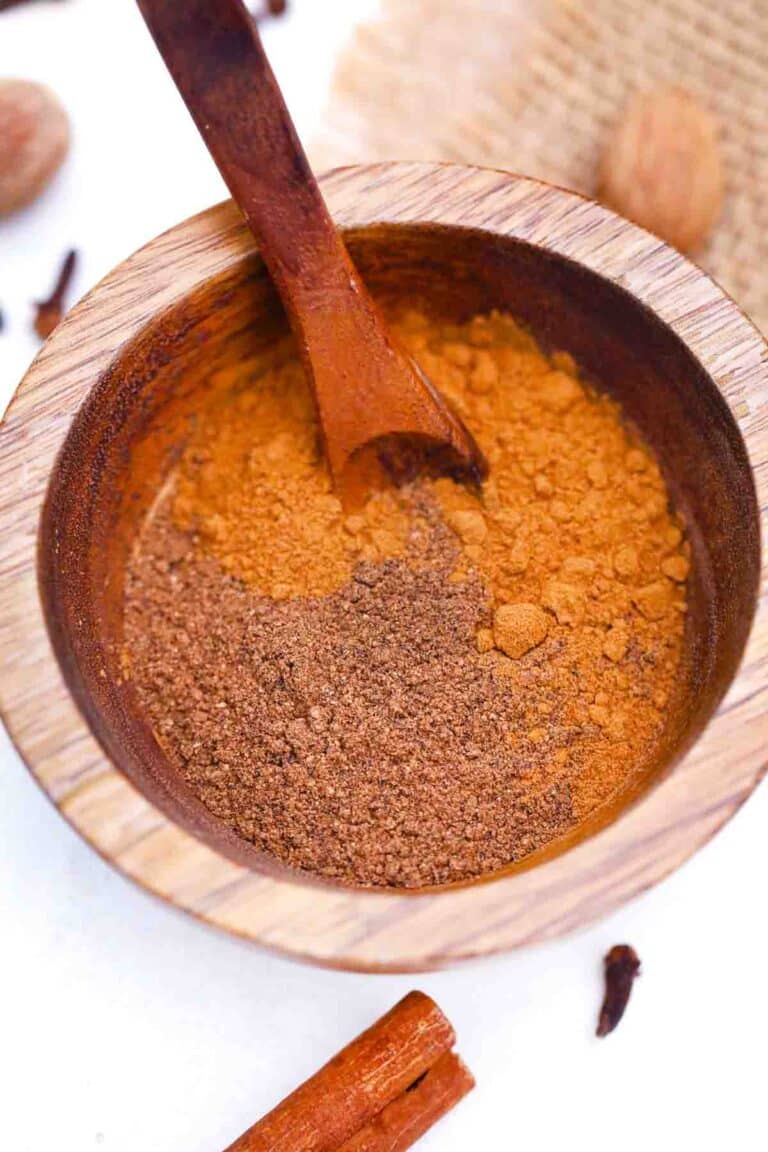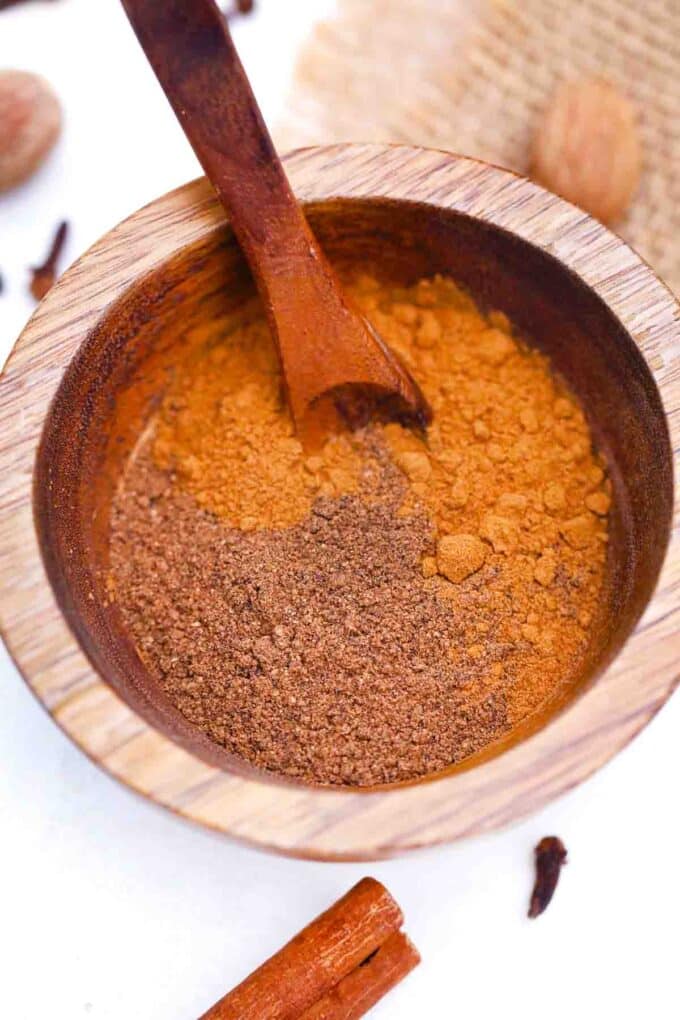 Recipe variations:
Star anise: You can add a teaspoon of ground star anise for a bit of a licorice flavor.

Fennel: Another type of spice that goes great with allspice is fennel.

Chai blend: The chai blend of allspice substitute has cinnamon, cloves, nutmeg, cardamom, and ginger.
Pepper: Some recipes have four key spices, which are cloves, nutmeg, cinnamon, and pepper.

Sugar: For sweeter allspice, add a half teaspoon of white granulated sugar or brown sugar.

More spicy-sweet: If you like spicy food, add a pinch of red pepper flakes.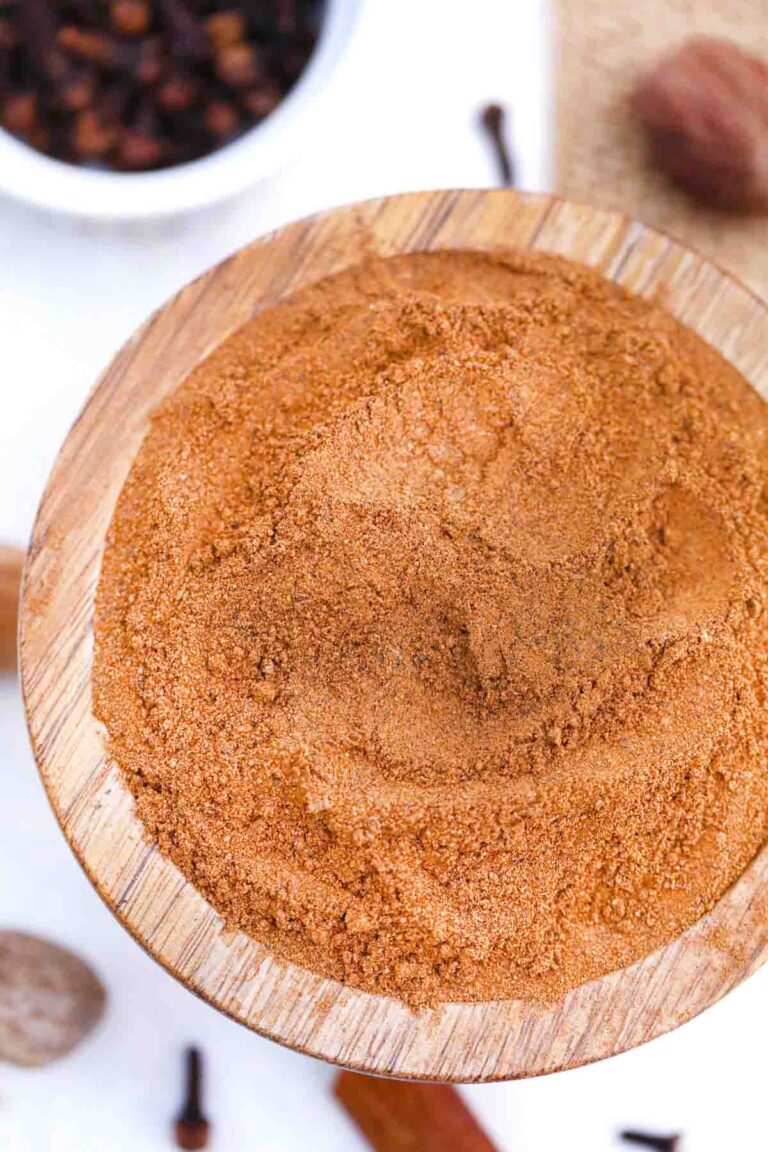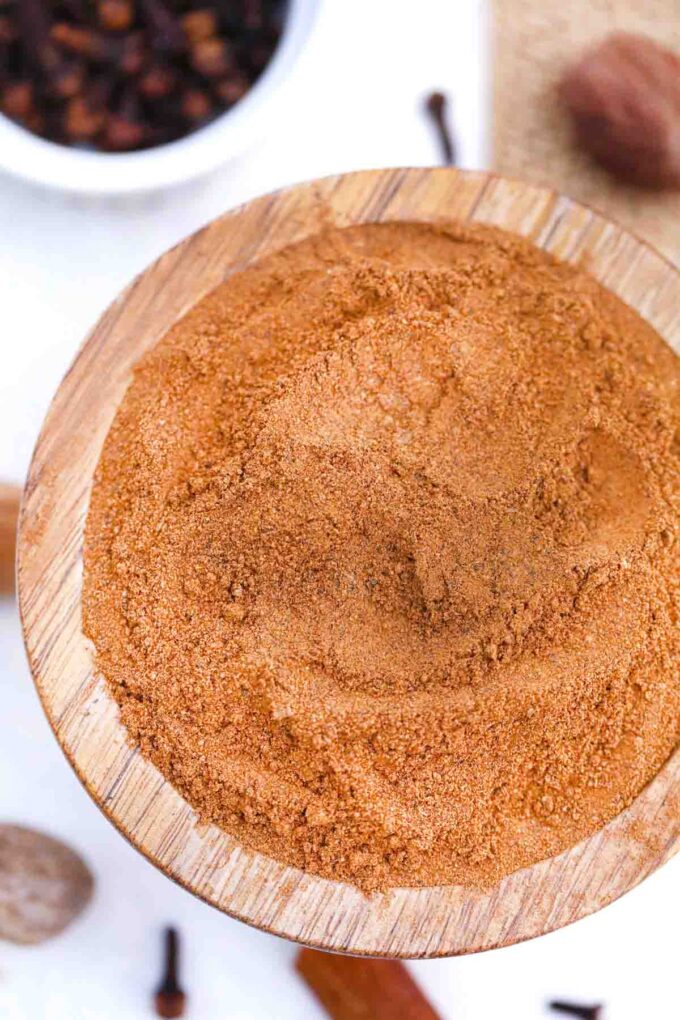 How to serve:
You can use allspice substitutes in just about any recipe. Many fall dishes call for allspice such as pumpkin pie and other baked goods. Try one of these great serving ideas or share some of your own down in the comments section. We love to hear from you!
One teaspoon of allspice is a deliciously warm and spicy sweet addition to Cincinnati-style chili and Caribbean cuisine.
You can also use these common spices to season meats. It is often dark meats like beef and mutton that benefit from a teaspoon of ground allspice but you can also use it in this BBQ pork chops recipe.

Pumpkin spice mix is all about the warm spices of allspice as well.

Jamaican jerk chicken is one recipe that calls for allspice as well as many other herbs and spices like red chiles, garlic, thyme, parsley, and brown sugar.
Any kind of jam, jelly, or preserves would benefit from a teaspoon of allspice.

Baked apples go great with allspice no matter whether they are being used for apple pie filling or apple cake.

Gingerbread cookies or cake also need a spoonful of allspice as one of the ingredients.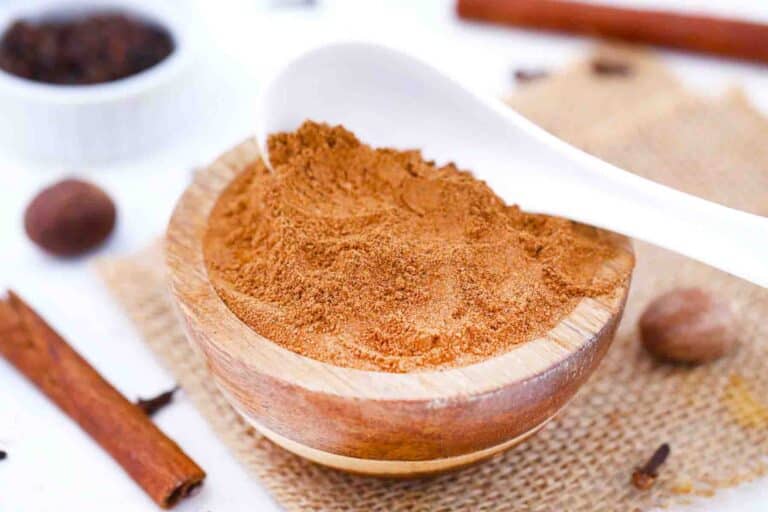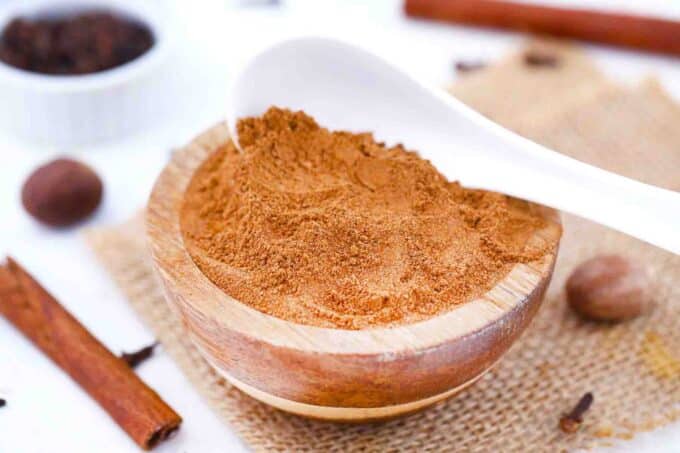 Frequently asked questions
What is the difference between dry and whole allspice?
If a recipe calls for dried allspice berries or whole allspice berries, you can often find these in the spice aisle. Some grocers do not have it so you may have to go to a specialty store or order it online. The dry allspice is a ground allspice berry. Whole allspice refers to the whole berry that looks similar to peppercorn.
Ground allspice comes from grinding dried whole allspice berries. The flavor is sweet and spicy with a touch of bitterness. That is why the best substitute for allspice is a blend of nutmeg, cinnamon, and cloves. But you could also buy the whole allspice berries and grind them yourself.
What does allspice taste like?
Allspice is a delicious spice that tastes like a combination of nutmeg, cinnamon, and cloves because that is what it is made of. It is best to use whole cloves, cinnamon quills, and nutmeg seeds and grind them with a spice grinder the day you plan to make your allspice. The best allspice substitutes are made with the freshest ingredients so make sure you use freshly ground spices.
Where can I use allspice?
In anything from pumpkin pie spice to meat dishes as well as apple pie spice. Sweet and savory recipes both benefit from a little bit of allspice substitute. There are many allspice substitutes out there but since they are so simple, there is no reason not to make your own. However, it is best to use freshly ground cinnamon, nutmeg, and cloves to get the best substitute for allspice.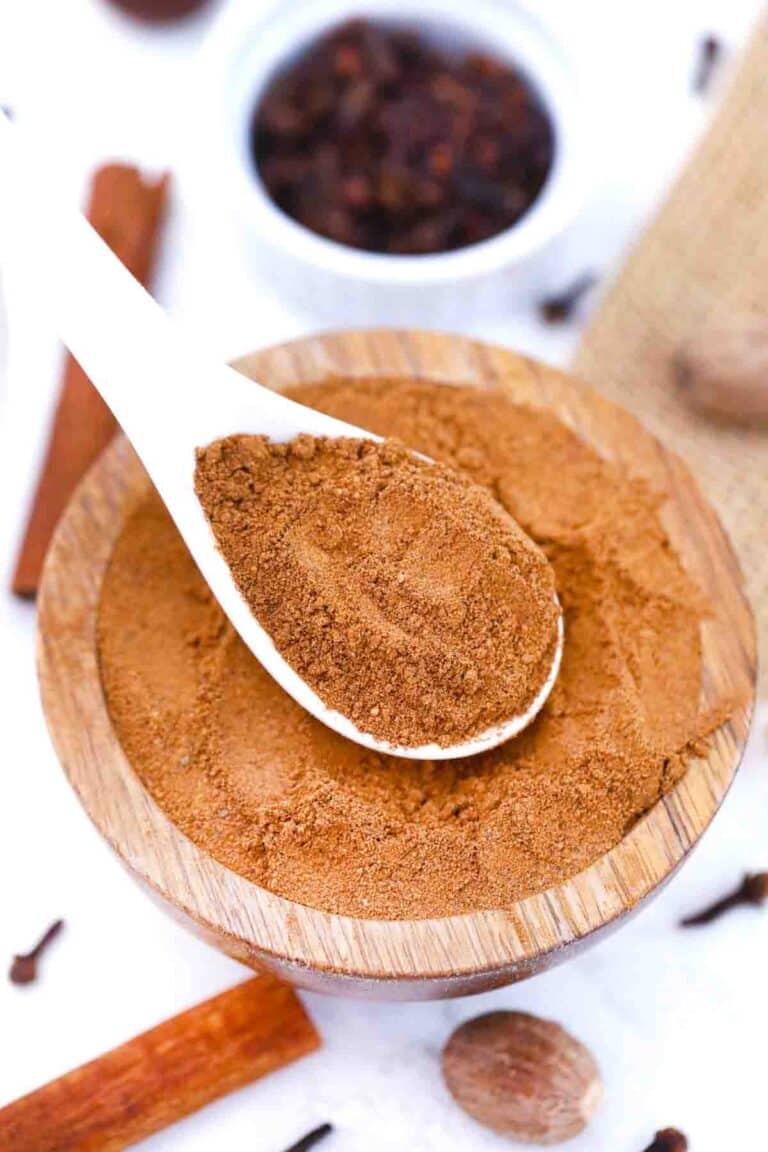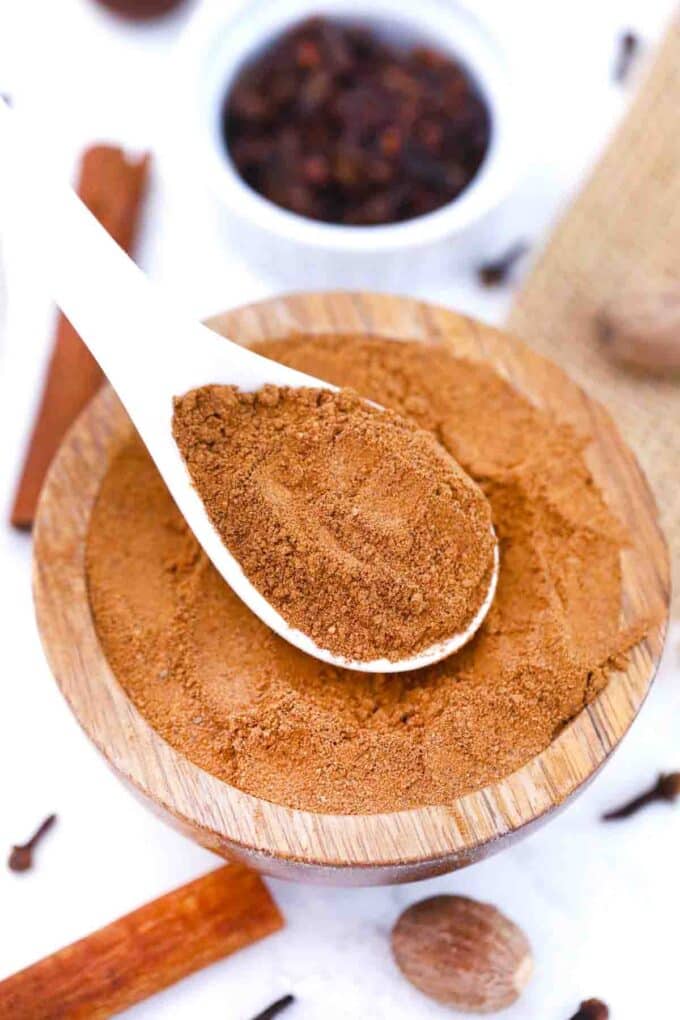 What are the nutrition facts in this recipe?
Since this allspice substitute is made with cinnamon, cloves, and nutmeg instead of the actual allspice berries, each serving consists of a blend of the three. Therefore, the calories per serving will vary but with this recipe you get 12 calories, no fat, 2 carbs, 1 gram sugar, and no cholesterol. You also get 26 mg calcium, 1 mg iron, and 1 unit of vitamin A.
How to store leftovers:
Store: You can store your leftover allspice substitute in an airtight container in the cabinet. No need to refrigerate or freeze it. In fact, it will last for six months to a year as long as it is kept closed when not in use.
More pantry staples:
Recipe tips:
You can adjust the recipe as needed. Keep the amounts equal unless you want one of the spices to stand out more than the others.

Be sure you have a tiny funnel first. Pouring spices into small containers is difficult without one.

If you want hints of pepper, add ground black pepper. For just a touch of peppery flavor, use half a teaspoon.

After mixing, you may have to strain your allspice mixture through a fine sieve to get rid of any chunks. You want only the fine powder.

Always remember to shake the allspice every time you want to use it to help remix the spices.

Ground clove flavor is always good mixed with sweeter spices or even spicy flavor with a peppery bite.
Other spices that can substitute allspice are Chinese five spice powder, which has all the flavors with the same peppery kick as black peppercorns without the bitter taste.
Allspice berries are very similar to dried peppercorns so if you are buying dried berries, make sure you are getting the right thing.
Allspice flavor profile fades quickly so make sure you put it in an airtight container.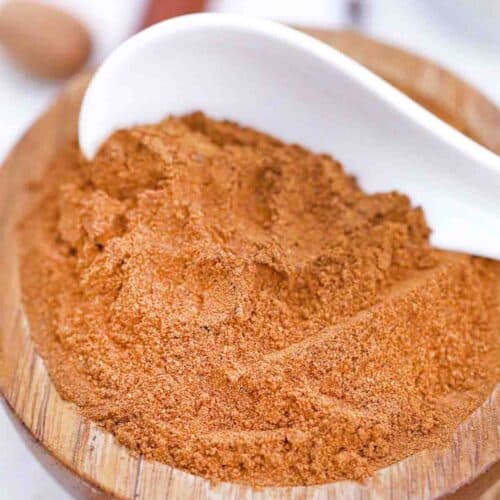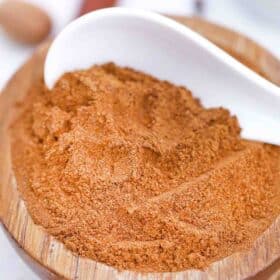 Homemade Allspice Substitute
Allspice Substitute can be used in anything from sweet dishes to savory dishes and can be easily made at home with just a few ingredients.
Save
Share
Print
Pin
Rate
Ingredients
1/2

teaspoon

cinnamon

1/4

teaspoon

cloves

1/4

teaspoon

nutmeg
Instructions
In a small bowl, mix together the ingredients.

Transfer to a mason jar, close tightly with the lid, and store in a cool dry place for up to 1 year.

Double or triple the recipe if needed.
Nutrition
Calories:
6
kcal
|
Carbohydrates:
1
g
|
Protein:
0.1
g
|
Fat:
0.2
g
|
Saturated Fat:
0.1
g
|
Polyunsaturated Fat:
0.02
g
|
Monounsaturated Fat:
0.02
g
|
Sodium:
1
mg
|
Potassium:
9
mg
|
Fiber:
1
g
|
Sugar:
0.2
g
|
Vitamin A:
4
IU
|
Vitamin C:
0.1
mg
|
Calcium:
13
mg
|
Iron:
0.1
mg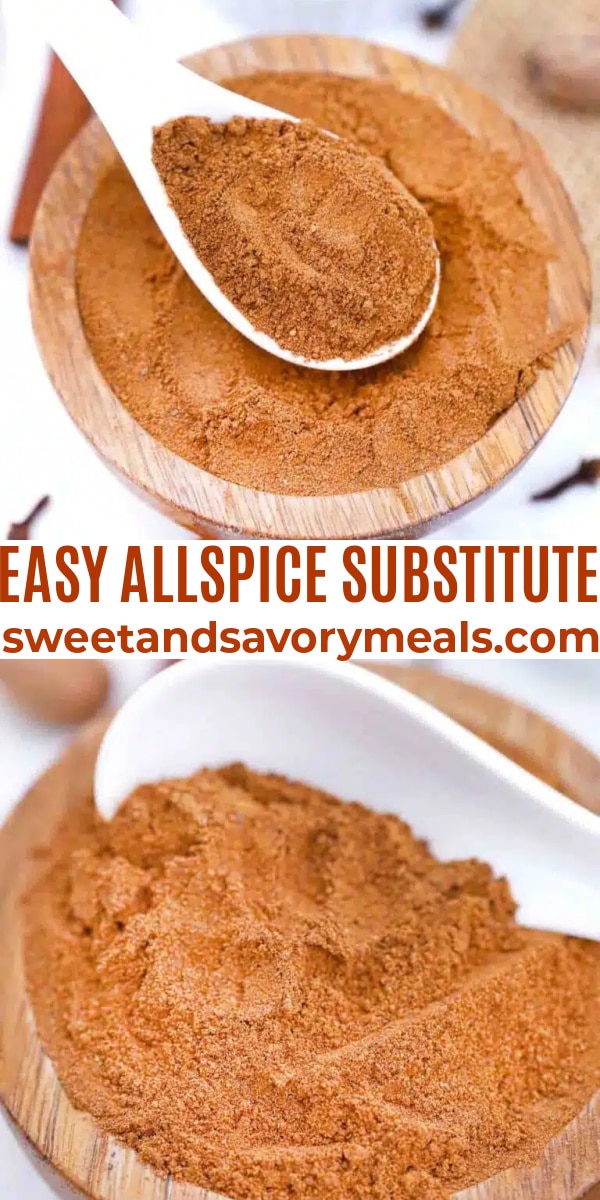 More recipes you might love