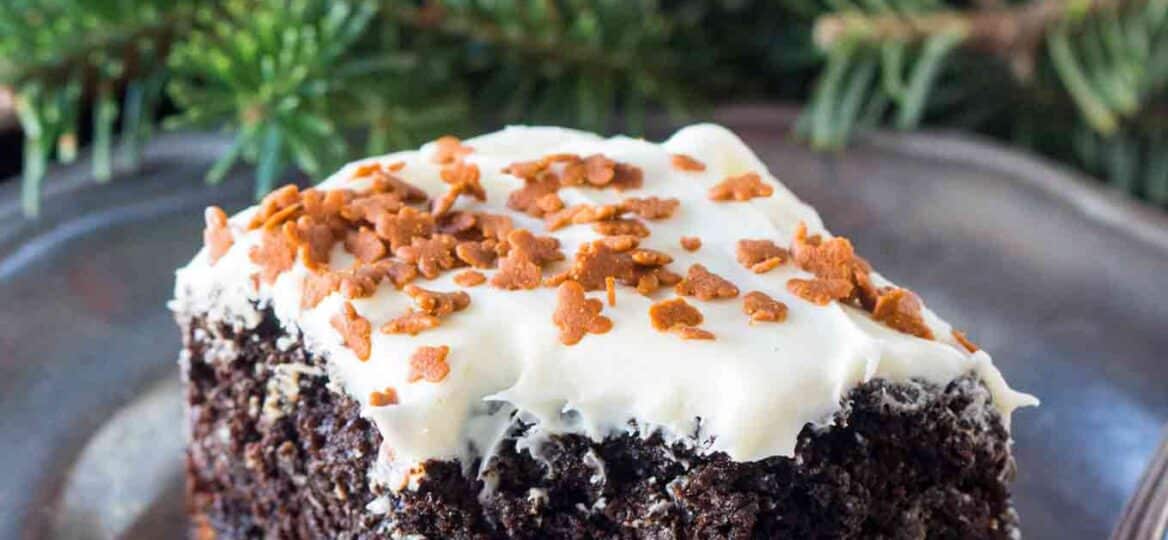 Gingerbread Recipe [Video]
Gingerbread recipe perfect for the holidays. A very easy to make, fluffy, sweet and spiced cake, topped with delicious cream cheese frosting.
Holiday-themed desserts could be fun and easy to make. We have a variety of them on our blog, among our popular once are Pumpkin Cheesecake Bars, Neon Chocolate Sugar Cookies and Sweet Potato Casserole.
Easy Gingerbread Recipe
This easy Gingerbread Recipe is perfect to make for the winter holidays! The spiced cake is a family favorite, made with ground ginger, cinnamon, and cloves, each bite is bursting with flavor! Also, the shining star in this Gingerbread Recipe is the molasses.
Usually, this type of dessert is made with light molasses, but I love the dark molasses. Because it has a deeper, has a more prominent flavor, and it also gives the cake that very dark color, instead of the lighter brown.
Topped with cream cheese frosting, the combination of sweet, tangy and holiday spices makes your taste buds extremely happy! Seriously, guys, you will end up eating this cake for breakfast, lunch, and dinner, it's that good!
What is the difference between Blackstrap and Molasses?
Light Molasses is the syrup made from the first boiling. Also, it is the lightest and sweetest in taste. It is the most commonly used in baking and is what we have used for this Gingerbread Recipe.
Dark Molasses is the type created from the second boiling. Also, it has a thicker texture, it is darker and less sweet. It can also be used in baking, but it will produce a more distinct color and flavor.
Blackstrap is the syrup produced after the third boiling. It is the thickest and darkest of all, and also tends to have a bitter taste. This one is NOT used in baking!
Should you use sulfured or un-sulfured molasses?
The short answer is: It Doesn't matter! The "sulfured" molasses has sulfur dioxide added to it, which acts as a preservative and prevents it from spoiling. Sulfured varieties tend to be less sweet than un-sulfured products. They will both work great for this soft gingerbread recipe.
Looking for more easy holiday cakes? Check these out:
Easy Soft Gingerbread Recipe Tips
First, you can use light/mild molasses, for a lighter and also more traditional gingerbread cake. Also, that will have a more light brown color.
In addition, do not confuse the dark molasses with a black strap!! Blackstrap molasses should NOT be used for baking!
If you don't have some spices on hand, that's ok. However, make sure you use ground ginger and cinnamon.
Watch the cake not to burn it!
The cream cheese frosting is optional, you can serve the cake sprinkled with powdered sugar or plain. This cake is also great served warm.
Similarly, you can totally use store-bought cream cheese frosting to save some time.
Tools/Ingredients I used to make this Gingerbread Recipe: