Easy Crockpot Stuffing [Video]
Crockpot Stuffing is moist, hearty, and perfectly seasoned! Easy to prepare using the slow cooker, it makes the perfect Thanksgiving side dish! Watch the recipe video tutorial below and see how simple this is!
It is one of my most favorite Thanksgiving recipes because of its rich flavors and the comfort it brings! Make this dish along with the Oven Roasted Turkey, Pecan Pie Bars, and Pumpkin Pie!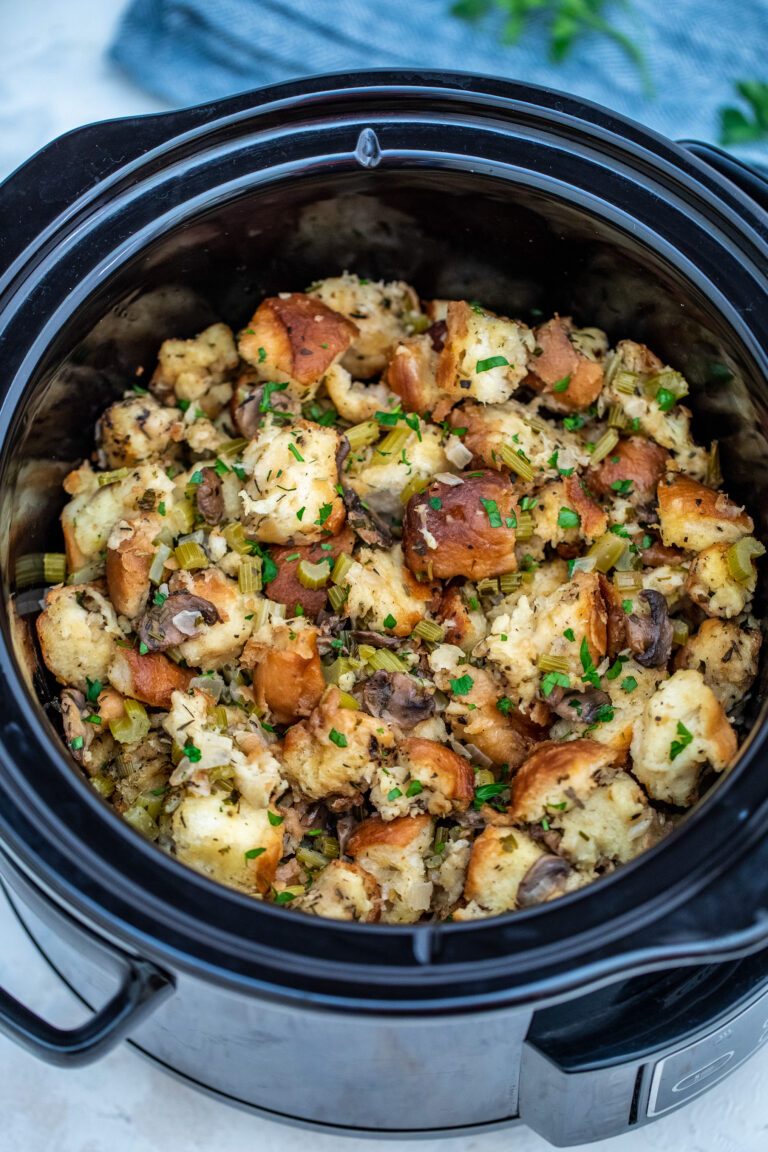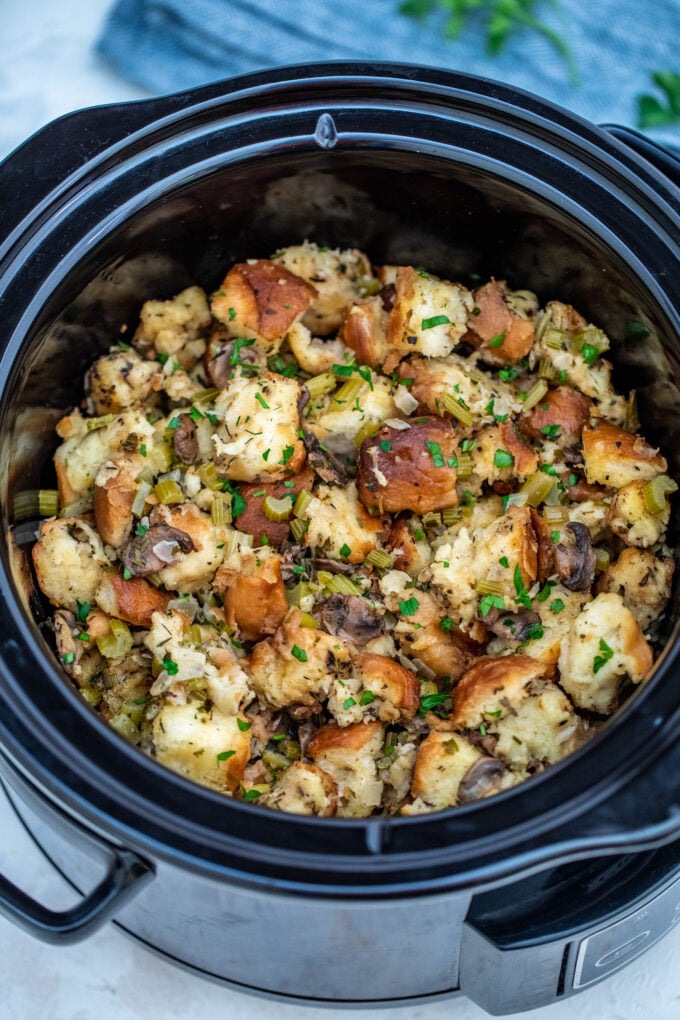 Crockpot Stuffing Recipe
This recipe for Crockpot Stuffing has superb herb flavors and great texture! This side dish is always served during Thanksgiving in almost every household I know.
What I love about this dish is that I can devour it piece by piece without worrying that it has been stuffed into a raw turkey. Usually, it is not unsafe to eat it from inside the turkey, I am just not a huge fan of it.
It is just that there are possible risks associated with it and with this, the USDA has set some guidelines on how to properly handle stuffing. Just follow those rules when making this recipe.
Using the slow cooker frees up oven space which you can use for the rest of your other recipes. This recipe is ideal for when you are busy and doing other chores for your holiday dinner.
It is such a great side dish to prepare and you can also customize it by adding your favorite seasoning, same sausage, and even some apples or pears.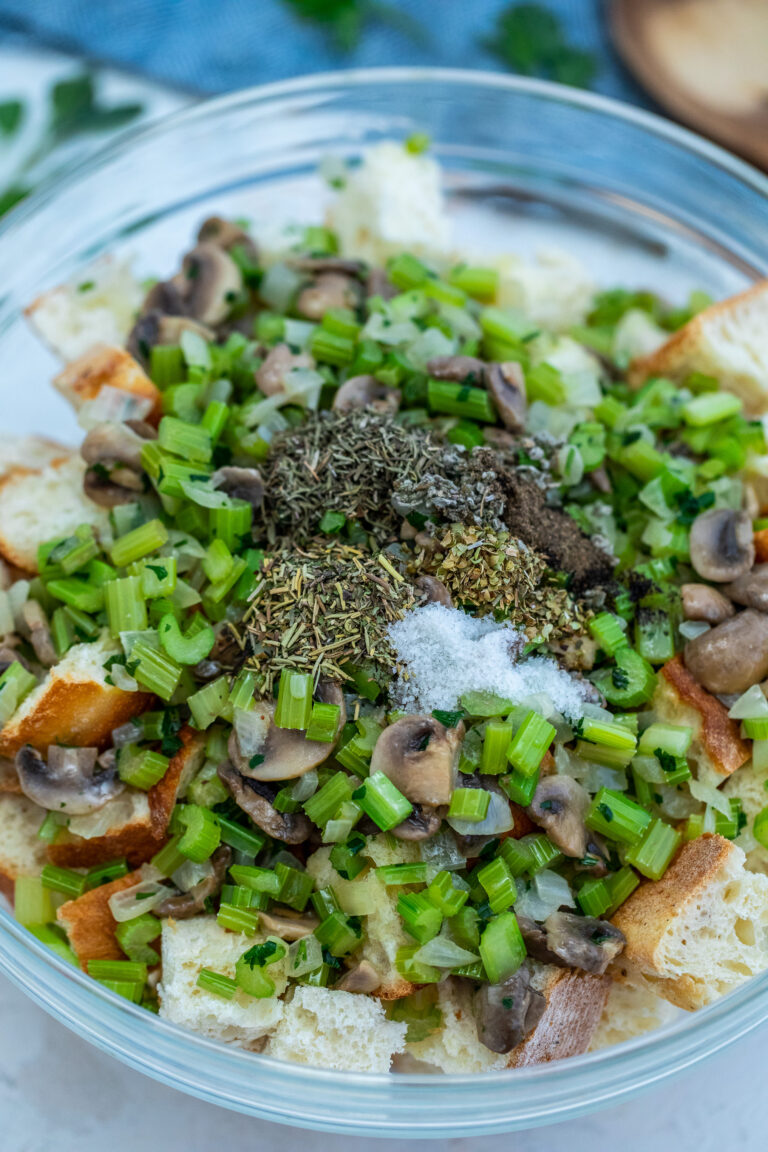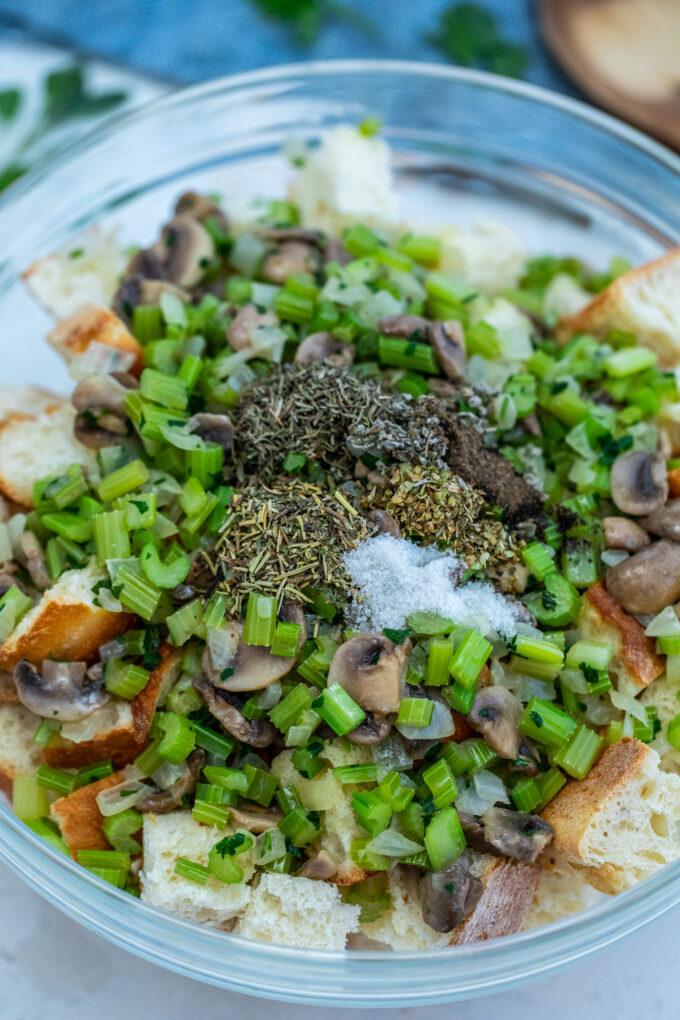 What is Stuffing?
It is something that is put inside the cavity of an animal being roasted, typically poultry. The purpose is to infuse more flavors into the meat and to provide a source of moisture so that the meat does not dry out while roasting.
You prepare it with dry bread cubes and a mixture of celery, onions, and herbs sautéed in butter. It has egg as the binder and you make it moist by adding the stock.
What is the difference between stuffing and dressing?
Stuffing must be something that you put inside the turkey (as an example) while dressing is simply cooked in a dish. However, stuffing tastes so good that others just opt to prepare it without wanting to put it inside the turkey or chicken.
There is no difference in the ingredients but depending on who you ask, people get to call the exact same dish differently.
How to make Homemade Crockpot Stuffing?
Prep the bread: Dry your bread and cut it up into one-inch-thick cubes.
Sauté: Sauté your celery and aromatics in unsalted butter. Add in the herbs and seasonings.
Slow-cook: Combine everything in the crockpot along with beaten egg and stock. Moisten everything adequately but not too much that it turns mushy. When everything is done, you can serve it while still hot or at room temperature.
How long do you cook stuffing in the Slow Cooker?
What you can do is to cook on HIGH for the first 45 minutes to get the heat started. Then, reduce to LOW and cook for 4 hours.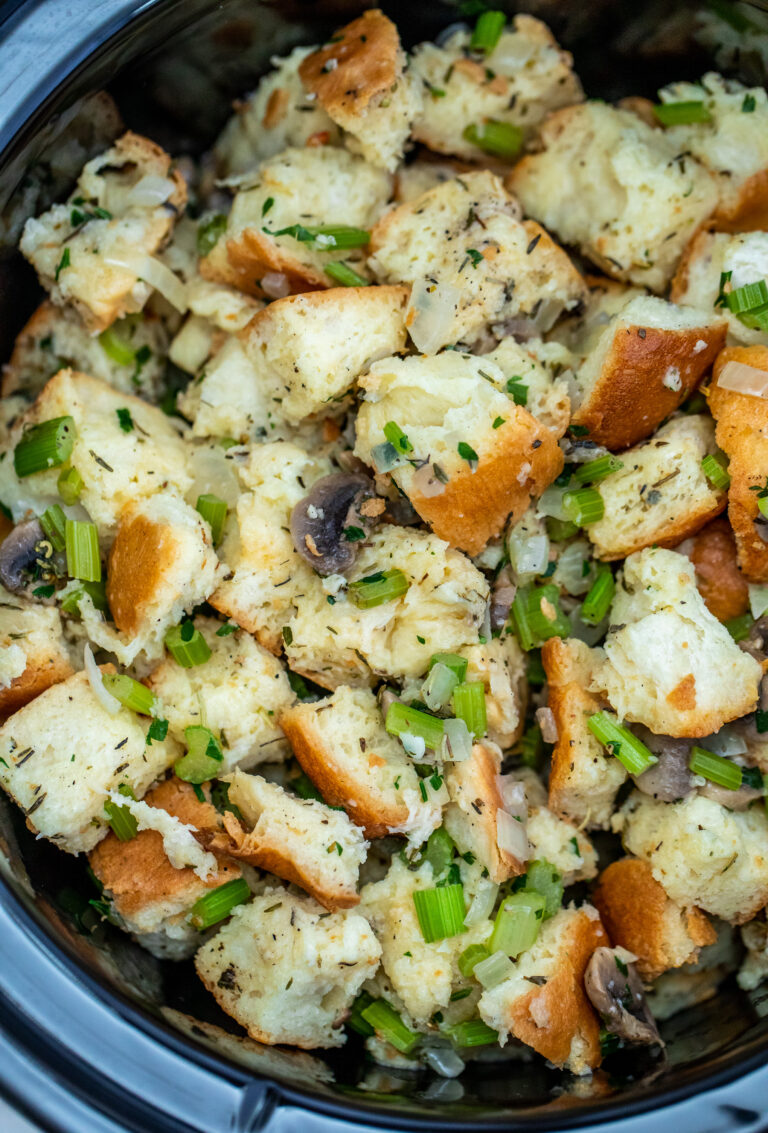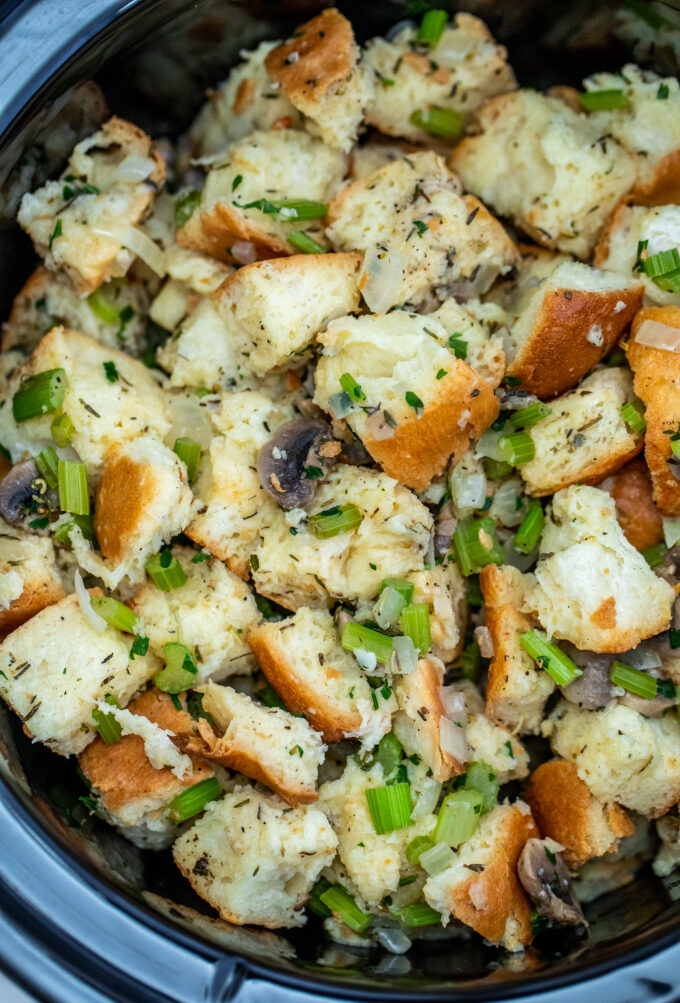 What is the best bread to use for Crockpot Stuffing?
There is no hard rule as to which bread to use, may it be sourdough or cornbread, or your classic white bread. Just make sure that it is thoroughly dry so that it can absorb moisture well.
How to dry bread for Crockpot Stuffing?
Cut the bread into one-inch-thick cubes and spread them on a baking sheet or two. Dry it for about 30 minutes in the oven set at 300 degrees Fahrenheit. Do not allow the cubes to burn.
Can you make the stuffing ahead of time?
Yes! Cook it ahead and then, refrigerate it once it cools. Consume within 3 to 4 days. When you are ready to use it, reheat it to 165 degrees Fahrenheit but do not use it for your poultry anymore.
It is better to freeze it uncooked. When ready to cook it, do not thaw it anymore, simply cook until it reaches the safe internal temperature of 165 degrees.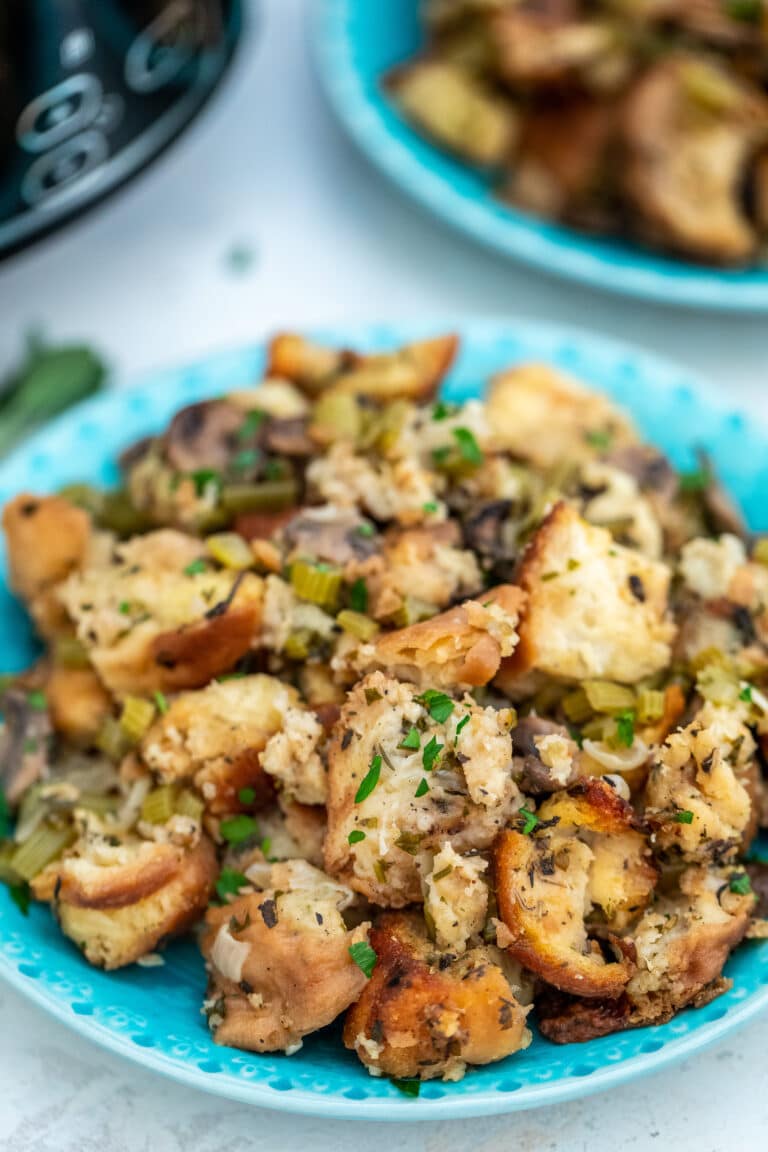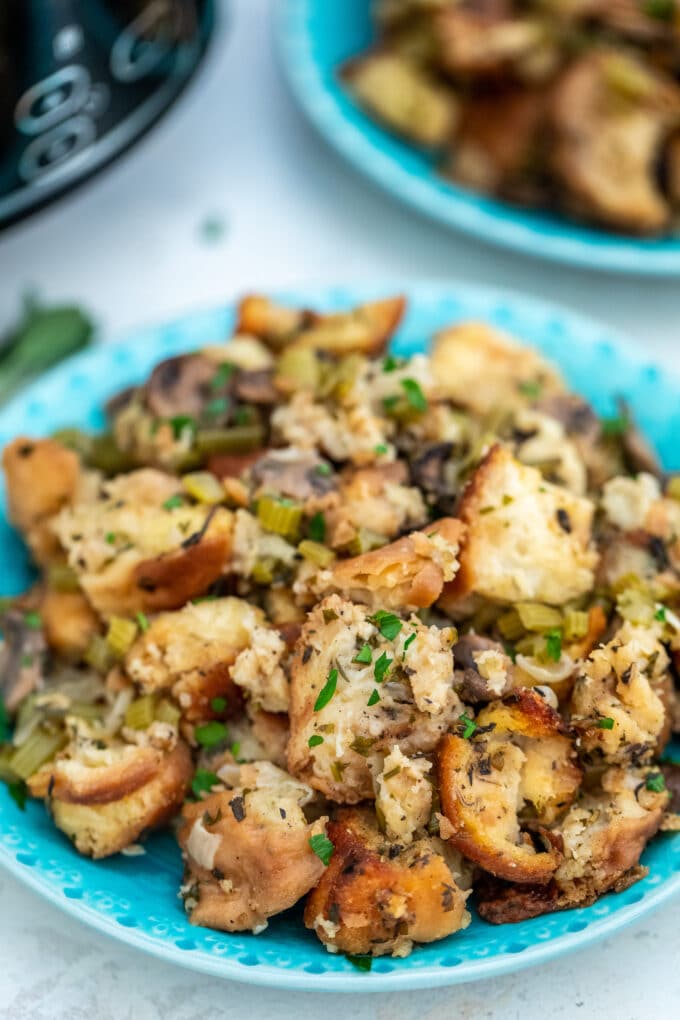 Homemade Crockpot Stuffing Recipe Tips:
It does not matter if you use fresh or dry herbs, only the amount will differ. Parsley is a common ingredient, but you can also add rosemary, sage, and thyme.
When drying the bread in the oven, switch the two baking sheets for a more even drying.
To add flavor, you can add mushrooms and meat like bacon bits, sausages, oysters.
Other Thanksgiving Recipes: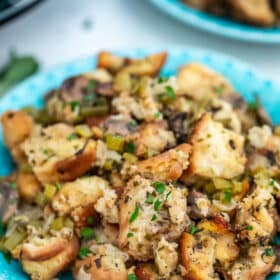 Easy Crockpot Stuffing
Crockpot Stuffing is moist, hearty, and perfectly seasoned! Easy to prepare using the slow cooker, it makes the perfect Thanksgiving side dish!
Save
Share
Print
Pin
Rate
Ingredients
1

cup

butter

(unsalted)

1

onion

(chopped)

2

cups

chopped celery

1/4

cup

fresh parsley

(chopped)

2

cups

mushrooms

(sliced)

10

cups

dry bread cubes

(about 1 inch in size)

1

teaspoon

dried sage

1

teaspoon

Italian seasoning

1

teaspoon

dried thyme

1/2

teaspoon

dried oregano

1 1/2

teaspoons

salt

1/2

teaspoon

ground black pepper

3 1/2 - 4

cups

chicken broth

(or as needed)

2

eggs

(beaten)
Instructions
Place a skillet over medium heat, add butter and melt.

Add onion, celery, mushroom, and parsley to the skillet, and cook for 7 minutes stirring frequently.

Add dry bread cubes to a large bowl, add the cooked vegetables, add sage, Italian seasoning, thyme, oregano, salt, and pepper.

Pour in enough broth to moisten the bread, but NOT make it mushy. Stir.

Add beaten eggs and stir to combine. Transfer mixture to slow cooker, and cover.

Cook on HIGH for 45 minutes, then reduce heat to LOW and cook for 4 to 6 hours.
Nutrition
Calories:
437
kcal
|
Carbohydrates:
39
g
|
Protein:
11
g
|
Fat:
27
g
|
Saturated Fat:
6
g
|
Cholesterol:
41
mg
|
Sodium:
1912
mg
|
Potassium:
503
mg
|
Fiber:
4
g
|
Sugar:
6
g
|
Vitamin A:
1346
IU
|
Vitamin C:
20
mg
|
Calcium:
149
mg
|
Iron:
4
mg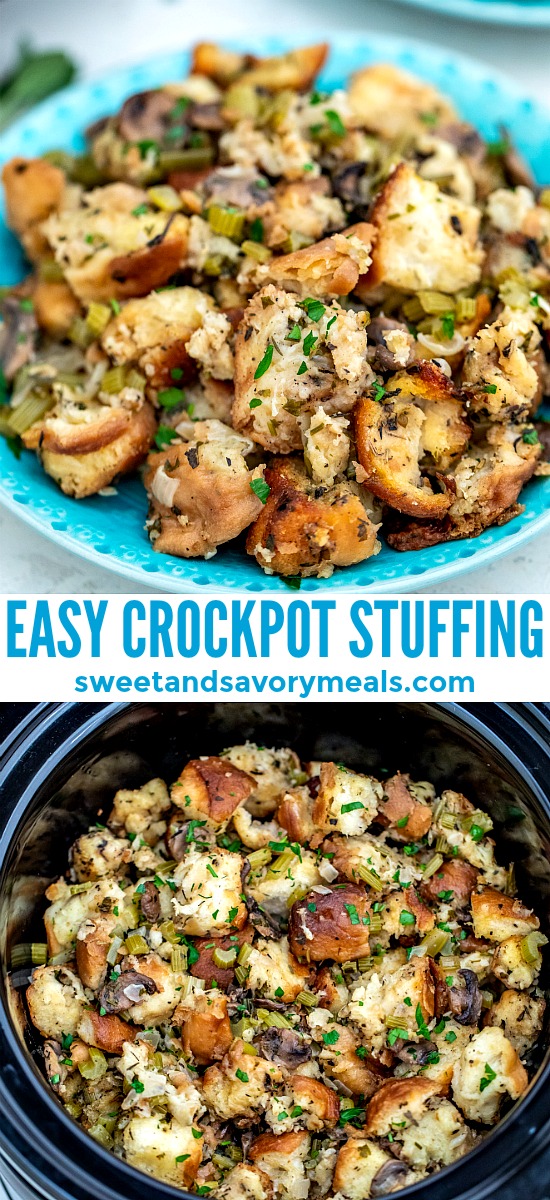 More recipes you might love