Spinach Lasagna is made with rich marinara sauce, fresh lasagna noodles, spinach, and lots of gooey cheese. This is a great recipe for a cool fall or winter night or any night of the year. Unlike a traditional lasagna recipe, this one adds spinach to the dish to make it even better.
Wondering what to do with the remaining noodles you didn't use? Try our amazing Chicken Spinach Lasagna. Or just go with the classic Homemade Lasagna with a salad and breadsticks. For something different, our Ricotta Stuffed Shells are creamy and delectable with any side dishes.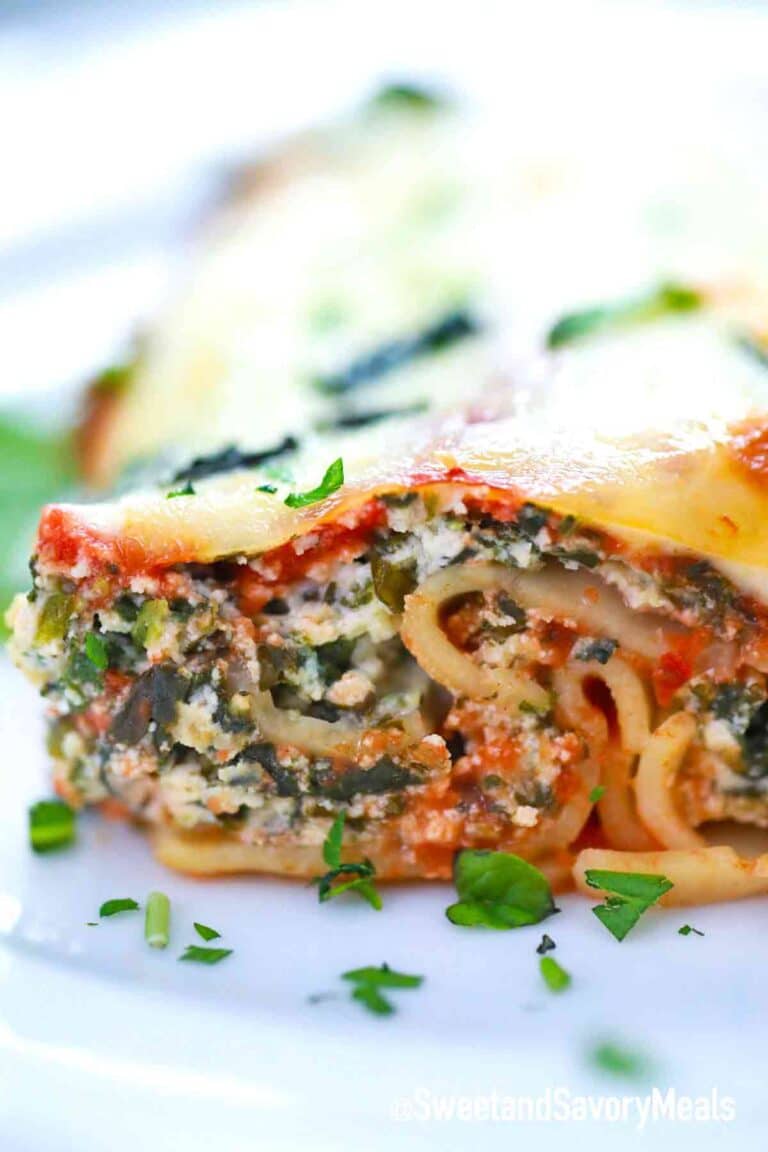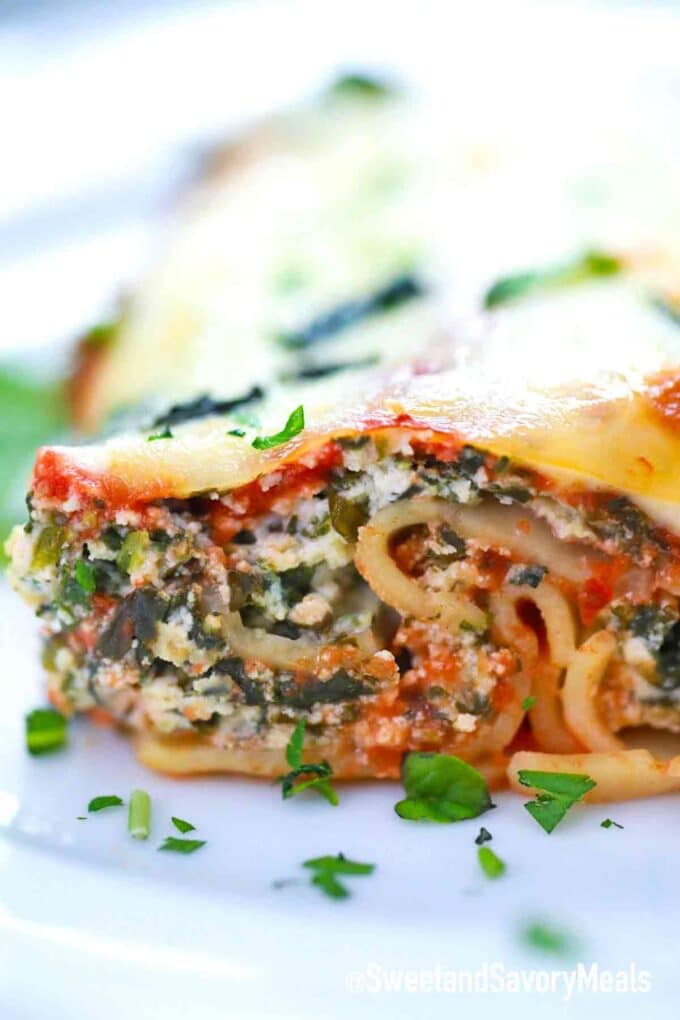 This is one of those easy recipes you can use when you want some comfort food on a busy weeknight. One of the best things about this kind of meal is that it gets the whole family together for a delicious meal.
If this is your first time making lasagna, do not be intimidated. It is an easy way to cook a bunch of your favorite flavors together. This recipe is so versatile and the best part is that you can adapt the cheese mixture to your own preference.
In addition, this is a budget-friendly recipe, it makes delicious leftovers and you can easily assemble it in advance and freeze it for later. This way you have a tasty freezer meal on hand to cook when you are out of time to make dinner from scratch.
The spinach cheese mixture is so incredibly good, and you can double it to make more pasta layers. Or you can use other types of cheese that you like. We enjoy mixing in some fontina cheese, swiss cheese, and also adding pieces of brie!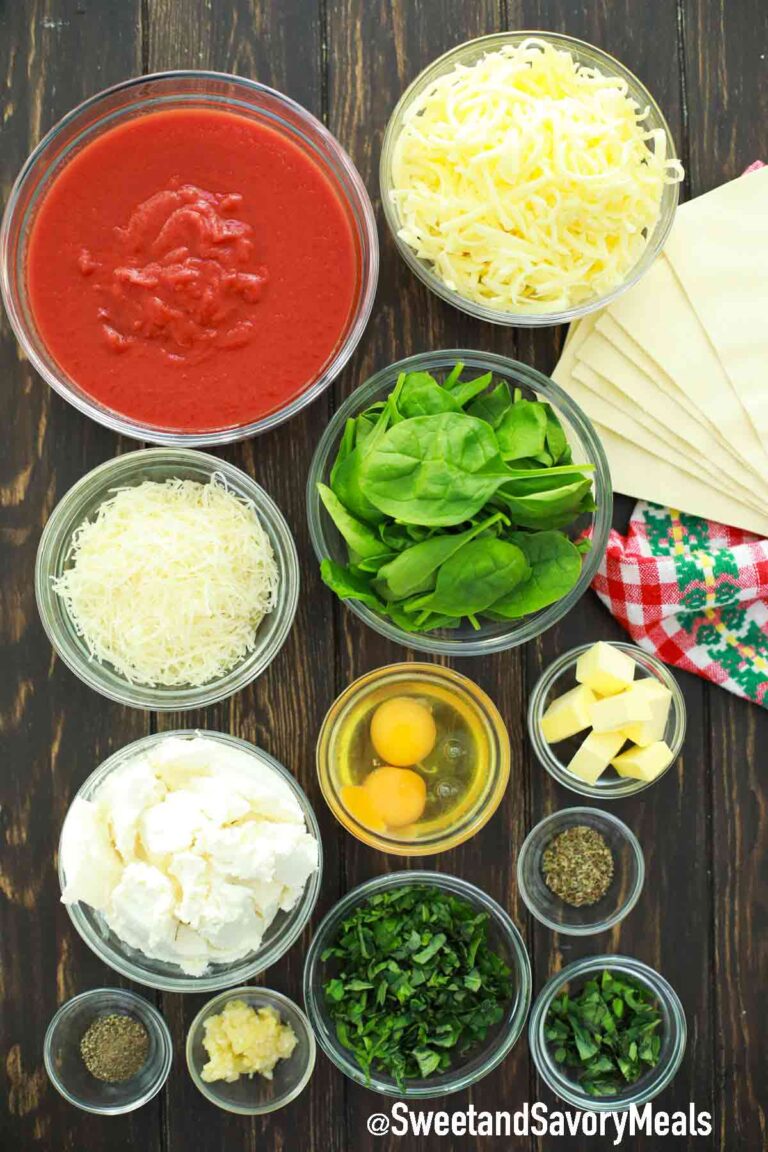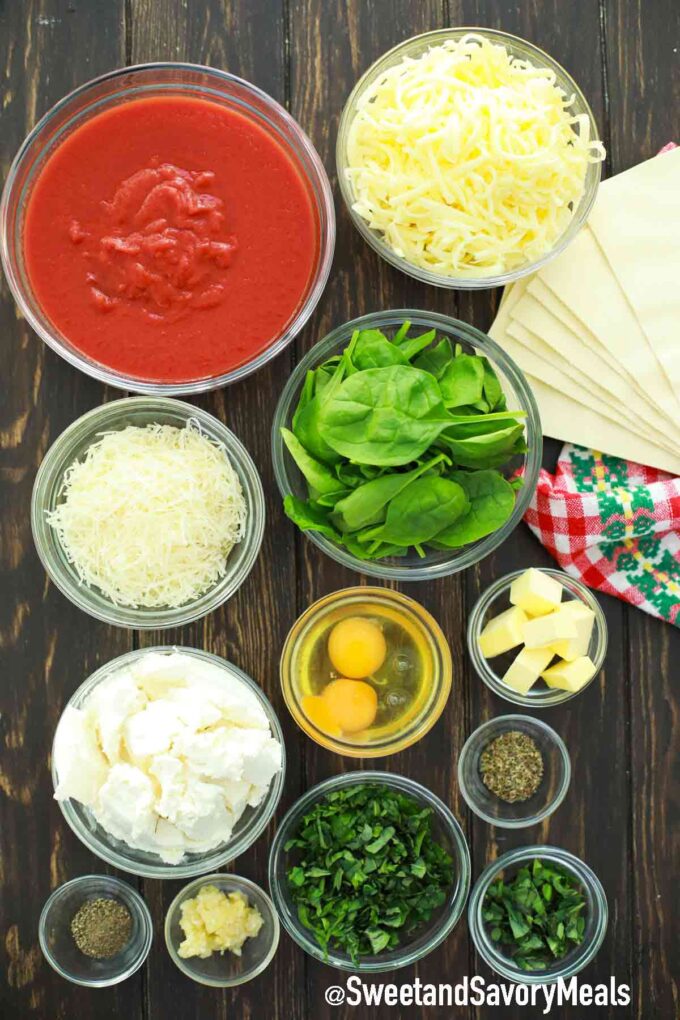 Ingredients needed:
Scroll down to get to our recipe card for the detailed directions. But here are the basic ingredients you will need:
For the filling:
For Assembly: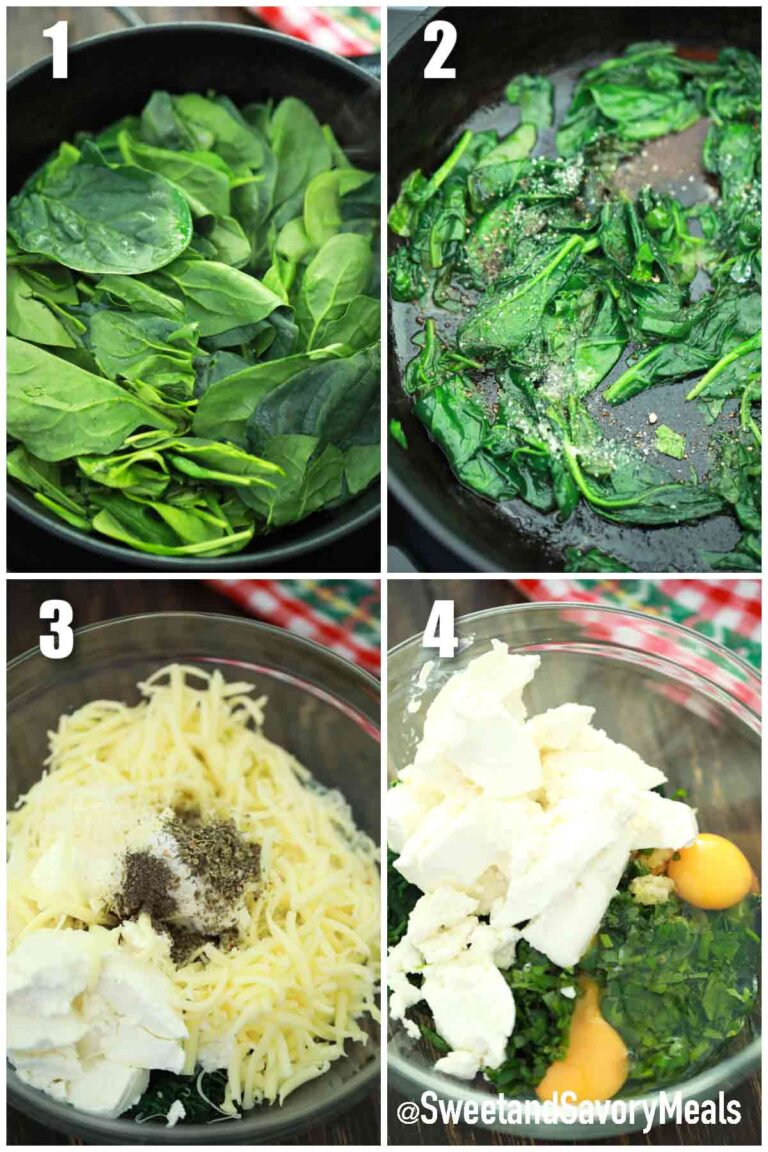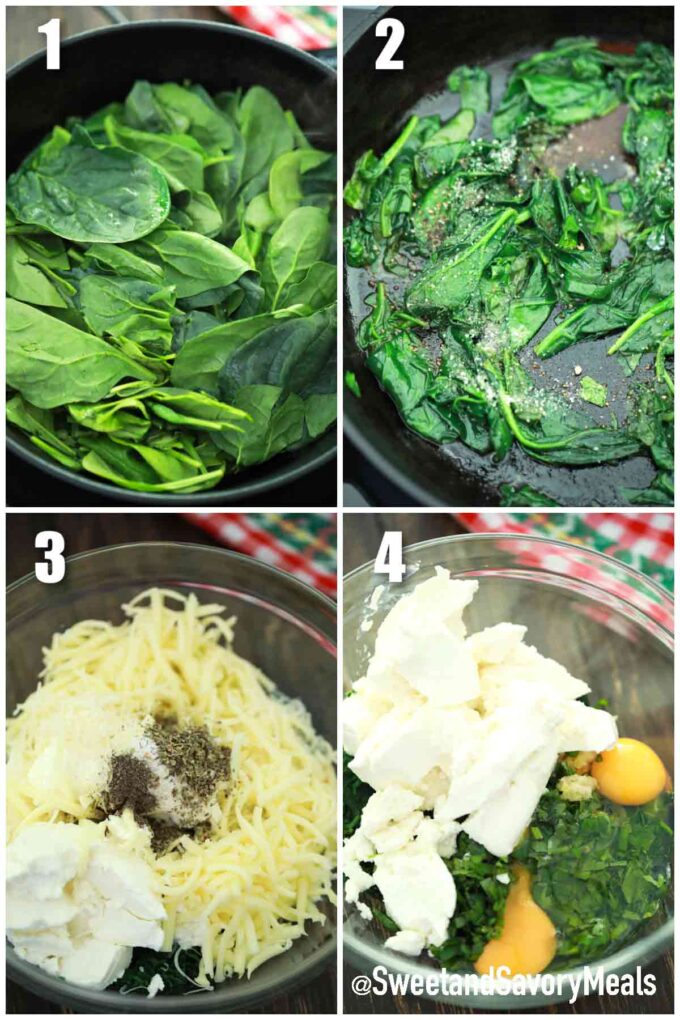 How do you make spinach lasagna?
Preheat: To start, preheat your oven to 375 degrees F and grease a 9×13 pan with olive oil or cooking spray.
Filling: Meanwhile, melt the butter in a large skillet over medium heat. Add the spinach and cook until it wilts.

Drain: Then, season with salt and pepper before squeezing out the excess water.

Combine: Next, chop and add to a large bowl with the basil, garlic, ricotta, eggs, parmesan, one cup of mozzarella, and Italian seasoning.
Cook noodles: After, boil noodles in a large pot according to the package directions. Drain and move them to a medium bowl.

Layer: Then, spread a small amount of the sauce on the bottom of the pan. Next, add a layer of noodles and spread 1/3 of the cheese mixture over them.
Repeat: Repeat layers of sauce, noodles, and cheese until you have the desired number of layers using the remaining sauce on top.
Bake: Finally, cover with foil and bake for 45 minutes. Then, uncover, add the other two cups of cheese, and cook for another 15 minutes until the cheese is melted and brown.
Serve: Equally important is to let the dish cool for 10-15 minutes before slicing. Sprinkle with basil and parsley, cut into slices, and serve.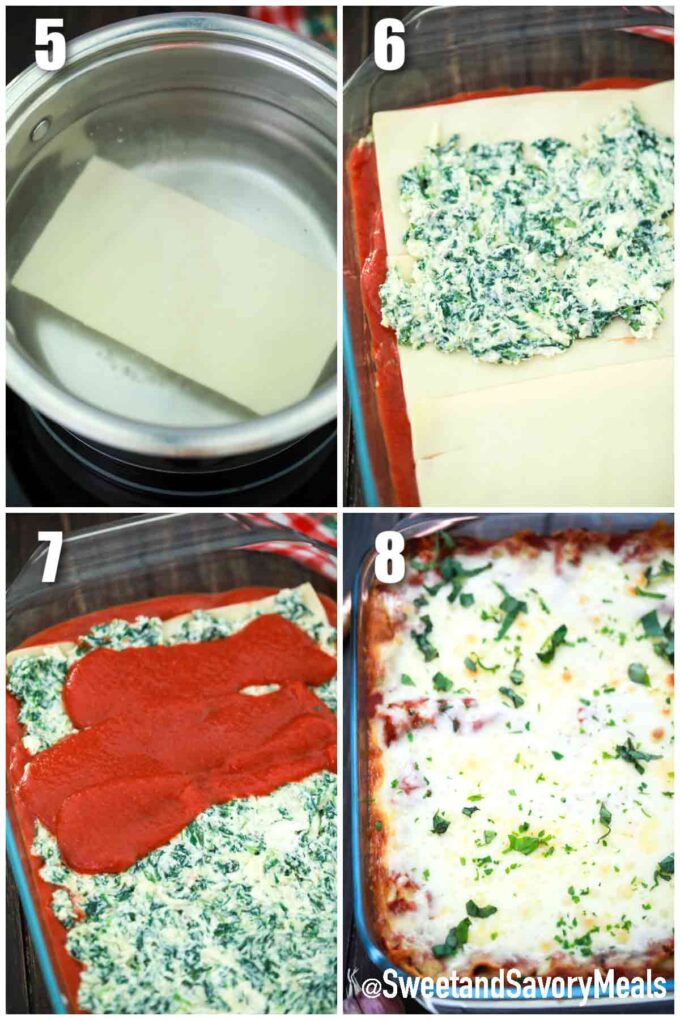 Recipe variations:
How to serve:
With this spinach lasagna recipe, you can have a delicious dinner on your table with just minutes of prep time and less than an hour of cooking time. Try out one of these great serving suggestions or one of your own.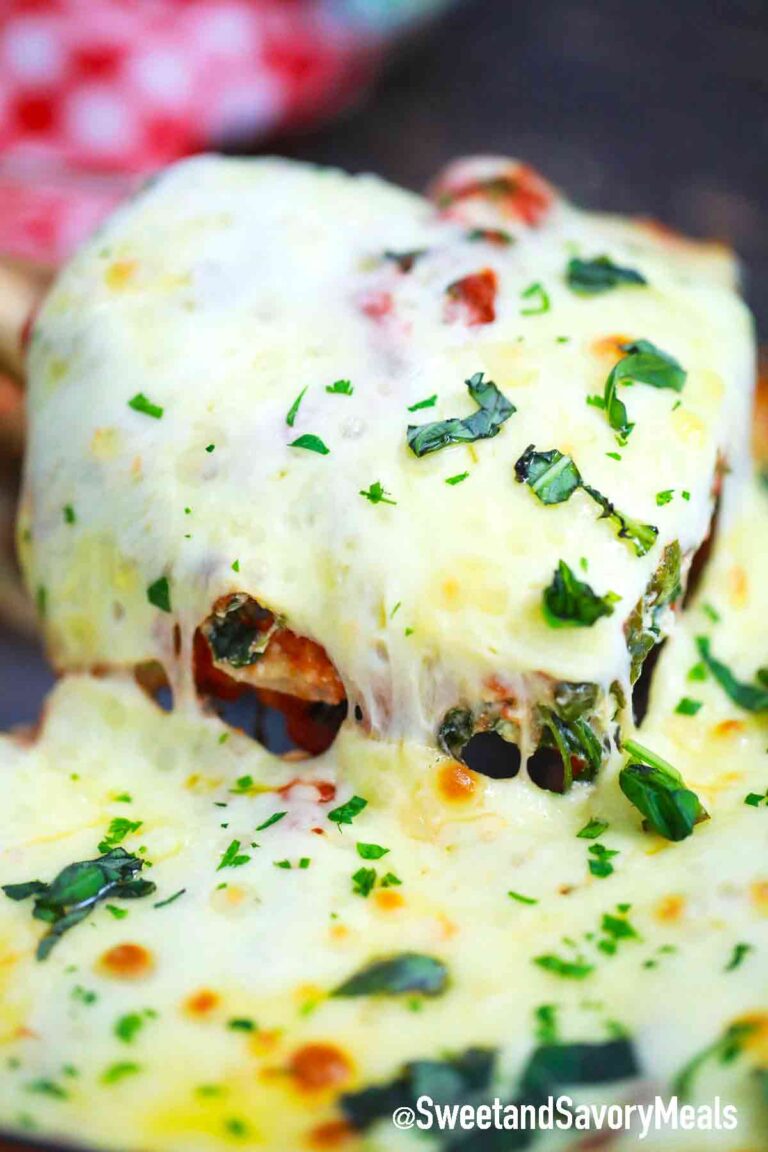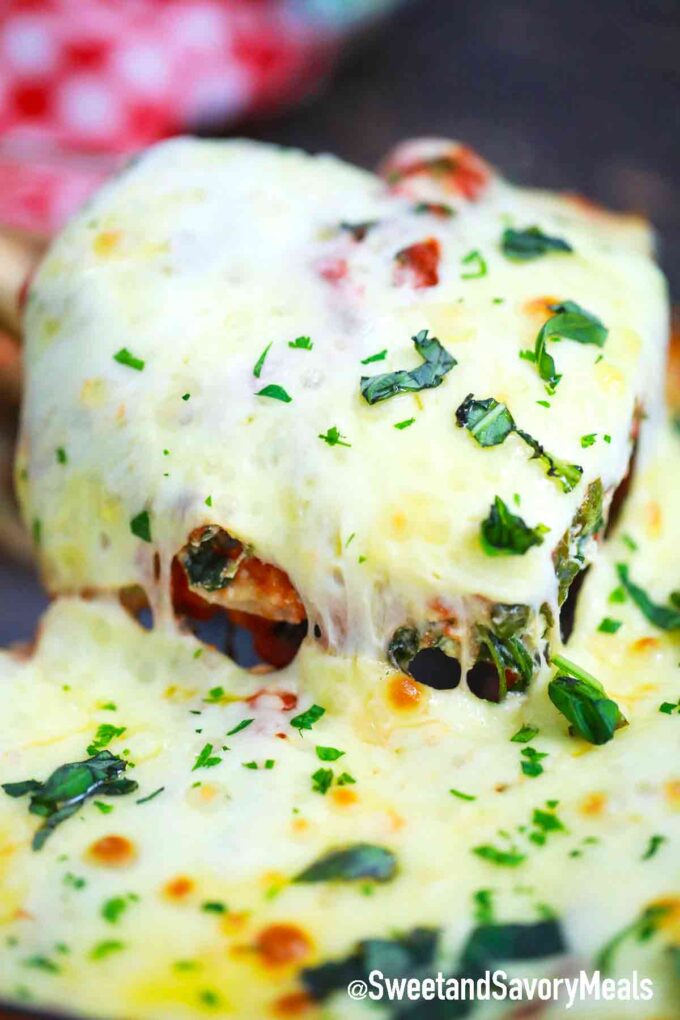 Frequently Asked Questions
Do I have to cook spinach before adding it to lasagna?
Although you do not have to cook it first, it is better if you do because fresh spinach shrinks a lot when it cooks. It also has a lot of moisture in it so if you do not cook and drain it, you may end up with watery lasagna.
Why is my spinach lasagna watery?
If you are using fresh spinach and did not cook and drain it first, the pasta will soak up the excess moisture and get watery. Alternatively, when using frozen lasagna, you have to thaw it and get rid of the excess water. Pat it with a paper towel to make sure it is dry.
Another reason for watery (greasy) lasagna is using ground beef that is not lean. Too much fat will turn to grease and make your lasagna seem watery too. Use 80/20 ground beef for best results.
What is the equivalent of fresh spinach to frozen?
For recipes that call for cooked fresh spinach, one pound of fresh will give you about 10 to 12 cups of leaves, which cooks down to one cup. In contrast, a 10-ounce package of frozen spinach will give you about 1.5 cups after it is cooked. So, one pack of frozen equals 1.5 pounds of fresh.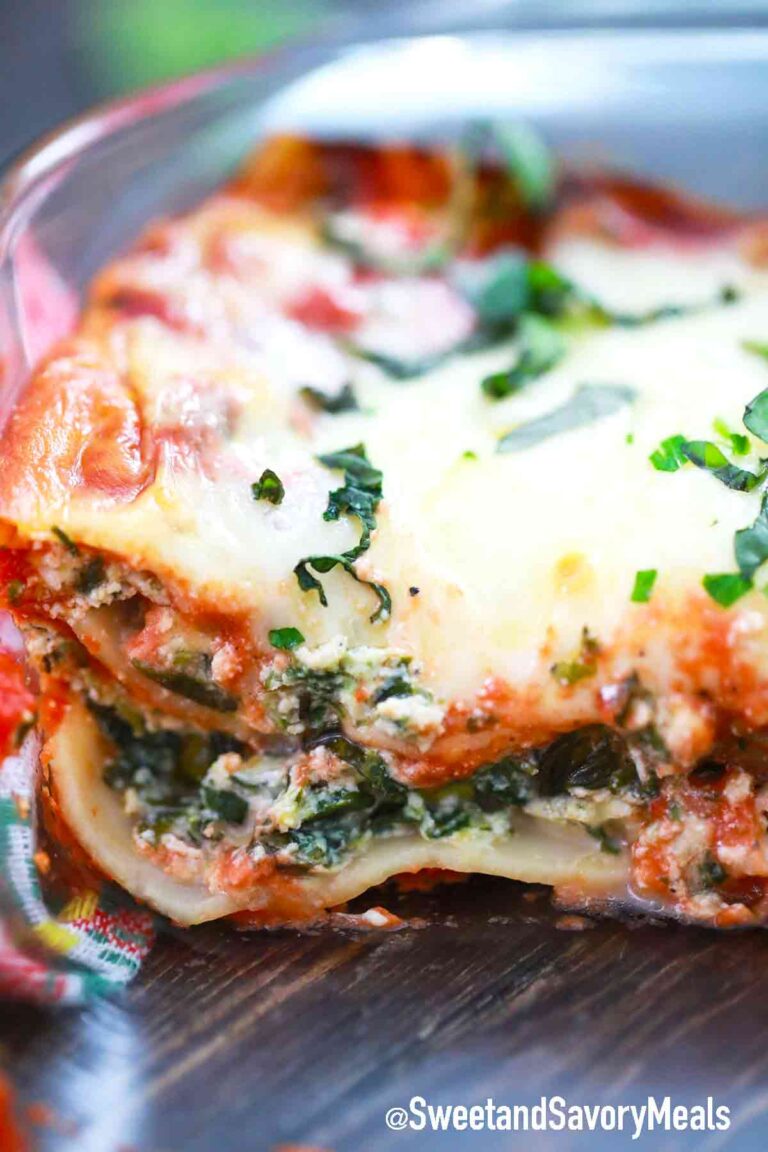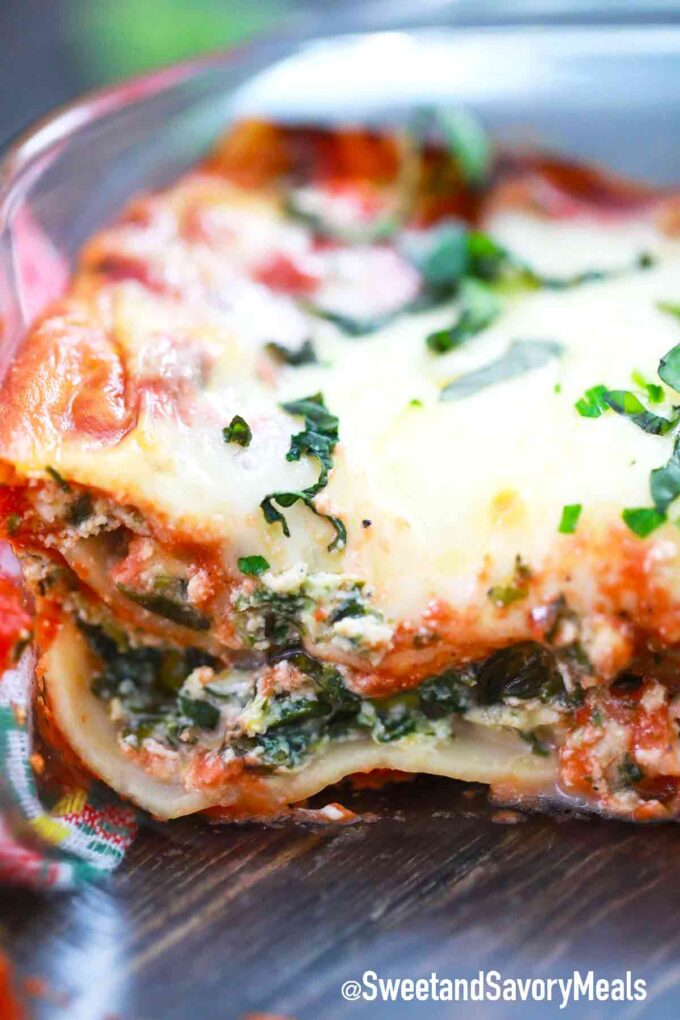 How to store leftovers:
Store: First, before storing any remaining leftovers, make sure to first let them cool to room temperature. After that, leftovers will stay fresh in your fridge in an airtight container for up to four days.
Freeze: If you have leftovers after a few days, put them in an aluminum foil pan and wrap them with plastic wrap. Another option is to wrap them in foil and place them in a freezer bag. Then, it will be good in your freezer for about 30 to 60 days.
Thaw: When you want to reheat, you can bake it frozen or thaw it in the fridge overnight.
Reheat frozen: If frozen, bake at 350 degrees F for 35-45 minutes.
Reheat thawed: For thawed, bake it for about 15 minutes. Add ½ cup mozzarella cheese on top of the noodles when cooking.
More Casserole Recipes:
Cooking tips:
Use lean ground chicken or turkey instead of ground beef for a lighter meal.

Do not scrimp on the garlic. It really makes this recipe perfect.
You can also use garlic powder if you do not have cloves.

Another thing not to scrimp on is cheese. Use the best cheese you can get so it melts well.
Be sure to drain the grease well after cooking the meat or you will have a lot of grease in your lasagna.
Use a 9×13 glass casserole dish for best results.
Try using fresh lasagna sheets from your grocery store instead of dry.

Also, keep in mind to reheat really well any thawed leftovers, to ensure that they are safe to eat.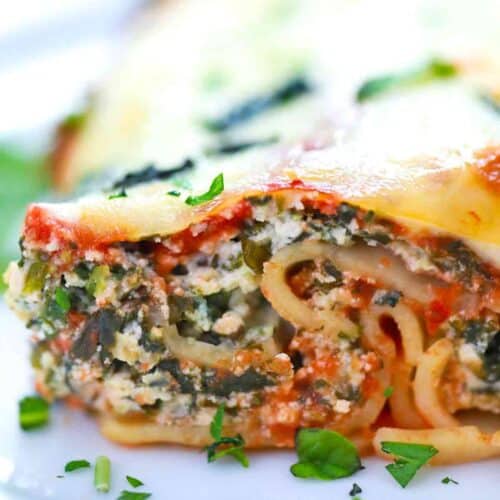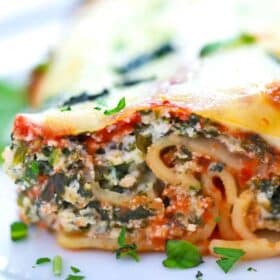 Spinach Lasagna Recipe
Spinach Lasagna is made with rich marinara sauce, fresh lasagna noodles, spinach, and lots of gooey cheese.
Save
Share
Print
Pin
Rate
Ingredients
For the filling:
2

tablespoons

unsalted butter

24

ounces

fresh spinach leaves

1

cup

chopped fresh basil leaves

14

ounces

ricotta cheese

2

eggs

(room temperature)

1 1/2

cup

grated Parmesan cheese

1

cup

shredded Mozzarella cheese

1

teaspoon

Italian seasoning

4

cloves

garlic

(minced)

1/2

teaspoon

salt

(plus more to taste)

1/4

teaspoon

pepper

(plus more to taste)
For assembly:
1

box lasagna noodles

24

ounce

jar marinara sauce

2

cups

shredded mozzarella cheese

cooking spray

2

tablespoons

chopped parsley

2

tablespoons

chopped basil
Instructions
Filling:
Melt the butter in a large pan over medium-high heat.

Add handfuls of spinach and cook it just until it wilts. Season it with salt and pepper to taste.

Transfer the spinach to a bowl and let it cool slightly.

After that, squeeze the excess water and coarsely chop it.

Mix it with chopped basil, garlic, ricotta, eggs, Parmesan, 1 cup mozzarella cheese, salt, pepper, and Italian seasoning.
Assembly:
Cook the lasagna noodles according to package directions, aiming for al dente.

Preheat the oven to 375 degrees F. Coat a 9"x13" pan with cooking spray.

Spread a small amount of marinara sauce on the bottom of the pan. Add a layer of noodles, then spread 1/3 of the cheese mixture on top of the noodles.

Top the cheese mixture with 1/3 of the marinara sauce.

Repeat the layers, ending with the marinara sauce.

Cover the lasagna with foil, and bake it for 40-45 minutes.

Uncover it, then add the remaining 2 cups of mozzarella cheese on top and bake for an additional 15 minutes or until the cheese is melted, bubbly, and browned.

Sprinkle the lasagna with parsley and basil. Let it stand for 10-15 minutes, then cut into slices and serve.
Nutrition
Calories:
350
kcal
|
Carbohydrates:
12
g
|
Protein:
25
g
|
Fat:
23
g
|
Saturated Fat:
13
g
|
Polyunsaturated Fat:
1
g
|
Monounsaturated Fat:
7
g
|
Trans Fat:
1
g
|
Cholesterol:
110
mg
|
Sodium:
1148
mg
|
Potassium:
806
mg
|
Fiber:
3
g
|
Sugar:
4
g
|
Vitamin A:
8383
IU
|
Vitamin C:
28
mg
|
Calcium:
567
mg
|
Iron:
4
mg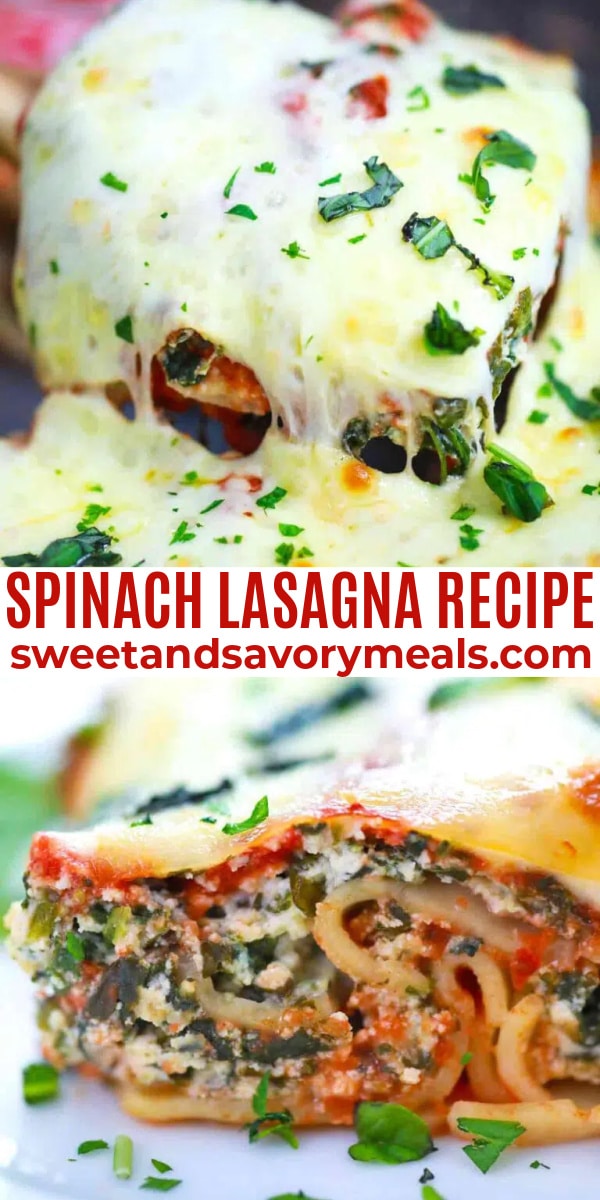 More recipes you might love