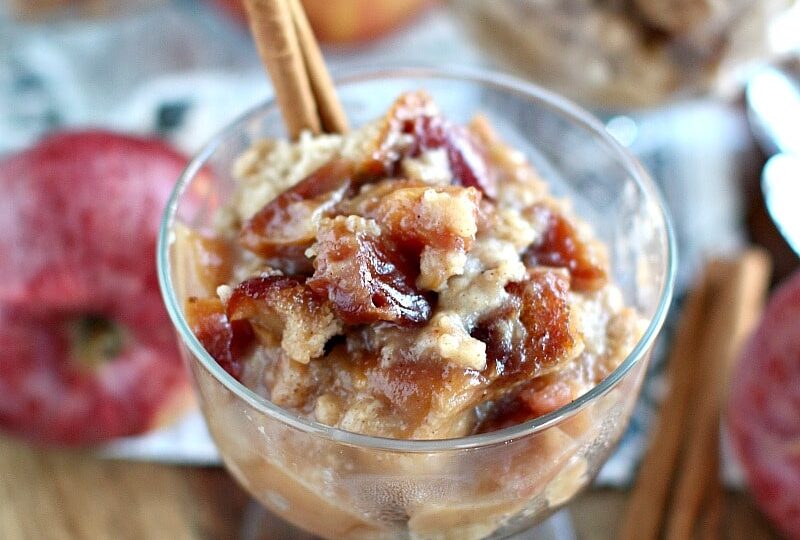 Slow Cooker Apple Pudding Cake
Slow Cooker Apple Pudding Cake is easy to make, loaded with caramelized apples and cinnamon, and served warm with ice cream and caramel sauce. A delicious and simple dessert made in the crockpot, that is perfect during colder weather.
I love full-flavored apple deserts, among my favorites are Apple Danish Pie, Apple Bacon Muffins, and Apple Butter Cake.
Easy Apple Pudding Cake Recipe
Slow Cooker Apple Pudding Cake is the best way to enjoy apples during this fall season! This recipe is so easy to make, delicious, and so flavorful that making them will be pure joy!
My love for creamy, pudding-like desserts has been well documented on the blog, and this Crockpot Apple Pudding Cake is my latest obsession. This cake is moist, creamy, buttery, and super easy to make. First, you caramelize the apples and then add them to the slow cooker with the cake batter.
Also, everything is covered in an "apple sauce caramel" and after that, you just have to let the crockpot do its magic. There is nothing better than warm apples topped with cinnamon, and a fluffy cake during a cold autumn day!
As a result of 3 1/2 hours in the slow cooking, you are rewarded with a house that smells like cinnamon heaven and a perfect pudding cake. While slow cooker pudding cakes may not be the most gorgeous looking, it is easy and delicious.
I call them beautiful messes because you have to scoop them into serving dishes and enjoy their great taste. I like scooping it into individual serving dishes. Top the warm pudding cake with vanilla ice cream and caramel sauce, and just take a moment to appreciate and enjoy this amazing dessert.
Bites of caramelized apples and cinnamon cake will melt in your mouth! It is out of this world, in all its apple glory!
Why you will love the Apple Pudding Cake
First, it's very easy to make and taste delicious.
Also, the slow cooker does most of the job, so it's not time-consuming.
In addition, it's a perfect dessert for the fall season.
Lastly, it's a perfect way to utilize applies.
Ingredients needed:
Apples: Feel free to use your favorite type. I go with Gala apples, granny smith apples, or Fuji.
Nonstick cooking spray: To grease the bottom of the crockpot.
Coconut oil
All-purpose flour
Sugar: I like using brown sugar. However, regular granulated sugar will work as well. Just use whatever you have available.
Baking powder and ground cinnamon
Salt: Just a pinch of salt to balance out the sweetness
Whole milk and butter: To make the creamy buttery sauce base.
Coconut oil
Apple sauce: You could also use homemade apple butter. It takes amazingly delicious.
How to make Slow Cooker Apple Pudding Cake?
Saute the apples: Grease the crock pot bottom with some cooking spray, and add the diced apples to it. Then, using the saute function, sautee them for about 5 minutes.
Combine the ingredients: In a bowl, combine flour, sugar, baking powder, cinnamon, and salt. Then, add the whole milk and melted coconut oil and whisk together until combined. Pour the mixture over the sauteed applied in the crockpot.
Make the brown sugar apple sauce: In a saucepan, over medium heat, add some water, along with apple sauce, brown sugar, and butter. Bring to simmer while whisking the mixture. Then, reduce the heat to low and let it simmer for 2 more minutes. Once it has the right consistency, pour it over the rest of the ingredients in the crockpot.
Cook: Cover and cook on low heat for 3-4 hours, until the apples are tender.
Serve: Enjoy this delicious dessert warm with a scoop of vanilla ice cream.
What is Applesauce?
Apple sauce or applesauce is a sauce made of apples. It can be made from all kinds of apples and with a variety of spices such as cinnamon and allspice. Flavorings or sweeteners such as sugar or honey are also commonly added.
How to store leftovers?
Let the dessert completely cool at room temperature prior to storing. Then, transfer it to an airtight container and refrigerate for up to 4 days.
More slow cooker desserts:
Cooking tip:
You can make this recipe in the crockpot, or instant pot using the slow cooking option. Both options will result in the same great and creamy texture.
Also, feel free to use any type of apples.
Prior to serving, let the cake sit in the slow cooker for an extra 15-20 minutes. This will make the sauce thicker.
For extra flavor, add 1/2 cup of orange juice or cranberry juice to the mixture, and then cook.