Slow Cooker Apple Pudding Cake
Slow Cooker Apple Pudding Cake is easy to make, loaded with caramelized apples and cinnamon and served warm with ice cream and caramel sauce. Made in the Instant Pot.
I love full flavored apple deserts, among my favorites are Apple Danish Pie, Apple Bacon Muffins and Apple Butter Cake.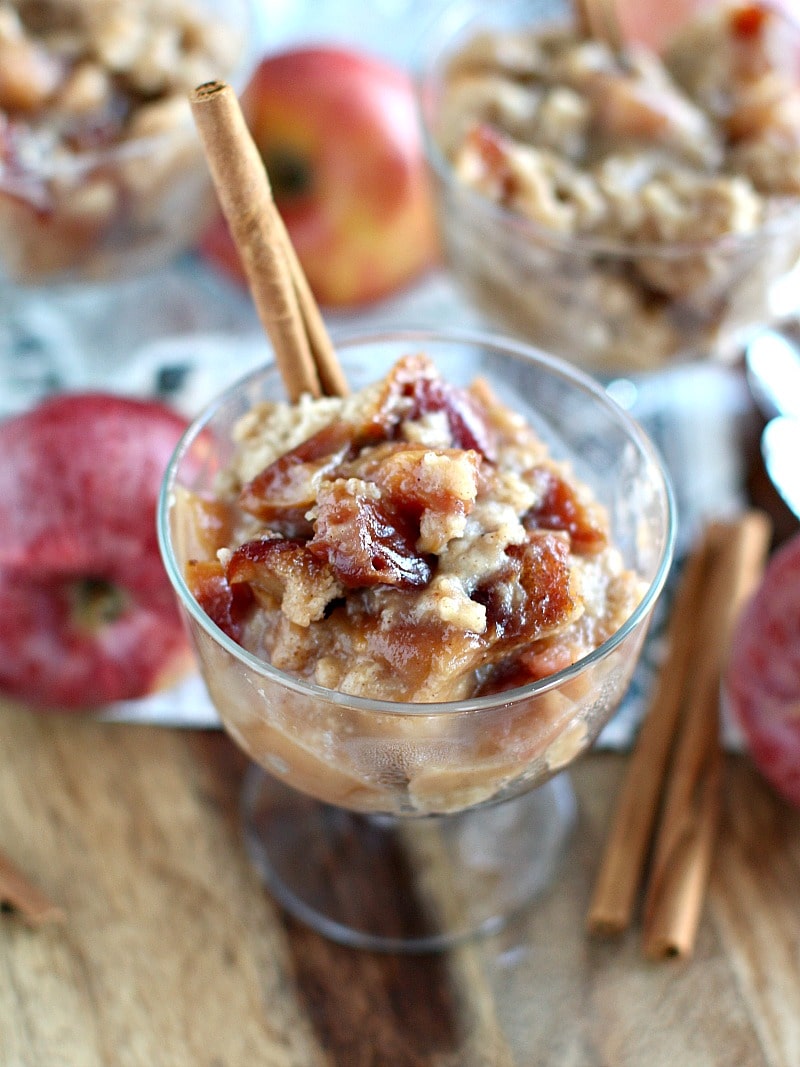 Slow Cooker Apple Pudding Cake Recipe Tips
Slow Cooker Apple Pudding Cake is the best way to enjoy apples this fall season! So easy to make, so delicious, and so flavorful that making them will be pure joy! My love for creamy, pudding like desserts has been well documented on the blog, and this Slow Cooker Apple Pudding Cake is my latest obsession. The cake is easy to make, the apples get caramelized and added to the slow cooker with the cake batter. Also, everything is covered in an "apple sauce caramel" and after that you just have to let the slow cooker do its magic.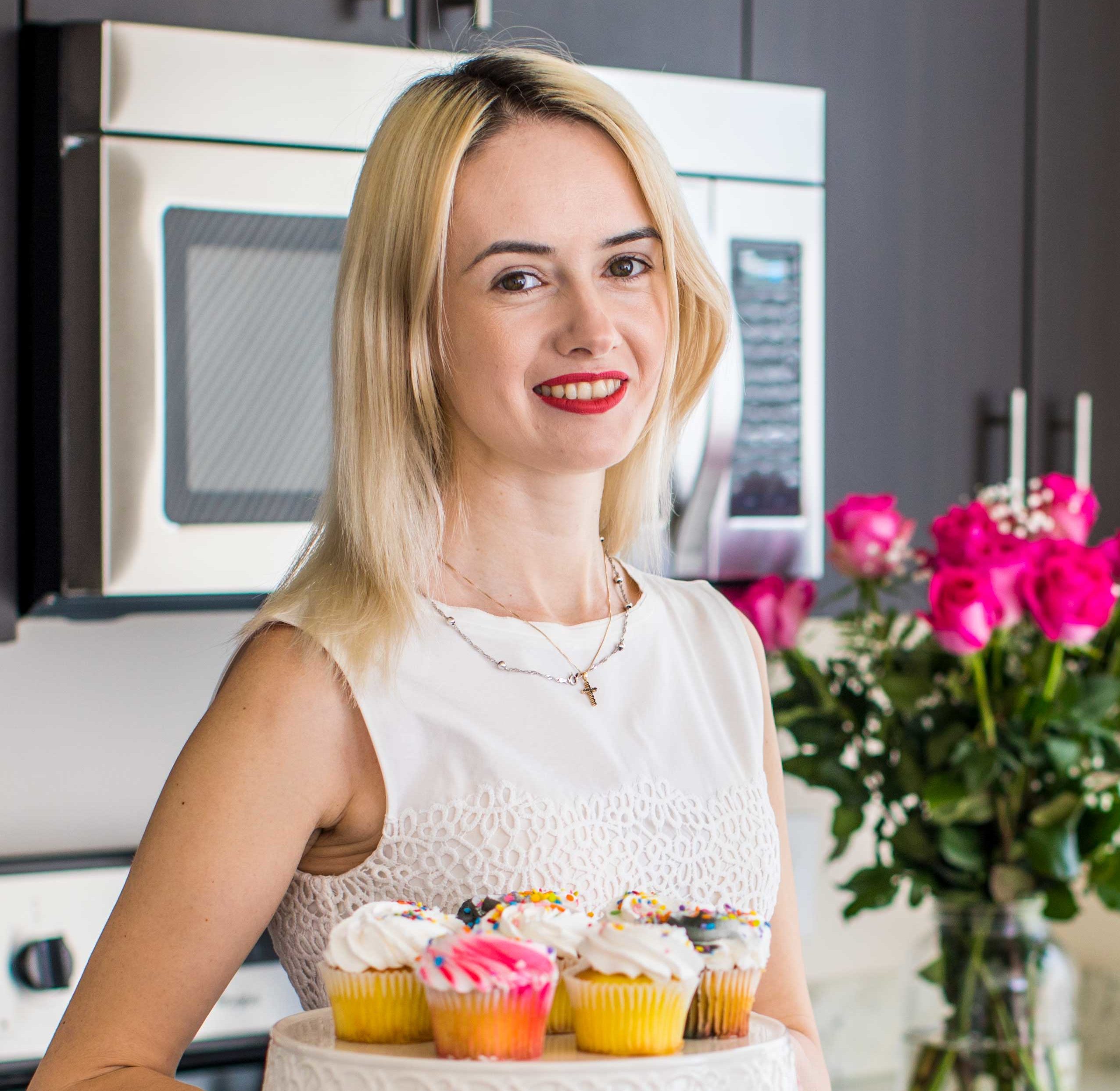 Follow us on Pinterest for more delicious recipes!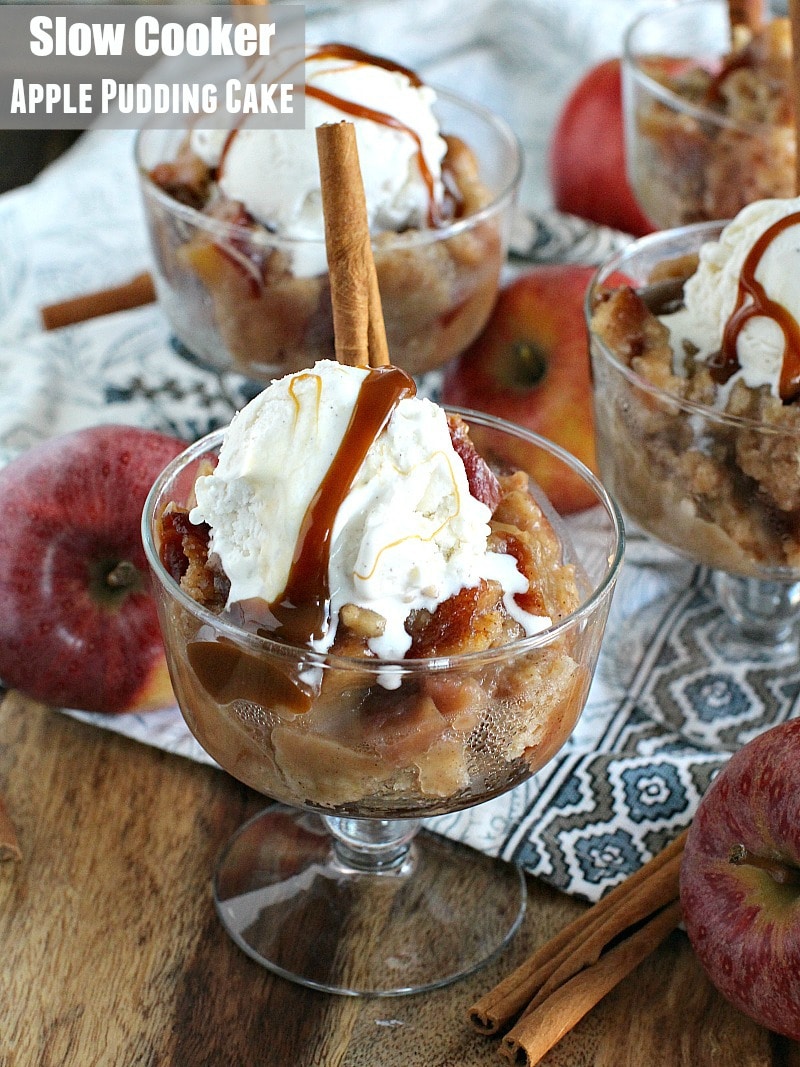 As a result of 3 1/2 hours in the slow cooker, you are rewarded with a house that smells like cinnamon heaven and a perfect pudding cake. While slow cooker pudding cakes may not be the most gorgeous looking, I call them beautiful messes because you have to scoop them into serving dishes and enjoy their great taste.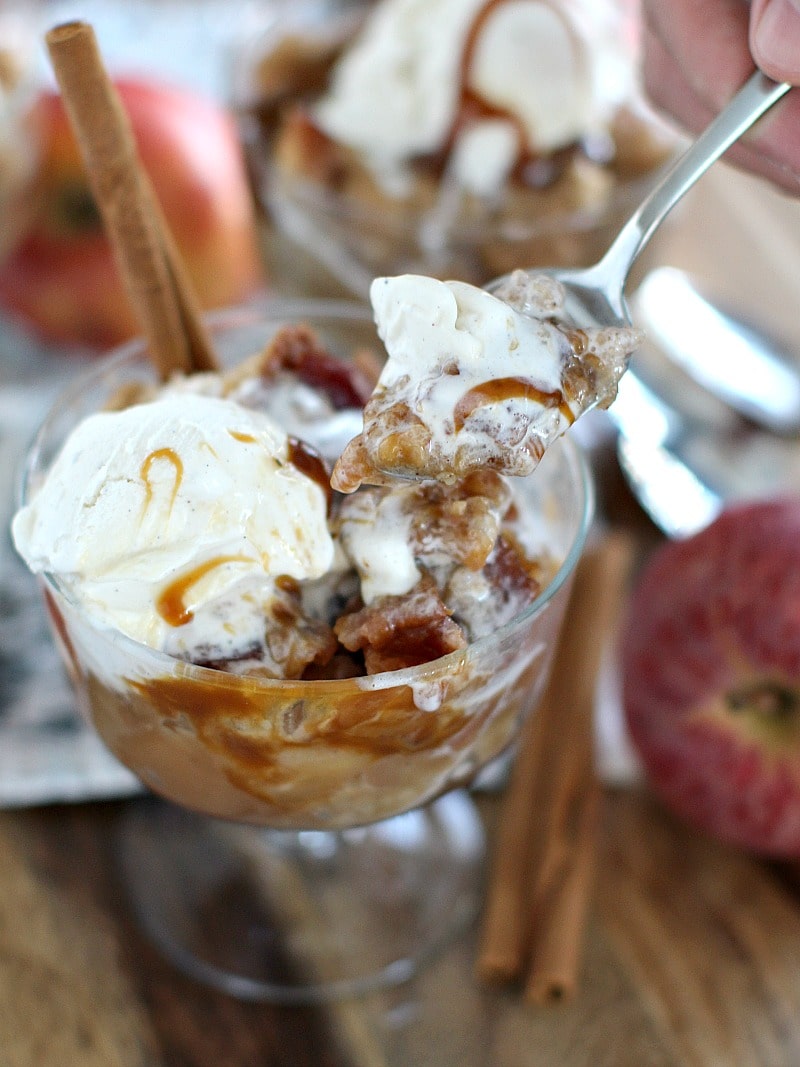 Scoop the Slow Cooker Apple Pudding Cake into individual serving dishes. Top the warm pudding cake with vanilla ice cream and caramel sauce, and just take a moment to appreciate and to enjoy this amazing dessert. Bites of caramelized apples and cinnamon cake will melt in your mouth! It is out of this world, in all its apple glory!
Why you will love the Slow Cooker Apple Pudding Cake
First, it's very easy to make and taste delicious.
Also, the slow cooker does most of the job, so it's not time consuming.
In addition, it's a perfect dessert for fall season.
Lastly, it's a perfect way to utilize applies.
What is Applesauce?
Apple sauce or applesauce is a sauce made of apples. It can be made from all kinds of apple and with variety of spices such as cinnamon and allspice. Flavorings or sweeteners such as sugar or honey are also commonly added.
Save Recipe
Slow Cooker Apple Pudding Cake
Author: Catalina Castravet
Serves: 6 servings
Prep time:

15

minutes
Cook time:

3

hours

30

minutes
Total time:

3

hrs

45

mins
Ingredients
Cake:
Nonstick cooking spray
3 tablespoons coconut oil
2 cups all purpose flour
2/3 cup granulated sugar
2 teaspoons baking powder
1 teaspoon ground cinnamon
1/2 teaspoon salt
1 cup whole milk
1/4 cup coconut oil (melted)
2 Gala apples (cut into 1 inch cubes)
Sauce:
1 cup water
1 cup apple sauce
3/4 cup packed brown sugar
2 tablespoons butter
Instructions
Lightly coat the inside of a 3 1/2- or 4-quart slow cooker with cooking spray and set aside.
If using an InstantPot or if your slow cooker has the "Saute" function: add 3 tablespoon of coconut oil to the slow cooker once hot, add the cubed apples and cook for 5-6 minutes, stirring occasionally.
If your slow cooker doesn't have the "Saute" option, cook the apples in a medium skillet on medium - low heat for 5 minutes, and add to the slow cooker after that.
In a medium bowl stir together flour, granulated sugar, baking powder, cinnamon, and salt. Add milk and melted coconut oil, stir just until combined. Spoon batter evenly into the prepared cooker over the apples.
In a medium saucepan combine the water, apple sauce, brown sugar, and butter. Bring to boiling, stirring to dissolve brown sugar. Reduce heat to low and boil gently, uncovered, for 2 minutes. Carefully pour the sauce over the batter in the cooker.
Cover and cook on low-heat setting or on Slow Cooker setting if using an InstantPot for 3 to 3 1/2 hours or until a thermometer inserted in the center of cake registers 200F.
To serve, spoon pudding cake into individual dessert dishes top with ice cream and caramel sauce. If desired, garnish with cinnamon sticks.
Serve and enjoy!
Calories: 576 Carbohydrates: 93 Protein: 5 Fat: 22 Saturated Fat: 17 Cholesterol: 14 Sodium: 259 Potassium: 419 Fiber: 4 Sugar: 61 Vitamin A: 310 Vitamin C: 3.2 Calcium: 185 Iron: 3.3
Save Recipe
More recipes you might love