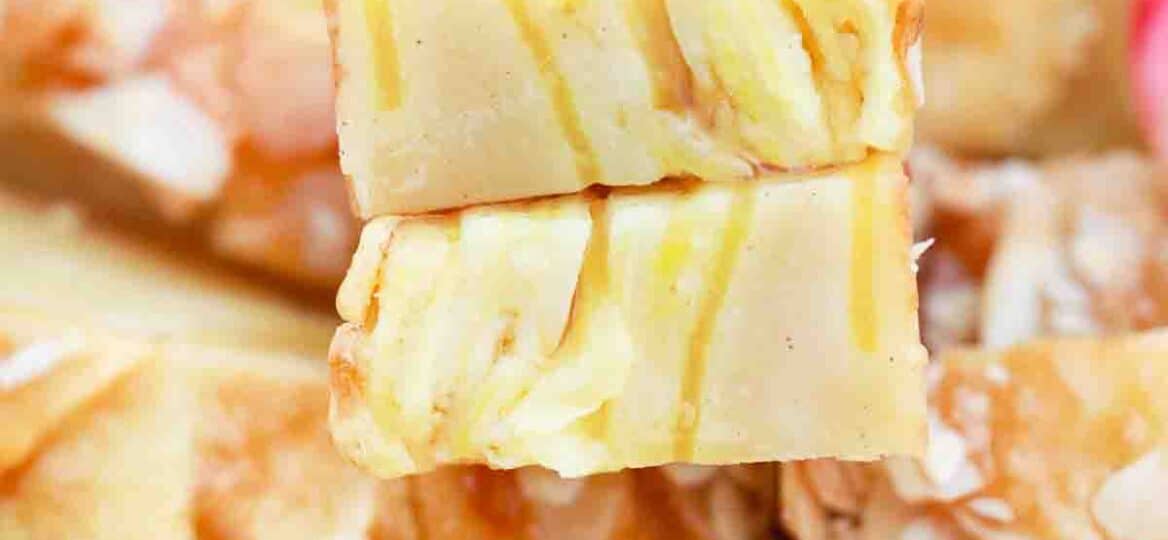 Invisible Apple Cake Recipe [Video]
Invisible Apple Cake is a magical dessert with layers of thinly sliced apples, warm spices, and a flaky crust that melts in your mouth. This delicious treat has a scrumptious taste of maple mixed with tangy apples and warm spices in a custardy batter. Topped with crunchy almond slices, each bite is a flavor explosion similar to apple pie but much lighter and more delicate.
Looking for another apple cake recipe? Try our Instant Pot Apple Cake made seasoned with brown sugar, cinnamon, and orange zest. Or our Irish Apple Cake is divine and covered in a deliciously thick custard sauce.
You may have heard the saying "As American as apple pie" before. However, apple pie began in England and the US did not even have apple trees until they were brought over by the Europeans.
Also, most of the other ingredients were brought from all over the world like wheat from the Middle East, spices from Indonesia and Sri Lanka, and butter came from the cows and pigs that Columbus brought with him to the New World.
Also known as gâteau invisible aux pommes, this French dessert gets its name from the layers of apple slices that vanish into the light batter. It is a wonderful alternative to heavy apple pies or other cakes and is the perfect way to use up all those apples from apple season.
These sweet and savory apple cinnamon pork chops make a perfect dinner to go with your invisible apple cake! If you still have more apples to use but are not in the mood for cake, try our apple snickers salad made with real Snickers candy bars, cream cheese, and powdered sugar.
Ingredients needed:
To make this sweet and light cake, you will need to gather the ingredients below. Then, when you are ready to begin, scroll down to our recipe card for the step-by-step recipe and precise measurements.
Honeycrisp apples: Peeled and cut into 1/8-inch slices.
Sliced almonds: Or almond flakes.
Unsalted butter: Melted.
Large eggs: At room temperature.
Whole milk: At room temperature.
All-purpose flour: Sifted.
Cinnamon
Nutmeg
Maple sugar or white sugar
Maple extract
Baking powder: Not baking soda.
Kosher salt
Vanilla extract
Maple syrup: For garnish.
How to make invisible apple cake from scratch?
Preheat: First, turn your oven to 350 degrees F to let it preheat.
Prep the pan: While you wait, spray a loaf pan with nonstick cooking spray and flour before lining it with parchment paper. Let the paper hand over on the long sides of the pan for easier removal.
Mix ingredients: In the meantime, whisk the salt, maple extract, vanilla extract, baking powder, eggs, milk, and melted butter in a medium bowl, using a rubber spatula for scraping down the sides of the bowl. It should be thin like crepe batter.
Stir in the rest: Then, add the flour, cinnamon, and nutmeg until it is completely smooth and then carefully stir the apples in until they are evenly coated.
Fill the pan: After, working with your prepared loaf pan, stack apple slices in columns until the bottom of the pan is filled. Press down to flatten them out and then turn the pan around 180 degrees. Continue placing the remaining apples until the whole pan is full of apple layers.
Fill the pan: Next, pour the cake batter onto the top of the apple slices and let it sit for two minutes until it settles. Sprinkle almond flakes around the edges.
Bake the apple cake: Now, bake for 40 minutes or until the almond flakes are golden brown. Then, cover the cake with foil and bake for another 25 to 30 minutes or until an instant-read thermometer inserted into the center of the cake registers 200 degrees F. Then, let it cool for another 25 to 30 minutes.
Let the cake cool: Lastly, use the parchment paper as handles to remove the cake from the pan and let it cool completely on a wire rack.
Serve the cake: Finally, serve the cooled cake at room temperature or chilled.
Recipe variations:
Springform pan: Instead of a loaf pan, you can use a floured springform pan to make a square or round cake. You may need to adjust the baking time.
Vanilla syrup: Instead of vanilla bean paste, you can use vanilla syrup.
Powdered sugar: Top your cake with powdered sugar after baking.
Brown sugar: You could use brown sugar instead of maple sugar for this recipe for a richer flavor and chewier texture.
Less maple: If using three kinds of maple sweetness in your batter is too much, omit the maple extract or replace it with vanilla syrup or extract.
Make it zesty: For a zesty flavor, add a teaspoon of lemon or lime zest.
More fruit: Feel free to add more fruit to your cake such as pears or peaches. However, be sure not to use more than two cups or it may get mushy.
How to serve:
This easy recipe is perfect for home bakers to make a fancy-looking dessert without a lot of work. All it takes is some apple slices and basic ingredients to make a sweet custard filling that melts in your mouth. You can use one of our fun serving ideas or share one of your own in the comments below.
Looking for a fruity topping? We have some! Our apple pie filling would be perfect and it is so easy to make. Another fruit topping that would accentuate the apple flavor is this sweet orange marmalade.
For a festive look, top this delicious apple cake with rainbow sprinkles or some other type of candy decorations.
Add a dollop of whipped cream on top for a light and sweet topping.
If you only have a few apples left over after this, use them in a salad or on top of ice cream or yogurt.
For an even sweeter and richer cake, slather some cream cheese frosting on top.
Chocolate lovers would enjoy a drizzle of chocolate syrup and chocolate chips on top.
Another way to top this tasty cake is with our sweet and creamy caramel sauce.
Frequently asked questions
What are the best apples for this recipe?
Although this recipe asks for Honeycrisp, you could also use pink lady or another firm apple like fuji or ambrosia. If you want the flavor to be more tangy than sweet, try using granny smith apples instead.
Any kind of apple will work for this recipe as long as it is firm enough to slice well. You want your apples to taste great without being overly sweet.
How many layers are in this invisible apple cake?
It is hard to tell how many layers since you are basically layering them like shingles. But all together you will need about You will need approximately 40 to 50 slices of apple for the top layer alone and you want them to be the nicest looking and thickest ones since they will be the top of your cake.
What is the difference between maple sugar and granulated white sugar?
Besides the caramel-like flavor, maple sugar is also better for you than regular sugar. The glycemic index is much lower, so it does not raise your sugar levels as quickly. Maple sugar is less processed, made by evaporating the sap from maple trees.
White sugar is highly refined, so it has fewer vitamins and minerals than maple sugar, which has manganese, zinc, and vitamin B as well as folic acid and vitamin A.
What is the nutrition information in this recipe?
Each slice of this delicious apple cake has 215 calories, 30 milligrams of cholesterol, 45 carbs, and 5 grams of fat including 2 grams of saturated fat. It also has 45 milligrams of sodium and 25 grams of sugar.
On the other hand, you also get 249 units of vitamin A, 12 milligrams of vitamin C, and 63 milligrams of calcium as well as 5 grams of fiber, 4 grams of protein, and 1 milligram of iron.
How to store leftovers:
Store: After your cake has completely cooled, you can store any leftovers in an airtight container. Keep it in the fridge for up to three days.
Freeze: If you cannot finish your invisible apple cake in a few days, you can freeze it for up to three months.
Thaw: Remember to put your frozen leftovers in the fridge to thaw overnight before serving.
More recipes with apples:
Baking tips:
Make sure you cut the apples into uniform slices, so it cooks evenly.
Using a mandoline works best to make thinner slices.
If you do not have a mandoline, you can use a very sharp knife, but it will be challenging to get the apple slices thin enough.
To make mixing the batter easier, use an electric mixer and a large mixing bowl.
To get the marble-like appearance, you need to turn the pan after each layer of thinly sliced apples.
The batter is thin so it may leak through if you use a springform pan. To prevent this, wrap the pan in aluminum foil.
In a hurry? Just pour the batter into the pan instead of layering it. You will not get the marble-like appearance, but it will still be delicious.
If you want a taller cake, use two pounds of apples but do not use more than that or it will not set properly.
To keep your apples from turning brown, add them to the batter as you cut them.
Our food blog features dozens of yummy apple desserts and other great recipes. Check out our website at Sweet and Savory Meals.
Invisible Apple Cake
Ingredients
1/2

cup

white granulated sugar

or use maple sugar for extra flavor

1/2

cup

whole milk

room temperature

2

large eggs

room temperature

2

tablespoons

unsalted butter

melted

1

teaspoon

baking powder

1

teaspoon

maple extract

1

teaspoon

vanilla extract

1/2

teaspoon

kosher salt

1

teaspoon

ground cinnamon

1/4

teaspoon

ground nutmeg

3/4

cup

all-purpose flour

sifted

5

cups

peeled and sliced apples

use Granny smith or Honeycrisp and slice them in 1/8-inch thick slices

1/4

cup

slivered almonds
Instructions
Spray an 8½ x 4½-inch loaf pan with baking spray.

Line the pan with parchment paper, letting some hang over the sides of the pan.

In a medium bowl, whisk together sugar, milk, eggs, melted butter, baking powder, maple extract, vanilla extract, and salt until well combined.

Using a spatula, whisk in the flour, cinnamon, and nutmeg, and stir just until combined and smooth.

Using a rubber spatula, gently fold in the apple slices, until evenly coated.

Starting on one long side of the prepared loaf pan, shingle about 5 apple slices in columns until the bottom of the pan is filled.

Lightly press to level the layer, turn the pan 180 degrees, and repeat the layering and pressing process until the pan is filled.

Pour the remaining batter on top and distribute it evenly.

Sprinkle the almonds around the edges.

Bake until golden brown, about 40-45 minutes. After that, cover with foil, and bake until set, about 20 minutes more.

Remove from the oven and place the pan on a wire rack, cool the cake in the pan for 25 to 30 minutes.

Using the excess parchment as handles, remove the cake from the pan, and let cool completely on a wire rack.

Serve at room temperature, or chilled.
Deliciousness to your inbox
Enjoy weekly hand picked recipes and recommendations