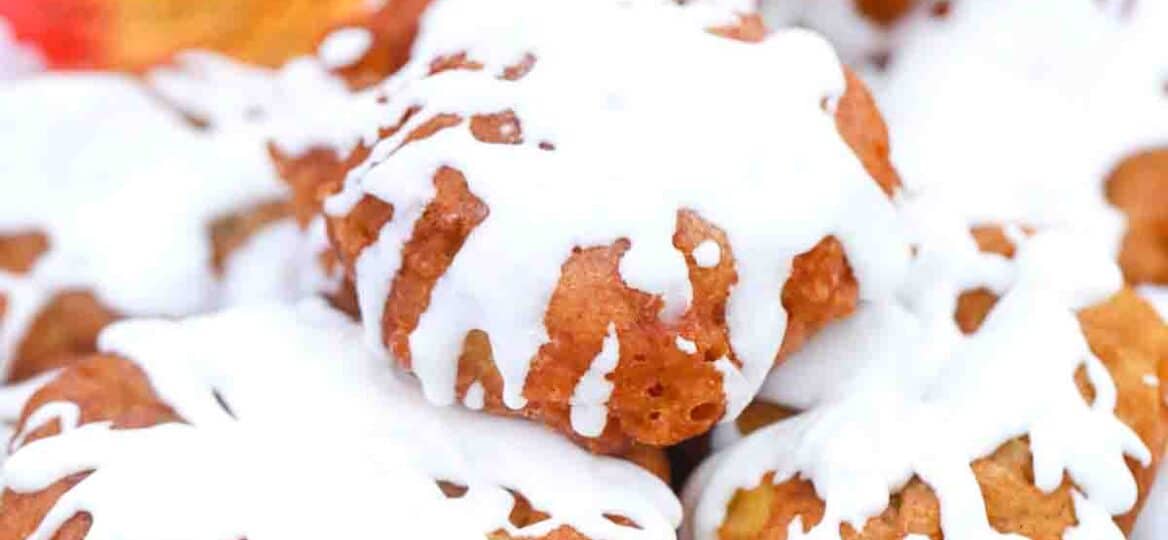 Apple Fritters with Maple Glaze [Video]
Apple Fritters are sweet and juicy on the inside and lightly crisp, topped with a delicious maple glaze on the outside. With fresh apples, cinnamon, sugar, and nutmeg, this recipe is the perfect fall treat. And these are not just desserts, they are great for breakfast cuisine as well. If you love apple fritters and do not feel like going to the donut shop, then this delicious recipe is for you.
Another way to enjoy apple season is with these Air Fryer Apple Blooms with caramel sauce, Granny Smith apples, and brown sugar. Instead of apples, try this Air Fryer Zucchini Fritters recipe made from fresh zucchini, Italian herbs, and dill.
The fritter is thought to go back to the 1800s when European market vendors started making fried fritters in all flavors and shapes. They were typically made with a batter filled with pieces of fruit or vegetables depending on whether you wanted them sweet or savory.
Although some say the apple fritter began with Martha Washington in the 1700s, others claim they have evidence of these tasty snacks as far back as a thousand years ago with the Native Americans.
When you make apple fritters, apples are the most important ingredient so make sure they are fresh and crisp. These homemade apple fritters are absolutely delicious any time of the year but make a perfect Halloween treat or a nice dessert for your Thanksgiving dinner. This is a great recipe because it is so fast and easy with very little prep time.
Looking for more apple recipes? This Irish apple cake topped with creamy custard sauce is amazing. And this instant pot apple cake is soft and moist, infused with the warm flavors of orange and cinnamon.
Ingredients needed:
To make this easy apple fritters recipe, gather the ingredients listed below. Then, scroll down to our recipe card for complete instructions and exact measurements when you are ready to begin.
Apple fritters:
Granny Smith apples
Large eggs: At room temperature.
Melted butter: Cooled.
Fresh lemon juice
Lemon zest
Vanilla extract
Milk
All-purpose flour
Ground cinnamon
Nutmeg
Salt
Baking powder: Not baking soda.
Ground ginger
Brown sugar: Light or dark brown sugar are both fine for this recipe.
Vegetable oil: For frying apple fritters.
Glaze:
Maple syrup
Confectioner's sugar: Or powdered sugar.
Milk
Vanilla extract
How to make apple fritters from scratch?
Dice the apples: To begin, dice the apples into one-inch pieces and toss them in a medium bowl with lemon zest and lemon juice to keep them from browning and add extra flavor.
Mix the wet ingredients: Then, in a medium-sized bowl, whisk eggs, melted butter, vanilla extract, and milk.
Make the flour mixture: In another medium bowl, mix the dry ingredients including ginger, nutmeg, salt, cinnamon, baking powder, sugar, and flour.
Combine and add apples: After, add the dry ingredients to the large bowl with the wet ingredients and mix to make the apple fritter batter. It should resemble a loose dough when it is ready. Then, fold in the diced apples.
Add the oil: Next, pour three to four cups of oil into a frying pan or large saucepan. You need to have three to four inches of oil. Turn the stovetop to medium heat and heat oil until the oil temp reaches 375 degrees F with an instant-read or candy thermometer.
Fry the fritters: Now, use a quarter-cup measuring cup to drop the apple fritter batter into the hot oil. Fry it until the outside is golden brown and then flip it and cook until that side is golden brown. It should take about four to five minutes. To check for doneness, a paring knife should come out clean when stuck into the center. If not, cook another minute until the middle is cooked. The time depends on the size of your apple fritters. Continue with the remaining batter.
Cool the fritters: Last, transfer fritters with a slotted spoon to a cooling rack lined with paper towels or a paper towel-lined plate. Let them cool completely before adding the glaze.
Make the glaze: While you wait for the apple fritters to cool, mix the syrup, vanilla, powdered sugar, and two teaspoons of milk. Continue to add more milk one teaspoon at a time until it is thick enough to drizzle.
Glaze and serve: Finally, drizzle the glaze over the cooled fritters and let them dry before serving.
How to make oven baked apple fritters from scratch?
Preheat oven: To begin, preheat your oven to 400 degrees F and line a baking sheet with parchment paper.
Dice apples: While you wait, dice apples into one-inch bite-sized pieces and toss them with lemon juice and zest in a medium bowl.
Mix dry ingredients: Then, whisk the salt, flour, sugar, baking powder, ginger, nutmeg, and cinnamon in a large bowl.
Make the batter: After, combine the wet ingredients and the dry ingredients in the large bowl to make the batter. Add chopped apples and mix well.
Bake fritters: Using a measuring cup, drop batter by 1/4-cups onto the baking sheet. Put them in the oven and bake for 11 to 13 minutes. The top should be golden brown.
Cool: Next, move your apple fritters to a paper towel on top of a cooling rack while you make the glaze.
Prepare the glaze: To make the glaze, mix the syrup, vanilla, powdered sugar, and two tablespoons of milk. Continue to add milk by tablespoons until it is the right consistency.
Serve: Lastly, drizzle some glaze over the top of the cooled apple fritters and let them dry before serving them.
Recipe variations:
Vegetable or canola oil: Feel free to use another oil like canola oil or whichever oil you like to cook with.
Other milk: You can also use almond milk or soy milk instead of regular.
Gluten-free flour: For gluten-free apple fritters, use gluten-free flour.
Other fruit: Instead of, or in addition to, apples, try pears or peaches.
Add pumpkin: Add a 1/2 cup of pumpkin puree to the batter for pumpkin apple fritters. Just use a little less milk so they are not too moist.
Different extracts: Be creative! Try using other extracts instead of vanilla such as almond, orange, peach, or pumpkin.
More spice: You could also add a teaspoon of apple pie spice to make your apple fritters even tastier.
Chocolate: For chocolate lovers, add a 1/2 cup of chocolate chips to the batter.
Different apples: Instead of Granny Smith apples, you can use a different one like golden crisp apples or whatever kind you like best.
Go nuts: Feel free to add other ingredients like nuts or raisins.
How to serve:
These homemade apple fritters can be served at any time no matter the season but fall is apple season, so they are perfect to make for fall. Try one of our great serving tips or scroll down to our recipe notes for more info.
Top with fruit jam or preserves. Or try a spoonful of our tangy and sweet strawberry sauce.
Sprinkle some cinnamon sugar on top of warm apple fritters right after adding the glaze for even more sweetness.
Another way to serve these delicious homemade apple fritters is with a dollop of whipped cream. Try our easy recipe for whipped cream.
If you serve these for breakfast, you could also top them with a heaping spoonful of yogurt.
For a sweeter dessert, add a scoop of ice cream on top.
Make these into Halloween treats. Use orange food coloring gel in the glaze and decorate them with candy to make eyes, a nose, and a mouth for a sweet pumpkin fritter.
Serve these with apple cider or try our boozy apple cider mimosa recipe.
Top with nuts and raisins or some other dried fruit.
Frequently asked questions
What kind of apples are best for this apple fritter recipe?
This recipe calls for Granny Smith apples because they are tart and firm, so they stand up to high heat from deep-frying. Honey crisp apples are also a good choice, and the name tells you why; because they are crisp enough for cooking at a high temperature. Other apples you can try are Fuji, Winesap, Gala, and Red Delicious.
Are these better to make in the air fryer?
Everyone knows that fried foods are frowned upon by many but having them once in a while as a treat is not going to hurt anyone. However, you can use the air fryer to make them instead of hot oil.
Simply line your air fryer basket with parchment paper and brush it lightly with oil. Then, drop the batter by measuring cup or spoon into the basket and cook for four minutes on each side. Try our simple recipe for air fryer apple fritters.
Do I have to peel my apples first?
We chose to peel our apples first because the skin can change the texture and flavor of the fritters. However, if you like eating apples with the skin on them, the peel will not hurt you and you will get more fiber, vitamins, and minerals. Since these apples are chopped small, the apple peel will likely not change the taste at all.
What are the nutrition facts in this recipe?
Each serving contains 275 calories and 18 grams of fat with 10 grams of saturated fat. You also get 35 carbs, 37 milligrams of cholesterol, and 169 milligrams of sodium. On the other hand, they also have 90 milligrams of potassium, 3 grams of fiber, 73 grams of calcium, 1 milligram of iron, 5 milligrams of vitamin C, and 90 units of vitamin A.
Deep-fried apple fritters are delicious but may be a bit high in fat. However, as long as you do not eat them all the time, you should be okay. Even better, cut the fritters in half or make them smaller for half the fat and calories. Or you could use whole wheat flour or low-fat milk and leave the glaze off.
How to store leftovers:
Store: Keep your apple fritters in an airtight container. They will stay fresh for two days at room temperature or one week in the refrigerator.
Freeze: You can also store apple fritters for up to three months in the freezer.
Thaw: Remember to put these homemade apple fritters in the fridge to thaw overnight before serving for best results.
Reheat: The best way to reheat these apple fritters is by cooking them for eight minutes in the oven set at 350 degrees F. You could also microwave them for 30 to 60 seconds, but they won't be as crispy.
More apple recipes:
Cooking tips:
Remember, the size of the apple fritters determines how long you cook them. Try to keep all of them the same size so they cook evenly.
The easiest and fastest way to chop apples is to use a food processor.
Instead of a frying pan, you could use a deep fryer.
Alternatively, using a heavy pot or Dutch oven helps keep the oil heated.
When putting apple fritters batter into the oil, make sure you are close enough to the oil so that it does not splash all over you and the stovetop. Not only can you get burned but it can also start a grease fire.
Only make a few at a time so you do not crowd the pan.
For best results, use a candy thermometer to check that the oil temperature is 375 degrees F. Then, check it each time you remove fritters to maintain that temperature.
If you do not have a thermometer, use the wooden spoon test. Simply stick the tip of the spoon into the oil and if the oil bubbles around it, you are ready to cook.
For perfectly round fritters, use a cookie scoop instead of a measuring cup but shorten the cooking time to two minutes.
If you do not have any fresh apples, you can use frozen or canned apples in a pinch. However, canned apples will be already cooked so shorten the cooking time to three minutes.
To shorten prep time, you can buy pre-cut apples at your grocery store.
Apple Fritters with Maple Glaze
Ingredients
Apple fritters:
4

cups

apples

peeled and diced - about 2-3 honeycrisp or granny smith apples

1

tablespoon

fresh lemon juice

1

teaspoon

lemon zest

1 1/4

cup

all purpose flour

1 1/2

teaspoon

ground cinnamon

1/4

teaspoon

nutmeg

1/4

teaspoon

salt

2

teaspoons

baking powder

pinch

ground ginger

2

tablespoons

brown sugar

2

large eggs

at room temperature

1/3

cup

milk

2

tablespoons

unsalted butter

melted cooled to room temperature

1

teaspoon

vanilla extract

Vegetable oil for frying
Maple galze:
1

cup

confectioner's sugar

1

teaspoon

vanilla extract

or maple extract

1

tablespoon

maple syrup

2-3

teaspoons

milk
Instructions
Make the fritters:
Add the diced apples to a large bowl and add lemon juice and zest, toss to combine.

In another large bowl, whisk the eggs, and add the milk, vanilla, and cooled melted butter. Whisk until combined.

In another medium bowl, combine the flour, sugar, baking powder, cinnamon, salt, nutmeg, and ground ginger.

Add the dry ingredients to the wet ingredients and mix well until a loose dough forms.

Using a rubber spatula, fold in the diced apples.

Fill a deep frying pan or saucepan with about 3-4 cups of oil, you will need 3-4 inches of oil so measure and see.

Heat the oil over medium heat until it reaches 375°F, check with an instant-read thermometer.

Use a measuring 1/4 cup or 1/3 cup to scoop and drop the batter into the oil. Fry until the outside is golden brown. Use forks to flip and fry on the other side until golden brown, for a total of about 4-5 minutes.

If you pinch the fritter in the center with a small sharp knife it should come out clean. If not, fry a little longer.

Use a slotted spoon to transfer the fried fritters to a paper towel-lined cooling rack and let them fully cool before adding the glaze.

Repeat with the remaining batter.
Maple glaze:
In a small bowl, combine the sugar, vanilla, maple syrup, and 2 teaspoons of milk, and stir until smooth.

If needed, add more milk, 1 teaspoon at a time. The glaze should be thick but drizzly.

Drizzle the glaze over the cooled fritters and let dry before serving.
Deliciousness to your inbox
Enjoy weekly hand picked recipes and recommendations