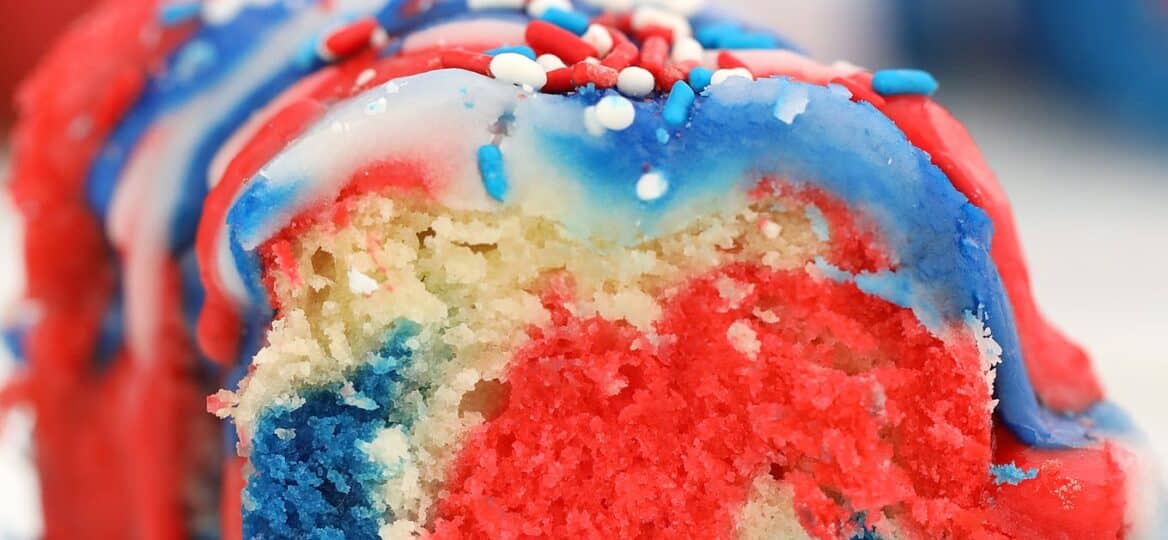 Patriotic Bundt Cake Recipe [video]
Patriotic Bundt Cake is moist and colorful with red, white and blue colors representing the American Flag. It is an easy dessert to make, and just perfect to celebrate the 4th of July!
We love festive cakes that are tender and beautiful. If you are looking for other desserts to enjoy during the Independence day, we suggest trying our Patriotic Poke Cake, Red, White, and Blue Cheesecake Salad, and American Flag Cupcakes.
Red White and Blue Patriotic Bundt Cake
Patriotic Bundt Cake is so rich and colorful, that will make for a perfect dessert for Independence Day. This recipe is super easy to make, so you do not need to waste a lot of time in the kitchen preparing it. We use a simple cake recipe and add some gel food coloring to it. Then, we quickly bake it for about 30-40 minutes and frost it.
This elegant dessert is rich and buttery topped with an amazing vanilla based glaze.
The great thing about this cake is that you can also make it in advance as it stores quite well. Also, the texture is moist and kids just love it. You can also add some matching sprinkles on top to make it even more festive.
It will be a great compliment to your 4th of July celebration, and both kids and adults will love it!
What is Bundt Cake?
It is simply a cake that is baked in a Bundt pan. It usually has a ring-like shape which is inspired by traditional European cake known as Gugelhupf. Because it is cooked in this type of pan, the pan should be properly greased and floured to ensure a moist and evenly cooked dessert.
Follow us on Pinterest for more delicious recipes!
How to make the perfect Patriotic Bundt Cake?
Grease the pan: It is very important to properly grease the pan, whether you are using a metallic or silicon-based pan, ensure to properly grease it.
Use room temperature ingredients: For best texture, and moist outcome, make sure that the ingredients are at room temperature.
Mix the ingredients: In a bowl mix the ingredients together as listed in the recipe card. Ensure to measure the ingredients precisely. Also, do not over-mix the batter, and try to prevent air bubbles when mixing.
Add the gel food coloring: Since this dessert is resembling the American flag, we used red, white and blue colors.
Bake it: Once you have everything ready, bake the cake for about 30-35 minutes at 350 degrees F. Open the door of the oven only when ready to check for doneness.
Let it cool: After baking, let it cool in the pan on a wire rack for about 10 minutes, and then gently remove it from there.
Glaze it: Once cooled, spread the glaze evenly over it and enjoy!
How do you keep a bundt cake from sticking to the pan?
As stated above, it is crucial to follow these important steps:
Use a non-stick pan: You could use aluminum-based or silicone based. We really love the silicone-based bundt pans. Over the past 5 years, we have stuck to them, and never had issues. They are quite cheap and the batter does not stick to them. Also, the removal process is easy, so you do not need to worry about breaking the bake. Here is a great silicone pan that you can buy.
Grease it: Similarly important is to properly and evenly grease the pan with either butter or baking spray.
Flour it: Sprinkle the pan with a little bit of flour to lightly coat it. Nothing excessive is required here.
Why should you cool the Patriotic bundt cake?
Cooling it in the pan is important because it allows the cake to become firm enough so it can be easily removed. Because the cake is quite moist and soft right after cooking, you want to allow for about 10 minutes of cooling time in the pan on a wire rack. This way, the dessert will not break apart.
Also, it is important to check on the cake while it is cooling. Because even after removing from the oven it will still continue to cook in the pan. Therefore, once it becomes firm enough, invert the pan and remove it. This way you will avoid it being damp and stick to it.
Can I Make Patriotic Bundt Cake Ahead of Time?

Absolutely! This is a perfect dessert to make in advance and not worry about cooking it right on the 4th of July. Simply, cook it up to 2 days in advance, and then cover it with plastic wrap. It keeps well at room temperature for up to 2 days.
To freeze it
First, let it completely cool. Then, wrap it tightly and add the dessert to a freezer-safe bag or wrap it in foil. Place in the freezer for up to 3 months. Let it thaw overnight on the kitchen counter prior to serving.
More similar desserts:
Red, white and blue cheesecake salad
RECIPE TIPS
Because gel food coloring is used, we recommend using a good quality product. Also, ensure to use only a few drops, as it will be more than enough.
A silicone bundt cake pan works best for this recipe.
Not all the ovens cook identically, so consider checking on doneness after about 30 minutes mark.
For extra color, consider topping it with some sprinkles!
Patriotic Bundt Cake
Ingredients
1

cup

white granulated sugar

1/2

cup

unsalted butter

softened

2

eggs

room temperature

1

cup

whole milk

2

teaspoons

vanilla extract

2

cups

all-purpose flour

2

teaspoons

baking powder

1/4

teaspoon

salt

5-8

drops red gel food color

5-8

drops blue gel food color
Glaze:
2

cups

powdered sugar

6-8

tablespoons

milk

1

teaspoon

vanilla extract

5-8

drops red gel food color

5-8

drops blue gel food color

2

tablespoons

red, white and blue sprinkles
Instructions
Preheat oven to 350°F.

Grease and flour a silicone or regular bundt pan. If using a silicone bundt cake, place it on top of a baking sheet pan.

Add flour, baking powder, and salt to a medium bowl and stir to combine.

In the bowl of a mixer, beat together granulated sugar and butter, stop once to scrape the sides and bottom of the bowl.

Add eggs one at a time and beat on medium speed until well blended.

Change speed to low and add milk and vanilla extract. Increase speed back to medium and mix well.

Add the flour mixture little by little and beat until smooth. Stop once to scrape the sides and bottom of the bowl.

Divide batter into 3 bowls and stir in gel food color with a spatula until well combined into 2 of them: one red, one blue, and one should remain white.

Add the colored batter into the prepared pan, start with blue followed by white, finish with red.

Bake for 30-40 minutes or until a toothpick inserted into the center comes out clean. DO NOT OVERBAKE.

Let cake cool into the pan on a wire rack for 10-15 minutes. Gently loosen cake from pan and turn onto a wire rack; cool completely before icing.
Glaze:
Add powder sugar, milk, and vanilla extract to a medium bowl and mix until fully incorporated and smooth. If the glaze is not runny enough, add more milk. You need the glaze to be thick enough to hold it's "drip" on the cake, but runny enough to pour.

Divide glaze into 3 bowls, add gel food coloring to two of them, one blue, one red and the white one stays intact. Stir color to combine.

Drizzle different colors of glaze over the cake, immediately top with sprinkles.

Let the glaze completely settle. Slice and serve the cake.