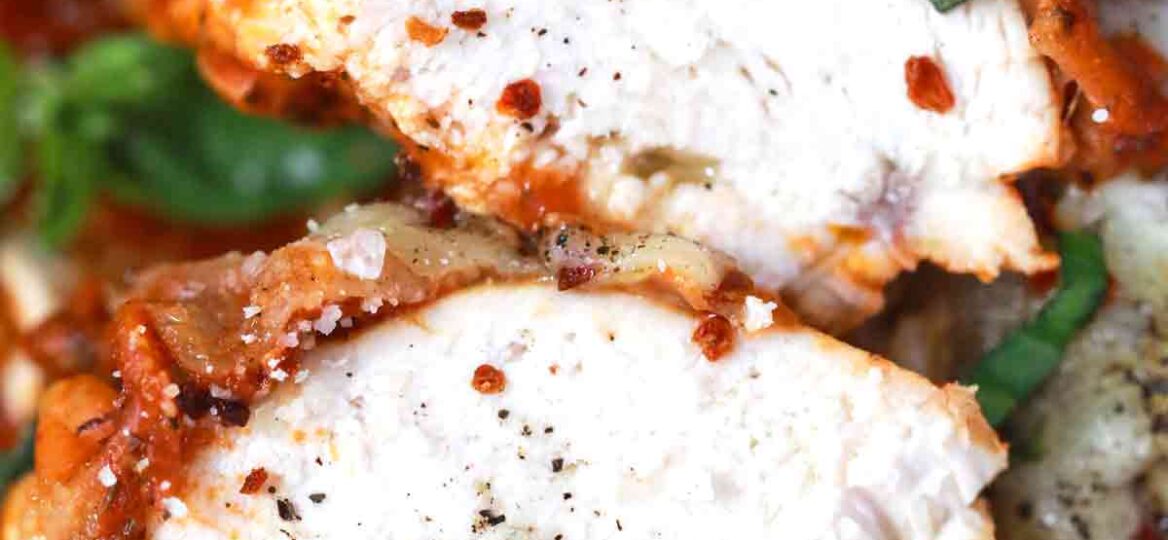 Instant Pot Chicken Parmesan
Instant Pot Chicken Parmesan is cooked in garlic-herb marinara then covered with golden, melted cheese. A restaurant-quality meal that takes 4 MINUTES in the IP!
For more hearty Italian-inspired fare, try our Golden Tomatoes Pepperoni Pizza, Creamy Slow Cooker Tortellini Soup, and our popular Maggiano's Meatballs copycat!
Instant Pot Chicken Parmesan
Instant Pot Chicken Parmesan unbelievably easy and flavorful. We can't get over how quick this takes in the IP— just four minutes! But don't underestimate how good it tastes. The chicken turns out very juicy, and it absorbs so much flavor after getting cooked in the rich marinara itself.
Then, it's topped with mozzarella and parmesan and broiled until gooey, cheesy, and perfectly delicious. Definitely a must-try!
Why make chicken parmesan in the instant pot?
First, because it's fast. It sounds impossible, but apart from the quick sauté and broil, this recipe only needs 4 MINUTES in the Instant Pot!
In addition, because we're cooking the cutlets with the sauce, the pressure cooker seals in all those flavors into the chicken despite the short amount of cooking time. There's also no risk of the meat drying out because the IP locks in the moisture.
Finally, there are barely any dishes to wash here! No searing in the skillet, no long baking time in the oven— in short, very little effort for such an amazing dish.
Ingredients to make this recipe
Chicken: We prefer using thin breast cutlets, but if you like dark meat, feel free to use skinless thigh fillets.
Sauce: Your favorite jarred marinara sauce will do. However, if you're up for making it from scratch, we've got this fantastic recipe you should try!
Herbs: Dried herbs like basil, oregano, and Italian seasoning infuse our dish with warm flavors.
Cheeses: We're using a combo of creamy mozzarella and salty parmesan.
Seasonings: Lastly, we're sautéing minced garlic cloves in olive oil to build flavor, but fresh-ground pepper and kosher salt to taste.
How to make Instant Pot chicken parmesan from scratch
Sauté. Turn on the IP's Saute feature, then stir-fry the fresh garlic in olive oil until fragrant and lightly golden.

Assemble. Into the sauteed garlic, pour the marinara, the dried herbs, half of the parmesan, and season. Arrange the chicken into the sauce, in a single layer if you can. Cover it with marinara.
Cook. Set the IP to LOW PRESSURE, and cook for 4 minutes. Afterward, open the valve to release steam.
Broil. Finally, arrange the cutlets on a baking sheet topped with a little marinara. Cover with mozzarella and the rest of the parmesan. Broil in the oven until the cheese is melted and browned.
Serve. Transfer the remaining marinara into your serving platter, then carefully top with the chicken. Garnish with basil and enjoy hot.
Recipe variations and substitutions:
Oven: Don't have an IP? We have an oven-baked parmigiana recipe for you!
Spicier: Add a little kick by stirring hot sauce into the marinara, adding dried chili flakes, or sprinkling with cayenne.
Slow cooker: Into your slow cooker, throw in the meat, marinara, and seasonings. Cook on LOW for 4-6 hrs. Then, follow the broiling instructions in the original recipe.
Pork: Use pork tenderloin medallions, lightly seared, for the meat.
Crispy: For the traditional fried and breaded parmigiana, use this recipe.
Other cheeses: Use white cheddar, gouda, provolone, swiss cheese, or Monterey Jack in place of mozzarella. Pecorino or Grana Padano are great subs for parmesan. If you like it cheesier, try a combination of one or two of these cheeses!
Frequenltly Asked Questions
Is there a difference between chicken parmesan versus parmigiana?
The only difference is how they're pronounced. They just two different names for the same popular Italian-American dish – delicious breaded chicken cutlets simmered in marinara then covered in mozzarella.
What to serve with chicken parmesan?
We enjoy it on top of pasta (like spaghetti and fettuccine), with a side salad, or warm dinner rolls. It's also tasty with veggies like roasted asparagus and these amazing crispy rosemary potatoes!
More pressure cooker recipes to try:
How to store leftovers?
Cool everything down first. Then, transfer the meat into a container and cover with any remaining sauce. To heat up, warm in the microwave or on a skillet until hot and cheese has remelted.
Deliciousness to your inbox
Enjoy weekly hand picked recipes and recommendations