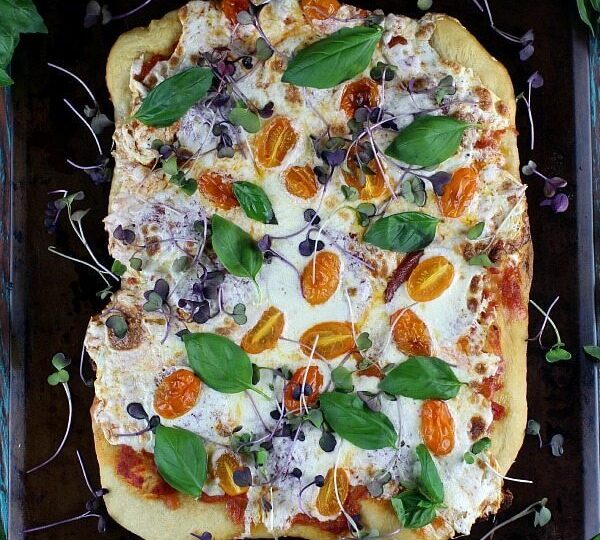 Golden Tomatoes Pepperoni Pizza
Golden Tomatoes Pepperoni Pizza is a delicious blend of fresh mozzarella, juicy golden tomatoes, pepperoni and basil. It is perfect for pizza night or a quick and easy meal with your family.
I love making easy and healthy pizzas for families to enjoy. After I made Mini Sweet Pepper Tomato Pizza and Heirloom Tomato Pizza, I decided to add the Golden Tomatoes Pepperoni Pizza to the mix.
Golden Tomatoes Pepperoni Pizza
This Golden Tomatoes Pepperoni Pizza is loaded with fresh mozzarella cheese, a little marinara and lots of fresh basil. First, I loved the ingredients combo very much, and especially I loved using golden cherry tomatoes. They are a little sweeter than regular tomatoes, which balanced so well the tart marinara sauce and salty pepperoni. Also, they basically brighten up the pizza, and they turn a beautiful dark orange color when baked.
This pizza was the third one I made last night,. Even so, after being full, we still enjoyed each one extra slice, since the combo was so irresistible. In addition, I had some leftover micro greens in the fridge, and I added them to the pizza. They added a nice pop of color, and their mild taste was very nice in contrast with the more powerful basil.
Follow us on Pinterest for more delicious recipes!
Why you will love Golden Tomatoes Pepperoni Pizza
First, its very easy to make at home.
Also, the ingredients mix is very flavorful and the colors are just amazing.
It's also a cheap and healthier alternative to conventional take out pizza.
Can be made with whole wheat, for healthier option.
Lastly, you will have tasty and delicious left overs.
Now happy middle of the week my friends, I hope you are having a good one so far, and if you are looking for a quick and easy dinner, maybe even date night dinner, surprise your loved ones with this gourmet golden tomatoes pepperoni pizza that its so easy to make and will get you so many praises!
Golden Tomatoes Pepperoni Pizza
Ingredients
Pizza Dough:
1⅛

cups

warm water

3

teaspoons

active dry yeast

1

tablespoon

honey

1

tablespoon

olive oil

3

cups

all-purpose flour

1

teaspoon

salt
Toppings:
8

mini golden cherry tomatoes

halved

5

tablespoon

marinara sauce

12

pepperoni slices

1

lb.

fresh mozzarella cheese

sliced rondelle

fresh basil

micro greens
Instructions
Pizza Dough:
In a large bowl, combine water, yeast and olive oil and let sit until foamy, about 10 minutes. Add in 2½ cups flour and salt, stir the dough with a spatula until its combined, but still sticky.

Using your hands, form the dough into a ball place it on a floured surface, add the remaining ½ cup of flour to the dough and knead it for a few minutes.

Rub the same bowl with olive oil then place the dough inside, cover with a towel and place in a warm place to rise for about 1-1½ hours.

After the dough has risen, punch it down and place it back on the floured surface.

Using a rolling pin, form it into your desired shape that would match the pizza pan you will be using for baking.

If using a pizza stone, preheat it in a very hot 500F oven for at least 45 minutes. I do not own a pizza stone, so I baked the pizza on a pizza pan at 425F.
Assemble:
Once you rolled your pizza, if you are using a pizza pan like I did, transfer the pie now to the pan and start assembling it.

If using a pizza stone, place the pie on cardboard or pizza peel that was well dusted with semolina flour or corn meal.

Pour the pizza sauce in the center, using a spoon spread it around leaving 1 inch at the edges. Top with pepperoni, followed by mozzarella cheese and top with halved mini golden cherry tomatoes.

Gently slide the pie on the preheated pizza stone in a hot 500 - 525 degree or more oven, and bake for 5 to 7 minutes or until golden brown on the edges.

If using a pizza pan like I did, transfer the pan to the oven and bake for 10-12 minutes or until golden brown on the edges.

Remove from the oven and sprinkle with fresh basil and micro greens. Allow the pizza to rest for a few minutes before serving for the cheese to set.