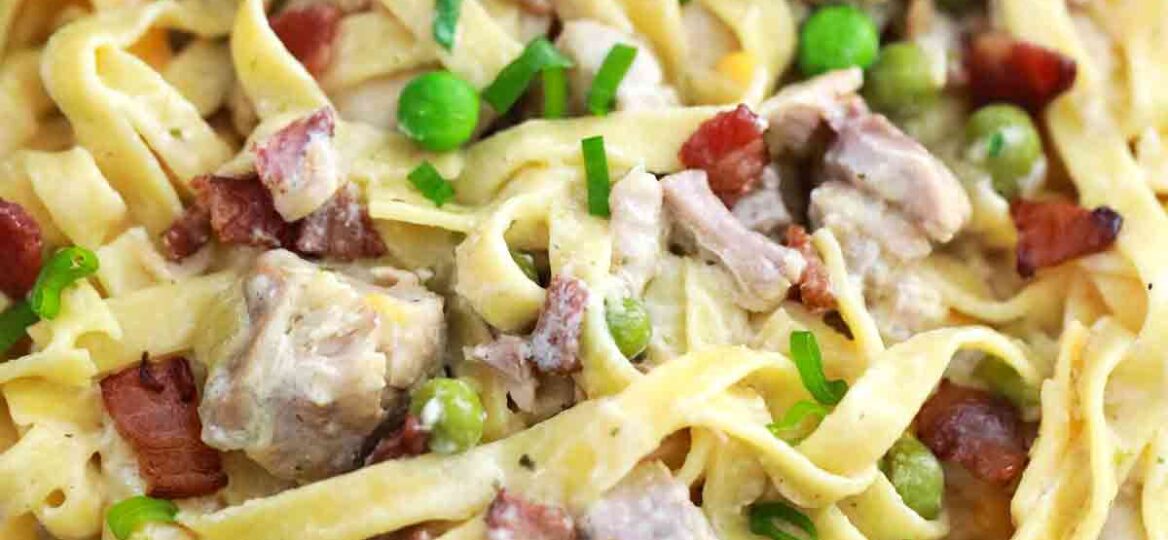 Instant Pot Bacon Ranch Chicken Casserole
Instant Pot Bacon Ranch Chicken Casserole is a delightful blend of bacon, creamy ranch sauce, rich cheeses, tender flavorful noodles, and decadent chicken. There is a good reason why this is also referred to as one of the best casserole recipes ever. Because it is simply addictive.
For more one pot meals, our Instant Pot Chicken Bacon Ranch Pasta with shells and cheese and this Easy Instant Pot Crack Chicken recipe are both amazing. Or try this Cheesy Crack Chicken Casserole with broth and breadcrumbs for an easy idea for the entire family.
Pressure cooking is an easy and fast way to get dinner on the table for any number of delicious meals like this one. Any time you can get the entire family at the table is the time to make a one pot dinner like our ranch chicken casserole.
In fact, this chicken bacon ranch casserole is the perfect comfort food for everyone anytime. This pressure cooker chicken bacon ranch casserole is the perfect dinner that kids and adults will like.
The leftovers taste delicious, and also, you can sneak in your favorite veggies part of this easy recipe.
Ingredients needed:
We have provided a recipe card at the bottom of the page with the instructions and measurements. But here are the basic ingredients for this instant pot chicken bacon ranch pasta:
Skinless chicken thighs: Cubed.
Egg noodles: Other pasta like penne, shells, or rotini are good too.
Cream cheese: Softened to room temperature.
Bacon: Diced.
Olive oil: You can also use another type of oil.
Ranch seasoning: Dry ranch dressing mix. ins
Chicken broth: Vegetable or beef will work too.
Peas: We used frozen, but you can use fresh or canned.
Minced garlic: Garlic powder will work as well.
Onion: Diced, white, red, or yellow onions.
Cheddar cheese: Freshly shredded is best.
How do you make instant pot bacon ranch casserole?
Saute: First, set your pot to the sauté function and add the bacon and olive oil. Cook until bacon is crispy. Remove half of the bacon pieces and set aside.

Add: Next, add the garlic, onion, meat, and cook until the outsides are browned.

Cool: Then, turn the pot off or hit cancel so it can cool before turning it to high pressure. Scrape the browned bits from the bottom of the pot.

Season: After it cools down, add the ranch packet and mix together.

Cream cheese: Next, cut the cream cheese into cubes and put it on top and add half of the broth. Close the lid and steam valve and set it to high pressure for five minutes.

Release: After a quick release, mix gently with a wooden spoon until creamy.
Add: Immediately, add the peas and noodles before adding the rest of the broth, stirring a bit.
Steam: Then, close the lid and steam valve before setting it to high pressure for another three minutes.

Cheese: Add the cheese and then close the lid for five minutes so it melts.
Serve: Finally, do a quick release and garnish with the rest of the bacon bits before serving.
Recipe variations:
Thicker: For a thicker sauce, saute for another two minutes, stirring as it bubbles. Then allow it to sit and cool for a few minutes until it is thick enough.
Other creams: Another option is to use heavy cream, sour cream, or Greek yogurt instead of cream cheese.

Other cheese: Sprinkle about a tablespoon of parmesan cheese on top for a more intense flavor.
Add more veggies: Alternatively, add some more of your favorite veggies like broccoli, green onions, carrots, and spinach.
Other meats: Make it meatier with turkey, pork, or beef chunks.

No ranch: Instead of ranch flavor, you may enjoy a packet of Italian or taco seasoning.
How to serve:
You can serve this easy meal for dinner tonight with a salad or on its own. The whole family will love it and you can cook it easily as a one-pot meal. Or try one of these awesome ideas:
Frequently Asked Questions
Which pasta is best for this recipe?
Any pasta will work for this delicious instant pot recipe but the most popular are ziti, rotini, egg noodles, shells, and penne. However, the ratio of liquid to pasta is an important consideration.
In fact, you can also make this recipe without pasta. For example, using rice instead is a fantastic idea.
Do you cook the chicken before putting it in the casserole?
You do not have to cook it first. In fact, in our recipe, it calls for raw chicken cubes that you sate in the pot first before adding the seasoning and setting it to cook on high pressure.
It will have plenty of time with the 15 minutes of cook time it calls for.
How do you thicken runny casserole?
Any kind of casserole that is runny can be fixed with cornstarch. Use one tablespoon cornstarch to each cup of liquid that you want to thicken.
For example, if you have five cups of liquid in your casserole, add five tablespoons of cornstarch. If you do not have cornstarch, you can also use flour.
How to store leftovers:
Store: Put any leftovers in an airtight container in your fridge, where it will be good for about three or four days.

Freeze: If you cannot finish it all in a few days, stick the container in the freezer. You can store it safely for up to 90 days.

Thaw: You should thaw it out in the fridge overnight before reheating.
Reheat: Add some broth or milk to your casserole before reheating it. You can use the microwave, stovetop, or oven.
More casserole recipes:
Cooking tips:
Cooking time may vary depending on your pressure cooker and the size of the chicken pieces you are using.

Use a paper towel to soak up the bacon grease before adding it back to your casserole.

Your casserole will thicken up as it cools so wait until it is room temperature before deciding whether you need to add a thickening agent or a liquid to thin it out.

You can also use skinless chicken breasts instead of thighs.

This casserole is a nice meal to prepare with leftover chicken.

Similarly, rotisserie chicken would also be a fantastic choice for this dish.
You could also make this in the slow cooker. Just add the ingredients and cook on low for six hours or high for three hours.
Instant Pot Bacon Ranch Chicken Casserole
Ingredients
2

lbs

boneless skinless chicken thighs

cubed – or chicken breasts

8

oz

cream cheese

softened

9

strips bacon

diced

2

tablespoons

olive oil

2

tablespoons

ranch seasoning dry mix

2

cups

chicken broth

5

cups

egg noodles

uncooked

1/2

cup

sweet peas

frozen

2

cloves

garlic

minced

1/2

onion

diced

1 1/2

cup

cheddar cheese

shredded
Instructions
Set Instant Pot to saute mode on High and add olive oil and bacon.

Cook for a few minutes until bacon crispy. Set aside half of the bacon on a plate.

Next, add garlic and onion, and sauce.

Add cubed chicken and cook until no longer pink and lightly browned.

Turn off/cancel sauce mode. Scrape with a wooden spoon any bits of meat off the bottom of the pot.

Sprinkle ranch seasoning packet on top of bacon and chicken and mix gently.

Cut cream cheese into cubes and place on top of the chicken mixture.

Add 1 cup of chicken broth.

Close lid and steam valve and set to high pressure for 5 minutes, followed by a quick release when done cooking.

Open the IP when the valve drops, stir well.

Add the frozen peas, then uncooked small egg noodles, and then the remaining chicken broth on top of the noodles.

Close lid and steam valve and set to high pressure for 3 minutes, followed. by a. quick release when the IP beeps.

If you want the sauce thicker turn IP to saute again to reduce the liquid.

Add cheddar cheese on top and cover with the lid for 5 mins to melt.

Garnish with chopped green onion and serve.
Deliciousness to your inbox
Enjoy weekly hand picked recipes and recommendations