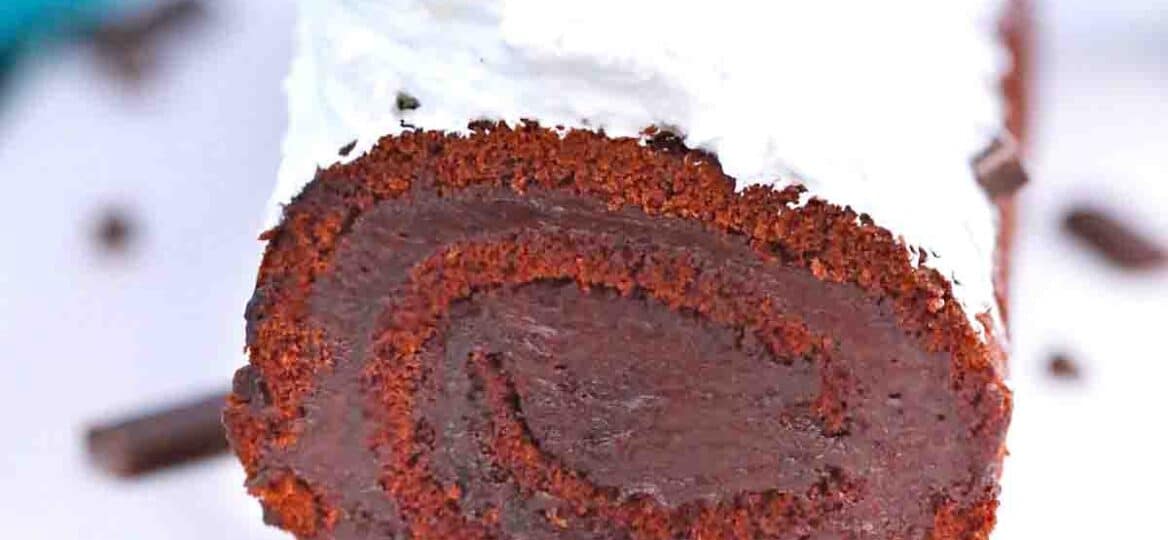 French Silk Cake Roll Recipe [Video]
French Silk Cake Roll is a delicious dessert with homemade chocolate sponge cake, yummy french silk dark chocolate filling, and whipped cream topping. This is not just another chocolate cake recipe. This is a french silk pie rolled into a cake and topped with whipped cream. The creamy french silk filling is perfect between the cake layers to give you a moist and delicious taste in every bite.
Looking for more cake recipes? This Carrot Cake Roll is easy to make with real carrots, walnuts, and cream cheese filling. For the holidays, our Christmas Cake Roll is perfect with just a handful of ingredients, a box cake mix, and food coloring.
Because these cakes are often referred to as swiss cake rolls, you may expect them to have been invented in Switzerland. However, it was actually first made in Austria. But the first printed recipe was in a New York publication called "Northern Farmer" in 1852 with a recipe called jelly cake. They were made by spreading jelly onto a hot thin cake and rolling it up to chill before serving.
This recipe for french silk cake roll with its chocolatey french silk frosting made from melted chocolate gives you all the flavor of a french silk pie with a bonus of chocolate cake to go with it. And even though it turns out beautiful as well as delicious, it is super easy and does not take long at all.
If you are looking for other dessert recipes, our funfetti cookies made from vanilla cake mix are delicious and pretty. Or you can try this strawberry crunch cheesecake cake with cream cheese, Greek yogurt, and golden oreo cookies.
Follow us on Pinterest for more delicious recipes!
Ingredients needed:
To make this french silk cake roll recipe, gather the ingredients below. Then, scroll down to our recipe card for step-by-step directions and precise measurements.
Chocolate cake:
Unsweetened cocoa powder
All-purpose flour
Coffee: Cool completely.
Vanilla extract
Large eggs: At room temperature.
White granulated sugar
Baking powder: Not baking soda.
Vegetable oil
Kosher salt
French silk filling:
Dark chocolate: Melted and cooled.
Large eggs: At room temperature.
Cocoa powder
Unsalted butter: Softened to room temperature.
Vanilla extract
White granulated sugar
Whipped topping:
Powdered sugar: Or confectioners' sugar.
Heavy whipping cream
How to make french silk cake roll from scratch?
Chocolate cake:
Preheat oven: First, preheat the oven to 350 degrees F. Then, line a 10×15-inch jelly roll pan with parchment paper, leaving extra hanging over the longer sides for easier removal.
Mix dry ingredients: In the meantime, whisk together cocoa powder, baking powder, flour, and salt in a medium bowl until combined and set it aside.
Mix wet ingredients: Then, in a separate bowl, mix together eggs and granulated sugar with an electric or hand mixer on low speed for about one minute, or until thick. Add in the oil, vanilla, and coffee until combined.
Combine together: Now, fold the flour mixture into the wet ingredients and mix until fully combined.
Pour it in: Next, pour the batter into your prepared jelly roll pan. Smooth out and tap the pan gently on the counter.
Bake the cake: After, bake for 10 to 12 minutes or until the center is no longer wet and it passes the toothpick test.
Prepare your workspace: While you wait, lay a clean kitchen towel out on the counter and sprinkle it generously with powdered sugar or cocoa powder.
Roll and cool: After the cake is done, use oven mitts to carefully remove it and flip it over onto the clean towel. Fold the end of the towel over the edge about two inches and roll the cake and towel together tightly into a log shape. Let it cool completely on a wire rack for two to three hours.
Make the creamy french silk filling:
Melt the chocolate: About 1/2 hour before the cake is cool, chop your dark chocolate and microwave it in 30-second intervals until it is completely melted, stirring each time with a whisk. This usually takes about 1 1/2 minutes.
Beat butter and sugar: Then, in the bowl of your stand mixer fitted with a paddle attachment, beat the butter and sugar on high for one minute or until it is light and fluffy.
Pour in the chocolate: Next, pour in the chocolate and let it continue to mix on low for 30 seconds.
Add powder and vanilla: Now, turn the mixer off and scrape down the sides before you add the cocoa powder and vanilla extract and mix for another 30 seconds.
Finish it up: After, add eggs and turn the mixer to high speed for 10 minutes. When it is done, the filling should be smooth and shiny.
Prepare the whipped topping:
Whip your cream: To make whipped topping, change the attachment on your stand mixer to a whisk attachment and pour in the heavy whipping cream. Whip for two minutes or until soft peaks occur.
Add the sugar: Then, add the powdered sugar and whip some more until the peaks are firm.
Assemble the cake:
Unroll the cake: Once your cake is cool, gently unroll it, being careful not to crack or tear it and place it on a clean sheet pan.
Spread on the filling: Next, spread the french silk filling on top in a thin layer, leaving 1/4 inch on all sides.
Roll the cake back up: Then, roll the cake back up without a towel and wrap it with plastic wrap. Chill for at least two hours.
Spread on the whipped topping: After it is chilled, spread the topping on all of the exposed areas and top with chocolate shavings.
Serve chilled: Finally, serve chilled on a cake board or serving platter.
Recipe variations:
Another oil: Feel free to use other oils such as canola or coconut oil.
Two cakes: Instead of one large roll, you can make two small cakes in two prepared pans.
Ice cream cake: Instead of using the french silk filling on the inside, use softened vanilla ice cream instead and save the french silk filling for the top.
Extracts: To give your cake roll extra flavor, add a teaspoon of your favorite extracts like amaretto, peppermint, or orange.
More chocolate: If you really love chocolate, add cocoa powder to the whipped cream topping as well.
Peanut butter: The peanut butter lovers in your family will love it if you add peanut butter to your filling.
Different nuts: Or you can use a different nut butter like almond or cashew.
Nutella: You could also stir in a 1/2 cup of Nutella or another hazelnut spread.
How to serve:
This fancy cake is easier than it looks and worth every minute when you taste it. The whole cake is full of chocolaty goodness, layered with creamy chocolate filling, and topped with homemade whipped cream. Try one of these serving ideas or one of your own:
Add chocolate sprinkles on top for a more festive look.
Instead of whipped cream, you could also top this cake with our homemade cream cheese frosting.
Serve with a small bowl of chopped nuts for guests to add if they wish. You could also offer bowls of other toppings like cherries, whipped cream, and chocolate chips.
Another great topping for this delicious cake is strawberry or plum jam.
You can serve this fresh from the freezer for a frozen dessert.
This also goes great with ice cream such as our strawberry ice cream with chocolate chunks.
Sprinkle some coconut on top to give your cake even more texture and flavor.
Our thick and gooey caramel sauce would also make a delicious topping.
Frequently asked questions
What is the difference between pasteurized eggs and raw eggs?
Pasteurized eggs are heated to a point that kills bacteria and kept at that temperature for 3.5 minutes. To pasteurize them at home, put cold eggs in a medium saucepan and cover them with cold water.
Cook them on the stove until the water reads 140 degrees F on a digital thermometer. Keep it at that temperature for 3.5 minutes. Do not let it get above 141 degrees F. If it does, add an ice cube or cold water immediately.
How can I make heavy cream?
There are many ways to make heavy cream if you do not have any. The easiest is to whisk together 1/4 cup of unsalted melted butter with 3/4 cup of half and half.
Or you could use 1/3 cup butter with 2/3 cup whole milk. Alternatively, use 1/3 cup of oil instead of butter. Another way to do this is to chill a can of coconut milk overnight and then scoop out the solid fat on top.
Why is my cake roll rubbery?
Any cake can become rubbery or hard if you overmix it. Overmixing your batter increases gluten development, which makes the cake gummy. Mixing it too much can also pop the air bubbles in the batter that is needed to make the cake fluffy and light. It can also be caused by using cold ingredients. Make sure your eggs, cream, and butter are at room temperature.
What are the nutrition facts in this recipe?
Each slice of this cake has 475 calories, 163 mg of cholesterol, and 29 grams of fat with 17 grams of saturated fat. It also has 55 grams of carbs, 322 mg of sodium, and 44 grams of sugar. But you also get 8 grams of protein, 2 grams of fiber, 2 mg of iron, 122 mg of calcium, 880 units of vitamin A, and 289 mg of potassium.
How to store leftovers:
Store: You can store your leftover french silk cake roll in an airtight container in the fridge for up to three days.
Freeze: Leftover cake can also be frozen for up to 90 days. Simply wrap the cake in plastic wrap and place it in an airtight freezer-safe container.
Thaw: For best results, thaw for one to three hours before serving to make it easier to cut.
More chocolate recipes:
Baking tips:
You can use hot water if you do not have or do not like coffee.
Similarly, if you do not have heavy cream, you can use Greek yogurt.
To pass the toothpick test, a toothpick inserted into the middle of the cake should come back dry or with a few crumbs.
Shorten prep time by using a boxed chocolate cake instead of making your own.
Another way to speed things up is to use store-bought whipped cream instead of making your own.
To make sure the peaks are firm, lift out the whisk attachment and the whipped topping should hold its shape.
Instead of a stand mixer, you can use a hand or electric mixer and a large bowl.
Make sure your ingredients are at room temperature. Especially the eggs and butter.
A kitchen towel should be a lint-free flat-weave cotton cloth. It is also known as a hand towel and is used primarily for wiping your hands when baking.
French Silk Cake Roll
Ingredients
1/2

cup

all-purpose flour

1/4

cup

unsweetened Dutch cocoa powder

1

teaspoon

baking powder

1/2

teaspoon

salt

4

large eggs

room temperature

1/2

cup

granulated sugar

2

tablespoons

vegetable oil

or coconut oil

1

teaspoon

vanilla extract

2

tablespoons

coffee

cooled - or water if you do not want to use coffee
Chocolate French silk filling:
3

ounces

dark chocolate

chopped, melted, and cooled

1/2

cup

unsalted butter

room temperature

3/4

cup

granulated sugar

1 1/2

teaspoons

vanilla extract

3

tablespoons

cocoa powder

2

large eggs

room temperature
Whipped cream topping:
2/3

cup

heavy whipping cream

cold

1/4

cup

powdered sugar

Chocolate shavings
Instructions
Chocolate sponge cake:
Preheat the oven to 350°F.

Line a 15x10-inch jelly roll pan with parchment paper leaving some to hang over the sides, for easy cake removal.

In a medium bowl, whisk together the dry ingredients: flour, cocoa powder, baking powder, and salt. Set aside.

In a separate bowl, whisk together the eggs and granulated sugar until thick.

Next, add the oil, vanilla extract, and coffee, and whisk until combined.

Using a rubber spatula, fold in the flour mixture and stir until all is combined, careful not to overmix.

Pour the batter into the prepared jelly roll pan and distribute it evenly. Smooth the top using a spatula and gently tap the pan on the counter to remove air bubbles.

Bake in the preheated oven for 10-12 minutes, or until a toothpick inserted in the center is removed with a few crumbs on it.

Lay a clean dish towel on the countertop, and generously sprinkle it with powdered sugar.

Carefully remove the cake from the oven and flip it over onto the clean dish towel.

Fold about 2 inches of the towel over the edge of the cake and start rolling it up into a log.

Cool it to room temperature.
Chocolate French silk filling:
Once the cake is cooling you can start making the chocolate filling.

Chop the dark chocolate and microwave it in 30-second increments until melted. Make sure to stir well after each increment. Set aside to slightly cool.

In a large bowl, add the butter and sugar and beat for 1-2 minutes until light and fluffy.

With the mixer on low add the melted chocolate and whisk until combined, stop to scrape the sides and bottom of the bowl.

Next, whisk in vanilla and cocoa powder for 30 seconds.

Add in the eggs, once blended in, turn the mixer on high and beat for 10 minutes. The filling should increase in volume, and appear very smooth and shiny.
Whipped cream topping:
In a large cold bowl pour the cold heavy whipping cream. Whip for about 2 minutes, starting on low speed and increasing to medium-high, and beat until soft peaks form.

Add in the powdered sugar and whip until firm peaks form and the whipped cream holds its shape.
Assemble:
Gently unroll the cooled cake, carefully not to tear it.

Spread the filling on top into a thin and even layer, leaving about a 1/4 inch space from all four sides.

Gently roll the cake back into a log. Wrap with plastic wrap and chill in the fridge for at least 2 hours.

Before serving top it with whipped topping cream and sprinkle chocolate shavings on top.