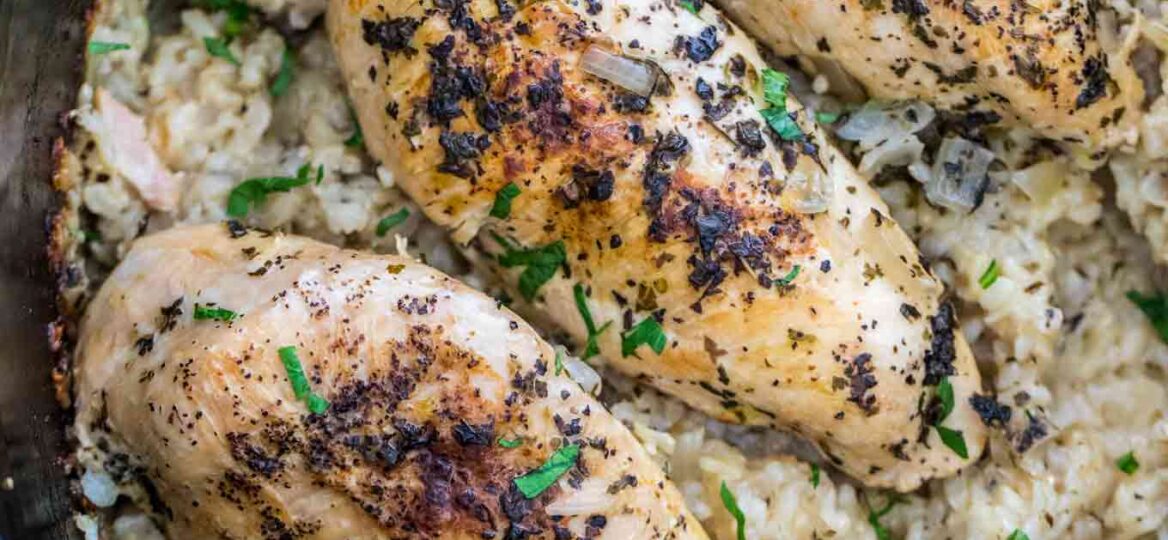 Crockpot Chicken and Rice [Video]
Crockpot Chicken and Rice is easy to make, healthy, creamy, and lemony. A family favorite during busy weeknights. Made with real ingredients like brown rice, chicken breast, and lemon, this home-cooked meal is delicious, gluten-free, and kid-friendly. With this easy recipe, you let the slow cooker do all the work for you and the end result is a perfectly satisfying meal.
Easy Crockpot recipes are a family favorite around here, they are such a time saver during busy weeknights. We highly recommend you try some of our most popular ones: the soul-warming Slow Cooker Baked Potato Soup that is perfect for cold weather. While these Crock Pot French Dip Sandwiches are always a crowd-pleaser. Another delicious rice crockpot recipe that you may enjoy is our Slow Cooker Rice and Beans with black beans, arborio rice, and taco seasoning.
Crockpot chicken and rice is a creamy, lemony dish that cooks itself while you do other things. It is the perfect meal for busy weeknights. All you need is chicken breasts, rice, onion, garlic, and a few other ingredients. This slow cooker meal will be a hit with the entire family.
Crock pot chicken and rice recipe is one of the most popular chicken recipes in the United States, maybe because chicken and rice are two of the most inexpensive foods you can buy. And this simple dish can be made any way you like it from cheesy chicken and rice to chicken jambalaya.
Also, the rice has the most refreshing flavor from the lemon juice and lemon zest, which will remind you of a healthy Mediterranean-inspired meal. The meat is extra tender, juicy, and nicely browned to lock in all the flavors. We have kept the seasoning simple with just basil, oregano, and some parsley.
The flavors are not overpowering and pair well with the refreshing citrus aroma.
Do not expect the rice to be fluffy, in this dish, it is creamy and filled with all the moisture from the broth and the seasoning that was added. This is a healthy dinner and comfort food for the entire family to enjoy during busy days.
It is still chewy and resembles in texture a perfectly cooked casserole. We recommend you try this recipe with brown rice, it truly is delicious!
Follow us on Pinterest for more delicious recipes!
Ingredients needed:
Our slow cooker chicken and rice can be a whole meal or just a nice healthy snack. Here are the basic ingredients you will need to make this easy recipe. For precise measurements and directions, scroll down to our printable recipe card.
Medium boneless skinless chicken breasts or thighs: You can use bone-in chicken breasts or thighs with skin as well. I use boneless and skinless chicken breasts here. However, you can use also use drumsticks, or even turkey breasts.
Long grain brown rice: Regular brown rice or white rice will do too. I love using the long-grain version here.
Olive oil: Or vegetable oil.
Small onion: Chopped.
Garlic cloves: Minced.

Lemon juice: Fresh lemon juice or prepared lemon juice will both work for this recipe.
Chicken broth: If you are using the store-bought version, then go with the low-sodium type. This way you control the saltiness. However, I love using my homemade chicken stock here. It adds plenty of flavors and is just delicious.
Garlic cloves: Whole browned garlic.

Butter: Unsalted.
Dried oregano
Parsley flakes
Dried basil
Kosher salt
Black pepper
How to make crockpot chicken and rice recipe:
Prepare the chicken: First, season the chicken breasts with black pepper and kosher salt on both sides.

Brown the chicken breasts: Then, pour oil into a large skillet on high heat and add the chicken once it is sizzling. Cook for five minutes on each side until it is golden brown.

Slow cook: Meanwhile, add the rice, diced onion, garlic cloves, low sodium chicken broth, butter, and lemon juice to the slow cooker. Then add the oregano, fresh parsley flakes, and dried basil to the cooker and stir well.

Add the chicken: Next, put the browned chicken breasts on top of the rest of the ingredients and cook on high for two to three hours. Check the rice after two and a half hours and continue to cook if it is still too hard.

Meat temperature: The chicken should reach an internal temperature of 160 – 165 degrees. Also, you can remove it to a plate and cover it with foil. Taste the rice, and if it's still too chewy, stir and continue to cook a bit longer.
Serve: Once the rice is tender and the chicken is cooked to 165 degrees F, serve warm chicken pieces on top of the rice mixture.
How to make instant pot chicken and rice:
Making it in the Instant Pot is equally easy but at a fraction of the time. Try my Instant Pot Chicken and Rice recipe, and see it for yourself.
Saute the vegetables: To begin, set your instant pot to saute on high heat. After it is hot, add the oil and butter and stir to melt. Toss in the onion, garlic, salt, and pepper. Stir and cook for three minutes or until the veggies are softened.

Add the chicken: After, add your skinless chicken breasts and cook for five minutes, stirring occasionally with a wooden spoon before adding the brown rice, chicken broth, and the rest of the ingredients. Stir again to combine.
Cut the garlic: Next, cut the head of garlic in half, placing the pieces on top of the rice with the cut side down.

Cooke the chicken and rice: Then, close the lid and set the valve to the sealed setting. Cook on high pressure for 10 minutes before doing a quick release.

Serve the chicken and rice: Finally, serve hot after removing the garlic pieces and giving it a good stir.
Recipe variations:
Other meat: Feel free to use other meat instead of chicken such as turkey, pork, or beef chunks.

Creamy chicken soup: Substitute one cup of mushroom soup or cream of chicken soup for one cup of chicken broth for a creamy slow cooker chicken and rice dinner.
More seasoning: Add more flavor by sprinkling in some bay leaves, dry ranch dressing, chili powder, onion powder, or garlic powder.

Rice: You can use other types of rice for this crockpot chicken and rice recipes like basmati or jasmine rice.

Add veggies: Make it a full robust meal by adding veggies like fresh or frozen peas, carrots, celery, or green beans.

Shredded cheddar cheese: If you love cheesy food, add 1/2 cup of shredded cheddar cheese, mozzarella cheese (or your favorite) about 10 to 15 minutes before it is done cooking. The cheese will melt on top of the chicken, making it the best cheesy chicken and rice you ever had.

Frozen chicken breast: You can use frozen chicken breast or chicken thighs for this slow cooker recipe too.

Crock pot chicken and rice casserole: Add chunks of carrots, potatoes, and broccoli with this crockpot chicken and rice recipe for a delicious rice casserole.
How to serve:
Serve this crock pot chicken and rice with veggies on the side for a nice healthy and delicious meal. Slow cooking is the best way to get tender chicken, and the rice soaks up the flavor of the chicken soup, onion, garlic, and other herbs. You may also like one of these other serving ideas:
Crock pot chicken and rice goes great with breadsticks or garlic bread.

If someone in the family does not like rice, you can still cook it with the rice. Serve their chicken on top of a bed of pasta, or by itself with fresh veggies.

In addition, serve this crock pot chicken and rice with some chipotle corn salsa mixed in for a nice Mexican flavor.
Add shredded cheese to the rice and serve the chicken on the side for a different twist.

You can also serve this with a delicious salad like our seven-layer salad made with shredded cheese, bacon, and cranberries.

Another way to serve crock pot chicken and rice is with a bit of lemon zest on top for a tangy topping.
Frequently asked questions
Can I put fresh raw chicken in the slow cooker?
Yes, it is safe to cook raw meat in a slow cooker. The direct heat and prolonged cooking time will kill any bacteria or other germs that may be lurking on the chicken. As long as the internal temperature of your meat is 165 degrees F, you can eat it safely.
Can you put frozen chicken in the crockpot?
Cooking frozen poultry in a Crock-Pot is considered to be unsafe. Food Safety guidelines state that you should always thaw meat or poultry before putting it into a slow cooker. However, if you have a pressure cooker, you can easily cook frozen poultry or meat in it.
Is chicken stock the same as chicken broth?
They are not the same, the stock tends to be made more from the bony parts of the bird, and because of that, it has a richer, fuller flavor. While the broth is made more out of the meat parts. Therefore, it has a milder flavor.
Can you put rice in a slow cooker?
You can cook rice in the slow cooker, but it will not have the fluffy, crumbly texture as when cooked in a pressure cooker or on the stove. While it will be extra delicious, it will have a creamier texture, like in a casserole.
Also, for the best results, I recommend using a 2 to 1 ratio, about 2 cups water to 1 cup rice. If you already have liquid in the slow cooker, take it into consideration when adding the rice.
How long does it take to cook rice in a crock pot?
No matter what kind of rice you are cooking, it will take approximately two to three hours on high in the crock pot. Brown rice and long grain rice can take a little longer than white rice but not enough to make a difference. This rice crock pot chicken recipe is the perfect example.
Is this chicken and rice crockpot recipe a healthy meal?
Chicken is one of the healthiest meats you can eat with lots of protein and vitamins and low fat. The rice can add some carbs but if you use long grain brown rice it is healthier. There are 500 calories per serving of this chicken and rice crock pot recipe and the carbs are 55 grams. It is also a good source of fiber, vitamin A, and vitamin C.
However, adding other ingredients can cause this dish to be healthier or less healthy, depending on what it is. For example, shredded cheese and cream of mushroom soup both add calcium but can also add fat and calories. Adding frozen peas and carrots can also increase the vitamins and minerals to your crock pot meal.
What is the difference between a crock pot and a slow cooker?
Crock Pot was actually a brand name of the first one that came on the market. It has a stoneware pot on the inside that is surrounded by a heating element. A slow cooker is usually a metal pot that sits on a heated surface.
How to store leftovers:
Store: After it cools to room temperature, store leftover crockpot chicken and rice recipe in an airtight container. You can refrigerate it for up to three days.
Freeze: It is also safe to freeze your crockpot chicken and rice for up to three months.
Thaw: Be sure to put your frozen leftovers in the fridge to defrost overnight before serving.
Reheat: To reheat, put the chicken and rice crock pot recipe in the microwave for about 90 seconds depending on how large the serving is.
More Crockpot chicken recipes to try:
Making a meal in the slow cooker is such a time-saver you will want to cook everything in there. It is so easy to just toss everything in the slow cooker and let it cook while you help the kids with their homework or kick back and watch TV.
Our Slow Cooker Chicken Tikka Masala is another family-friendly meal that everyone will love. In addition, our Slow Cooker Bourbon Chicken is a unique dish made with apple juice, sesame oil, and brown sugar.
Also, this Slow Cooker Chicken Tortilla Soup is packed with heat and full of protein. Alternatively, try our slow cooker chicken breasts with lemon and low sodium chicken broth for a simple start to any chicken meal.
Slow cooker teriyaki chicken with honey and soy sauce or slow cooker sesame chicken with sesame oil and toasted sesame seeds are also delicious chicken meals your family will love.
Cooking Tips:
If you do not have chicken broth, feel free to use chicken stock, beef broth, or vegetable broth instead.

The cook time is the same no matter what cut of chicken or meat you use for this chicken and rice recipe.
Long grain brown rice works best for this recipe due to the length of the cooking time and it is higher in protein and fiber than traditional white rice.

Although you do not have to brown the meat, it adds flavor and makes an extra juicy chicken.

You should always use the high setting on your slow cooker when making rice or any kind of grains or you will end up with mushy rice.

Use a slow cooker insert for easier cleanup.

Add more chicken broth if the mixture is too thick. You want it to be like creamy chicken soup so you can dip bread or chips in it.

Cook time will be shorter if you use instant brown rice or you can add the rice during the last half hour of cooking time.

If you like this slow cooker chicken and rice meal, be sure to print our recipe card so you can make it again.
Creamy Crockpot Chicken and Rice
Ingredients
2

tablespoons

olive oil

3-4

medium chicken breasts

skinless and boneless or bone-in chicken thighs

1 1/2

cup

long-grain brown rice

1

small onion

diced

3

cloves

garlic

minced

1

teaspoon

dried oregano

1

teaspoon

dried parsley flakes

1/4

teaspoon

salt and black pepper

1

teaspoon

dried basil

1/2

teaspoon

lemon zest

1

tablespoon

lemon juice

3

cups

chicken broth

low sodium

6

cloves

garlic

whole and browned

2

tablespoons

butter

unsalted
Instructions
Sear Chicken:
Season chicken liberally with salt and pepper on both sides.

Place a large skillet over high heat, add oil and once it's hot add the chicken and brown it on both sides for about 5 minutes.
Slow Cook:
Add the rest of the ingredients to the crockpot, stir to combine, and place the chicken on top.

Cook on HIGH for 2.5 to 3 hours. Check on the rice after 2.5 hours, and if it needs more time, stir and continue to cook.