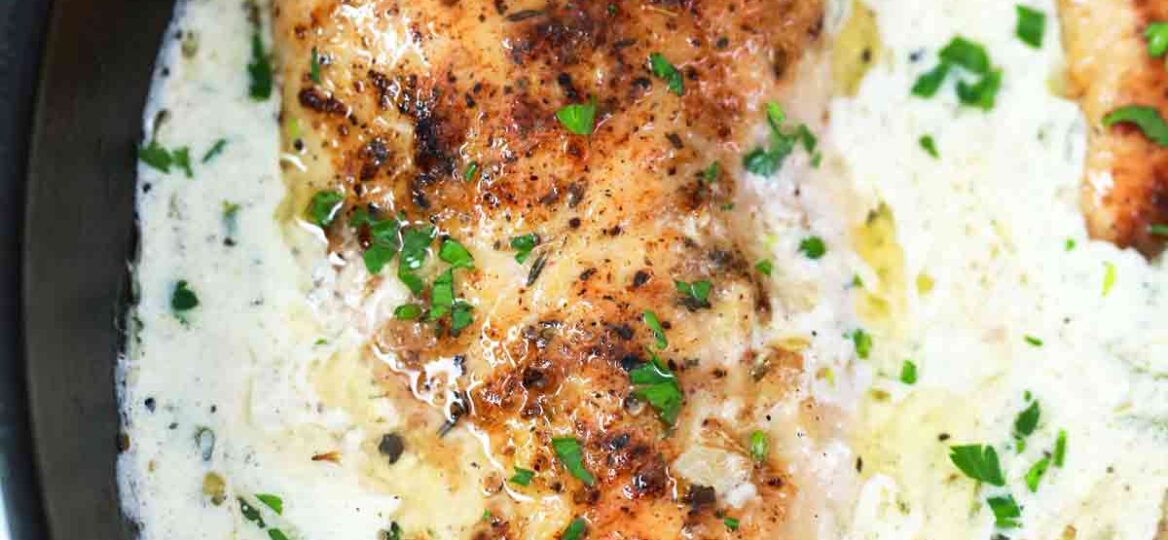 One Pan Creamy Parmesan Chicken [Video]
One Pan Creamy Parmesan Chicken is smothered in a rich and cheesy sauce with shallots, garlic, white wine, and herbs. Seriously easy to make, and tastes so comforting and delicious!
Any dish with the word "creamy" in it is always an instant hit in our house, just like our Creamy Tuscan Salmon, Creamy Scalloped Potatoes, and Creamy Turkey Casserole!
One Pan Creamy Parmesan Chicken with Spinach
One Pan Creamy Parmesan Chicken is one of our all-time favorite meals! It's wonderful and easy comfort food that even kids love— after all, who can resist pan-fried juicy chicken drowning in a cheesy and creamy sauce? On top of that, we also manage to sneak in some healthy veggies by adding fresh spinach at the end.
Furthermore, this is on regular rotation in our home because it's just so effortless to make. The entire dish comes together in one pan, and you can have it on the table in about 30 minutes.
Serve it on its own, or make it part of a bigger meal with pasta or mashed potatoes. Finally, we love how customizable this recipe is – check out our delicious recommendations later on!
Ingredients needed:
Chicken: We love using lean breast meat for this recipe because it balances out the rich sauce.
Seasonings: Prepare some flour for dredging, and measure paprika, Italian herbs, and onion powder plus salt and pepper.
Aromatics: Fresh, minced garlic and shallots build great flavor for our sauce.
Parmesan sauce: Finally, prepare some broth and white wine, spinach, heavy cream, plus fresh parmesan, more Italian herbs, and black pepper.
How to make One Pan Creamy Parmesan Chicken
Sear. Coat the breasts in the seasoning mix, lightly flour, and brown in hot oil and butter until golden and fully cooked. Set this aside.

Make the parmesan cream. In the same pan, add a splash of oil, then saute your shallots, followed by the garlic. After that, deglaze using the white wine and scrape off all the flavorful brown bits off the bottom. Next, pour the broth in before adding the cream. Let this simmer until slightly thick. Finally, season with parmesan, herbs, pepper, and add the spinach. Let simmer until the greens are wilted.
Finish. Nestle the browned breasts in the sauce and sprinkle with fresh, chopped parsley.
Serve. Enjoy hot with your favorite sides!
Recipe variations and substitutions:
Creamier: Stir in some cream cheese along with the heavy cream if you want a creamier, richer sauce. You can also use yogurt or sour cream.
Cheesier: Double the parmesan, and add other melting cheeses like cheddar, Pepper jack for a bit of kick, or feta, goat cheese, and gouda.
Spicy: Add cayenne, dried chili flakes, or your favorite hot sauce for heat.
Include more veggies: Sauté veggies like mushrooms, kale, broccoli florets, and asparagus, then add to the sauce for a health and flavor boost!
Beef: Use quick-cooking beef cuts like flank or skirt steak, and follow the recipe as is.
Pork: This will also work with thin cuts of pork steak, tenderloin, or boneless chops.
Thighs: If you love dark meat, feel free to swap the breasts with thigh cutlets instead.
Bacon: Sauté chopped bacon before the aromatics. Adds amazing flavor!
Sub for wine: The alcohol in the wine burns off after deglazing, but if you'd rather not use it, simply replace it with more broth.
Other seasonings: We love experimenting with different herbs and spices to change up the flavor of the dish. For instance, a bit of nutmeg really wakes up that creamy richness. You can also add a little lemon zest and juice, other herbs like basil and thyme, or try other seasonings like Old Bay.
Frequently Asked Questions:
What to serve with Parmesan Chicken?
It's a complete meal on its own, but it's terrific as part of a heartier meal. For instance, we enjoy it with pasta, brown rice, salads, and roasted vegetables. It's also lovely alongside these chunky mashed potatoes and air-fried baked sweet potatoes.
More tasty chicken recipes to try:
How to store leftovers?
Cool them first, then arrange the chicken in an air-tight container. Cover with any remaining sauce. Then, chill in the fridge for up to 3 days. You can easily reheat this in the microwave, or on a low stove fire.
You can also freeze this by cooling, transferring it to a Ziploc, then keeping frozen for up to a month. Defrost, then heat up in the microwave or gently over the stove.
Recipe tips:
After searing the chicken, don't clean the pan. There's so much flavor in those brown bits, and we want them to melt into the sauce!
You can use half and half for the sauce if you want it lighter.

For a cheesier taste, you can also add parmesan to the dredging flour.
Want to cook your meat faster? Pound them into thinner fillets before dredging and searing.
Deliciousness to your inbox
Enjoy weekly hand picked recipes and recommendations