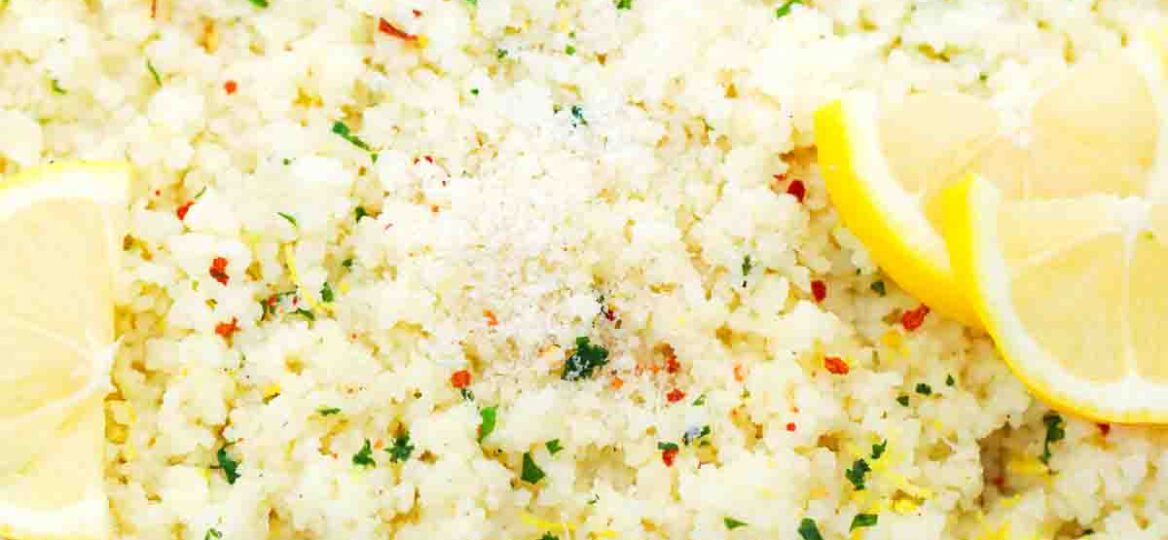 Fluffiest & Easiest Lemon Couscous Recipe
Lemon Couscous is a healthy and delicious side dish made with just a few ingredients and a simple and refreshing lemon dressing. You could even serve it as a main dish if you add some meat and veggies. The tiny pasta pieces are soft and fluffy with a little bit of chewiness and a tart flavor of lemon that goes great with anything. It is incredibly versatile like pasta but healthier.
Looking for other side dish recipes? This Mediterranean Couscous Salad made with sun-dried tomatoes, cucumbers, feta cheese, olives, cucumbers, bell peppers, and red wine vinegar goes great with just about anything you are serving. Or you could try this Pomegranate Orzo Salad with creamy feta cheese, arugula, orzo, pomegranate seeds, and candied pecans. Then toss it in our homemade balsamic vinaigrette.
Couscous is a tradition from the North African Berbers. In their native language, the name means well-formed or well-rolled. Back in those days, the couscous was rolled by hand, hence the name. However, others say that the name came from the French in the 1600s from the Arabic word kuskus, which means to pound.
For this easy lemon couscous recipe, all you need are a few ingredients including couscous, chicken broth, olive oil, lemon juice, parsley, and some spices. There are a few different kinds of couscous but this recipe works with any kind. You can make couscous to your liking and add whatever flavor you want.
For some other awesome side dish cuisine, try this creamy scalloped potatoes recipe. The creamy and cheesy potato side is baked in the oven to make it soft and gooey on the inside and crispy on the outside. For something a little different, our grilled eggplant with lemon aioli is outstanding.
Ingredients needed:
To make this delicious lemon couscous recipe, just gather the simple ingredients listed below. Then, when you are ready to cook couscous, scroll down to our handy recipe card with the instructions and measurements.
Couscous: Any type of couscous you like.

Chicken broth: We used low sodium for our couscous recipe.

Extra-virgin olive oil
Fresh lemon juice
Fresh parsley
Red pepper flakes
Kosher salt
Freshly ground black pepper
How to make lemon couscous from scratch?
Clean couscous: To begin, rinse your couscous under cold water in a sieve until the water runs clear.

Boil the broth: Then, add broth to a medium saucepan and bring to a boil over medium-high heat before you add couscous.

Remove from heat: After adding the couscous, cover the pot and remove it from the heat. Let it sit for 10 minutes and then fluff it with a fork.

Season and serve: Lastly, mix in the parsley, red pepper flakes, lemon juice, and oil. Season with salt and pepper before transferring it to a large bowl for serving.
Recipe variations:
Lemon zest: Add lemon zest to make your lemon couscous even more lemony.

Other broth: Feel free to use your favorite, such as beef or vegetable broth.

No broth: You can use boiling water instead of broth to cut calories and sodium.

Other herbs: Any kind of fresh herbs would be great in this like oregano, thyme, basil, and dill.

Other spices: Onion or garlic powder makes a nice addition to couscous as well.

Flavorful salad: Make a couscous salad by adding other veggies like spinach, tomatoes, bell peppers, and green onions.

Make it a meal: You could also turn this into a hearty meal by adding chopped chicken, pork, turkey, or beef.

Seafood couscous: Alternatively, use shrimp or crab meat for a seafood couscous recipe.
How to serve:
You can have this delicious couscous on your table in less than 15 minutes whether you are cooking it for a side dish or a meal. There are many different ways to serve it. We shared some of our serving suggestions here. You can share some of your ideas in the follow-up comments at the bottom of the page.
Sprinkle some chopped pine nuts or slivered almonds on top for some crunchiness.

One of my personal favorite dishes is this lemon couscous with chopped spinach, grape tomatoes, cheddar cheese, and a touch of salad dressing. Try it with our homemade Italian dressing.

Fill meal prep containers in single servings with this yummy lemon couscous to serve as a snack or side dish whenever you want it.
Top with flaked tuna or salmon for an amazing seafood salad that is incredibly healthy.
Use leftover lemon couscous in a stew, soup, or casserole.

Just about any sauce would work with this recipe like chipotle, horseradish, or teriyaki. We have a delicious recipe for teriyaki sauce you can make in minutes.
Frequently asked questions
What is couscous?
Also known as kuski or kuskus, couscous comes from North Africa and is made from tiny steamed and rolled durum wheat (semolina). It is considered to be pasta even though it is the size of rice. Couscous used to be rolled by hand but now it is all done by machines. They take the durum and coarsely ground it before tossing it into fine wheat flour until it turns into balls.
What are the different kinds of couscous?
You can typically find three different types of couscous at your grocery stores. Moroccan couscous is the tiniest and only takes a few minutes to cook. Israeli couscous (also known as pearl couscous) is slightly larger and looks like small pieces of pasta. This kind takes about 10 minutes to cook. The largest kind is Lebanese couscous (also known as Moghrabieh couscous), which is just a little larger and takes about 15 to 20 minutes to cook.
Is couscous healthy?
Yes, this is a very healthy dish. In fact, just one cup of couscous has more than half of your daily recommended intake of selenium, a strong antioxidant that fights inflammation and lowers cholesterol. It also has a great deal of protein, fiber, and other vitamins.
What are the nutrition facts in this recipe?
Each serving of lemon couscous has 240 calories, 8 grams fat, and 1 gram saturated fat. It also contains 350 mg sodium, 34 carbohydrates, and 1 gram sugar. It does not contain any cholesterol at all, and it also has 9 grams protein, 1 mg iron, 22 mg calcium, and 3 grams fiber.
How to store leftovers:
Store: You can store your leftover couscous in a zipper baggie or another kind of airtight container. It will keep fresh in the fridge for three to four days.

Freeze: Lemon couscous is also easy to freeze. Just put it in a freezer bag and squeeze out all the air before zipping. Then, to be safe, seal it in another freezer bag.

Thaw: Thaw out your frozen cooked couscous in the refrigerator overnight for best results.

Reheat: You can reheat it in the microwave for 30 to 45 seconds or heat it up in a skillet. It also makes a delicious salad when served cold with fresh veggies.
More side dishes you will love:
Cooking tips:
If you are not a fan of spicy food, you do not have to add red pepper flakes.

We used pearl couscous for this recipe. However, you can use any kind you want.

Instead of lemon juice, you could use the lemon extract for flavor.

Be sure to take the pot off the heat after you add the couscous and do not forget to cover it. Similar to an instant pot or rice cooker, you cook couscous with steam.

Worried about nutrition, calories, and fat? Use whole wheat couscous and replace the chicken broth with water. You can give it flavor with herbs and seasonings instead.

You only need half of a lemon for this recipe, but you can use the other half as a garnish.
Lemon Couscous
Ingredients
1

cup

couscous

1 1/2

cups

low-sodium chicken broth

or vegetable broth

2

tablespoons

extra-virgin olive oil

1

tablespoon

lemon juice

2

tablespoons

freshly chopped parsley

2

tablespoons

freshly chopped basil

optional

Kosher salt

to taste

Freshly ground black pepper

to taste

Pinch

red pepper flakes

optional and to taste
Instructions
In a rice colander rinse the couscous under cold water until water runs clear, and drain well.

Place a medium saucepan over medium heat, add the broth, and bring it to a boil.

Next, add couscous, stir, and then cover with a lid and remove from heat. Let it sit covered for 10 minutes. Then uncover and use a fork to fluff it up.

After that, stir in the olive oil, lemon juice, and fresh herbs. Season with salt, pepper, and red pepper flakes to taste.

If desired, sprinkle some freshly grated parmesan on top and serve.
Deliciousness to your inbox
Enjoy weekly hand picked recipes and recommendations