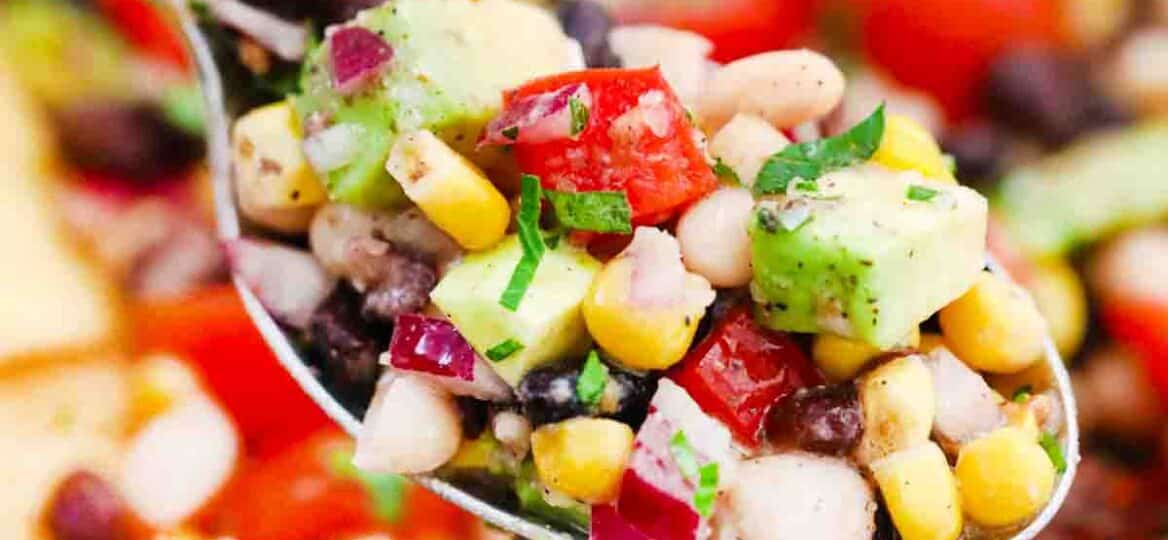 BEST Cowboy Caviar Recipe [Video]
Cowboy Caviar, also called Texas Caviar, is an easy but filling meal, full of crunchy veggies and beans, you can make in minutes with no cooking required. Just pour it all into a bowl and mix it up, then it is ready to serve! Although we think it tastes better after chilling for an hour, you can certainly eat it right away. Enjoy cowboy caviar as an appetizer or side dish with some kind of chips like tortilla chips for a hearty dip that fills like a meal.
If you enjoyed this side dish, you should try our Crack Corn Salad. All you need are the basics like corn, bacon, green onions, jalapeno, cheddar cheese, and our homemade ranch dressing. Another great cowboy meal is Short Ribs and Beans. Make it easily with pork or beef ribs, pinto beans, and a homemade sauce from tomato sauce, brown sugar, molasses, apple cider vinegar, and a few other fine ingredients.
Cowboy caviar was invented by Helen Corbitt in the 1950s when she worked as the chef and food director at Neiman Marcus in Texas. She called it pickled black-eyed peas and served it on New Year's Eve at a country club in Dallas. Corbitt wrote many cookbooks and was the very first woman to win the Golden Plate Award in 1969.
You can change this up to make your own unique cowboy caviar recipe by using different beans and other veggies or adding your own favorite ingredients. But we used avocado, bell peppers, corn, red onion, tomatoes, beans, black-eyed peas, and some spices for this cowboy caviar recipe. Take a look at our recipe FAQs below for more information.
Check out some of our other recipes for a salad like this sweet and savory pear salad made from candied pecans, greens, Bartlett pears, feta cheese, cranberries, and parmesan cheese. And this pomegranate salad is so easy to make with just a few ingredients including spinach, persimmons, avocados, pomegranate arils, and orange zest. Top with our vegan green dressing for a lemony garlic flavor with a bit of spiciness.
Follow us on Pinterest for more delicious recipes!
Ingredients needed:
To make this cowboy caviar recipe, all you need are the ingredients listed here. Then, when you are ready to begin, scroll down to our handy recipe card for the measurements and directions.
Avocados: Diced.
Red bell pepper: Finely diced.
Sweet corn
Red onion: Finely diced.
Cherry tomatoes: Cut in halves or quarters.
Black beans: Drained and rinsed.
Black-eyed peas: Drained and rinsed.
Minced garlic
Fresh cilantro: Finely chopped.
Cumin
Coriander
Sea salt
Black pepper
Dressing:
Lime juice
White wine vinegar
Honey
Mustard
Olive oil
How to make cowboy caviar from scratch?
Make the dressing: First, in a small bowl, whisk together all of the dressing ingredients until thoroughly mixed and set it aside.
Assemble the cowboy caviar: Next, mix up all the cowboy caviar ingredients except the avocado in a large bowl.
Add dressing: Then, pour on the dressing mixture and stir until it is evenly distributed. Add spices as needed.
Let it chill: Last, cover and chill for at least one hour in the refrigerator. This will allow the dressing flavors to soak into the ingredients.
Add avocados and serve: Finally, add the diced avocado, garnish with cilantro, and serve immediately with chips or whatever you like.
Recipe variations:
Other beans: You can substitute or add your favorites including northern beans, chickpeas, pinto beans, and kidney beans.
Different sizes of tomatoes: Substitute cherry tomatoes with grape, plum, or Roma tomatoes but chop them into small pieces.
Other onions: Similarly, feel free to use white, yellow, or green onion instead of or in addition to the red onion.
Any vinegar: Try this with other vinegar like white wine, apple cider, balsamic, or red wine vinegar.
Spicy cowboy caviar: Chop up some jalapeño pepper and add it to your ingredients for extra spiciness. Remember to remove the seeds and rinse them out or it will be super extra spicy.
Different heat: Another way to add some heat is to sprinkle in some cayenne or red pepper flakes, or chili powder.
Hearty dip: Add other fresh veggies like diced carrots, zucchini, spinach, broccoli, or peas to make this a hearty dip.
Add meat: To make this a meal, add your favorite meat like chicken, pork, beef, turkey, or even grilled fish.
Fresh herbs: You can also add your own favorite herbs and spices like smoked paprika, thyme, and basil.
How to serve:
Cowboy caviar makes a great dip for game day or any day! This delicious dish is a big hit with everyone. In fact, they will love this recipe so much, it is a good idea to make extra. You could also try one of these serving ideas. Share some of your own ideas in the comments section at the bottom of the page. We love to hear from you!
If you have guests that may not like the salad dressing, use a separate bowl for them to add if they want it.
You may also want to offer other dressings like Italian, Catalina, or this homemade ranch dressing.
Be sure to set out condiments with your cowboy caviar such as salsa, pico de Gallo, sour cream, and hot sauce.
Serve as a side with tacos, burritos, burgers, or whatever else you like.
Sprinkle some cilantro leaves on top for extra flavor.
Serve this simple dip on top of baked potatoes for an instant meal. You can use our easy air fryer baked potato recipe for this.
This works great with corn chips, pretzels, potato chips, cheese sticks, crackers, or crusty bread.
Frequently asked questions
Why do they call it cowboy caviar?
This yummy salad was first made in Texas, which is why it is also called Texas caviar. It was made with black-eyed peas to resemble the fish eggs in true caviar but tastes totally different and costs pennies instead of huge chunks of cash. Others say the name comes from the fact that it is easy for cowboys to make and eat while out on the range.
What other salad dressings go well with this salad?
As previously mentioned, Italian, Catalina, and ranch are three great choices. But we think this dish would go great with almost any dressing like caesar, thousand island, or Greek salad dressings as well as honey mustard sauce, chipotle, or bang bang sauce. For a sweeter flavor, try a simple mixture of honey and oil or water.
Is cowboy caviar the same as ceviche?
No, but it is similar. Ceviche is primarily made with raw seafood marinated in lime or lemon juice and then chopped into small pieces. Then it is served with veggies like carrots, jalapeño pepper, tomatoes, and onions with tabasco, cilantro, and mayonnaise. If you were to remove the fish and add bell peppers, beans, corn, and avocado, then it would be cowboy caviar.
What are the nutrition facts in this recipe?
These nutrition, calories, and vitamin numbers do not include the dipping ingredients and are based on a serving of 1/2 cup. This recipe makes 12 cups. Each serving has 230 calories, 32 grams carbs, 9 grams fat, and 1 gram saturated fat, 160 mg sodium, and 5 grams sugar. But on the other hand, it also contains 3 mg iron, 50 mg calcium, 23 mg vitamin C, 510 units vitamin A, 9 grams protein, 653 mg potassium, and 10 grams protein.
How to store leftovers:
Store: Refrigerate leftover cowboy caviar in an airtight container. It will stay fresh for up to a week.
Freeze: We do not recommend that you freeze cowboy caviar.
More salad recipes to try:
Recipe tips:
Dice the veggies about the same size for the best flavor and uniformity. It helps to get all the different flavors in each dip.
Cut down on prep time by using precut veggies. Or use your food processor or a high-speed blender to chop everything at once.
Instead of canned corn, you can use frozen corn or fresh corn.
Avocado or grapeseed oil will also work in this recipe.
Also, maple syrup or sugar can be used instead of honey.
If you do not have fresh garlic, you could use garlic powder.
Using canned beans instead of cooking your own dried beans saves you so much time, and your bean mixture will taste just as good as long as you get a quality brand.
Cowboy Caviar
Ingredients
15

oz

black beans

drained and rinsed

15

oz

black eyed peas

or cannellini beans for a creamier texture - drained and rinsed

1

pint

cherry tomatoes

halved

1

small red onion

finely diced

3

cloves

garlic

minced garlic

2

cups

canned sweet corn

drained - can also use fresh grilled corn

1

red bell pepper

finely diced

1/2

cup

fresh cilantro

finely chopped

1

teaspoon

cumin

1/4

teaspoon

coriander

Sea salt and ground black pepper

to taste

2

avocados
Honey mustard dressing:
1/4

cup

extra virgin olive oil

2

tablespoons

lime juice

1

tablespoon

apple cider vinegar

2

tablespoon

honey

or maple syrup

1

teaspoon

creamy mustard
Instructions
Honey mustard dressing:
Whisk together all the dressing ingredients in a small bowl until combined, and set aside.
Make the salad:
Chop and prep all the ingredients. Except for avocado.

After that, add all the salad ingredients to a large bowl, except for the avocado.

Pour the dressing over the salad and stir until well combined. Taste and adjust for salt and pepper.

Cover and chill in the refrigerator for at least 1 hour before serving.

When ready to serve, stir in the diced avocado, garnish with cilantro, and serve with corn chips!