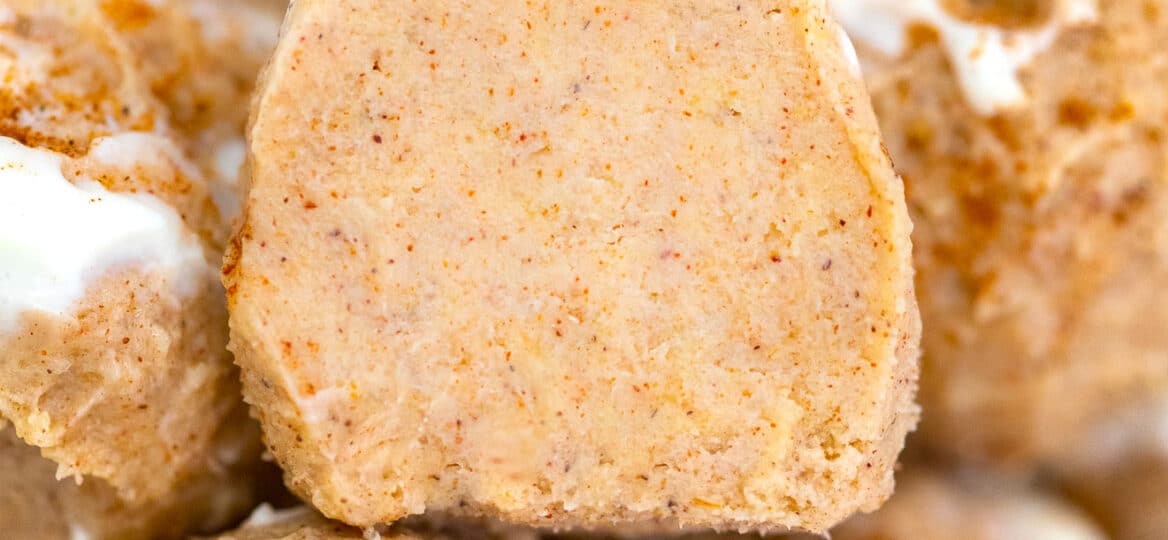 Keto Snickerdoodle Cheesecake Fat Bombs [Video]
Keto Snickerdoodle Cheesecake Fat Bombs are perfect for the holiday season! Even when you are on a strict diet, you will feel satisfied with these treats!
For more low-carb dishes that you can enjoy without guilt, check out my recipes for Bacon-wrapped Pork Loin, Baked Crack Chicken, and Italian Chicken Skewers!
Keto Snickerdoodle Cheesecake Fat Bombs
Keto Snickerdoodle Cheesecake Fat Bombs are primarily made with cream cheese and cinnamon – the snickerdoodle duo. It is undeniable that this flavor combination is so enticing, keto or not!
The star of this dessert, the cinnamon, is a keto-friendly spice. Not only is it flavorful, but it also has a lot of health benefits. You may want to look for the Ceylon cinnamon variety rather than the more common Cassia type.
The spice has a lot of antioxidants, cancer-fighting properties, anti-inflammatory properties, and many more. But an interesting fact is that it can even lower the amount of sugar in your blood.
So, if you are trying to avoid carbs and follow this diet, then, this recipe benefits you greatly. Eating food with cinnamon can help improve your condition by lessening the chances of sudden spikes of sugar level.
But, of course, you must seek your physician's approval about all these. And did I mention that this recipe is so easy to follow? There is no reason not to try this fat bomb recipe!
How to Make Keto Snickerdoodle Cheesecake Fat Bombs:
Combine: In a bowl, place all the ingredients and mix thoroughly. Make sure to use cream cheese and unsalted butter of room temperature. This is to ensure a smooth outcome.
Chill: Cover the bowl and place it in the fridge for about 30 minutes so that you will be able to handle it better later.
Shape: Take the mixture out and shape it into balls by scooping and then, rolling.
Serve: Make the frosting by mixing the frosting ingredients. Then, once set, you can take out the frozen fat bombs then, drizzle the frosting on top and sprinkle with cinnamon powder.
How many fat bombs can you eat on keto?
It depends on how many calories there are per piece, and yes, there could be a limit as to how many fat bombs you can eat. You should also consider the size of the actual pieces.
It is highly encouraged in this ketogenic diet that people be mindful of how much calories they are consuming, other than just avoiding carbs. Obtaining a good balance is still the best.
Can you eat cream cheese on keto?
Yes! Highly versatile for its creaminess and flavor, you can make spreads out of it. It is also a great candidate for baking goodies as well as making these fat bombs. It has very low carbs content while having high levels of fat and moderate protein. Definitely keto-friendly!
Other Keto desserts:
How to store and freeze them?
Refrigerate: Most fat bombs will last for about 2 weeks in the fridge. Make sure to put them in an airtight container.
Freezer: These frozen treats are best stored for about 3 months. Just make sure that they are packed well with parchment paper in between to prevent them from sticking.
Recipe Tips:
You may want to use silicone molds as they also freeze well.
Add more flavors by adding in strawberries or any berry, nut butter, or unsweetened cocoa powder.
Another version is to roll these into balls and then, roll into a powder mixture of cinnamon powder, a little bit of salt, and sugar substitute.
Feel free to make them into cubes or other fun shapes.