Instant Pot French Onion Soup [Video]
Instant Pot French Onion Soup is a restaurant-quality soup, with a savory flavor and sweet taste. It is loaded with caramelized onions, beef broth, and topped with gooey cheese, for the perfect finish!
We love making Instant Pot recipes because of their convenience, usually, they are done in a fraction of the time it would regularly take. Like the delicious Taco Soup and this hearty Pork Stew, this easy recipe will quickly become your go-to soup that the whole family loves.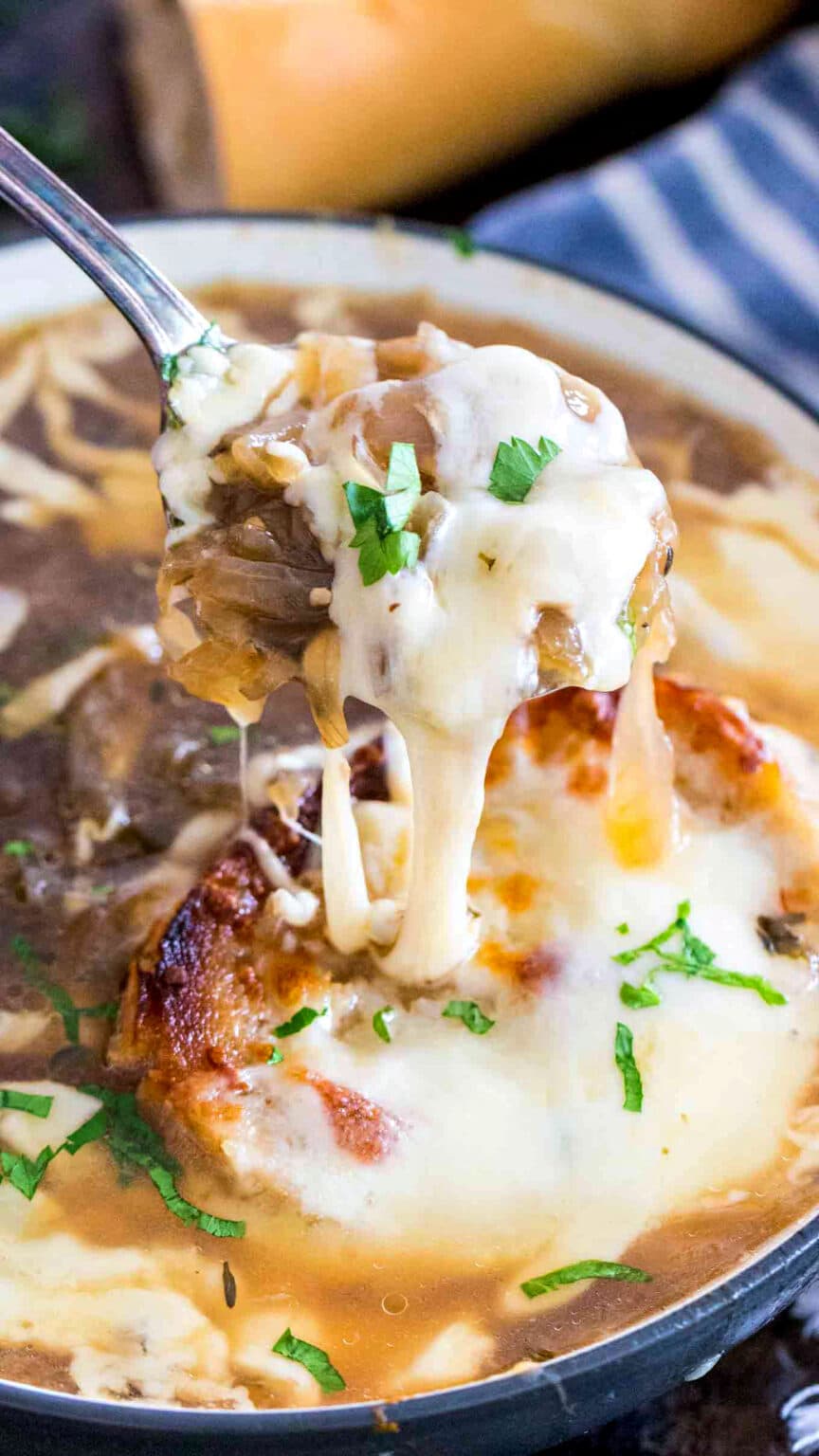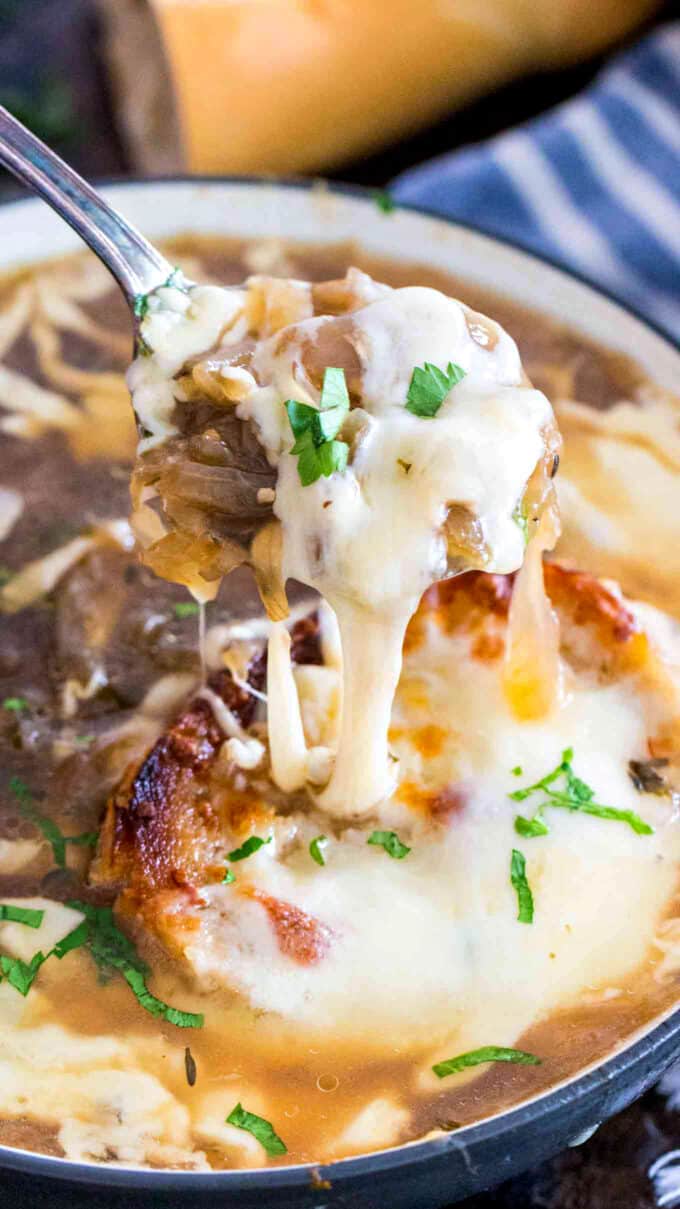 Onion Soup Recipe
Electric Pressure Cooker French Onion Soup recipe is absolutely delicious. Topped with a toasted french baguette and lots of melty cheese this is the best french onion soup you will have.
We absolutely love this recipe as it can make a great appetizer or main dish. Made with simple ingredients with and with the help of the instant pot you can enjoy a French meal from the comfort of your own kitchen.
Unlike many other soups done in the pressure cooker, this one requires some extra time and attention in caramelizing the onions.
After making this delicious recipe multiple times, we have come to the conclusion that for a perfect version of it, you will basically need to follow two important steps.
Step 1: Caramelizing the onions
This step takes some additional time to do in the Instant Pot. On average, it takes about 15-20 minutes to fully caramelize the onions. Hence, make sure to set time aside for the caramelizing part. Caramelizing is a process that occurs when sugar is added to the onions, and when they become brownish in color.
Step 2: Using high-quality beef broth
Since broth is the main ingredient here, make sure to use organic and high-quality broth. Your soup will only be as good as the stock you are using. The traditional French Onion Soup is made with beef broth, and this is what we have used here. So if you use boxed beef broth, taste it first!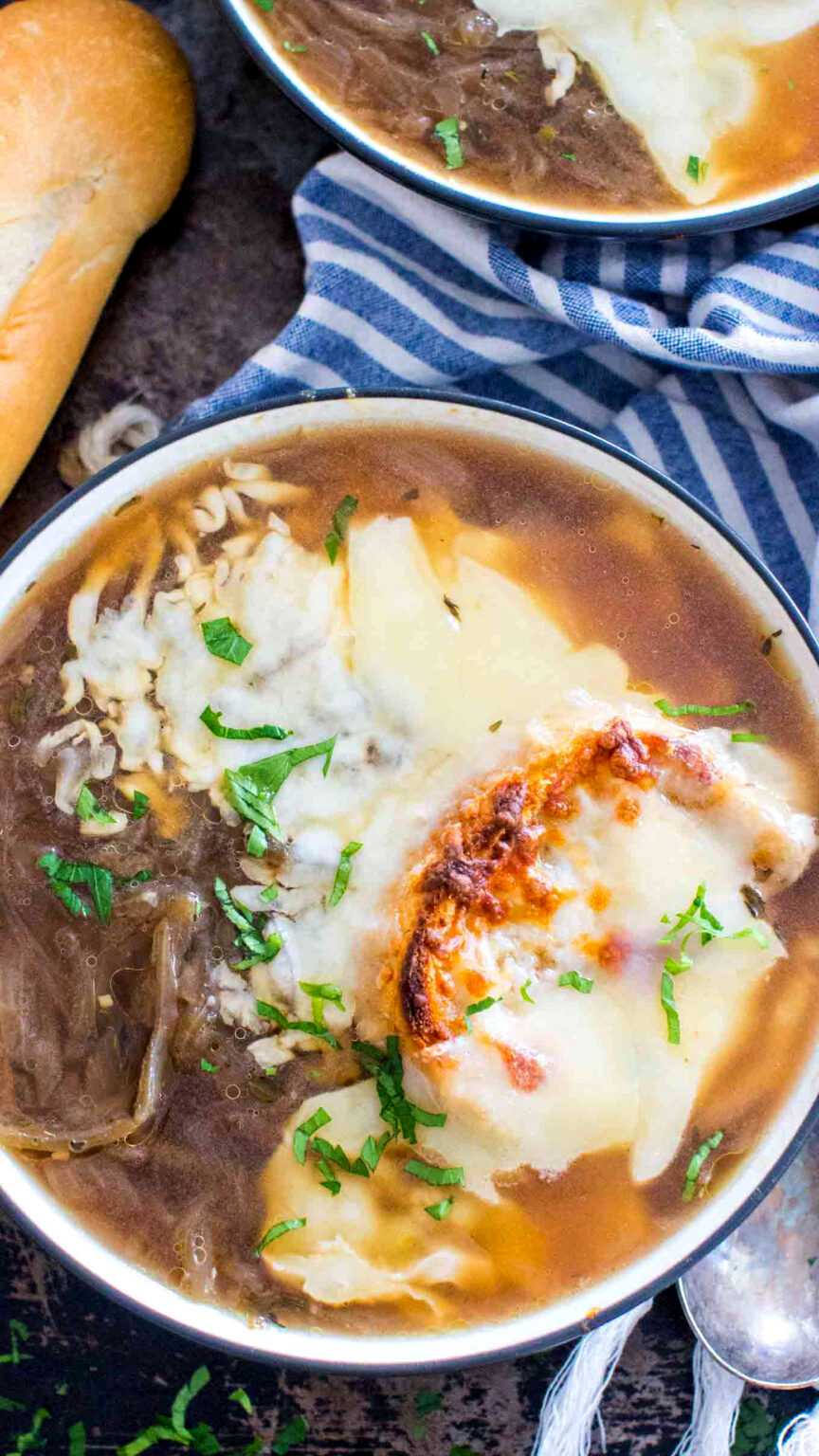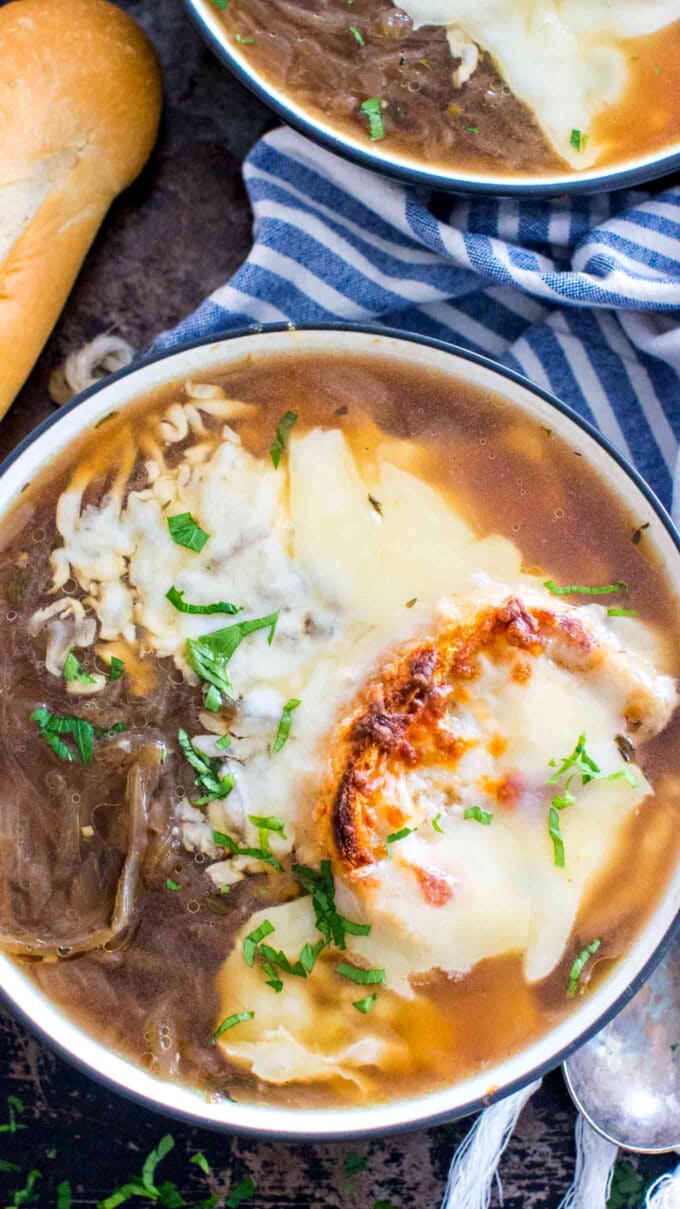 Ingredients Needed:
Onions: Use sweet onions, red onions, large yellow onions, or Vidalia onion.
Butter: Use high-quality unsalted butter.
Brown sugar: For that caramel color and sweet flavor.
Aromatics: For a savory deep flavor we use garlic and fresh thyme.
Worcestershire sauce
Broth: Use beef broth or beef stock.
Wine: Red wine for a more robust flavor, or white wine for a lighter version of classic French onion soup.
Seasonings: Salt and freshly ground black pepper.
Bread: Toasted French baguette slices, or homemade croutons. For a milder flavor use homemade chicken stock and vegetable broth for a vegetarian version of this comforting soup.
Cheese: We like to use melty Gruyere cheese, Swiss cheese.
How to make the perfect Instant Pot French Onion Soup:
Watch the recipe video tutorial attached. But the general steps are as follows:
Sauté function: First, select saute on your instant pot pressure cooker. When hot, add the butter to the bottom of the pot and melt it. Next, add sliced onions, and brown sugar, and sauté for about 15-20 minutes or until onions are golden brown and caramelized.
Add liquid: Next, add garlic, red wine, Worcestershire sauce, and the seasonings. Stir for 1-2 minutes. Then, add the beef broth.
Pressure cook: Finally, cover with the lid and seal the pressure cooker. Set to cook on high pressure for 20 minutes.
Natural Pressure Release: After the time is done, do a natural release for 15 minutes.
Quick pressure release: Then quick release the remaining pressure by opening the vent. Stir the delicious soup and add it to oven-safe bowls.
Crusty bread: First, add the bowls of soup onto a baking sheet or baking tray. Next, slice a loaf of french bread and arrange the pieces on top of the soup.
Cheese: Afterward, top the serving bowl with plenty of cheese.
Oven broiler: Finally, place in the oven for a few minutes to broil. Broil until cheese is melted, and has a golden brown color.
Serve: This delicious homemade soup is best served right away. Add some cheese on top, and use a fresh baguette for dipping.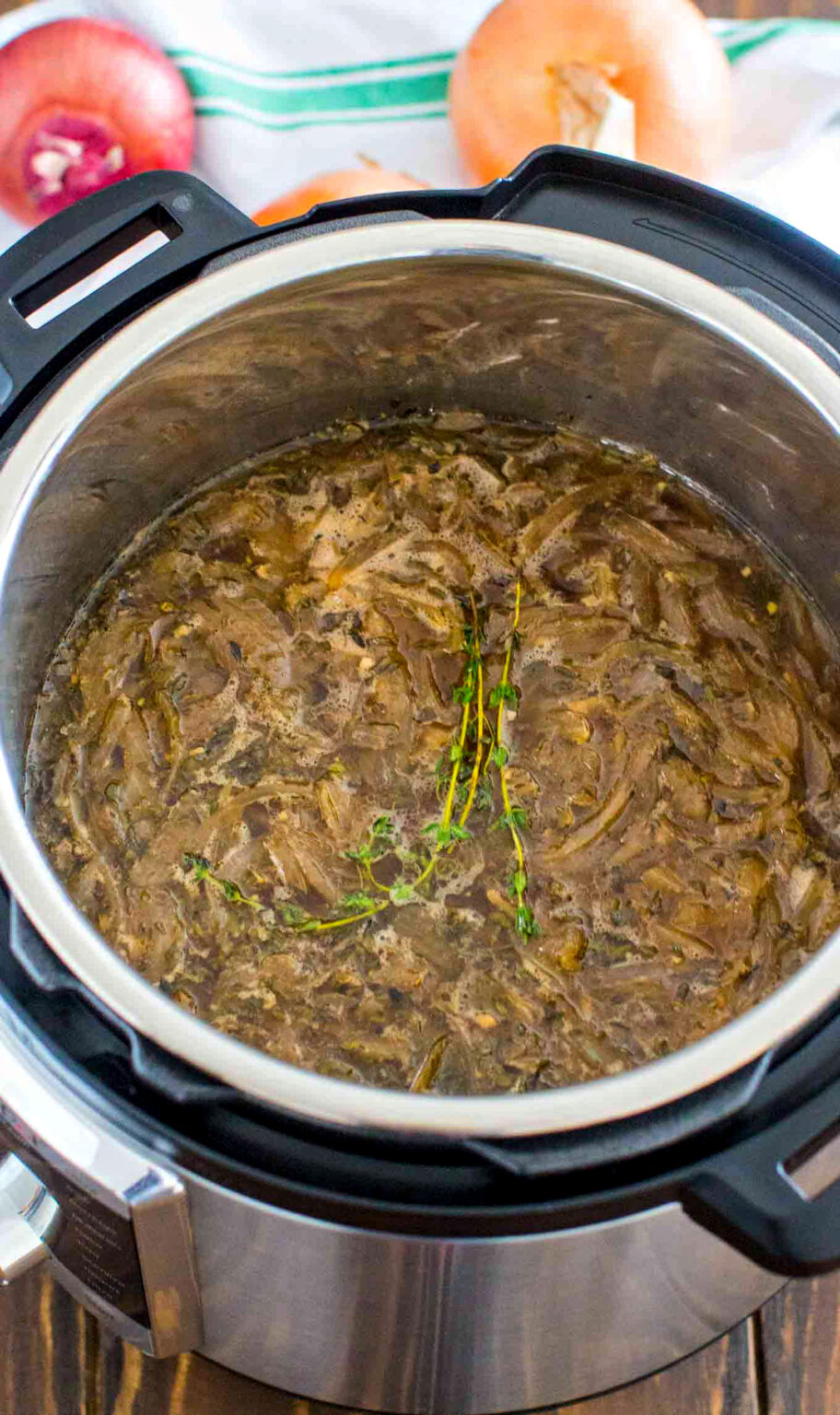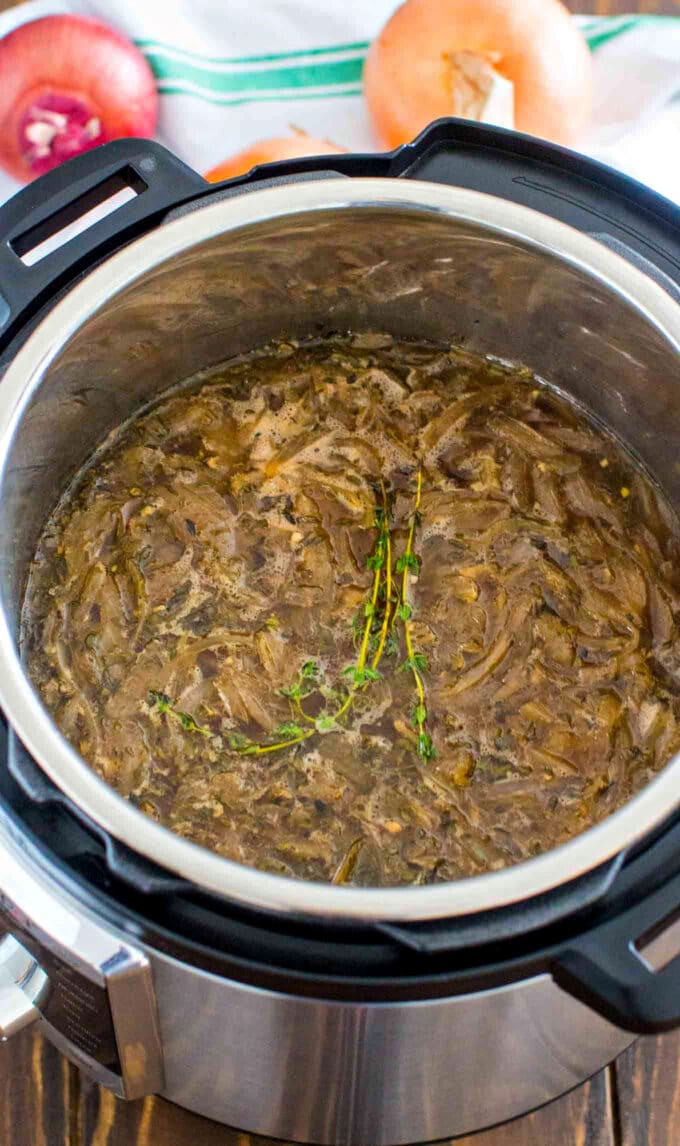 Recipe Variations:
Broth: The base of this soup is a high-quality broth. For a deeper flavor, you can even use Bone Beef Broth. Alternatively, you can substitute the beef broth with chicken or veggie broth.
Vegetarian soup: For a vegetarian version, use vegetable stock.
Cheese: Top the soup with your favorite cheeses. We have used Gruyère cheese, but a combination of provolone, Swiss, aged Beemster, or Parmesan will work just as well. As an option, to make it fancier top it with black truffle cheese and serve it with shaved black truffles.
Herbs: To make this flavorful soup even better, add some fresh chopped rosemary and oregano to it. Bay leaves are a great addition as well.
Beef: While not part of the classic soup, you can saute and add some beef ribs to it.
Slow Cooker version: After caramelizing the onions, add all the ingredients to the crockpot and cook on low for 8 hours or on high for 4-5.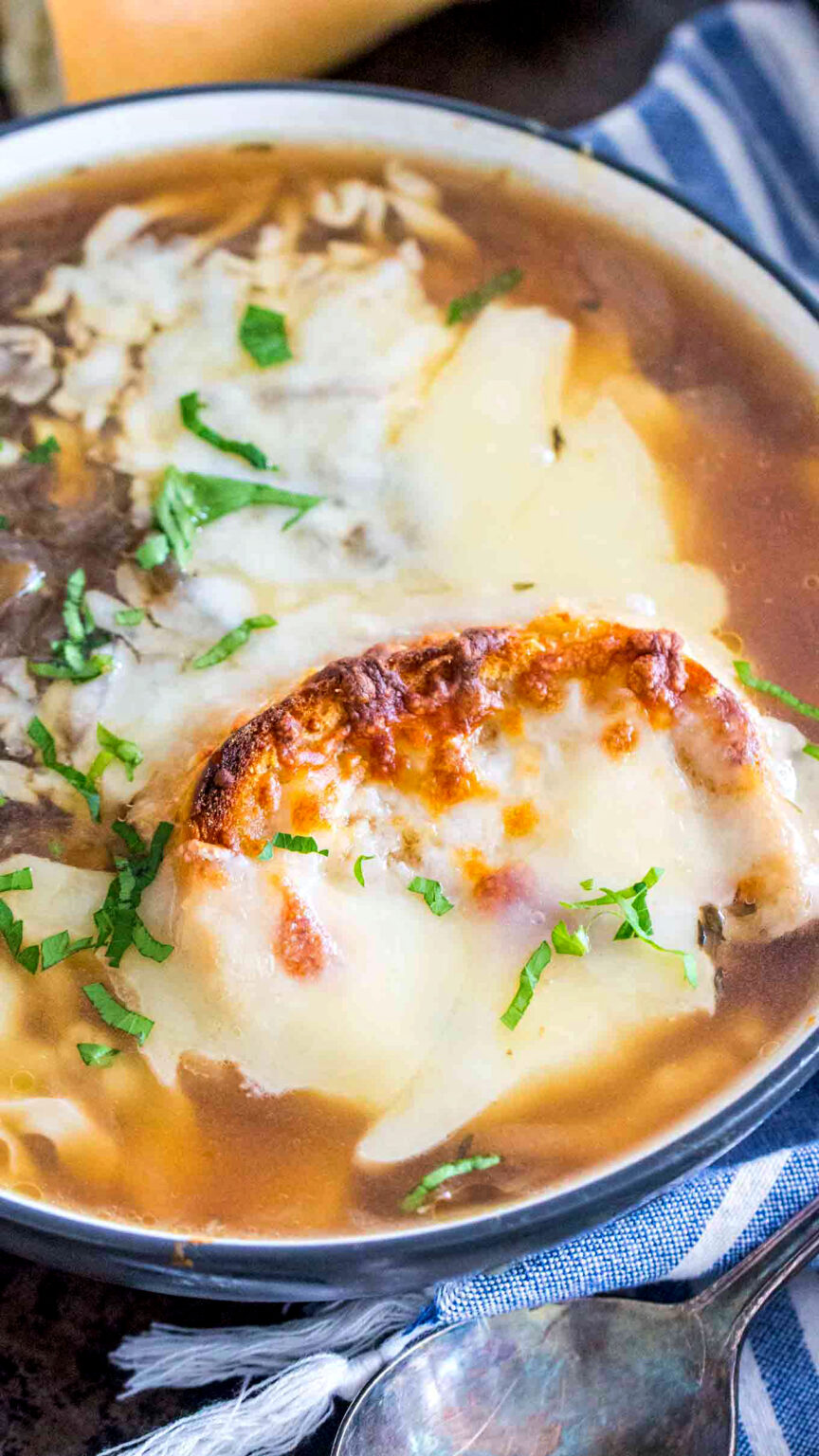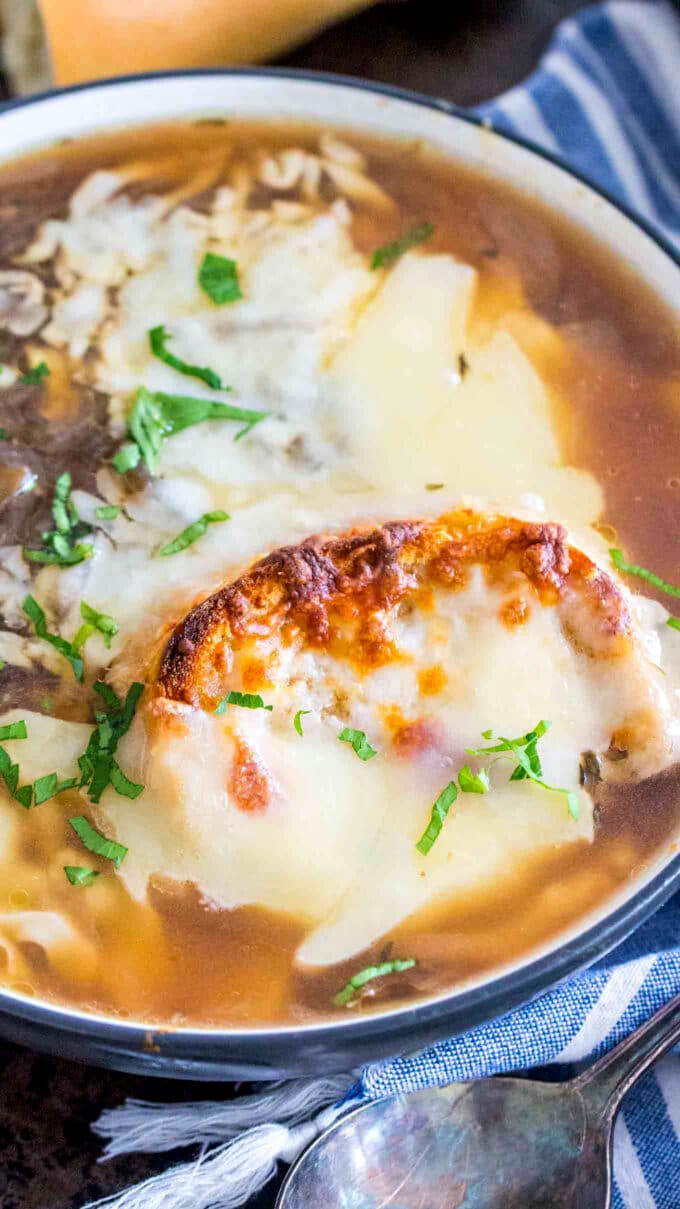 How to store leftovers:
Refrigerate: First, let the leftover fully cool, after that the Instant Pot French Onion Soup can be stored in an airtight container in the fridge for up to 5 days.
Freeze: As well let the leftovers cool first, next add them to a freezer bag, and lay them flat in the freezer. Freeze for 3 months.
Thaw: Either thaw the bag in the fridge overnight or place it in a large casserole under warm running water.
Reheat: Reheat the soup in a pot on the stove top, and pour the soup into ceramic bowls. To create the cheesy bread topping, arrange baguette slices on top of each bowl, and top with some shredded or sliced cheese. Then, place the soup bowls under the broiler for a few minutes until the cheese is bubbly and golden brown.
More Instant Pot Soups:
Cooking Tips:
First, one of the most important aspects of this restaurant-quality soup is to take the time to caramelize the onions. They need to be a deep caramel color as they release lots of flavors.
Make sure to taste and adjust for seasoning, also use more herbs for a richer and more complex taste.
Be careful when doing a quick release as the liquid may burst out.
Also, make sure to use a delicious broth!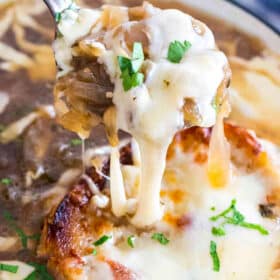 Ultimate Instant Pot French Onion Soup
Instant Pot French Onion Soup is a restaurant-quality soup, easily and comfortingly made at home. It is loaded with caramelized onions, beef broth, and topped with Gruyere cheese, for the perfect finish!
Save
Share
Print
Pin
Rate
Ingredients
5

medium size

onions

(peeled and thinly sliced)

4

tablespoons

unsalted butter

2

tablespoons

brown sugar

5

cloves

garlic minced

1

teaspoon

dry thyme

(optional)

1

tablespoon

Worcestershire sauce

1

cup

red wine

(or beef broth)

8

cups

beef broth

1/4

tsp

salt and pepper

(or to taste)
For serving:
6

baguette slices

2

cups

Gruyere cheese

(grated )
Instructions
Turn on the Instant Pot and Select Sauté mode on High. Once it reads HOT, add the butter, and stir with a wooden spoon, melt it.

Add sliced onions and brown sugar to the Instant Pot. Sauté for about 15-20 minutes or until onions are golden brown and caramelized. Stir occasionally.

Next, add minced garlic, thyme, red wine, Worcestershire sauce, and salt and pepper to taste. Stir for 1-2 minutes.

Then, add the beef broth. Make sure you do not go over the MAX line of the inner pot.

Seal pressure cooker lid and cook on high pressure for 20 minutes. This is followed by a 15 minutes Natural Pressure Release.

After the time is done, release the remaining pressure by allowing steam to vent, then remove the lid. Stir the soup.
Serving:
Turn on the oven broiler.

Before serving, top each serving bowl with a slice or two of French baguette and some sliced or shredded Gruyere cheese.

Place the bowl on a baking sheet and transfer it into the oven for few minutes to broil. Broil until cheese is melted, bubbly, and has a golden brown color.
Nutrition
Calories:
326
kcal
|
Carbohydrates:
6
g
|
Protein:
17
g
|
Fat:
22
g
|
Saturated Fat:
13
g
|
Cholesterol:
68
mg
|
Sodium:
1532
mg
|
Potassium:
291
mg
|
Fiber:
0
g
|
Sugar:
4
g
|
Vitamin A:
650
IU
|
Vitamin C:
1.4
mg
|
Calcium:
480
mg
|
Iron:
1
mg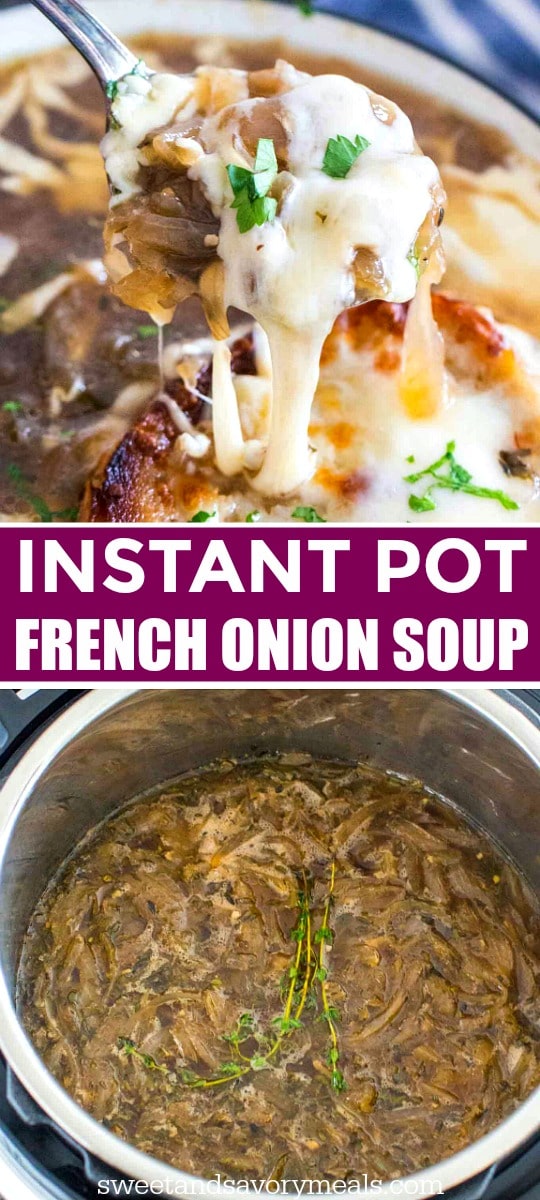 More recipes you might love