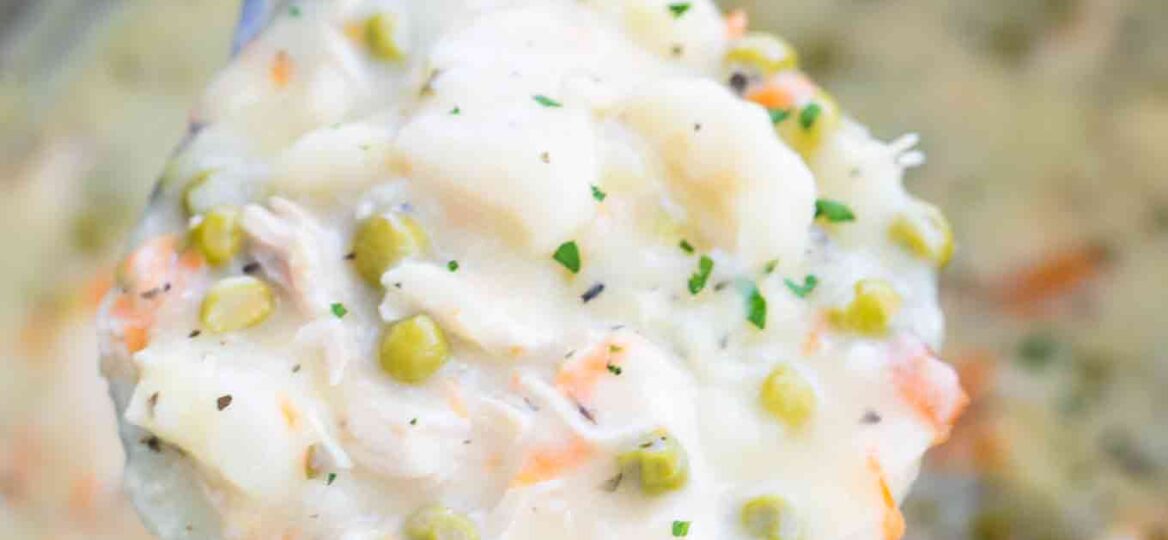 Instant Pot Chicken and Dumplings
Instant Pot Chicken and Dumplings is a delicious and comfort dish easily made in the pressure cooker. It tastes like a creamy chicken pot pie, made with tender chicken and buttery dumplings in a rich sauce. The perfect dinner for colder days which is ready in just about one hour.
When the time comes for hearty and quick meals, instant pot recipes are the best. This electric pressure cooker recipe was perfected many times over the years, and we are glad to share the best version of this yummy soup with you. Also, you can try our other favorites like Bacon Ranch Chicken and Dumplings, Chicken Noodle Soup, and Mongolian Chicken.
Instant Pot Chicken and Dumplings is another real comfort food favorite. Every time we have friends or guests over and we serve them this homemade meal, they rave about how delicious and flavorful it is. Usually, they think it is a very complicated and fancy dish to make, but it is honestly one of the easiest dinners to prepare.
The secret to this great recipe and family favorite meal comes from making the dumpling from scratch. This will take just a few additional minutes, but the dish will taste so much better! Of course, you can use a store-bought version, it will work fine. However, when we have time we always try to make it from scratch.
Those little homemade dough pieces swimming in a sea of chicken deliciousness are very satisfying. This easy recipe is perfect for colder days, it is a complete meal and can be served for lunch or dinner. Serve it as is, or with a piece of bread and salad on the side.
The whole family loved this recipe and asked for more!
Ingredients Needed:
Creamy Sauce:
Oil: Canola or olive oil.
Butter: Use unsalted butter.
Meat: Use boneless skinless chicken breasts or skinless chicken thighs, the dark meat gets very tender and adds extra flavor. Also, you can use rotisserie chicken, leftovers from cooking a whole chicken, or shredded chicken.
Veggies: Yellow onion, minced garlic, celery, shredded carrots, and sweet peas or frozen peas.
Herbs: Dried parsley, dried basil, red pepper flakes, salt, and ground black pepper. As an option, for extra flavor use fresh thyme and fresh rosemary.
Broth: Use low sodium chicken broth or chicken stock.
Dairy: Heavy cream or light cream, and sour cream.
Slurry: Also, to thicken the sauce we make a slurry by combining cornstarch and water.
For the Dumplings Recipe:
All-purpose flour
Baking powder
Salt
Melted butter
Buttermilk
How do you make Instant Pot Chicken and Dumplings recipe?
Brown the meat. We love browning the meat for a few minutes on each side. This enhances the flavor and gives it a nice texture. Simply add some oil to the Instant Pot, and using the sauté function, cook chicken for few minutes on each side.
Cook the veggies. Next, add the butter and melt it. Also, using a wooden spoon scrape well the bottom of the pot of any browned bits that stuck to it. After that, add the onion and garlic, followed by the carrots, celery, dried herbs, and seasoning. Stir and cook until softened, and add the peas and the broth.
Add the meat: Then add back the chicken to the mixture.
Pressure Cook: Finally, cover with the lid, point the valve into the sealing position, and pressure cook on high pressure for 7 minutes.
Natural Pressure Release: After that, do a natural release for 10 minutes.
Quick Release: After that do a quick pressure release by moving the valve into the venting position to release the remaining pressure.
Shred: Open the lid, transfer the chicken to a large bowl and shred it.
Dumpling Dough: Make your own dumplings by combing the ingredients in a medium bowl.
Add the dairy. After that, select again the sauté setting and add the cream and sour cream, stir to combine, and add back the chicken pieces.
Add the dumplings. Then, using an ice cream scoop, drop spoonfuls of dumpling dough, into the sauce. Cook the biscuits until ready to serve, stirring from time to time.
Cornstarch slurry: Also, if you prefer the sauce to be thicker, stir in the cornstarch slurry.
How do you make dumplings from scratch?
Making them from scratch is very simple. For this easy dumpling recipe, all you need is simple ingredients, which will result in a buttery, flavorful, creamy dinner.
Start by putting baking powder, flour, and some salt in a bowl.
Melt some butter and add it to the bowl. Using a fork stir mixture until it has a crumble-like texture.
Next, add some buttermilk to it and stir together to make a soft dough. That is it!
Once done, simply add the dough to the pressure cooker.
Recipe Variations:
Seasoning: For a more intense flavor add poultry seasoning, more fresh herbs, cajun seasoning, or ranch seasoning.
Veggies: Also, you can skip or add more veggies. We recommend sweet corn kernels, diced green bell pepper, and some spinach.
Spicy: As an alternative, make this dumpling soup spicier by adding some buffalo sauce to it.
Wine: Deglaze the pot with some white wine for extra flavor.
Stovetop version: Making this classic dish on the stovetop is also very easy. We have made it multiple times, and you can check the step-by-step easy Chicken and Dumplings recipe.
Crockpot version: As an alternative, make this comfort food in the slow cooker using this Crockpot Chicken and Dumplings recipe.
Which dumplings are the best?
You can use homemade dumplings made from scratch or store-bought canned biscuits. Both versions work fine, but for an authentic taste and look we usually make them from scratch.
However, if you are short on time, the refrigerated canned biscuits are just as fine.
What is "chicken and dumplings"?
This is a classic dish that is usually made of chicken cooked in water (or broth) and vegetables loaded with biscuit dumplings. It originated in the USA but is widely used throughout the world. Due to its thick texture, some call it a stew while others call it a soup. You can classify it as you wish, but the meal is super flavorful and delicious.
How to store leftovers:
Refrigerate: First, let it completely cool before refrigerating. Then, transfer the dish into an airtight container and refrigerate for up to 4 days.
Freeze: First, transfer the cooled chicken soup into an airtight container or freezer bag. After that, squeeze the bag and place it in the freezer for up to 3 months.
Thaw: When ready to consume, thaw in the fridge overnight.
Reheat: Reheat the leftovers on the stove or microwave.
More delicious Instant Pot recipes:
Cooking Tips:
If you are short on time, use refrigerated buttermilk biscuits as they work best for this recipe.
Also, feel free to add other spices to it, such as dried oregano, onion powder, garlic powder, to enhance the flavor.
To make your own stock, follow this recipe on how to make homemade chicken stock from scratch.