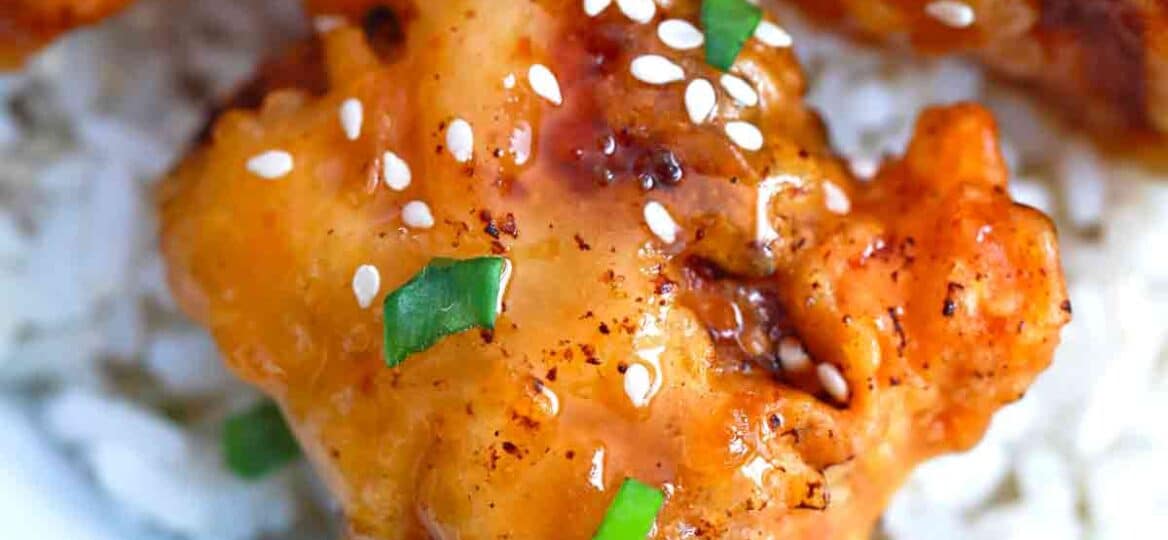 Honey Chicken Recipe [Video]
Honey Chicken is incredibly crispy and coated in a ginger-garlic honey glaze. It stays crunchy for hours, and that addicting sweet sauce is a huge crowd favorite!
For more Chinese fast food copycats, don't miss our Panda Express Beef and Broccoli, Sweet and Sour Shrimp, and Mongolian Beef!
Chinese Honey Chicken Recipe
Honey Chicken is insanely crispy with a delicious honey sauce that you won't be able to stop eating! If you've ever had this dish in a Chinese restaurant, prepare to be amazed by how close it tastes!
However, this dish is way better than anything you can get at a fast-food chain. For one, you can customize it by adjusting the sweetness level or making it spicy. It's much cheaper than eating out too, and you can make as much as you like! Serve over hot rice for the ultimate takeout-inspired comfort food!
What country is honey chicken from?
It's a Chinese restaurant favorite especially in popular chains like P.F. Chang's, but no one's sure if it's actually an authentic Chinese dish. One thing's for sure— these sweet and crispy bites are takeout heaven!
Is honey chicken the same as orange chicken?
They start out the same, with battered and fried breast/thigh chunks. However, the sauce is what sets them apart. Orange Chicken has an unmistakable citrus taste, and it's a little spicy thanks to the red pepper flakes. On the other hand, Honey Chicken is more on the sweeter side with hints of ginger and garlic.
What honey chicken is made of?
This dish has three main components. First, it has bite-sized chunks of the boneless thighs or breast meat. It also has a tempura batter that's deep-fried into puffy, ultra-crispy perfection. The last element is a sweet honey glaze that's balanced out with soy sauce and aromatics.
Is honey chicken authentic Chinese food?
Not really! It's more of a Chinese-American fast-food creation and a really popular entrée in Chinese restaurants.
How do you make a honey chicken from scratch?
Marinate the meat, then dust it. Soak the pieces of meat in the marinade for half an hour. Then, dust them very lightly with cornstarch.
Batter and deep-fry. Prep your oil by heating it to 350F. Meanwhile, combine the ingredients for the stay-crispy batter. Dip the pieces of meat until coated fully, then fry until very crispy, about 3 mins. Let them cool on a rack for about 20 mins.
Cook the honey glaze. Simmer all the sauce ingredients for about 3 mins., until it becomes thick, similar to maple syrup.
Finish the dish. Dump all the deep-fried chicken chunks into the glaze, and very quickly toss together.
Serve. Enjoy ASAP over rice, with a sprinkling of sesame seeds and chopped green onion if you like!
Recipe variations:
Spicy: Add some dried chili flakes into the glaze for heat.
Less sweet: If you like it more savory, add a little more soy sauce.
Shrimp: Use raw, shelled shrimp instead of chicken for a delicious seafood version!
Make it lighter: Skip the tempura coating. Dust with cornstarch and shallow fry, then toss in the sauce.
More Chinese Recipes:
How to make it very crispy?
First, coat the meat TWICE – first with the cornstarch dusting, then the batter. You can also double-fry it. Fry it for a minute first at 350F, then let it cool for a bit. Then, re-fry at 400F until crispy and golden.
What to serve with:
For a full Chinese feast, start things off with Egg Foo Young, crunch Egg Rolls, and Hot and Sour Soup. Then, enjoy your Honey Chicken with a side of Mixed Veggies, Egg Fried Rice (or plain white rice), and perhaps another delicious entrée on the savory side like Shanghai Angus Steak!
How to store leftovers?
As much as possible, we recommend finishing off the dish after making it. The batter coating is incredibly crispy, but it will eventually get soggy especially if it's stored too long in the fridge.
However, you can keep the cooled leftovers in a big container, but try to finish them within a day or two. Heat it up in the 400F oven for a few minutes.
How do you keep fried chicken crispy?
The best way to do that is to keep them on a cooling rack while you fry the rest. This way, they don't absorb more oil, which also gets to drip off the rack. You can also keep the fried pieces warm in a low oven.
How to freeze:
If you plan to freeze these, we suggest storing them separately. Flash-freeze the crispy meat on a baking sheet before transferring it to a freezer bag. For the sauce, simply pour it into a bag or small container. When ready to serve, heat up the meat in a 400F oven, microwave the sauce until hot, and toss.
Recipe tips:
You need really COLD seltzer water or club soda for the batter for maximum crispness.
Don't overmix the batter; it's okay if there are still a few small lumps left.
Fry in batches to keep the oil consistently hot.
Toss in the sauce IMMEDIATELY, because it will thicken as it gets cold.
Deliciousness to your inbox
Enjoy weekly hand picked recipes and recommendations