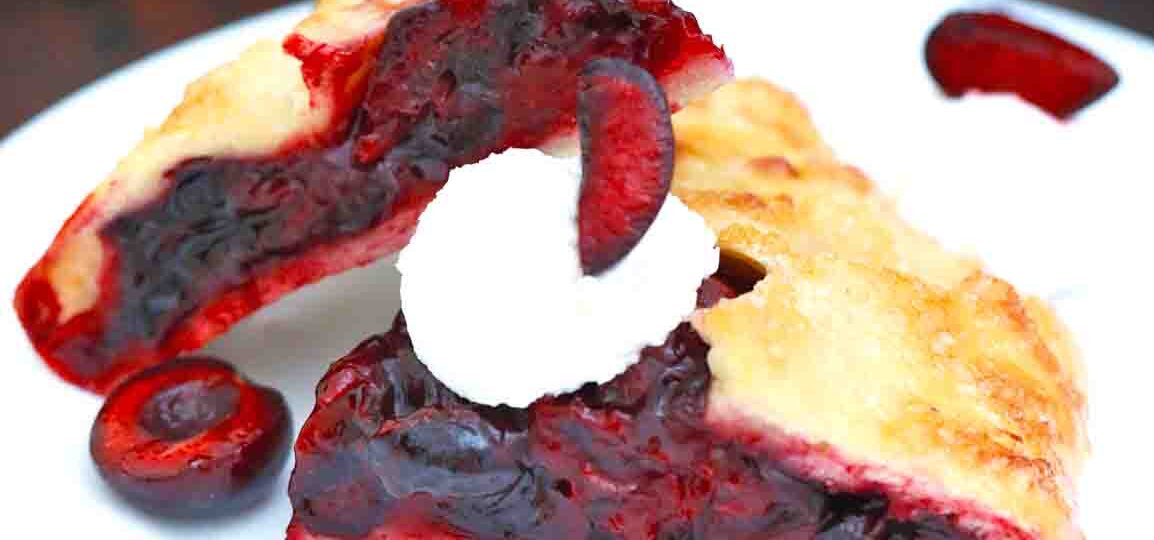 Cherry Galette Recipe [Video]
Cherry Galette is a very easy and non-pretentious dessert made with a delicious and flaky pastry filled with sweet cherries. It is like a cross between a pie and a tart, with the sides of the crust being folded over and just a portion of the cherry filling showing. The sugary crust is amazing too. The whole family will love this dessert.
If you enjoyed this recipe, you will love our Maraschino Cherry Pie made from mascarpone cheese, Maraschino cherries, and cool whip with a graham cracker crust. Another scrumptious fruit pie to try is this Creamy Strawberry Pie with sour cream, brown sugar, and fresh strawberries.
The word galette is French and actually means flat cake in English. Others describe it as a flat round sweet or savory cake with crust. It was first noted in France in the 14th century, however, there is evidence that this delicious pastry started out as a crepe in Ancient Rome.
The fruit variety is the most popular although the cheese and egg galette is also delicious. But if you love cherries, try this recipe first. If you like cherry pie, you will love this recipe.
With just a handful of ingredients, you can have this delicious pastry on the table in minutes. Top it with a scoop of vanilla ice cream and add a fresh cherry on top. You can use sweet cherries or sour cherries, whichever you prefer. It is the best cherry galette you have ever tasted no matter what.
Are you looking for more cherry recipes? Try our cherry cream cheese coffee cake made from sour cream cake, cream cheese filling, and a sweet crumb topping. Our decadent cherry bars are also a great dessert cuisine recipe made with fresh cherries and a vanilla glaze.
For breakfast, our Lemon Cherry Cheese Danish is divine with cherry pie filling, cream cheese, and fresh lemon zest in crescent dough.
Follow us on Pinterest for more delicious recipes!
Ingredients needed:
These are the main ingredients for this delicious recipe. For the directions and precise measurements, scroll down to the bottom of the page and use our handy printable recipe card.
Fresh sweet cherries: Pitted and cut in half with stems removed.

Egg: At room temperature.
Water: To mix with egg for egg wash.

White sugar: Granulated sugar.
Brown sugar: Light or dark, divided.
12-inch round pie dough: Chilled.
Flour: All-purpose flour.
Lemon zest
Lemon juice
Almond extract
Corn starch
Salt
How to make cherry galette from scratch?
Preheat: First, preheat the oven to 375 degrees F and line a baking sheet with parchment paper.
Mash the cherries: Next, combine fresh cherries, 1/3 cup of brown sugar, all-purpose flour, lemon zest and juice, almond extract, and salt in a medium bowl. Mash the mixture with a potato masher or a heavy glass and set aside.

Prepare: Then, place your chilled pie crust dough and lay it on the parchment-lined baking sheet or sheet pan. Spoon cherry mixture into the center of the dough, leaving about two inches all the way around the edges.

Finish: After, fold the edges of the pie crust over the cherry filling about halfway, letting it overlap, and making pleats in the dough. Brush the top of the dough with egg wash using a pastry brush and sprinkle with one tablespoon of white and brown sugar. Especially the crust.

Bake the galette: Last, bake for about 40 to 45 minutes or until the crust is golden brown and the cherry pie filling is heated through. Move it to a rack to cool slightly before slicing.

Serve your cherry galette: Finally, serve with vanilla ice cream. Vanilla bean ice cream is really delicious.
How to make air fryer cherry galette:
Mix the cherry filling: To begin, mix the fresh cherries, with the lemon juice and zest, 1/3 cup of brown sugar, and flour in a large bowl. Mash with a heavy glass or potato masher.

Preheat the air fryer: Meanwhile, preheat your air fryer to 350 degrees F while you prepare the galette.

Roll out the dough: After, roll out your pie crust dough with a rolling pin on your parchment-lined baking sheet and spoon the cherry mixture into the middle. Leave about two inches around the edges for folding.

Fold the edges: Next, fold over the edges of the dough, overlapping and pinching into pleats. Brush with egg wash and sprinkle with sugar.

Air fry the galette: Lastly, place the galette carefully in the air fryer basket and cook for 15 minutes. Check for doneness and if it is still doughy, cook for another five minutes, checking after two minutes.

Serve the galette: After the cherry pie cools on a wire rack for about 20 minutes, slice and serve warm with a dollop of ice cream on top. Vanilla bean ice cream is our favorite.
Recipe variations:
Sweet cherries: Rainier cherries are perfect for this recipe because they are so sweet. However, bing cherries are a great choice too.
Sour cherries: This cherry galette would also be fantastic with sour cherries. Montmorency tart cherries are perfect.

Kirsch: Add a bit of cherry liquor to the filling for a bold rich taste.

Frozen cherries: If it is not cherry season in your neighborhood, you can use frozen cherries. Do not thaw them out first. Just use them frozen.
Cherry filling: Another choice is to use cherry pie filling. If you do that, you can skip all the other ingredients except for the pie crust and egg wash.

Turbinado sugar: If you have turbinado sugar, use it for the crust instead. It has a slight molasses or caramel flavor you cannot get with granulated sugar.

Pie dough: Feel free to make your own pie crust. If you do not have a recipe for homemade pie crust, try our Amish pie crust recipe.
Favorite fruits: If you cannot find cherries or just don't like them, try this recipe with fresh strawberries, blueberries, or blackberries instead.
How to serve:
Serve warm with a scoop of vanilla ice cream. This delicious dessert is a great snack or even a breakfast dish. Try one of these fun serving suggestions:
Add a handful of rainbow sprinkles for a festive look.
Instead of vanilla ice cream, you can use our homemade no-churn cherry ice cream on top.

Chocolate chips would also be a scrumptious topping.
Use leftovers to make fruit crisp or cobbler.
Place one sweet cherry on top of the ice cream as a garnish.

For a lighter dessert, use our homemade whipped cream instead of vanilla ice cream.
Frequently asked questions
What is the difference between a pie, tart, and a galette?
Tarts are sophisticated, pies are homey, and a galette is somewhere in the middle. Tarts only have a bottom crust, and it is a lot thicker than pie or galette crust. A traditional pie is typically covered on top and bottom with dough. A galette is a free form flattened pie dough that you fold halfway over the filling.
How can I keep my galette from getting soggy?
You do not want to start with dough that is too moist, first of all. Then, we use corn starch to keep it from getting too juicy. Another tip is to dust the dough with breadcrumbs or semolina flour before you add the filling. This will keep your crust crispy and firm and you can add all the cherries you want.
What are the different kinds of galettes?
The most common is the galette des Rois, which is what this recipe is for. Another is the galette complete, sometimes referred to as a bisontine pancake. It is made from buckwheat crepe filled with savory ingredients like veggies, meats, and cheeses.
The galette comtoise is a type of king cake made with choux pastry and orange blossom water.
What are the nutrition facts for this recipe?
With all the fruit and no preservatives, this cherry galette has a lot of vitamins with very little fat and calories. Each serving has 250 calories, 16 grams of sugar, 35 grams of carbs, and 58 milligrams of cholesterol. But you also get 14 milligrams of calcium, 40 milligrams of vitamin C, and 107 units of vitamin A.
How to store leftovers:
Store: This delicious pastry can be stored at room temp for several days covered with plastic wrap and an airtight container. Or in the fridge for up to a week.

Freeze: For longer storage, wrap it in parchment or plastic wrap, then in aluminum foil, and put it into a freezer bag. Be sure to eat it within three months.

Thaw: Remember to let it thaw out in the fridge overnight before serving.
Reheat: This dish tastes good chilled but you can reheat it at 350 degrees F for 15 minutes in the stove or 10 minutes in the air fryer.
More pie recipes:
Making galette tips:
If you use sour cherries, omit the lemon zest and juice.

If you do make your own pie crusts, be sure to use cold butter for a flakier crust. Unsalted butter is best.
Use a food processor to chop the cherries if you want them to be more like a puree'.

Using chilled dough is fine but make sure the dough rests for 15 to 20 minutes so it easier to work with. Otherwise, it may crack or tear when you try to fold it over.

If you plan to serve this as a dessert for dinner, go ahead and put it in the oven while you eat. Then it will be warm and ready when everyone is done eating.

Another name for the galette is crostata. They are the same recipe, but the crostata is Italian instead of French.
Cherry Galette
Ingredients
12-

inch

round pie dough

chilled

4 1/3

cups

sweet cherries

stemmed, pitted and halved

1/3

cup

+ 1 tablespoon brown sugar

divided

1

tablespoon

white sugar

2

tablespoons

all-purpose flour

1

tablespoon

cornstarch

1

tablespoon

lemon juice

1

teaspoon

lemon zest

1/2

teaspoon

almond extract

1/4

teaspoon

salt

1

egg

1

tablespoon

water
Instructions
Preheat the oven to 375 degrees F.

Line a baking sheet with baking parchment and set it aside.

In a bowl, combine the cherries with 1/3 cup brown sugar, flour, lemon juice, zest, almond extract, and salt. Using a potato masher mash the mixture a few times. Set it aside.

Place the round chilled pie dough on the prepared baking sheet.

Add the cherry filling onto the center of the dough, leaving a 2-inch border around the edges. Try to distribute it in an even layer for uniform cooking.

Fold the edge up and over the cherry filling, overlapping and creating pleats around the edge.

Beat the egg with the water and brush the dough with the egg wash.

Sprinkle the top of the galette and the crust edge with 1 tablespoon of brown sugar and 1 tablespoon of white sugar.

Bake in the preheated oven for about 40-50 minutes, or until the crust is golden brown and done on the bottom. Transfer to a wire rack to cool for a few minutes before slicing.

Serve with vanilla ice cream.