Best Homemade Alfredo Sauce [Video]
Homemade Alfredo Sauce is a super easy recipe to make from scratch that is rich, creamy, and packed with garlic parmesan flavors. It is one of the best dishes you can make that goes perfectly with your favorite pasta or pizza! Check out this homemade recipe step by step video below.
A delicious homemade sauce will go a long way on many dishes. It is our favorite sauce to use because it is so easy to make with few simple ingredients, and is always rich and flavorful. Once you try this recipe, you will never go back to the store-bought jar bottled version. Whether you use it in Tuscan Chicken Pasta, Fettuccini Pasta, or Creamy Chicken Mushroom Casserole, we believe this is the best sauce out there!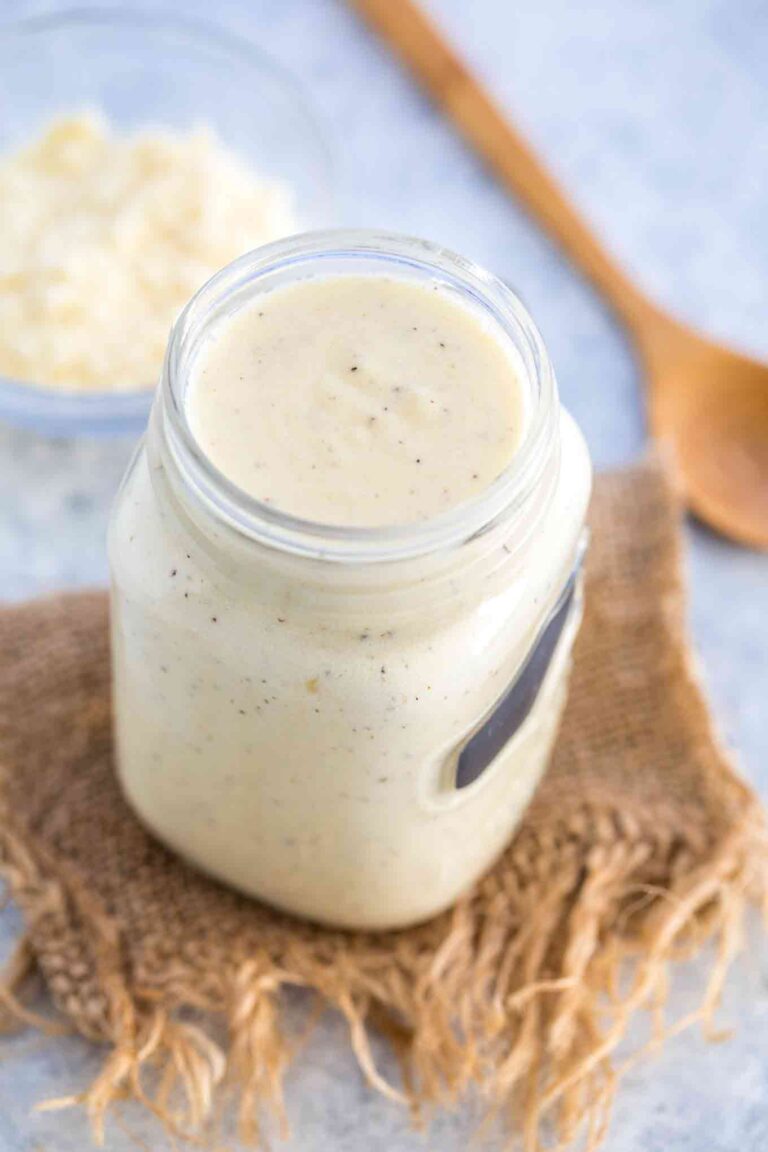 As a kid, I would always go to Olive Garden and enjoy this amazing sauce with a large bowl of fettuccini pasta. It always brings me the best memories and joy. There is no other sauce that tastes better than this homemade alfredo sauce. It is truly one of a kind dish, that can be used on anything!
Firstly, it is very easy to make it with just a handful of ingredients, and ready in 5-10 minutes. Also, this recipe is a true indulgence for various meals and is always welcomed for dinner. We love to make it once a week, and then store it in the fridge for later use. Our whole family loves it, so we make sure we have plenty to go with a big bowl of pasta or pizza.
Using fresh ingredients is the key here. Freshly minced garlic, cream, and parmesan are the perfect combinations. When combined, they yield a thick and creamy sauce with flavors that is out of this world!
This recipe will yield about two cups, but you can easily double the ingredients for larger portions.
This is one of those simple yet comfortable meals that the whole family enjoys. You can conveniently have a restaurant-quality dish easily and quickly made in your own kitchen. Once you try it, it will become your most popular sauce and favorite recipe!
Ingredients for Homemade Alfredo Sauce:
Butter: you can use unsalted or salted butter. Just make sure to use less salt if salted butter is used.
Heavy cream: this adds that rich and creamy flavor and texture to it.
Cream cheese: it thickens the sauce and adds extra flavor.
Garlic: freshly minced garlic is a must here.
Seasoning: Italian seasoning, salt, and black pepper.
Parmesan cheese: using high-quality grated parmesan cheese is the best way to go here. Try to avoid pre-shredded cheese as it will create a grainy texture when heated.
Nutmeg: an optional ingredient, but it adds a nice touch of flavor to it as well.
How to Make Homemade & Easy Alfredo Sauce?
The traditional/classic way requires some simple ingredients and only a few steps. Also, please watch the quick video attached.
Whisk the dairy ingredients: The first step would be to melt butter and cream in a large saucepan over low to medium heat. Let it simmer for 1-2 minutes and whisk while cooking.
Add garlic: Next, add the minced garlic and whisk for about 30 seconds. This adds quite a lot of flavor and aromas, so I highly recommend using freshly minced garlic. Then, add the seasonings and continue to whisk the mixture for another 1 or 2 minutes. Another option is to brown the minced garlic in butter first, for a deeper flavor.
Add the cheese: Add grated parmesan cheese and stir until the cheese has melted. It is that simple.
Let it thicken: Lastly, bring it to simmer and continue whisking for about 2-4 minutes. The sauce will thicken.
Serve: Toss it with your favorite pasta or pizza.
Recipe Variations:
Greek yogurt: Swap the heavy cream with Greek yogurt, sour cream, or half and half.
Spices: I love using my homemade Italian seasoning here because it adds a lot of flavors and aromas. However, you can also incorporate other spices, such as paprika, cajun seasoning, or ranch seasoning.
Other cheeses: While good quality, shredded parmesan cheese works the best here, you can also substitute it with Asiago, Romano cheese, or even mozzarella cheese.
Instant Pot Version: Another great option would be making it in the Instant Pot along with Fettucine pasta. This is a quick, rich, and creamy dinner for the whole family to enjoy.
Add meats: For more proteins, add some grilled chicken, shredded chicken, ground beef, or shrimp to the pasta.
Spicy: For a spicier take, feel free to add some red pepper chili flakes.
Make it gluten-free. For those looking to make it gluten-free, simply ensure to use gluten-free pasta.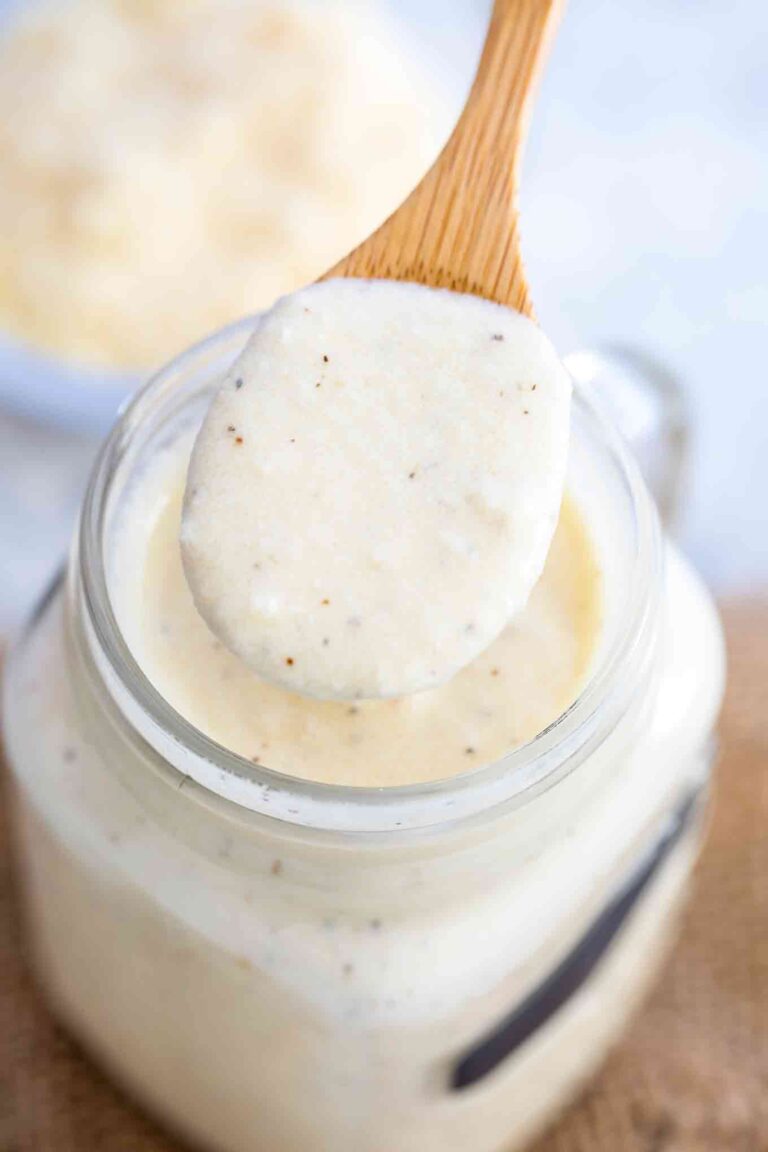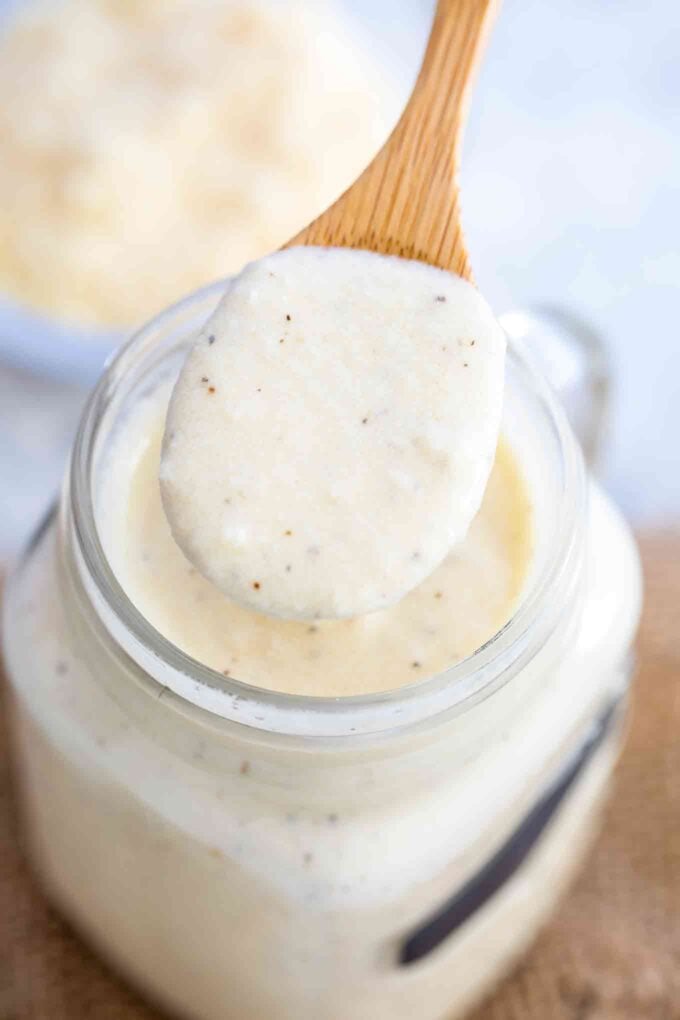 Frequently asked questions:
What is Alfredo Sauce?
The dish originated from Italy which is usually made of butter, heavy cream, and shredded parmesan cheese. Due to its flavor and popularity, this is one of the most ordered and used sauces everywhere.
Also, it is easily modifiable as you can add to it various flavors, such as garlic, pepper, or seasoning of choice.
How to make fettuccine alfredo sauce thicker?
If for some reason it is too thin or runny, you can fix it using these two ways:
Adding cream cheese. Over low heat, add slowly pieces of cream cheese to it and stir till thickened. This will make the sauce creamier and also thicken it up.
Making a Roux. Add in an equal amount of butter and flour (about 1 teaspoon) to a pan, and mix/whisk well over low heat. Cook it for about one minute. Next, add the mixture to the sauce and stir continuously until simmering, and the desired consistency is reached.
What can I use instead of heavy cream for this recipe?
Substitute the heavy whipped cream with 1/4 cup of melted unsalted butter and about 3/4 cup of whole milk or half and half. Simply combine the ingredients together, and whisk well. This is a quick alternative to heavy cream.
Can I make it dairy-free?
Yes, but I would not recommend it. Please remember that dairy products (parmesan cheese, heavy cream) are the front and center ingredients here. Therefore, I would stick with them as they make this recipe so authentic, rich, and creamy.
However, if you want, they can be substituted with dairy-free products as well.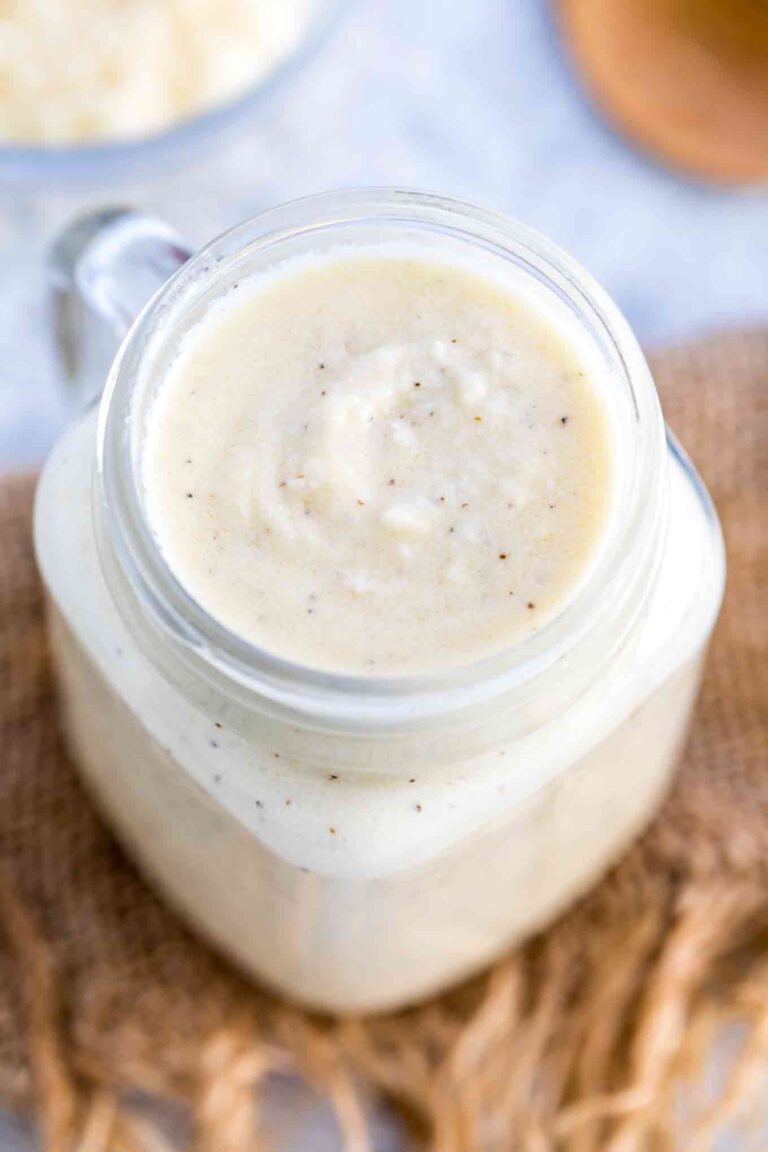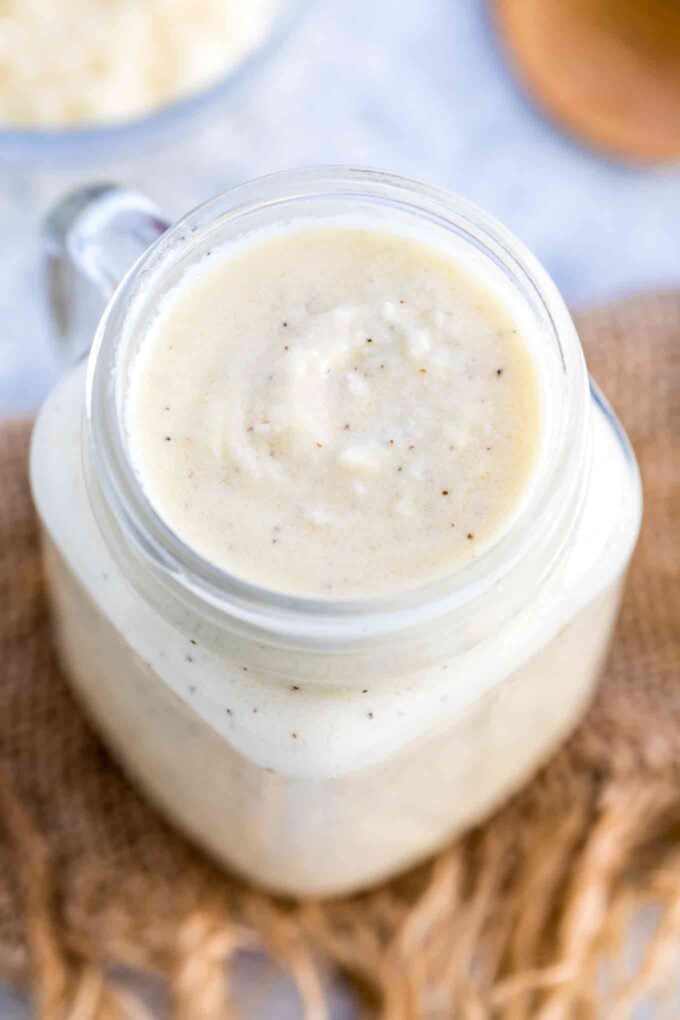 Is fettuccini sauce Keto?
Yes! This is a totally keto recipe and can be served as such! If you are following a low-carb diet, this is a great dish to incorporate into your menu.
Also, for nutritional information, please see the recipe card below.
How long does homemade alfredo sauce last?
I highly recommend keeping this dish always in the fridge and in an airtight container. If kept at low temperatures, it will last up to 5 days. However, remember to always check if the sauce has not gone bad before eating it.
Can you freeze it?
Absolutely! First, let it cool completely before refrigerating. Once cooled, transfer it into airtight containers or closed lidded jar.
Please note, that skin will form on the surface after a while, which will thicken its consistency. This is totally normal. Simply shake or mix with a fork before consuming.
More homemade sauces to try:
Recipe Tips:
Use good Cheese. Since cheese plays a central role here, it is recommended to use only the best type. Fresh and shredded Parmesan cheese works the best when you make your homemade sauce. The pre-packed and grated versions will not taste the same, and also will not melt as well. So it's best to buy a block of fresh Parmesan cheese and grate it on your own. It will taste so much better!
Nutmeg: While this spice is optional, I highly recommend using it, the additional subtle nutty flavor is a game-changer.
Fresh garlic: The aromas and flavor from using butter and garlic will add extra savoriness to the recipe. Therefore, make sure you use fresh minced garlic instead of garlic powder or from a jar.
Cream cheese: While this may be a bit of an untraditional ingredient here, the extra creaminess it adds is totally worth it!!!
Avoid separating the sauce. To avoid the culinary horror of sauce separating as you're whisking it together, make sure you are whisking it while ingredients are added. Also, DO NOT overheat it. Any melted cheese sauce will break once it gets very hot since the proteins in the cheese seize up and clump together. To prevent this, make sure you cook it over low heat and for a short time.
Let it simmer. The cooking time for this recipe is very short. So make sure not to overdo it. First, simmer it over low heat and whisk well. Then, let it simmer for an additional 1 minute or so. But do not allow it to boil. Boiling will separate and ruin the sauce, which you want to avoid.
Also, remember that the fettuccini sauce will thicken upon standing. Therefore, after refrigerating it, you can add 1/2 cup of cream to it and whisk over low heat to make it more liquid.
Leftover sauce can be used on pasta, pizza, chicken, and so much more!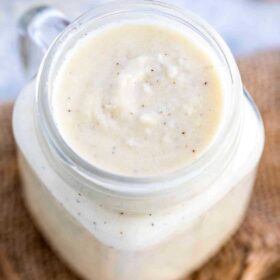 Homemade Alfredo Sauce Recipe
Check out this rich, creamy, and super easy-to-make from scratch sauce. It is one of the best recipes you can get that goes perfectly with your favorite pasta or pizza!
Save
Share
Print
Pin
Rate
Ingredients
1/2

cup

butter

1 1/2

cups

heavy cream

2

ounces

cream cheese

(optional - it makes the sauce creamier)

1/2

teaspoons

fresh garlic

(minced)

1/2

teaspoon

Italian seasoning

(optional)

1/4

teaspoon

salt

1/4

teaspoon

black pepper

1 1/2

cups

Parmesan cheese

(freshly grated )

1/4

teaspoon

nutmeg

(optional)
Instructions
In a large skillet over medium heat, add butter, heavy whipping cream, and cream cheese (if using). Stir over low heat for about 2 minutes until melted and it starts to lightly simmer.

Next, whisk in the minced garlic, Italian seasoning, salt, and pepper for one minute. Note: For extra garlicky flavor, first melt the butter, add the garlic and cook for 1 minute and then add the ingredients from step 1.

Reduce heat to low and add in the shredded Parmesan cheese, and continue to whisk until melted.

Serve immediately with your favorite pasta.

For a very subtle nutty flavor, sprinkle some nutmeg on top before serving.
Nutrition
Calories:
387
kcal
|
Carbohydrates:
6
g
|
Protein:
13
g
|
Fat:
34
g
|
Saturated Fat:
11
g
|
Cholesterol:
33
mg
|
Sodium:
919
mg
|
Potassium:
190
mg
|
Fiber:
0
g
|
Sugar:
5
g
|
Vitamin A:
1435
IU
|
Calcium:
433
mg
|
Iron:
0.3
mg
More recipes you might love