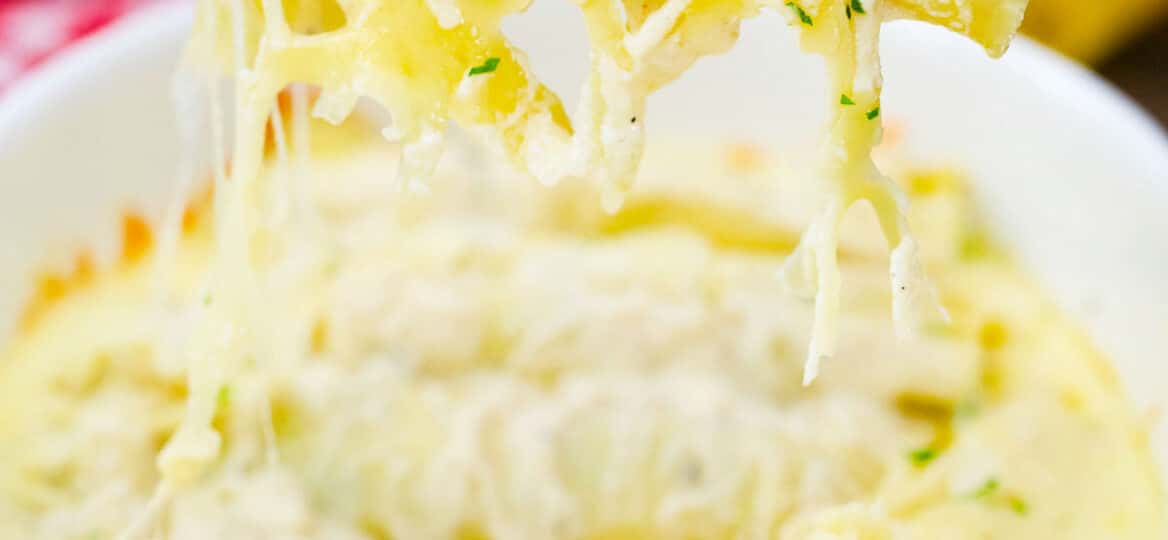 Creamy Chicken Alfredo Manicotti Recipe
Chicken Alfredo Manicotti is a blend of two of my family's favorite dinner dishes, Alfredo sauce and tender manicotti filled with cheese and chicken. The tender pasta shells are filled with creamy chicken, spinach, and cheese filling and then topped with deliciously creamy alfredo sauce. You cannot get this taste from any other dish with its savory, mildly sweet, and slightly nutty flavors. This is a comforting family dinner pasta recipe that everyone will love.
You may already know that it was Alfredo di Lelio who invented Alfredo sauce to encourage his wife to eat after having their son. But did you know that it was Salvatore Coletta who made the first manicotti pasta? It is an American/Italian version of cannelloni. Some people eat them plain, with tomato sauce, or even stuffed with a sweet filling for dessert.
Ingredients needed:
Manicotti pasta: Any brand of manicotti is fine.

Rotisserie chicken meat: Remove all the meat from the bones and shred it in a food processor.
Spinach: You can use frozen or fresh spinach for this dish.
Ricotta cheese: Made from either goat, cow, or sheep milk, this delicate and soft whey cheese is used in many Italian dishes with an almost sweet flavor.
Shredded Italian blend cheese: You could also use shredded mozzarella cheese for this.

Grated parmesan: Freshly grated parmesan is a much better choice than the stuff in a can. The taste makes a big difference.
Large egg: Remove from the fridge 30 minutes ahead so it is room temperature.

Fresh parsley: For garnish.
Sauce ingredients:
Parmesan cheese: Do not use the canned stuff. Only freshly shredded parmesan cheese will give you the creamy sauce you want.

Heavy cream: Use this instead of milk for a creamier sauce.
Cream cheese: This is optional, but it will make your sauce so rich and thick.

Butter: It is best to use the real stuff instead of margarine for the best flavor.
Minced fresh garlic: You can use garlic powder if that is all you have.
Italian seasoning: If you have your favorite Italian spices, you can use them instead.
Nutmeg: For a slightly nutty flavor.
Salt
Black pepper
How to make chicken manicotti from scratch?
For the sauce:
Heat the cream: First, heat butter, cream, and cream cheese in a large skillet. Stir over medium-low heat until it is melted and starts to simmer.

Season it: Now, add the seasoning, garlic, salt, and pepper and whisk for one minute.

Simmer and whisk: Finally, turn it down to low and add the cheese, whisking until melted. Then, sprinkle some nutmeg on top.
Make the manicotti:
Preheat oven: First, preheat your oven to 375 degrees F.
Boil the pasta: In the meantime, bring a large pot of salted water to boil. Then, add pasta and cook to al dente. Drain it and set it aside.

Cook and chop spinach: Now, cook the spinach in one tablespoon of olive oil in a small pan until wilted. Then, chop roughly.
Make the filling: After, in a medium bowl, mix 3/4 cup Italian blend cheese, ricotta, and parmesan with shredded chicken, egg, and spinach.

Spread the sauce: Then, spread 1 cup of alfredo sauce on the bottom of a rectangular baking dish.

Fill the pasta: Fill a piping bag with the spinach filling. Squeeze the filling into the pasta and place them in a row in the baking dish. Spoon the remaining sauce on top and sprinkle with the remaining cheese.

Bake and serve: Finally, bake for 20 minutes, sprinkle with parsley, and serve.
Frequently asked questions
Should I use a metal pan or a glass baking dish?
A metal baking pan is better for most recipes because it heats evenly. A glass dish is an insulator rather than a heat conductor, so it is slow to heat up. This can cause the food to heat unevenly. By the time the middle is hot, the outside may be dry and overcooked. However, glass does keep the dish warm longer.
What is the difference between manicotti and cannelloni?
Cannelloni pasta is smooth and a bit smaller and thinner. Manicotti tubes are larger, thicker, and have ridges. However, the two are so similar that you can easily substitute one for the other. The thinner cannelloni are more delicate though and may tear if you are not extra careful.
What is Italian seasoning made of?
You can easily make your Italian seasoning with dried marjoram, thyme, rosemary, oregano, and basil. Some seasonings are made with garlic powder, onion powder, fennel seeds, and dried sage. For a bit of spiciness, you can even add some crushed red pepper flakes or cayenne pepper.
How to store leftovers:
Store: You can store your leftovers in an airtight container in the refrigerator for three to four days.
Freeze: You can freeze uncooked manicotti for up to 60 days. Just wrap them in plastic wrap and place them in a freezer bag. To freeze leftovers, place them in a freezer-safe container and they will stay fresh for 90 days.

Thaw: For the best texture and flavor, let your leftovers thaw in the fridge the night before serving them.

Reheat: To reheat, put in a microwave-safe bowl and microwave for one to two minutes depending on how much you are reheating.
More recipes with Alfredo Sauce:
Recipe tips:
Spooning the filling into the shells is so time-consuming. Use a piping bag or a baggie with the corner cut off instead.

Save, shop, share. Be sure to save this recipe card. You can use it to shop and share.

For extra garlicky flavor, first, melt butter and add garlic first. Then, cook it for one minute before adding the other ingredients.

If you use frozen spinach, there is no need to cook it first. Just let it thaw out.
No leftover chicken meat? You can use the canned stuff in a pinch. But make sure it is the good stuff.
Our nutrition facts at the bottom of the page are estimated by the ingredients in this dish.
Are you looking for other great Italian dishes? You will find plenty of them on our food blog.
Chicken Alfredo Manicotti
Ingredients
1

box

manicotti

9

oz

bag fresh spinach

1/2

rotisserie chicken

remove the meat from the bones and shred it

1

egg

18

oz

ricotta cheese

1

cup

grated parmesan

2

cups

shredded Italian blend cheese

you can also use mozzarella, divided

Alfredo sauce

double the recipe - or use store-bought

fresh parsley for garnish
Instructions
Preheat oven to 375 degrees F.

Bring a large pot of salted water to a boil, and cook the manicotti until al dente. Drain and set aside.

In the meantime, place a small skillet over medium heat, add 1 tablespoon of olive oil, and cook the spinach in it until wilted. Transfer it to a cutting board and roughly chop it.

In a large bowl, combine the ricotta cheese, 1 cup Italian blend cheese, parmesan cheese, shredded chicken, chopped spinach, and the egg. Stir well until thoroughly combined.

Next, spoon the mixture into a piping bag or large Ziploc bag. Cut off the corner enough to pipe the filling.

Add 1 cup of Alfredo sauce over the bottom of a 13 x 9 baking dish.

Pipe the cheese filling into the manicotti tubes and arrange them on the bottom of the baking dish one next to each other.

Pour the remaining Alfredo sauce evenly on top of the manicotti, and sprinkle with the remaining 1 cup of shredded cheese.

Bake for 20-25 minutes, until the cheese is bubbly.

Cool for 10 minutes, sprinkle with parsley, and serve.
Recipe variations:
Chicken tenders: You could also use chicken tenders or breast pieces instead of rotisserie.
Other meat: For something different, try using ground beef, turkey, or pork.

More veggies: Give your dish even more flavor and distinction by adding kale, swiss chard, arugula, collard greens, or watercress.

No ricotta: Instead of ricotta, you could use cottage cheese, sour cream, mascarpone, Greek yogurt, or feta.
More herbs and spices: Feel free to add your favorite herbs and spices like onion powder, cumin, bay leaf, caraway, chives, cilantro, and allspice.
Bacon: You know bacon makes everything better so add some crumbled bacon or bacon bits to the sauce.
Make it spicy: Add a pinch of red pepper flakes or cayenne pepper for an extra spicy filling.