Easy Chili Colorado Recipe
Chili Colorado is a flavorful and popular Mexican stew, made with tender pieces of beef simmered in a delicious red chile sauce and spices. A delicious and authentical Tex-Mex dinner to enjoy with friends and family.
I love Tex-Mex dishes because they are rich, flavorful, and are great to serve during any time of the year. My other top picks are Taco Lasagna, Mexican Stuffed Peppers, and Instant Pot Chicken Tortilla Soup.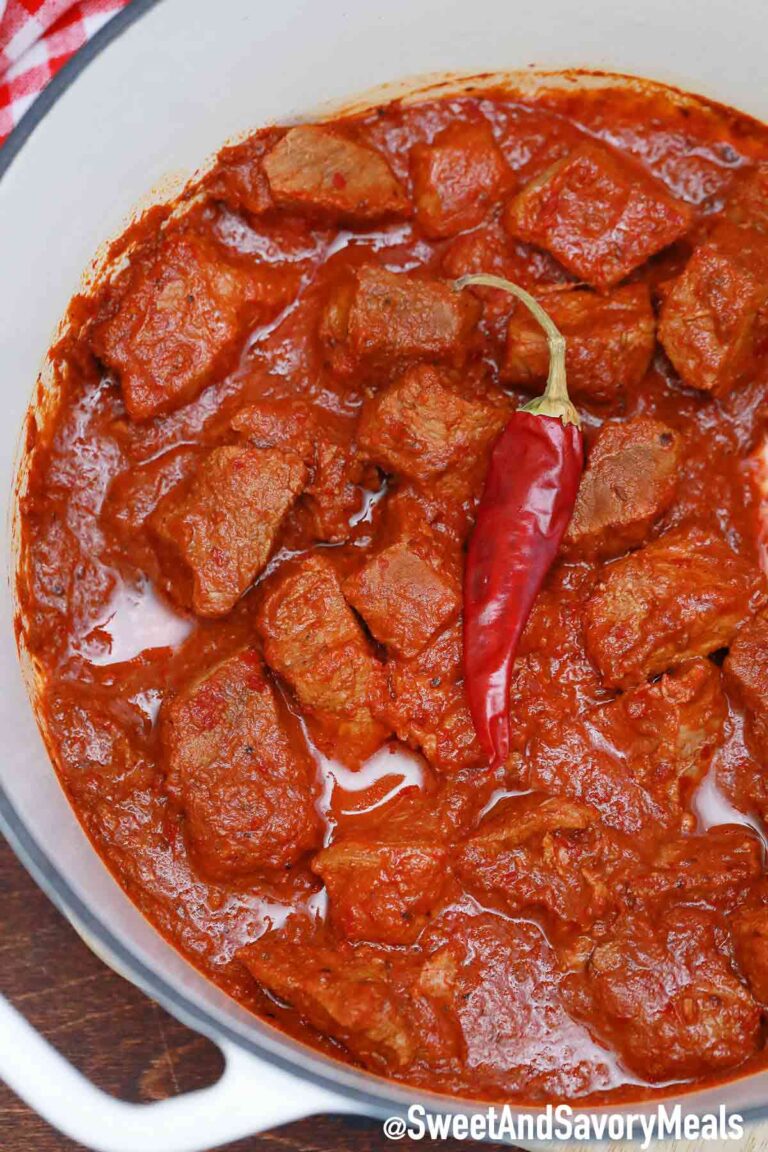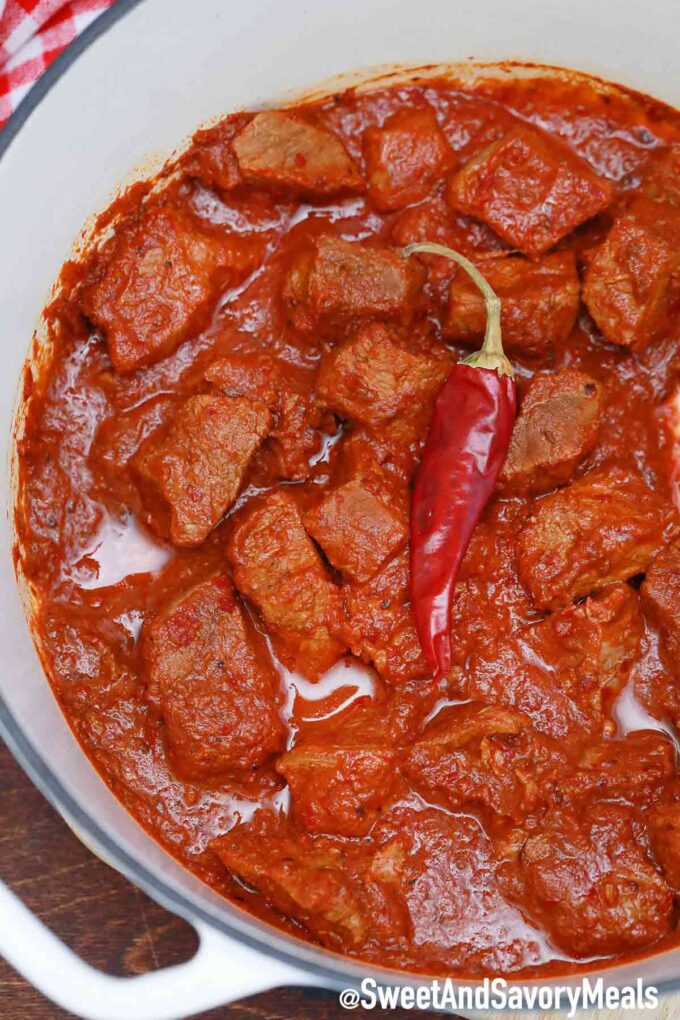 Authentic Chile Colorado Stew
This Chili Colorado Beef Stew is very similar to my Classic Beef Stew but with a chile sauce twist. The secret to this recipe is the dried chile peppers, as they are pretty much the central ingredient here.
Also, you can use other species as well, but to achieve the true and authentic flavor, you want to use them. You can find them in any Mexican grocery store, or you can easily order the chiles from the amazon.
The meat is cooked to perfection and then simmered in a rich and irresistible red sauce. When cooked, you end up with super tender and fall-apart beef, that is ideal to serve over rice or beans. You can top the stew with some chopped cilantro, chips, or shredded cheese. This is truly one of a kind dinner with melt in your mouth tender and incredibly tasty meat.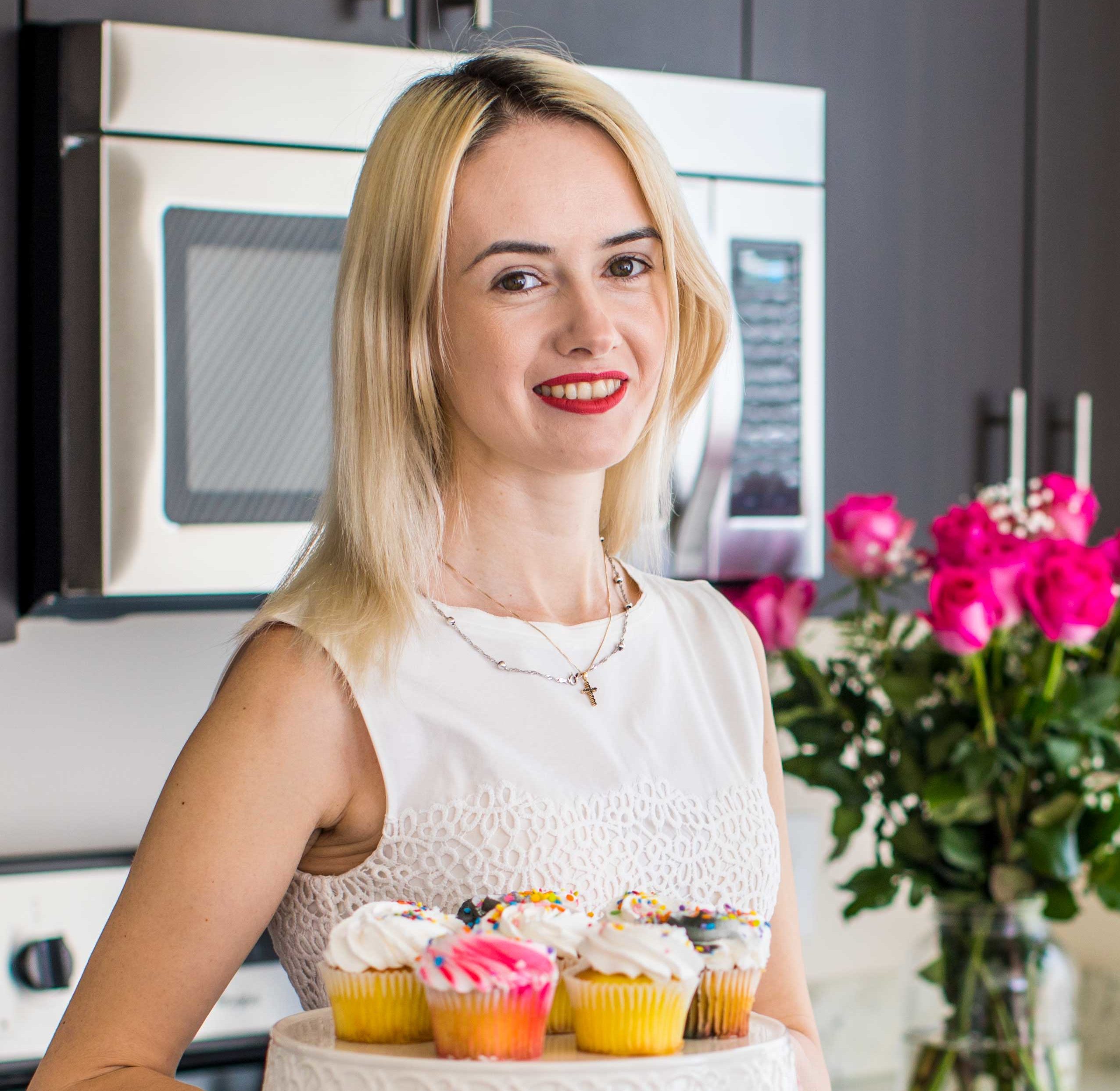 Follow us on Pinterest for more delicious recipes!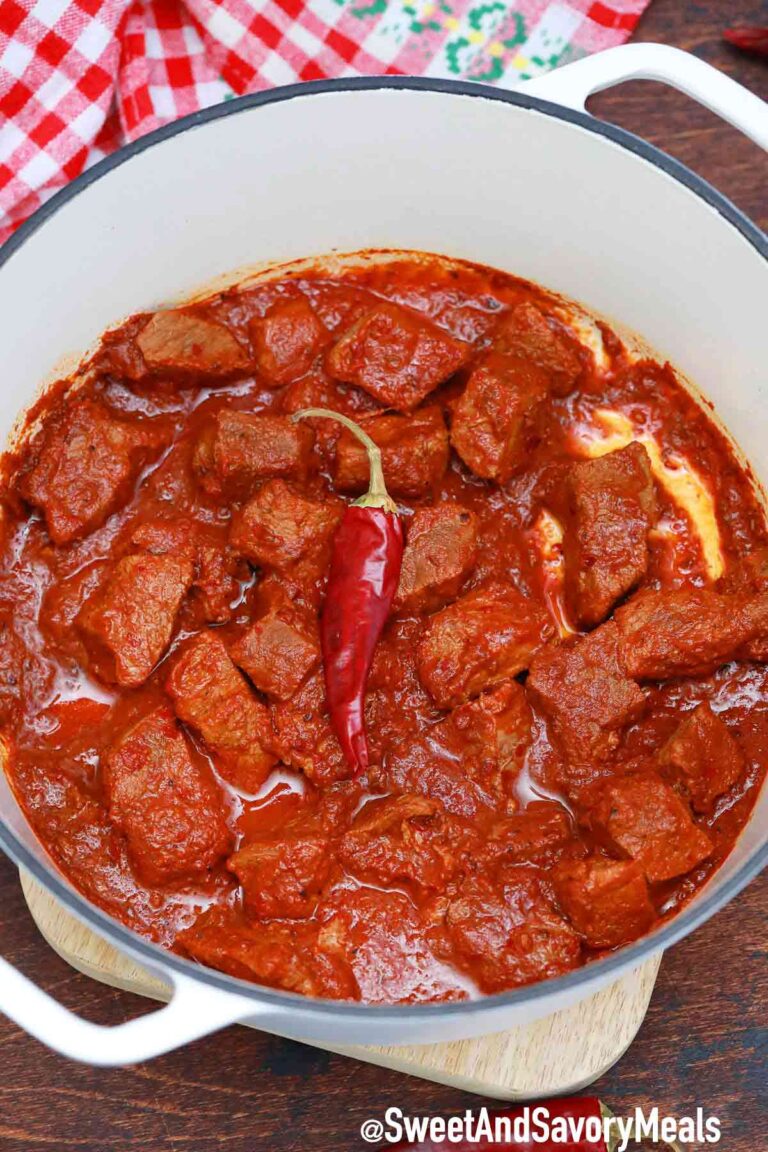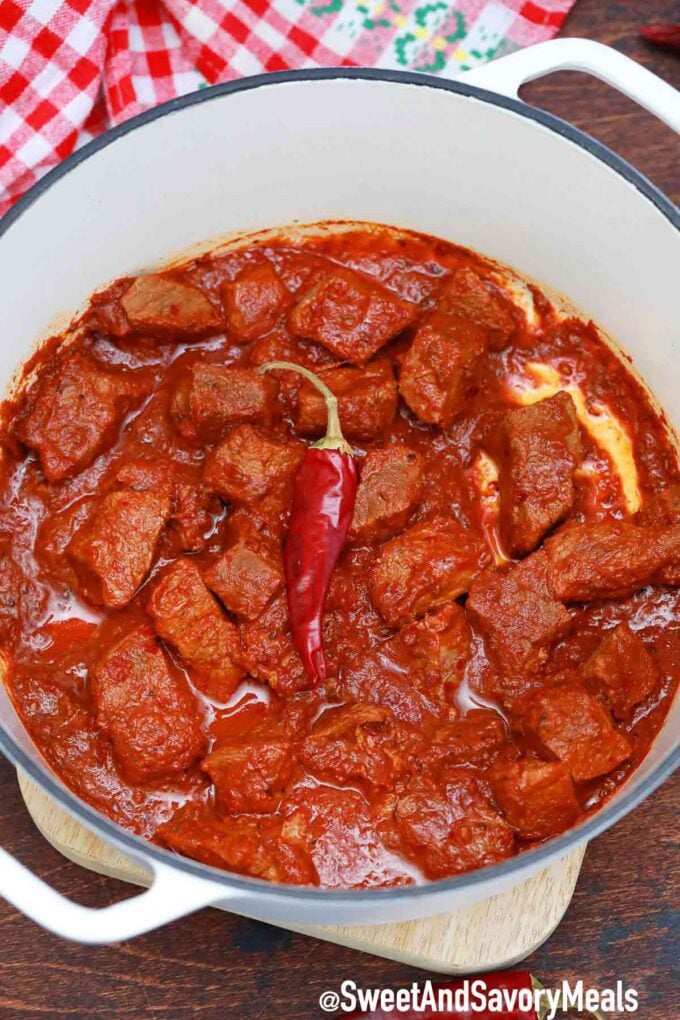 What is a chili colorado?
It's a traditional Mexican dish made with beef, usually stew meat or pork. The meat is slowly cooker in a red chili sauce, which gives the dish that intense and gorgeous red color.
Many think that this is an American dish, made with chilis from the state of Colorado. However, the name is actually Mexican, and when you translate it, it means "colored with chilis".
The recipe can be made with chili powder, but the most authentic way to enjoy it, is actually to use a variety of freshly dried chilis. This way the stew will have the most amazing flavor and aroma.
How to make Beef Chili Colorado?
Place a non-stick skillet over medium heat and saute the chili peppers.

Bring the beef broth to a boil, add the chilis and let them sit in the mixture for 20-30 minutes.
Next, season the stew meat with some salt and pepper and brown it in batches in a Dutch oven.
Transfer the broth and chili mixture to a blender. Next, add the onion, garlic, tomato paste, cumin, paprika, oregano, sugar, salt and pepper and blend until smooth.

Add the mixture to the beef, and bring to a gentle boil. After that, dd the bay leaves.

Preheat oven to 300 degress F, cover the pot, and transfer it to the oven for 2 hours.

Discard the bay leaves and serve the chili with rice, tortillas and beans.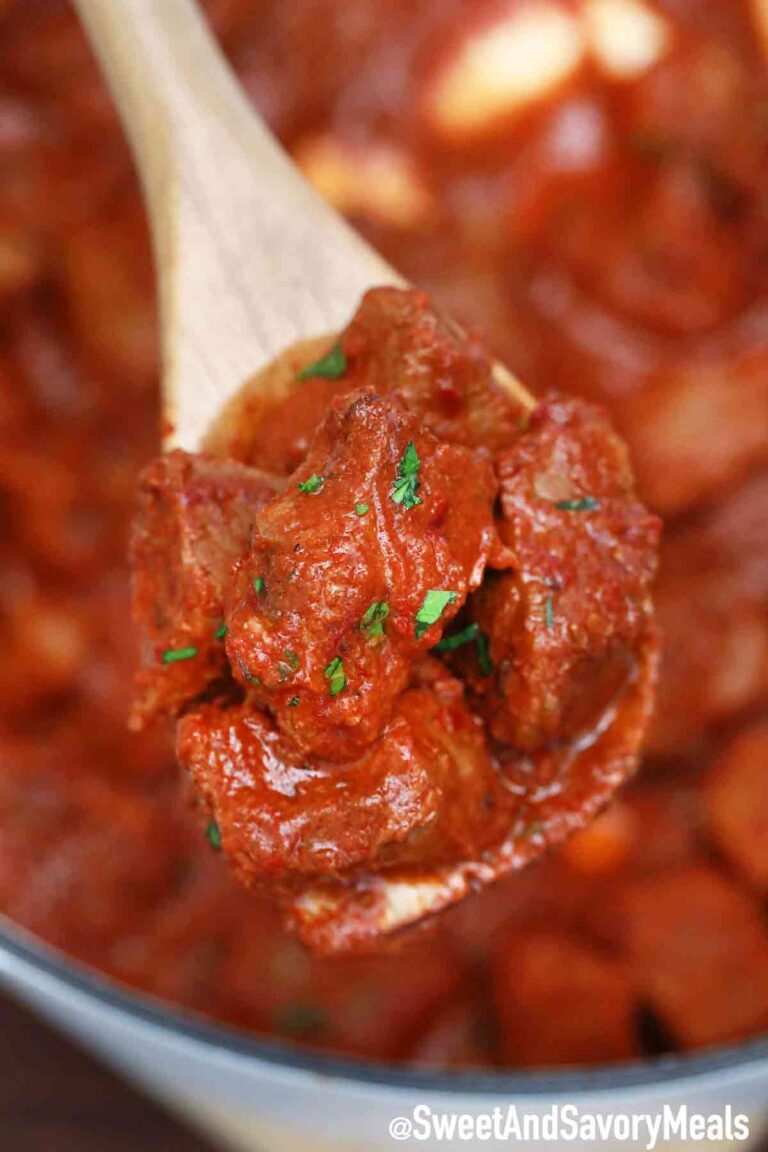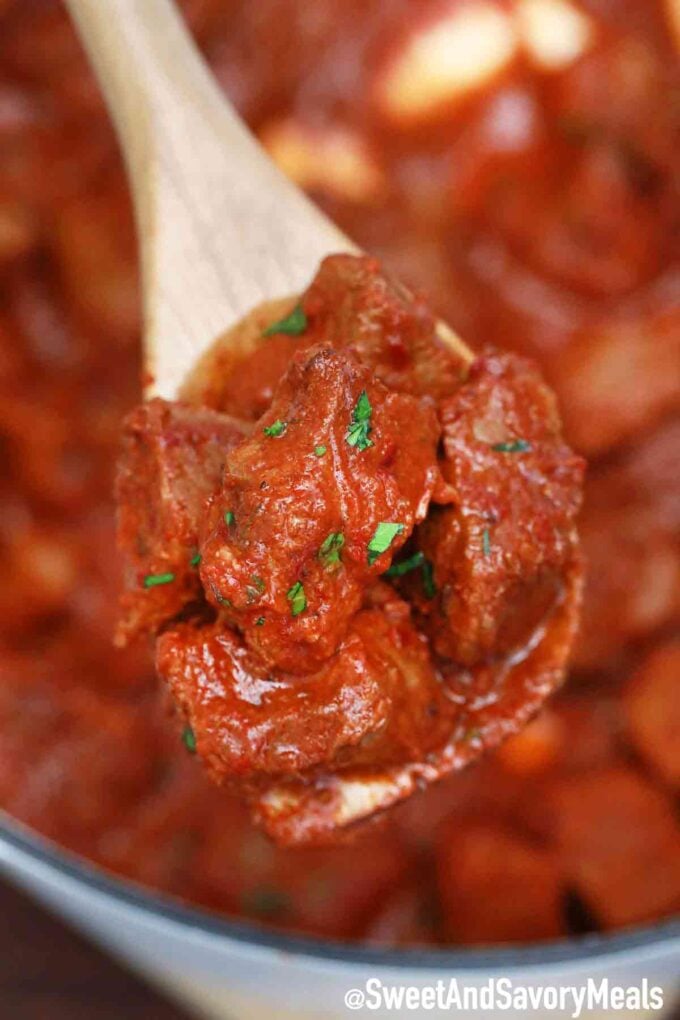 Chili Colorado Recipe Variations:
Swap the meats: Use pork stew meat, it will be just as delicious. You can also use lamb or chicken if you are looking for leaner and healthier options.
Slow Cooker: You can make this recipe in the slow cooker, just brown the beef as said in the recipe instructions. Make the chili mixture, and combine everything in the slow cooker. Cook on Low for 7-8 hours or on High for 4-5 hours. Also, try this Slow Cooker White Chicken Chili, it will be a great addition to your dinner rotation.
Instant Pot: The recipe can be easily done in the Instant Pot. Saute the beef pieces until nicely browned, prepare the chili mixture and combine everything in the pressure cooker. Cook on High Pressure for 20 minutes followed by a 15 minutes Natural Pressure Release. To reduce the liquid in the Instant Pot, just continue to cook the stew on Saute, or discard some of it and add a cornstarch slurry to the remaining sauce to thicken it. For the IP I would only use 2 cups of liquid.
Add Cheese: This dish is definitely great served with some cheese, go for the classic cheddar, or continue with the Mexican flavors and use Cotija or a Mexican blend cheese.
Beans: You can definitely add more protein by adding some refried beans on the side. But you can also cook the beans with the meat if you prefer so. I usually like to add a can of brown or black beans for extra texture and flavor.
Add Bacon: For a smokier flavor and definitely richer taste, fry some chopped bacon first, set it aside, and brown the beef in the bacon grease. Add the bacon back when cooking the chili. It will be outstanding.
Veggies: To make this healthier, add some veggies, I like to add mushrooms, carrots, or bell peppers.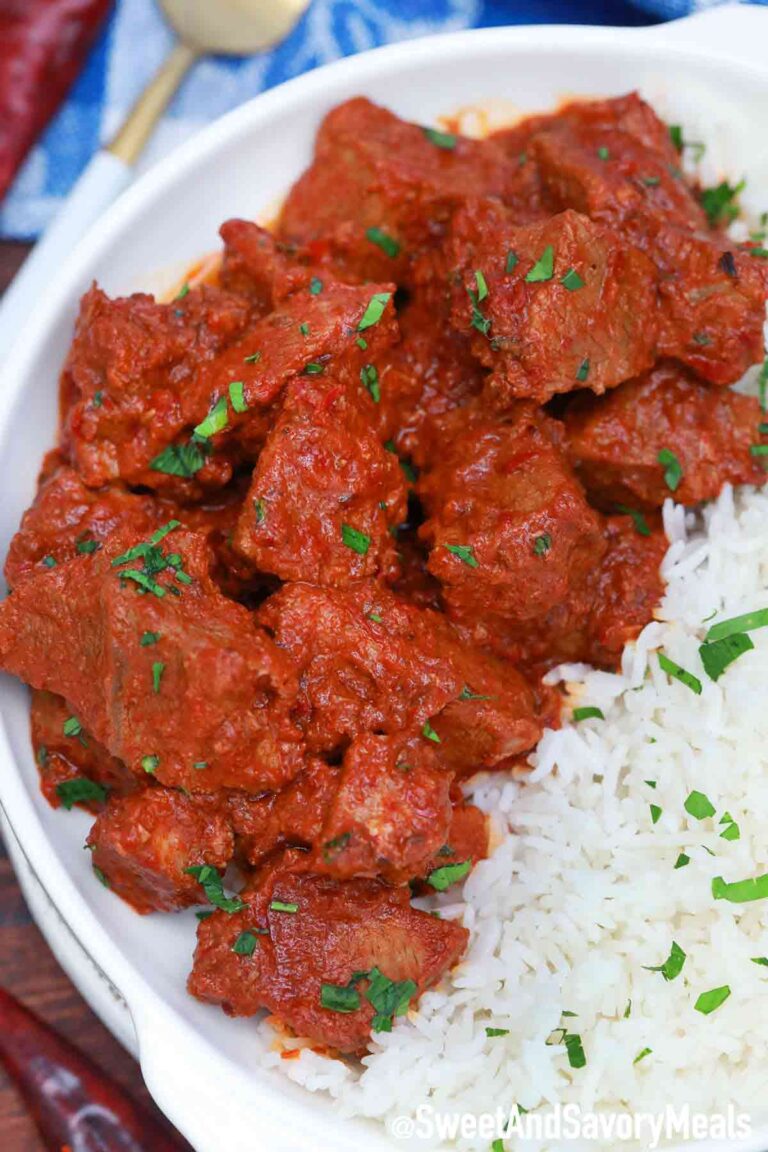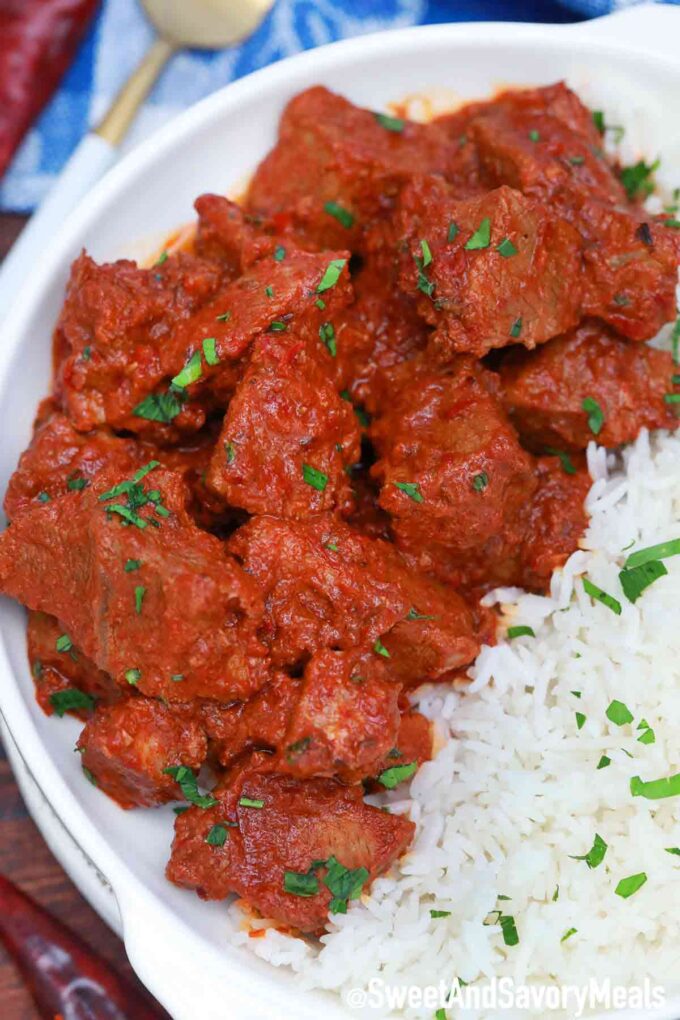 What to serve with Colorado Chile?
Refried beans on the side are great
Flour or corn tortillas
Chopped avocado to use as a topping
Sour cream is great to balance the heat and add some creaminess
Favorite cheese to sprinkle on top
Cilantro
Chopped jalapenos
Crushed tortilla chips
Can you make Chili Colorado ahead?
Yes, this is a great recipe that can be made in advance and it makes great leftovers that can be reheated through the week,
Also, you can even freeze it in an airtight container for up to 2-3 months. Thaw and reheat when ready to serve.
The leftover chili is also great to be later added to Mac and Cheese, tacos, or burritos.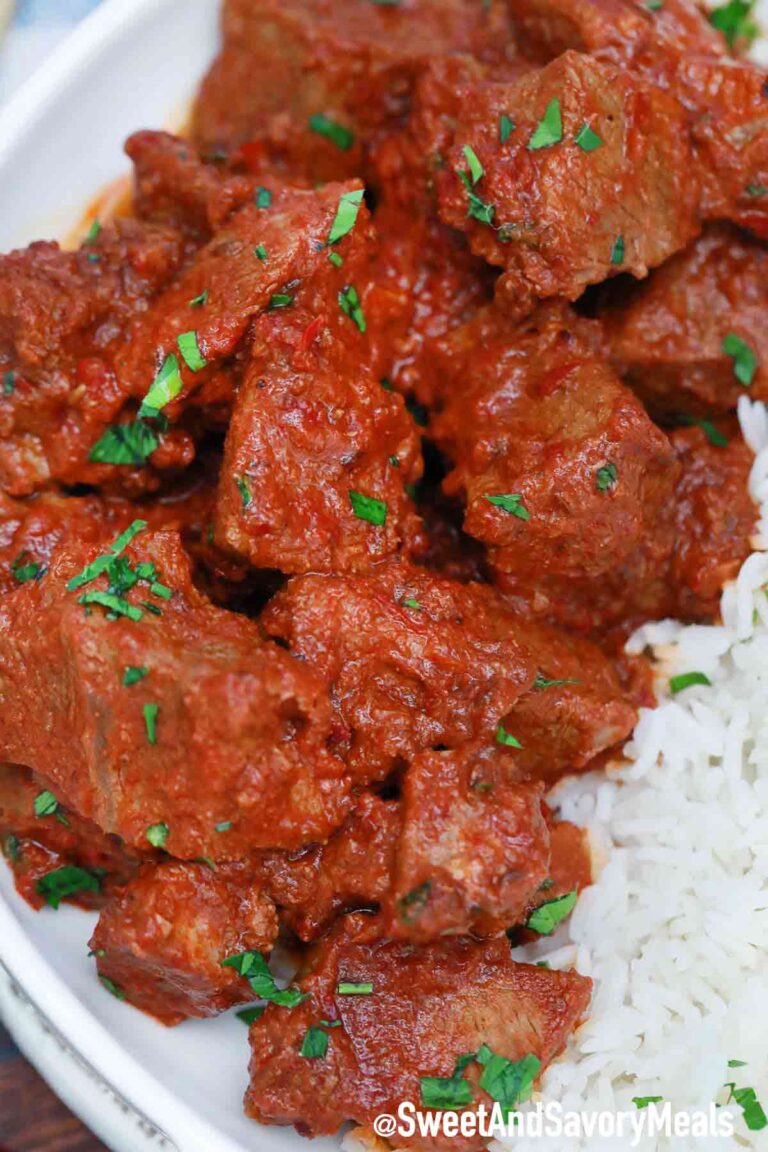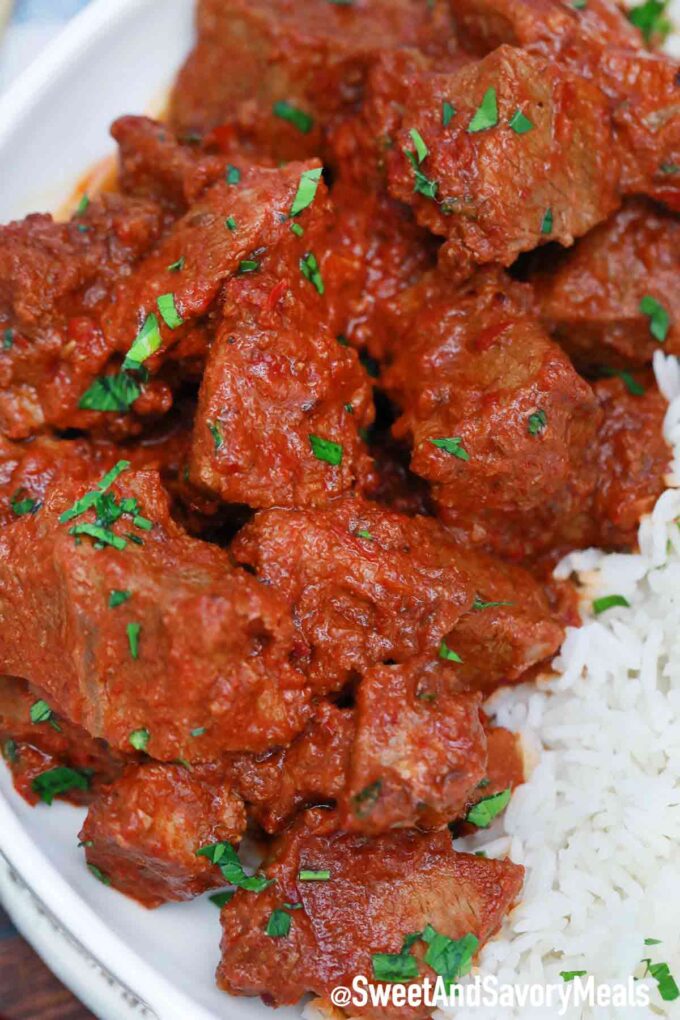 More delicious beef recipes:
Recipe Tips:
Use a combination of chili peppers like Ancho, Pasilla, and Guajillo.
For a more acidic, tomato taste, add a cup of canned fire-roasted tomatoes to the chili sauce mixture.
If you want to enjoy all the flavors but are vegetarian, make some fried firm tofu, cover it in the chili sauce and cook it on low.
You can also balance the spiciness with the topping that you choose.
Cook the meat until tender and falling apart, this way you know it has been deeply infused with the sauce.
Save Recipe
Chili Colorado
Chili Colorado is a flavorful and popular Mexican stew, made with tender pieces of beef simmered in a delicious red chile sauce and spices.
Author: Catalina Castravet
Serves: 4 servings
Prep time:

45

minutes
Cook time:

2

hours
Total time:

2

hrs

45

mins
Nutrition information
Calories: 517 Carbohydrates: 7 Protein: 66 Fat: 23 Saturated Fat: 6 Cholesterol: 176 Sodium: 863 Potassium: 1174 Fiber: 1 Sugar: 5 Vitamin A: 320 Vitamin C: 3 Calcium: 88 Iron: 7
Save Recipe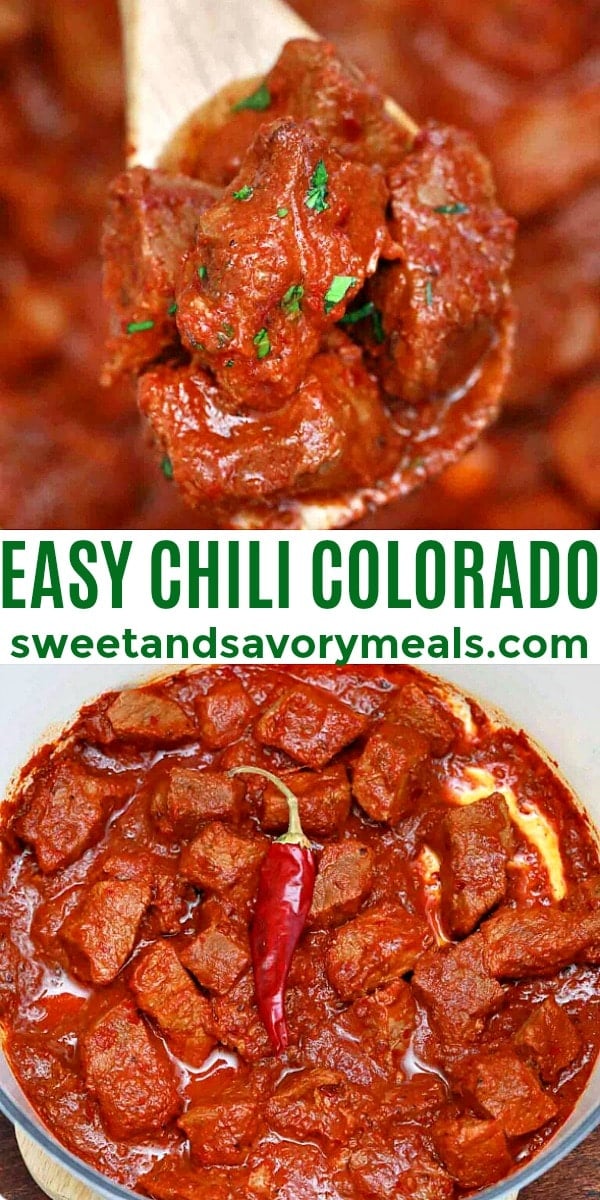 More recipes you might love