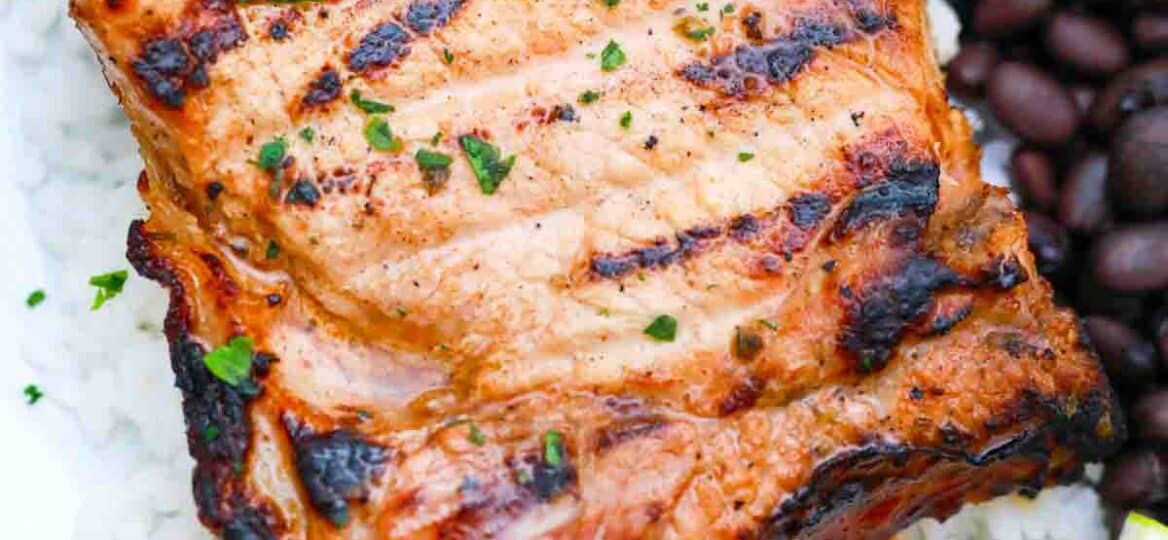 Cuban Mojo Marinade Recipe
Cuban Mojo Marinade is sweet, sour, and spicy with flavors of citrusy garlicky goodness, perfect for any type of meat. But for this delicious meal, we chose to use bone-in chops. The onion and garlic blend is a traditional Cuban mojo marinade mix used in almost every Cuban recipe.
One of our favorite recipes when craving Cuban food is our Cuban Sausage Pinwheels made from ground sausage, bacon, and cream cheese. Or you can try these Keto Italian Chicken Skewers made from skinless chicken breasts, buttermilk, and lemon.
Using orange juice in this recipe is important, you can use bitter orange juice or sour orange juice, but it is best to use freshly squeezed orange juice. If you cannot find sour oranges in your store, look for bitter oranges or Seville oranges.
Or you can make your own by mixing one cup of orange juice with 1/2 cup of lemon juice and 1/2 cup of lime juice. You just want it to be slightly sour, not completely bitter.
If you are not familiar with Cuban cooking, you may notice a lot of citrus juice like lemon and lime juice as well as fresh garlic, onion, cilantro, and other seasonings. With hints of onion, oregano, cumin, and paprika, most Cuban food is not spicy like Mexican food often is but has robust flavors of onion and garlic, citrus, and cilantro.
Also known as Cuban mojo criollo, this is one of the traditional mojo marinades that you will find at any fine Cuban restaurant. You may notice that Cuban servings are larger than American, even though the experts say Americans have the largest serving sizes. If you are worried about nutrition, calories, or fat, you can always alter the recipe.
Are you looking for some other great recipes for dinner? We always have free recipes with new ones added every day. This slow-cooker pineapple pork loin is a sweet and savory meal made with soy sauce, brown sugar, and garlic. Or you can try these pizza sloppy joes you can have on the table in 30 minutes.
Ingredients needed:
To make this homemade mojo recipe, all you need are the ingredients shown below. Then, scroll down to our recipe card at the bottom of the page for instructions and measurements when you are ready to begin.
Bone-in pork chops
Cilantro: Chopped
Minced white onion
Minced garlic cloves
Grapefruit juice
Zest from 1 lime
Lime juice
Orange juice
Fresh oregano
Ground cumin
Paprika
Kosher salt
Black pepper
Olive oil: We used extra virgin olive oil.
How to make Cuban mojo marinade from scratch?
Mix it up: To begin, mix all of the marinade ingredients in a large shallow bowl. Stir until it is completely combined.

Marinate and chill: Then, place the chops in the bowl, cover them, and put them in the refrigerator to chill for one to three hours. Marinate overnight for even more flavor.
Grill your chops: After you marinate the chops in the fridge, cook them on the grill for eight minutes on one side. Then flip and cook for five minutes on the other side.

Check the temperature: When the pork reads 145 degrees F on a meat thermometer, remove it and let it rest on a serving plate for 10 minutes.

Garnish and serve: Finally, garnish with cilantro and serve your delicious Cuban mojo criollo with your favorite sides.
How to make air fryer Cuban mojo pork chops from scratch?
Combine the ingredients: First, put the oil, juices, zest, seasonings, onion, and garlic in a bowl and mix thoroughly.
Marinate the meat: Add the chops, making sure they are coated, to the bowl. Then cover it and marinate pork for three hours or overnight in the fridge.

Air fry your chops: After, place pork chops in the air fryer basket and cook at 390 degrees F for 10 minutes, flipping after eight minutes. They are finished when the internal temp is 145 degrees F.

Time to eat: Last, let your pork chops rest for 10 minutes before serving them with your favorite side dishes and garnish.
Recipe variations:
Another oil: You can use whatever oil you like to cook with.

Zest: Instead of or in addition to lime zest, try a teaspoon of orange zest.

Mojo chicken: Feel free to try this marinade with chicken thighs, chicken breasts, or even wings. You can even use it as a marinade for a whole chicken if you have enough. If not, make a double batch.

Different meat: Alternatively, this marinade will work well with pork tenderloin, any kind of fish, pork shoulder, or beef like skirt steak or ribeyes.

Make it spicy: For a spicier marinade, add 1/2 teaspoon of red pepper flakes.

Include more spices: You could also add your own favorite spices such as rosemary, thyme, or basil.
How to serve:
Our marinated chops make the perfect weeknight dinner because they are an easy, fast, and delicious meal. Try one of our easy serving ideas or share some of your own with us in the comments section at the bottom of the page.
This traditional Cuban mojo sauce also works great as a dipping sauce. Try it with tortilla chips, quesadillas, or taquitos.

Another way to use this marinade is in slow cooking. Whatever kind of meat, rice, or beans you are making in a crockpot or slow cooker will benefit from this delicious Cuban mojo sauce.

These pork chops are the perfect accompaniment for your favorite side dishes. Try our mouthwatering instant pot black beans recipe.

This marinade is great for serving. Add a gravy bowl or serving dish with extra Cuban mojo marinade sauce for guests to add as they like.

Use leftover marinade for other recipes like this instant pot Mexican chili.
Try this yummy sauce on your mashed potatoes or pasta for a nice Cuban taste.
Frequently asked questions
How do you make garlic paste?
The best way is to use a mortar and pestle. Just peel the garlic cloves and put them in the mortar with a pinch of salt. Then, mash them, rotating the pestle as you go. Continue to mash and twist until you have a smooth paste.
Will this mojo marinade work for dipping or pouring?
You can use it as mojo sauce to pour on tacos, burritos, and other Mexican dishes or add it to black beans and rice, pinto beans, or any side dish you want to add some Cuban flavor. Using it for dipping sauce is perfect for taquitos or chips at your next game-day party or a snack anytime.
How long should I cook my chops?
The cook time depends on the thickness of your meat. For example, a one-inch chop should be cooked for eight to 12 minutes on direct heat, turning them even a few minutes. It is best to keep the lid closed between turnings. Thicker chops can take up to 20 minutes. Be sure to check the temperature, which should be 145 degrees F.
What are the nutrition facts in this recipe?
Each serving of this marinade has 44 calories, 3,425 mg sodium and 1 gram fat with 1 gram saturated fat. It also has 1 gram sugar and 9 carbs. On the other hand, you get 2 grams protein, 1 gram monounsaturated fat, 2 grams fiber, 165 mg potassium, 100 units vitamin A, 3 mg iron, 100 mg calcium, and 3 mg vitamin C.
How to store leftovers:
Store: You can store mojo marinade in an airtight container in the fridge for up to one week. It is best to use a glass jar or bowl because the mojo seasoning can permeate plastic. leaving its scent forever.

Freeze: If you want to freeze mojo marinade, put it in a freezer-safe container and it will keep for up to three months.

Thaw: Thaw overnight in the fridge before reheating or using.

Reheat: To reheat, pour the marinade into a saucepan and bring it to a boil over medium heat. Or you can heat it in the microwave for 60 to 90 seconds.
Easy pork chops recipes to try:
Cooking tips:
Chop all the pieces about the same size for better consistency and flavor.
To save prep time, use your food processor to chop up your vegetables.

Dried oregano is fine if that is all you have but fresh herbs are always better.
Also, you can use garlic paste instead of minced cloves for a more robust flavor.
If you are using your marinade for dipping sauce or at a later date, put it in a mason jar and keep it sealed in your fridge.

Whether you make pork, chicken, beef, or fish, make sure to marinate your meat according to the recipe.

Remember, the nutrition serving information is just for the mojo marinade recipe and not for the meat or any other additions.
Cuban Mojo Marinade
Ingredients
4

bone-in pork chops

or chicken breast
Cuban mojo marinade:
1/4

cup

olive oil

1 1/2

cup

orange juice

1/3

cup

lime juice

1

lime

zested

1/3

cup

grapefruit juice

8

cloves

garlic

finely minced

2

teaspoons

dried oregano

1

teaspoon

cumin

1

teaspoon

paprika

2

teaspoons

kosher salt

1

teaspoon

black pepper

1

medium onion

finely chopped

2

tablespoons

cilantro chopped
Instructions
In a large bowl, mix the marinade ingredients.

Add the pork chops or any other meat that you are using.

Cover and chill for 1-3 hours.

After that, remove the meat from the marinade and cook on the grill. Pork chops should reach an internal temperature of 145 degrees F to be safe to eat.

Serve with rice, and black beans, and garnish with cilantro.
Deliciousness to your inbox
Enjoy weekly hand picked recipes and recommendations