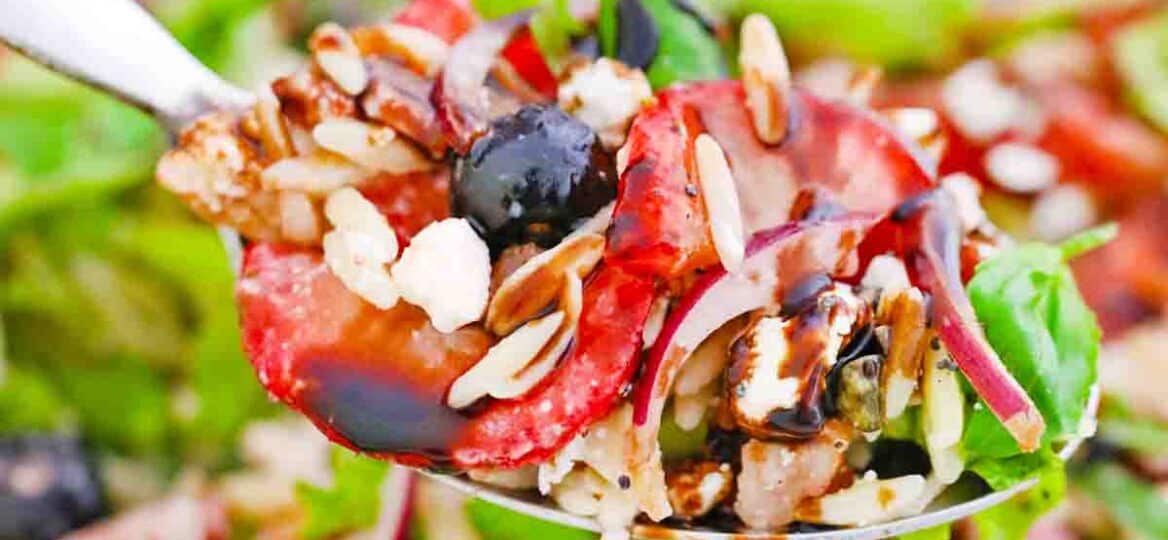 Strawberry Orzo Spring Salad
Strawberry Orzo Spring Salad is filled with the best spring veggies, sweet strawberries, and blueberries, mixed with crispy bacon, orzo pasta, and creamy strawberry dressing. Then it is flavored with dijon mustard, two kinds of vinegar, fresh basil, honey, and poppy seeds. You get a delicious side dish or snack without cooking or too much prep time.
Want to try some other fruity salads? Our delicious Strawberry Spinach Salad recipe is a perfect side dish or first course for any meal, especially during the summer when strawberries are at their peak. It also has radishes, red onions, avocado, pine nuts, and a few other ingredients. Another similar dish is this easy and tasty Arugula Strawberry Salad with walnuts, arugula, goat cheese, lemon juice, and avocados.
Orzo is a pasta that originated in Italy but is particularly popular in the Middle East and Mediterranean. Many Greek dishes have orzo in beef with tomato sauce and spices. During the Ramadan Muslim holiday, orzo is made with chicken stock and green chiles to make what they call bird's tongue soup. The name orzo means barley in Italian and was called this because it resembles grains of barley.
For this yummy orzo strawberry spring salad recipe, all you need are a handful of ingredients. Some of these include strawberries, blueberries, feta, orzo pasta, and crispy bacon with a balsamic vinegar dressing for a blend of superb flavors in every bite. Add your own favorite veggies and fruits for even more flavor.
If you are looking for some other awesome side dishes to cook, we have new recipes every day to try. If you like bacon, this bacon-wrapped asparagus is incredible, and a good way to get the kids to eat veggies. All you need is a few ingredients including asparagus, bacon, and olive oil. For a more traditional side dish, our chunky mashed potatoes are always a hit with the whole family. The secret ingredient is warm heavy whipping cream.
Ingredients needed:
To make this strawberry spring orzo pasta salad recipe, you will need to gather the ingredients listed here. Scroll down to our handy recipe card for complete instructions and measurements when you are ready to begin preparing it.
Bacon slices: Cooked and chopped.
Yellow cherry tomato: Cut in half.
Medium shallot: Sliced lengthwise.
Feta cheese block: Crumbled.
Baby spring mix
Finely chopped shallots
Orzo: Measured dried and cooked according to the package instructions.
Sliced strawberries: Divided.
Blueberries
Honey
Poppy seeds
Dijon mustard
Balsamic vinegar
Red wine vinegar
Fresh basil
Kosher salt and pepper: To taste.
Extra-virgin olive oil
How to make strawberry orzo salad from scratch?
Make the vinaigrette: First, toss 1/4 teaspoon of salt and one cup of strawberries with the dijon mustard, honey, finely chopped shallot, balsamic, and red vinegar in a blender or food processor. Mix until smooth. This should take about 30 to 45 seconds.
Gradually add the oil: Then, while the blender is still running, drizzle in oil a little at a time until it is all mixed.
Toss the salad: Then, place the spring mix in a large bowl and combine with the remaining ingredients.
Season, dress, and serve: Finally, drizzle some vinaigrette over your salad, season with salt and pepper, and serve immediately with fresh basil.
Recipe variations:
Another oil: You do not have to use olive oil. Try whatever you like to use in salads such as grapeseed or avocado oil.
Lemon poppy seed vinaigrette dressing: Make this with lemon poppy seed vinaigrette by adding some lemon juice, zest, or extract.
Add more veggies: Feel free to add other veggies like asparagus, broccoli, snap peas, kale, and cauliflower.
Add more fruit: Don't forget the fruit! You can add whatever you like such as blackberries, cranberries, chopped apples, mandarin oranges, and raspberries.
More herbs and spices: Add any kind of herbs and spices you like. Some favorite options include parsley, thyme, oregano, paprika, and rosemary.
Make it a meal: Toss in some of your favorite grilled protein to make it a meal. Try our absolutely delicious and easy grilled chicken recipe.
Different cheese: You could also add some goat cheese or other soft cheese like brie, gorgonzola, camembert, or ricotta.
How to serve:
You do not have to just serve this yummy spring salad in the springtime. It is also a perfect light lunch for summer days by the pool or even a cool fall night. You can even have it for Christmas dinner if you can find all the ingredients! You will find that a large bowl of this orzo salad is the best ready-to-serve dish for any time of the year. Try one of these great serving ideas or share one of your own in the comments section at the bottom of the page.
For a richer salad with extra saltiness, sprinkle on a few teaspoons of dry cheese such as romano or parmesan.
This is the perfect addition to a backyard barbecue. Try it with this recipe for barbecue pork chops.
You could also add your favorite shredded cheese like cheddar, mozzarella, Monterey jack, or pepper jack.
Instead of the vinaigrette, try another type of dressing. Our homemade Italian dressing would be wonderful.
Make your salad crunchy with some nuts like slivered almonds, chopped pecans, or walnuts.
Serve on a bed of rice for a simple meal you can prepare in a hurry. Try our easy recipe for buttery instant pot rice.
You can always use leftovers to add to another salad for tomorrow's lunch.
Frequently asked questions
What is the best way to cook orzo?
First, toast the orzo in a small pot with a teaspoon of olive oil on medium heat for two minutes. Then, add water or vegetable broth to the pot and stir. Cover the pot and let it come to a boil before reducing the heat.
Let it simmer on low for 15 minutes or until most of the liquid is absorbed. Remove from heat and drain while rinsing with cold water. After, put it in a medium bowl, add salt, and stir. Set aside to cool to room temperature.
Why do they call it spring mix?
Also known as mesclun, spring mix is a mixture of different leaves from several species. The name is thought to refer to the ingredients that are just coming into season in the spring. Also, the Spanish word, mezclar means mix, which is another reason it got the name. It is typically made with spinach, baby lettuce, endive, chard, romaine, and other greens.
What are the different kinds of vinegar?
Distilled white vinegar is the most common and is often used for cleaning as well as cooking. It has a sharp flavor and is best used in pickling and leavening. Apple cider vinegar is next, and it has added sugars, giving it a fruitier tart flavor. It is often used in salad dressing. Balsamic vinegar is the sweetest and is made with aged grapes like wine. It is used in glazes, salads, and sweet recipes.
White wine vinegar has a mild flavor and is made from fermented white wine. It has a light and sweet flavor used in salad dressings and soups as well as marinades and sauces. Red wine vinegar is similar but is made from fermented red wine. It has a tangy flavor and is used in marinades, vinaigrettes, and salad dressings. Rice wine vinegar is made with fermented rice wine and is sweeter than the others. It is used in sushi, rice, salads, sauces, and marinades.
What are the nutrition facts in this recipe?
Each serving of this delicious salad has 340 calories, 11 grams fat, 4 grams saturated fat, and 20 mg cholesterol. It also contains 51 grams carbohydrates, 520 mg sodium, and 10 grams sugar. On the other hand, you are also getting 58 mg vitamin C, 90 mg calcium, 5 grams fiber, 2 mg iron, 12 grams protein, and 398 units vitamin A.
How to store leftovers:
Store: You can store your leftover strawberry spring salad in the fridge in a zipper baggie or another airtight container for two or three days.
Freeze: We do not recommend freezing your leftovers.
More salad recipes to try:
Recipe tips:
Try to chop all the pieces roughly the same size for better uniformity and taste.
Shorten prep time by using frozen strawberries. This is also a good alternative when they are not in season.
In fact, frozen blueberries will also work if they are not available.
Put the salad in a bowl with a lid and shake it to make sure all the veggies get evenly coated.
Do not wash your strawberries until you are ready to use them because they soften quickly. Nobody likes soggy strawberries.

You can soak the shallots in cold water first to get rid of the aftertaste.
If you have time, chill the dressing for at least an hour before using it.
Strawberry Orzo Spring Salad
Ingredients
Dressing:
2

tablespoons

red wine vinegar

1

tablespoon

balsamic vinegar

1

tablespoon

finely chopped shallot

about 1 shallot

1

tablespoon

honey

or more

1/2

teaspoon

Dijon mustard

1/4

teaspoon

poppy seeds

1/4

teaspoon

kosher salt

or to taste

1/4

cup

extra-virgin olive oil
Salad:
1

lb.

fresh strawberries

sliced and divided in about 3 cups

1

cup

orzo

measured dried and cooked per package instructions

1/2

cup

blueberries

1/4

teaspoon

kosher salt

5

cups

baby spring mix

or arugula

4

oz

feta cheese

crumbled

1

medium shallot

thinly sliced

1

cup

cherry tomatoes

halved

12

bacon slices

cooked until crispy and coarsely chopped

Fresh basil

for garnish
Instructions
Strawberry salad dressing:
Place the Salad Dressing ingredients, except the oil, plus 1 cup of sliced strawberries in a blender.

Process until smooth, about 30 seconds.

With the blender running, gradually drizzle in the oil, and process until the mixture is smooth and combined, about 30 seconds more.
Salad:
Arrange spring mix on a large platter. Top with the cooked orzo, crumbled feta, sliced shallot, tomatoes, and bacon crumbs.

Add the remaining 2 cups of sliced strawberries, blueberries, and ½ teaspoon salt.

Drizzle the strawberry vinaigrette over the salad.

Garnish with fresh basil and a light drizzle of balsamic reduction, and serve immediately.
Deliciousness to your inbox
Enjoy weekly hand picked recipes and recommendations