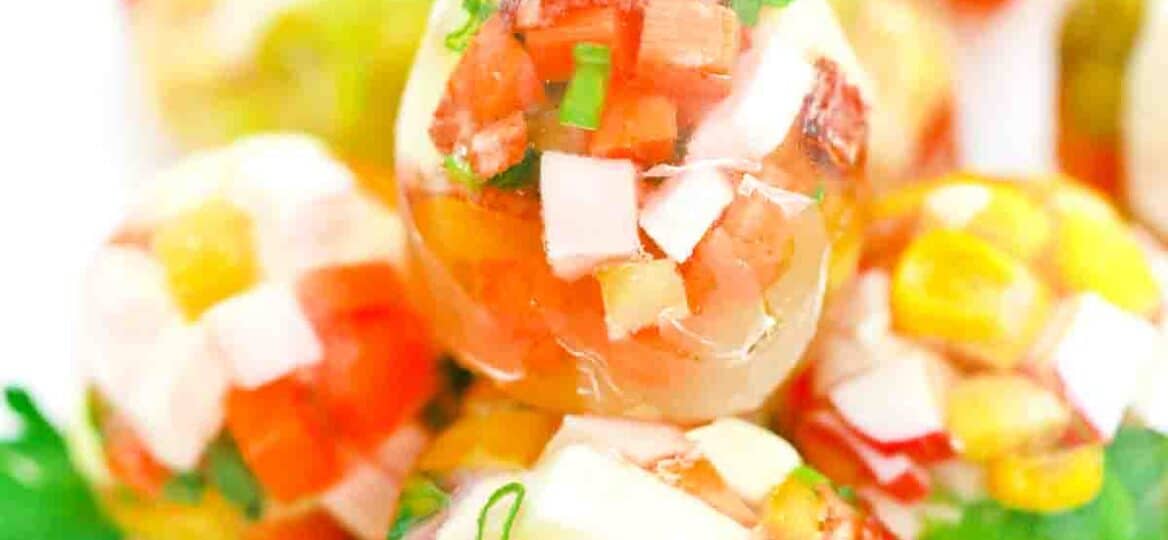 Old Fashioned Jelly Eggs Recipe [Video]
Jelly Eggs, also known as stuffed aspic eggs or oeufs en gelée, are a decorative and delicious addition to any festive table, especially Easter. You only need a small amount of each ingredient, so this is perfect to use up holiday meal leftovers. Each jellied egg is molded inside a real eggshell with chicken and veggies suspended in gelatin. Peel the eggs and serve as a stunning appetizer.
If you are looking for some other egg recipes, try these Instant Pot Egg Bites with eggs, bacon, and cheddar cheese. They are light and fluffy and shaped into egg shapes with an egg mold for a unique look. For a simple but delicious breakfast, make the whole family some Air Fryer Egg Cups. All you need is bread, butter, ham, eggs, and shredded cheddar cheese.
Although many foodies say aspic was invented by Marie-Antoine Carême in the 1800s, historians claim that the recipe was found in a 10th-century cookbook written in Arabic for fish aspic. It was made by boiling fish heads with vinegar, herbs, and spices. Then the stock is colored with saffron and served after it is set. Although the aspic recipe has changed somewhat over the years, it still makes a great presentation. Even Julia Child has mentioned it in her cooking.
For this yummy Easter jelly eggs recipe, all you need are a few ingredients including chicken, vegetables, a few herbs and spices, and some gelatin. If you do not think this sounds appetizing, you can always add your own favorite foods to your taste. We decided to stick with the original recipe but you can make it your own.
Check out some of our other great holiday food. For a scrumptious dinner entree, this Easter lamb leg recipe is perfect. Each leg is stuffed with herbs and veggies like lemon zest, bell peppers, garlic, and even some cashews. Then it is topped with our savory homemade lemon honey sauce. How about a Simnel cake for dessert? Our yummy Simnel fruitcake is made with oranges, lemons, raisins, cranberries, and other dried fruits and nuts.
Ingredients needed:
To make these beautiful jelly eggs, all you need are some basic ingredients you may already have in your refrigerator from last night's dinner. After you gather these items, go down to the bottom of the page to find our handy printable recipe card with the instructions and measurements.
Jelly egg ingredients:
Boneless, skinless chicken breast
Parsley: Chopped fine.
Carrot
Celery
Sweet peas
Imitation crab pieces
Leek
Allspice
Bay leaves
Water
Kosher salt
Powdered gelatin
Canned corn
Canned peas
Apple: Peeled and diced.
Leftover chicken: Diced.
Leftover veggies: Finely diced.
Small white onion: Finely diced.
Small dill pickle: Chopped into small pieces.
Red bell peppers
Ham: Finely diced.
Chopped bacon
How to make jelly eggs from scratch?
Fill the pot: First, put the chicken, leek, celery, parsley, allspice, bay leaves, salt, and peppercorns in a medium-sized pot and fill it 2/3 with cold water. Stir to combine well.
Cook the chicken broth: Then, bring the water to a boil on medium-high. Once it is boiling, lower the temperature and let it simmer for an hour or until the chicken is 160 degrees F with a meat thermometer.
Chop ingredients: Next, remove the chicken and veggies from the hot stock, slice them into small pieces, and set aside to cool.
Strain the soup: Now, strain the broth with a sieve to make sure it is clear. Add gelatin to the strained broth and stir until dissolved before you let it cool.
Hollow and clean the eggs: While it cools, remove the yolks and whites from the eggs by making a small hole in one end and scald the eggshells in boiling water. Place each egg into the trays upside down to drain as you go.
Stuff the eggshells: After, carefully fill the eggshells with the chopped chicken, peppers, peas, and corn. You can make the hole larger if needed. Fill the shells about 3/4 of the way full.
Chill for an hour: Once all the shells are filled, pour in the cooled gelatin until they are completely full. Chill in the fridge for an hour so it sets.
Remove shells to serve: Finally, break the shells and gently remove them before serving.
Recipe variations:
Other meats: Feel free to use whatever meat you like such as chopped beef, ham, turkey, or pork.
Extra thickness: Add veal knuckles to your soup for extra thick jelly.
More herbs and spices: Similarly, you can add whatever herbs and spices you like such as garlic and onion powder, thyme, rosemary, and paprika. Just remember that some spices can turn the jelly into different colors.
Sweeter eggs: Why not make these for dessert instead? Just use chopped fruit and clear gelatin without meat. Some great ideas are berries, mandarin oranges, kiwis, apples, and pears.
Other flavors: Instead of clear gelatin, use your favorite Jello flavor like lemon, orange, lime, or cherry to make these even sweeter. Obviously, these would not be edible but used only for decor.
How to serve:
Your guests will be amazed at this interesting and attractive dish served as an appetizer or side dish for a holiday meal or just a family get-together. Try one of these awesome ideas or share your own in the comments section below.
Place finished eggs on a serving plate with deviled eggs for a unique display everyone can eat.
Use your favorite salad dressing for your salad instead of mayonnaise. Try this delicious homemade Italian dressing recipe.
These jelly eggs also go great with a small plate of poached eggs and sausage for a nice brunch.
Serve on a bed of rice or pasta for a full meal.
Slice each egg in half lengthwise and then place on toast with butter and jam.
Use leftovers to make vegetable soup. Just heat them up and mix them with your favorite foods, vegetable broth, and tomato sauce. Or you can add them to this easy homemade vegetable soup recipe.
Frequently asked questions
What is aspic?
Also referred to as meat jelly or aspic jelly, aspic is a gelatin made with some type of meat stock from chicken or some other protein. Then, it is poured into a mold or cup with other ingredients like vegetables, eggs, seafood, and pieces of meat. Other times, the ingredients are covered after being arranged in a mold.
Why are my jelly eggs not setting?
It is possible that you did not let the gelatin bloom enough or you had too much liquid in your soup mixture. But you do not have to worry. Just reheat it all, let it melt, and stir in a little more powdered gelatin. Mix and cook on low for about two minutes. It does not need to boil. Then, pour your liquid and ingredients into a shell or egg cup and let it chill in the fridge for about an hour. You could also heat up your jelly in the microwave.
How do I empty the eggshells?
The easiest way to do this is by using a large needle or small nail. Just carefully poke a hole in both ends of an egg. Then, use a small knife or scissors to make the hole a little larger on one end. Now, use a long needle or paper clip to stir the inside. This helps break up the yolk. Finally, use your mouth or a bulb syringe to blow the contents through the other end.
What are the nutrition facts in this recipe?
Each one of these eggs has over 50 grams of protein, making it a great food for those on special diets. It also has 5 mg iron, 8 grams fiber, 665 units vitamin A, 1,200 mg potassium, 52 mg vitamin C, and 100 mg calcium. However, each serving also has 300 calories, 38 carbs, 15 grams fat with 2 grams saturated fat, 2,000 mg sodium, and 17 grams sugar.
How to store leftovers:
Store: You can store your leftover jelly eggs in an airtight container like an egg carton and keep them refrigerated for up to five days.
Freeze: Freezing is not recommended.
More Easter recipes to try:
Recipe tips:
Be sure to cut the pieces about the same size for better consistency and flavor in each bite.
Place eggs in an egg carton with the hole facing down to drain all the water before filling.
Also, use the carton to hold the eggshells, the holes facing up, while you fill them.
For easier egg shapes, use egg-shaped molds instead of eggshells. Dip them in hot water before removing and you will be pleasantly surprised at how much simpler this is.
Making aspic is easy when made by adding gelatin to liquid stock from simmering the chicken, veggies, and seasonings.
To shorten prep time, use prepared stock or broth instead of making your own.
To acclimate your gelatine, add a tablespoon of stock to the aspic just enough to dissolve it before adding it to the rest of the ingredients in the pot.
If you do not have a sieve, we drained ours over cheesecloth and it worked well.
Old Fashioned Jelly Eggs
Ingredients
For the chicken broth (or use store-bought):
1

chicken breast

boneless and skinless

1

large carrots

1

yellow onion

1

piece

of leek

1

tablespoon

fresh parsley

1

rib celery

2

bay leaves

2

allspice

optional

Salt and pepper

to taste

35

oz

water

5

teaspoons

gelatin
For the filling:
3

tablespoons

chicken breast

chopped

1

tablespoon

parsley

chopped fine.

3

tablespoons

cubed carrot

3

tablespoons

cubed celery

3

tablespoons

sweet peas

3

tablespoons

cubed imitation crab pieces

3

tablespoons

leek

chopped

2

tablespoons

canned corn

2

tablespoons

canned peas

1

small dill pickle

chopped into small pieces.

3

tablespoons

red bell pepper

diced

3

tablespoons

ham

finely diced.

3

tablespoons

chopped bacon

crispy
Instructions
Broth:
Add the broth ingredients to a pot, cover with water, and cook on low heat for about 50 - 60 minutes. Season with salt and pepper to taste.

When the vegetables are still al-dente, take them out of the broth, and let them cool on a plate. After that, dice the into small cubes to use for the filling.

Once the broth is ready, remove the chicken from the pot, let it cool, and also dice it.

Strain the broth through a sieve immediately and the gelatin, stir to dissolve it thoroughly, and leave the mixture to cool.
Prep the eggshells:
Using a sharp and pointy object, like a pointy knife, make a small hole in the eggshell from the wider side of the egg. Pour the contents into a separate bowl, you can freeze the contents for later, or use them in omelets.

Scald the empty eggshells with boiling water on the outside and inside, and using a small spoon, scrape the cut film from the shell.

Egg trays can be used to keep the molds from tipping over. So arrange them in the molds, with the hole facing up.

Add whatever diced veggies and meat you prefer into the "egg molds" up to ¾ of the height of the shell. Do NOT overfill as these should be space for the gelatin mixture.

Pour the cooled gelatin broth mixture into the filled "egg molds", and refrigerate for 4-6 hours until the gelatin mixture solidifies.

Before serving, break the shell with a spoon and peel the egg jellies from the shells. Enjoy!
Deliciousness to your inbox
Enjoy weekly hand picked recipes and recommendations