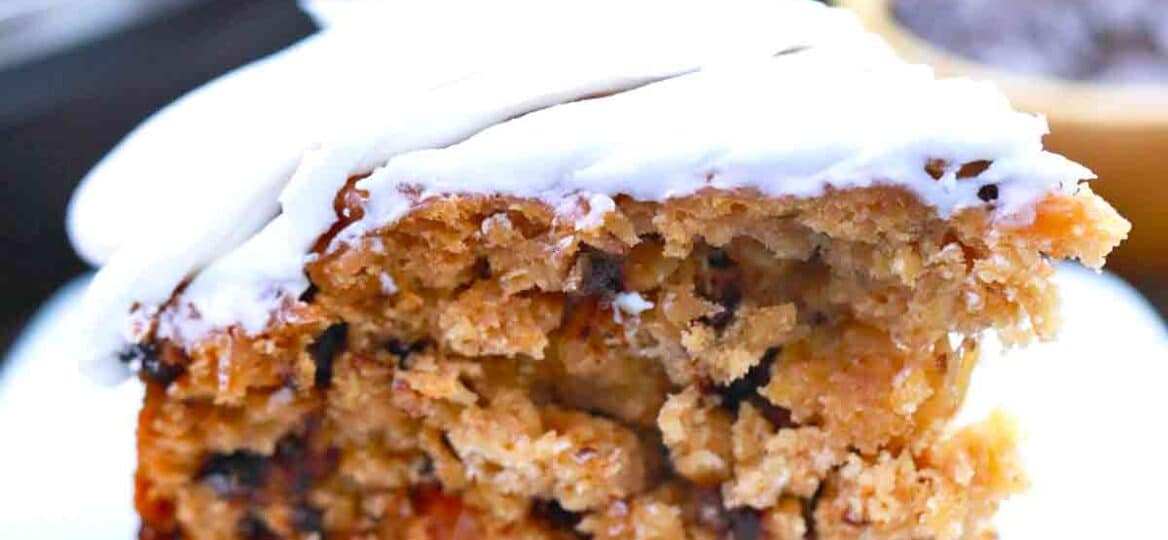 Instant Pot Baked Oatmeal [Video]
Instant Pot Baked Oatmeal is a quick breakfast with delicious flavors like brown sugar, peanut butter, chocolate chips, and raisins. It is an easy way to get the whole family to sit down for a meal together in the morning. The best part is that it is an easy and healthy breakfast recipe.
For another apple treat, try our Instant Pot Baked Apples with spiced brown sugar and butter. Or you can make this mouthwatering Cheesecake Oatmeal with ricotta, blackberries, and lemon zest. For dinner, try this savory Instant Pot Pineapple Chicken ready to eat in 30 minutes.
You could also make this using our slow cooker options. Just put the ingredients in your crockpot and cook on high for four hours or low for six hours.
The results are the same, it just takes longer. Feel free to add anything that sounds good like maple syrup, fresh berries, apples, or peaches.
Ingredients needed:
Scroll down to the bottom of the page to our recipe card for the step-by-step instructions, full ingredients list, and measurements. But here are the basic ingredients you need for this instant pot oatmeal recipe:
Butter: Melted.
Brown sugar: Or honey.
Large eggs: At room temperature.
Peanut butter: Melted.
Vanilla: Pure vanilla extract.
Milk: Regular whole milk or almond milk is okay too.
Whole grain quick-cooking oats: You can also use overnight oats, instant pot steel cut oats, or old-fashioned oats.

Baking powder: Not baking soda.
Semisweet chocolate chips
Raisins
Kosher salt: Just a pinch of salt.
How to make instant pot baked oatmeal from scratch?
Mix: First, pour the melted butter into a mixing bowl and add the brown sugar. Mix well before adding the eggs and whisking it all together.
Add: Then, add peanut butter and vanilla and mix it again. Before you pour in the milk and mix thoroughly.

Dry ingredients: Next, in another large mixing bowl, add all dry ingredients and mix well.

Combine: After, pour the wet ingredients into the dry ingredients and mix again. Then add the chocolate chips and raisins before mixing them one last time.
Prepare: Then, prepare a 7-inch baking dish by coating it with nonstick cooking spray before pouring into the batter and covering it with aluminum foil.
Cook: Last, place a 3-inch trivet into the pot with one cup of water and put the pan on the trivet. Lock the lid and cook for one hour on high pressure.
Pressure release: Do a quick release and take the pan out to cool on a wire rack for 10 minutes.
Serve: Finally, make a glaze or frosting and drizzle it on top before serving.
Recipe variations:
Blueberry: Use blueberries instead of peanut butter and raisins for instant pot blueberry oatmeal.

Nuts: Add your favorite nuts to make it crunchier.
Oatmeal cups: Use ramekins instead of the cake pan to make individual oatmeal cups.
Other milk: You can also use coconut milk instead of regular or almond.

Syrup: Pour a little maple syrup on top for a bit of sweetness.
Less fat: Leave out peanut butter and chocolate chips and use skim milk for less fat in your oatmeal.

Other flavors: Our recipe calls for vanilla extract, but you can try chocolate, almond, orange, lemon, or whatever flavor you like.
How to serve:
This is a delicious breakfast for the whole family. One of the best things is that you can add any toppings that you like to make it your own favorite way. Or try one of these ideas:
Enjoy this breakfast with a cup of coffee in the morning before work.

Add a dollop of homemade whipped cream on top for extra creaminess.
You could also add 1.5 cups milk to thin it out if it is too thick.

Add your own favorite toppings like ripe banana, apples, peaches, or whatever you like.

Make this into apple cinnamon oatmeal by adding our cinnamon apples.
Put another tablespoon of peanut butter on top when serving for peanut butter lovers.
Use leftovers to make pancakes for a nice snack or breakfast the next day.
Frequently asked questions
What is the difference between natural release and quick release?
Natural release happens if you do nothing after the timer beeps. This allows the cooker to cool naturally until the float valve drops.
For quick release, you would turn the steam release handle to venting and the pressure will release faster.
What does the BURN message mean?
If your pot shows a BURN message, it is because the inside of the pot has gotten too hot. There could be a little bit of burnt food on bottom or maybe your steam valve is not sealed.
This also happens when there is not enough liquid in the pot. You have to add at least one cup of water to the pot when you cook in it.
Is oatmeal healthy?
Yes, if there is no added sugar or other unhealthy additives, eating oatmeal is good for you. It lowers your blood sugar and cholesterol, helps lower your blood pressure, and another great thing is that it can help with weight loss.
Our pressure cooker oatmeal recipe is even healthier if you leave out the chocolate chips.
How to store leftovers:
Store: Save leftovers in an airtight container in the refrigerator for up to four days.
Freeze: You could also keep the leftovers for up to three months in the freezer.
Thaw: Thaw overnight in the refrigerator for best results.
Reheat: Heat in microwave for one minute per single serving.
More breakfast recipes:
Cooking tips:
The cook time may vary depending on the size and model of pot you have.

If you do not have any apples, you can use applesauce instead.

Feel free to use dried fruit instead of fresh.

Don't have dried fruit? Try drying your fruit with your air fryer.

If your trivet does not have handles, you can use a silicone sling.

Do not cook this directly in the pot because it is too thick and will result in a BURN message.

Make a big batch of this and put it in the fridge to serve the next day.

If you are using frozen fruit, add an extra five to eight minutes of cook time.
Instant Pot Baked Oatmeal
Ingredients
2

tablespoons

unsalted butter melted

1/2

cup

brown sugar

or honey

2

eggs

room temperature

1

cup

peanut butter

melted

1

teaspoon

vanilla extract

1

cup

milk

3

cups

quick-cooking oats

2

teaspoons

baking powder

1/2

teaspoon

salt

1/2

cup

semisweet chocolate chips

1/4

cup

raisins
Instructions
Add melted butter and brown sugar to a medium mixing bowl and mix.

Add eggs and whisk together.

Next, add peanut butter and vanilla extract, and mix to combine.

Pour in milk and stir until fully combined.

In a separate medium mixing bowl, stir oats, baking powder, and salt.

Pour wet ingredients into the bowl with the dry ingredients and mix until fully incorporated.

Finally, stir in the chocolate chips and raisins.

Spray a 7-inch pan with nonstick cooking spray. Pour the batter into the pan and spread out evenly. Then cover with foil.

Add a trivet to the inner pot, add 1 ½ cups of water. Place the pan on top of the trivet.

Lock the lid, and pressure cook on high for 60 minutes.

Once cook time is complete, quick-release the pressure.

Carefully, open the lid and remove the pan, uncover it, and let it cool for 10 minutes before serving.
Optional:
Make a glaze by mixing 1 cup of powdered sugar with 1-2 tablespoons of milk until smooth and drizzle on top.
Deliciousness to your inbox
Enjoy weekly hand picked recipes and recommendations