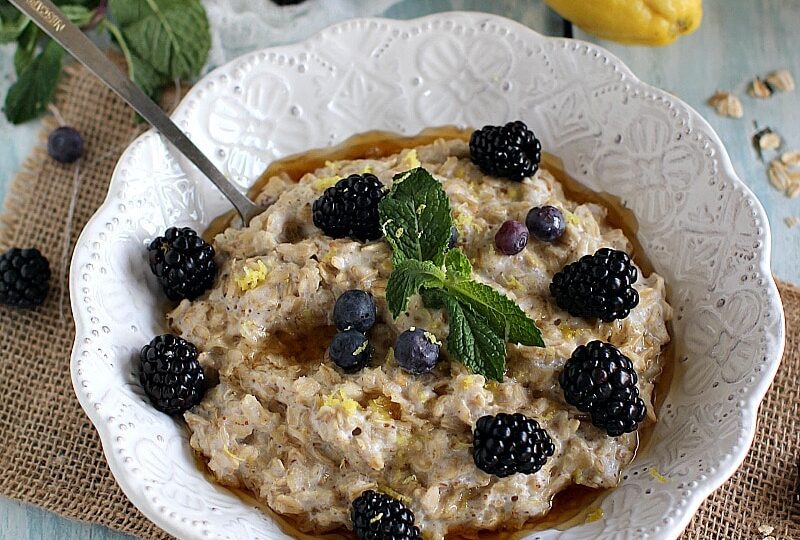 Cheesecake Oatmeal made with milk, lemon zest and ricotta, topped with fresh blackberries and sweet maple syrup.
Cheesecake Oatmeal
The Cheesecake Oatmeal is topped with fresh blackberries, lemon zest and maple syrup. Breakfast for me is so important, that I like to go to sleep and plan what I will eat the next morning. Usually, I always have some Quaker Oats on hand to create different concoctions.
This oatmeal is my favorite, as its creamy, its hearty and it tastes amazing. Also, having oatmeal for breakfast is such an easy choice in our family. As working parents with a toddler who needs to get ready for school our mornings are hectic. However, I still like to have some delicious and good quality oatmeal, as it sets the mood for the rest of the day.
I added some fresh lemon zest to add some brightness to my oatmeal. In addition, some maple syrup for sweetness and some mint for extra freshness and a pop of color. To give my oatmeal bowl that cheesecake like creaminess, I cooked the oats in milk and mixed them with ricotta. That is the key to an unbelievably creamy texture.
How to make lemon zest
Follow the easy steps below:
First, rinse the lemon.
Then, set your tool over a cutting board. A microplane produces a very fine zest, perfect for baking and cooking. If you don't have a microplane, use the smallest holes on an ordinary grater.
Grate the yellow skin of the lemon only. Grate just enough to get through the yellow skin, this way you can avoid the bitter white pith underneath.
Next, rotate the lemon and repeat. Once the white pith is exposed, rotate the lemon and zest the next strip of peel. Repeat until most of the peel is removed, or until you have enough zest for your recipe.
Cheesecake Oatmeal
Ingredients
1½

cups

Quaker Oats

1

cup

milk

5-6

tablespoons

ricotta cheese

2-3

tablespoons

maple syrup

½

cup

blackberries

1

teaspoon

lemon zest
Optional toppings:
bananas

slices

blueberries

fresh mint leaves
Instructions
In a small sauce pan bring milk to a boil over low medium heat. Add the Old Fashioned Quaker® Oats and lemon zest, cook for 5 minutes, stirring occasionally.

Remove from heat and stir in ricotta.

Transfer to a serving bowl and top with fresh blackberries and maple syrup.

Serve!