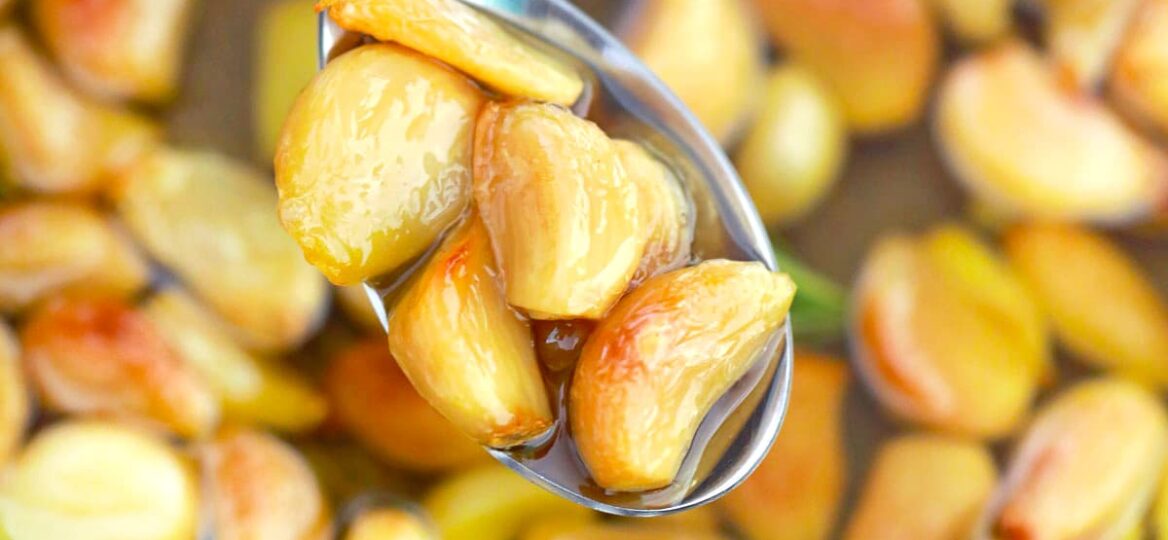 Garlic Confit Recipe
Garlic Confit is a savory and flavorful mixture made from roasted garlic, olive oil, and fresh herbs. Perfect for garlic lovers, we use thyme and rosemary sprigs, but you can use your favorites.
Try tucking some of your fresh garlic confit under the skin of this Garlic Herb Butter Roasted Chicken made with lemon and fresh butter. Another way to enjoy the flavor of your garlic confit is by adding it to this Instant Pot Beef Stew with stew meat, onions, and brown sugar.
Replace the minced garlic cloves in this recipe for Fondant Potatoes with garlic confit and see how amazing they taste!
As you probably know, garlic cloves turn soft and sweet when you make garlic confit, giving them a unique flavor like no other.
Similar to traditional roasted garlic, the sweet taste you get when roasted garlic is cooked slowly. Using extra virgin olive oil adds a little bit of extra taste to the flavor while being absorbed during the cooking process in this garlic confit recipe.
Whether you use the garlic cloves with or without the skin, many people like to cut the ends off too. Then you can squeeze the gooey garlic out easily.
Roasted garlic on its own is good enough to eat with a spoon but it also works well as garlic oil to pour onto salads, soups, veggies, or meat.
Follow us on Pinterest for more delicious recipes!
Ingredients needed:
These are the main ingredients for this garlic oil and garlic confit recipe. Scroll down to our recipe card for the step-by-step directions and measurements.
Large heads of garlic: Cloves peeled and separated.
Olive oil: We used extra virgin olive oil.
Thyme sprigs: Fresh thyme for best results.
Rosemary sprigs: Again, fresh is best.
How to make Garlic Confit recipe?
Preheat: Preheat the oven to 250°F.
Mix: Meanwhile, mix the herbs, olive oil, and garlic cloves in a small bowl or baking dish.
Bake: When the oven is ready, bake raw garlic until it is tender and lightly golden brown, about 1.5 to 2 hours. It is done when it is soft and jammy.
Store for future use: After it is done, use a slotted spoon to put your garlic confit and garlic oil into a clean jar and shake vigorously. Then, store your garlic confit in a clean jar in the refrigerator. Add more oil if needed. For safety, use it within two weeks.
How to make stovetop garlic confit:
Prepare: First, prepare your garlic cloves for cooking as per the instructions above.
Preheat pan: Then, add the olive oil to a small saucepan on the stovetop on medium heat until it is simmering.

Small pot: Use the smallest saucepan you have so you can keep the garlic cloves submerged while cooking.

Brown the garlic: When the garlic cloves are light golden brown, turn the stove to low heat and add the herbs, letting them cook in the olive oil until it is soft.

Chill and store: Finally, put your garlic confit in a glass jar and give it an ice bath to cool it quickly. Then, store in the fridge until use.
Recipe variations:
Another oil: Instead of olive oil, you can use vegetable oil or whatever cooking oil you prefer.
More flavor: Add more flavor to your garlic confit with peppercorns, bay leaves, or your other favorite herbs.

Hot stuff: For spicy garlic confit, add some red pepper flakes or diced jalapenos.
Sweeten it up: For a sweeter garlic confit, add some sugar or honey to the mix.
Onions: You could also add minced onion to the garlic mix before cooking.
How to serve:
Anyone can make garlic confit with this super easy recipe that turns raw garlic cloves into tasty morsels of garlic heaven after you soak them in oil and roast them for a couple of hours. Use it on toast or try one of these great ideas:
This is a great addition to lemon garlic roast.
Garlic lovers will appreciate a spoonful of this added to any kind of dip on game day.
Garlic roasted potatoes are also a terrific way to enjoy this garlic confit.

Add garlic oil to your favorite balsamic vinaigrette.
You cannot beat this flavor addition to our amazing garlic brown sugar lamb ribs.
When you finish all the garlic in the confit, use the garlic oil for whatever you like from hummus to salad dressing.
Frequently asked questions
Is garlic confit safe?
The food-borne illness, botulism, is a small but very important risk to know about when making garlic confit. Because garlic confit is so low in acid, the dangerous toxins can build up quickly at temperatures over 40 degrees F.
As soon as your garlic confit is done cooking, cool it as fast as you can in a bowl of ice or cold water before putting it in the refrigerator. Store your garlic confit in the coldest part of your fridge, below 37 degrees F is best.
If you are not going to use it right away, you can freeze garlic confit with or without the oil.
What is garlic confit used for?
You can use your garlic confit for just about anything from salads to soups. Pasta dishes are another great way to use this delicious aromatic spread.
Try adding it to meat, mashed potatoes, or roasted vegetables as well as salad dressings.
Or you can just spread it on a slice of crusty bread. Because you use the slow roast cooking process, the raw garlic turns buttery smooth, and sweet. You can also make garlic-infused oil that you can pour over any meat, pasta, or veggies.
The olive oil will add to the flavor and garlic lovers will tell you that garlic oil can be used on everything.
What does it mean to confit garlic?
The word confit actually refers to a French cooking method of roasting and storing some type of ingredient in its own fats. Although other recipes consider confit as how to preserve fruit with sugary syrup.
But you can use the confit process to preserve meats, veggies, fruits, or whatever you like. It is not just about how to confit garlic, but how to preserve the foods that you love in some kind of fat or sugar mixture.
How do I freeze garlic confit?
You can freeze it in an airtight freezer-safe container or freeze it separately. In fact, if you want to freeze it in small amounts, use covered ice cube trays. That way you can just take out how much you need as you need it.
How to store leftovers:
Store: It is important to store your leftover garlic confit in a clean glass airtight container right away. Do not wait for it to come to room temperature on its own. Chill it in an ice bath or a bowl of ice to cool it right away. Then, seal it up and put it in the coldest part of your fridge for up to two weeks.
Freeze: It is also safe to freeze your garlic confit for up to three months.
Thaw: Remember to put your frozen leftovers in the fridge to thaw overnight before serving. Never leave the mixture out at room temperature. It should always be returned to the refrigerator immediately after use.
More easy spreads and dips:
Garlic oil cooking tips:
An important safety note about botulism. Garlic confit has such low acid, that it is important for you to store it carefully to reduce the risk of botulism. The Centers for Disease Control (CDC) specifically say that you should never let garlic confit sit at room temperature. It has to be refrigerated and should be used within two weeks. If you freeze it, you can keep it for about three months.

In addition, when you are using garlic confit, use a clean spoon or knife to take out what you need and then return it to the refrigerator immediately to avoid letting it come to room temperature.

When you peel the garlic cloves, try not to crush them because the crushed garlic cloves break up into the oil as they get soft.
For those who hate peeling garlic cloves, you can get pre-peeled garlic cloves at almost any grocery store.

Pre-peeled garlic cloves can also work well to save time when making this delicious confit garlic recipe.

You could also cook garlic cloves in the skin and just squeeze out the soft garlic when you want to use it.

The spices as well as the amount of spice you use are up to you and your preferred taste.
Garlic Confit
Ingredients
4

large heads garlic

separate the cloves and peel

1

cup

olive oil

2

sprigs rosemary

2

sprigs thyme
Instructions
Preheat the oven to 250°F.

In a small baking dish, combine the peeled garlic cloves, oil, and fresh herbs.

Bake until the garlic is tender, stirring from time to time. This will take about 1 1/2 to 2 hours. The garlic should be soft and golden.

Remove from the stove and let it fully cool on a wire rack.

Store the confit in a clean jar in the fridge for up to 2 weeks.

Use the garlic as a spread and the garlic oil as a dip.