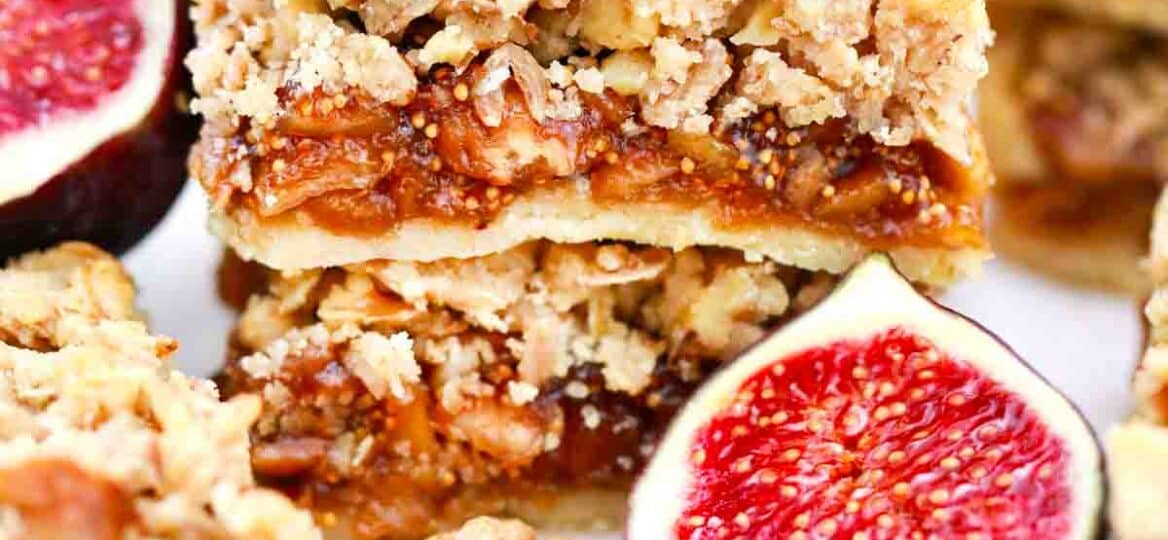 Fig Bars Recipe – Melt in Your Mouth! [Video]
Fig Bars are a delicious treat with a buttery crust, a sweet filling made with dried figs, brown sugar, and crunchy walnut and oats topping. This homemade recipe for these fig snack bars with no artificial flavors is the perfect treat to give the kids instead of a candy bar and they taste absolutely delicious. You can make them gluten-free, dairy-free, and vegan certified by just changing one or two ingredients.
Are you looking for some other kind of cookie bars? Try our Chocolate Chip Cookie Bars made with dark brown sugar and sweet chocolate chips. For a holiday treat, these Gingerbread Cookie Bars are perfectly made with maple syrup, cream cheese, and molasses.
Did you know January 16th is National Fig Newton Day? They may have been the earliest cookie ever, made in 1891 by Charles Roser. According to historians, doctors believed that illness was caused by digestion problems until the 1800s, so they recommended a daily dose of biscuits and fruit. That is a good reason to eat these delicious cookies.
These scrumptious fig bars taste almost identical (but even better) to Nature's Bakery fig bars, and they are so easy to make. Those who are extra health conscious can use naturally milled sugar, Nature's Bakery whole wheat, and whole grain oats to make these soft baked fig bars even healthier.
They are equal parts delicious and good for you and your whole family will love them. For other plant-based treats, try this vegan lemon tofu cheesecake recipe made from silken tofu, honey, and almond butter, or our vegan french toast made with whole grains bread, coconut milk, and maple syrup.
And this vegan carrot halwa pistachio trifle is superb with vegan coconut yogurt, pistachios, and maple syrup. Or you can try our copycat recipe for Disneyland Peanut Butter Bars. These are my family's favorite snacks.
Ingredients needed:
You will need to gather these simple ingredients for this easy fig bars recipe. Then, when you are ready to get started, scroll down to the bottom of the page for our recipe card where you can find the exact measurements and instructions.
Crust:
Butter or margarine: Softened.
Granulated cane sugar
Vanilla
All-purpose flour
Filling:
Granulated cane sugar
Brown sugar
Boiling water
Dried Mission figs: Chopped.
Topping:
All-purpose flour
Packed brown sugar
Cold butter: Do not use margarine.
Quick-cooking oats
Chopped walnuts
How to make fig bars from scratch?
Preheat: First, preheat the oven to 350 degrees F and spray a 9-inch square pan with cooking spray.
Make the crust: In the meantime, beat vanilla, 1/4 cup of sugar, and 1/2 cup of butter in a small bowl with an electric mixer on medium speed. Once it is completely mixed, add one cup of flour and mix until it is a soft dough.
Bake the dough: Next, press the dough into the bottom of the prepared pan and bake for 10 to 15 minutes. Just until the center is set.
Make the filling: While the dough bakes heat the filling ingredients on medium-high heat until most of the water is absorbed and the figs are tender, stirring often. This typically takes about five to 10 minutes in a 2-quart saucepan. Spread it over the crust after it has cooled.
Make the crumble topping: After, combine three tablespoons of butter, all of the brown sugar, and 1/4 cup of flour and mix with a pastry cutter until it is crumbly. Then, stir in the walnuts and oats and sprinkle evenly over your fig mixture.
Bake your fig bars: Lastly, bake at 350 degrees F for 15 to 20 minutes. The edges should be bubbling, and the topping should be light golden brown.
Cool, cut, and serve: Finally, after cooling for an hour, cut into rows and serve slightly warm.
Recipe variations:
Whole wheat fig bars: Use wholesome whole wheat flour to make a whole wheat fig bar for a wholesome win-win.
Honey: You can use honey or brown rice syrup instead of white and brown sugar.
Other nuts: Try switching the walnuts with pecans, cashews, or slivered almonds.
Chocolate chips: Add a 1/2 cup of chocolate chips to make chocolate chip fig bars.
Pumpkin spice: For pumpkin spice-flavored figs, add a pinch of each cinnamon, nutmeg, cloves, and ginger to the filling.
Apple powder: Similarly, you can make apple cinnamon figs by adding a tablespoon of apple powder to the topping and the filling.
Other fruit: Try using apricots, dates, prunes, or plums instead of figs.
Nut free: If you have someone who is allergic to nuts, you can just skip the walnuts. The taste will not be that different.
How to serve:
These fig bars are a great snack anytime and perfect for families on the go. Just pack a few in a baggie and you have a daily snack companion for work or school. The natural flavor of real fruit and no high fructose corn syrup make these a healthy and tasty on-the-go snack.
This is a great snack bar to put in your kids' lunches. Kids love them, they do not care if they are healthy or not. Make twin packs in sandwich baggies and wait for the thank yous that you get after school.
Add a dollop of your favorite fruit jam or preserves. Try our sweet and tangy plum jam recipe with no pectin.
Chocolate lovers would also enjoy some chopped dark chocolate nuts in the topping.
Fig bars are the perfect dessert for any meal, but they are an amazing accompaniment to our sweet chili lime chicken dish.
These cookies are perfectly portioned for on-the-go snacks with great flavor. Enjoy them with a glass of cold milk or fruit juice for a nice healthy treat.
Mash leftovers and use them as a topping for ice cream or yogurt. Our easy no-churn peaches and cream ice cream would be awesome.
Sprinkle orange or lemon zest on top of these delicious treats for a zesty citrus flavor.
Frequently asked questions
What is the difference between figs and dates?
Both figs and dates are delicious fruits with a lot of vitamins and minerals. But dates are sweeter and sticky with a caramel flavor and figs are crunchy and have a berry flavor.
Dates come from the date palm tree native to the Middle East and come in many different varieties. Figs come from a ficus tree also from the Middle East and also have many different varieties.
What is the best kinds of fig for this recipe?
Figs come in many different varieties and each variety has several kinds as well. However, the most common include brown turkey, Kadota, kalamata, sierra, and Black Mission figs. Other varieties are calimyrna, sequoia, tina, and tiger. Any of these are good for fig bars but we chose Black Mission because they are sweet with a caramel molasses flavor.
How do I choose the ripest figs?
First of all, figs have two seasons. The first is from June to July and then from late August until November. Where you buy your figs is important. At the farmer's market, you are getting as close to ripe as possible but stores choose the firm ones, so they last longer. Just squeeze them gently and if they have a little give but not too much, they are good.
What are the nutrition facts in this recipe?
Each serving of these fig bars includes 171 calories, 35 grams of carbohydrates, and 5 grams of fat including 1 gram of polyunsaturated fat, 1 gram of monounsaturated fat, and 1 gram of trans fat. They also have 23 grams of sugar, 70 milligrams of sodium, and 25 milligrams of cholesterol.
On the positive side, these great cookies give you 1 milligram of iron, 45 milligrams of calcium, and 8 milligrams of vitamin C as well as 260 units of vitamin A and 225 milligrams of potassium. You even get 2 grams of protein and 3 grams of fiber.
How to store leftovers:
Store: Figs can last a long time so these will stay fresh in an airtight container or freezer bag for up to two weeks on the counter or one month in the fridge.
Freeze: It is also safe to freeze your fig bars for up to three months.
Thaw: Remember to put your frozen leftovers in the fridge to thaw overnight before serving.
More bars to try:
Baking tips:
To shorten prep time, use fig paste for the filling.
This recipe is low-sodium, certified kosher, soy-free, and non-GMO project verified. You can also make it cholesterol-free and certified vegan if you use a butter substitute. Add locust bean gum for thickening if needed.
You will not have to worry about any of the additives you find in the original Fig Newton such as citric acid, potassium nitrate, sodium ascorbate, or any other unnecessary ingredients.
Add a 1/2 teaspoon of baking soda to the crust ingredients for a fluffier cookie.
Instead of a pastry cutter, you can use a fork to mix the topping.
To make sure these do not stick, use parchment paper sprayed with cooking oil on each side.
Buttery Fig Bars
Ingredients
Crust:
1/2

cup

butter

softened - use margarine or I can't believe its butter! for vegan bars

1/4

cup

granulated sugar

1/4

teaspoon

vanilla extract

1

cup

all-purpose flour
Filling:
1/4

cup

granulated sugar

1/4

cup

brown sugar

packed

1

cup

boiling water

18

oz

dried Mission figs

chopped - 2 cups
Topping:
1/2

cup

all-purpose flour

1/2

cup

brown sugar

packed

6

tablespoons

cold butter

1/2

cup

quick-cooking oats

1/4

cup

walnuts

finely chopped - optional
Instructions
Preheat the oven to 350 degrees F.

Spray a 9-inch square pan with cooking spray and set it aside.
Crust:
In a medium bowl, using an electric mixer, beat 1/2 cup butter, 1/4 cup granulated sugar, and the vanilla extract on medium speed until combined.

With the mixer on low speed, beat in 1 cup of flour until soft dough forms.

Press the dough into the bottom of the prepared pan and bake it for 10-15 minutes or until the center is set.
Filling:
While you are baking the crust, add the filling ingredients to a medium saucepan, and cook over medium-high heat for 5 to 10 minutes, stirring frequently. The dried figs should be tender and most of the liquid absorbed.

Remove the crust from the oven and spread the filling evenly on top.
Topping:
In small a bowl, mix the flour, brown sugar, and butter, using a pastry blender or fork, until a crumbly mixture forms. Stir in the oats and walnuts. Sprinkle the topping evenly over the filling.

Bake 15 to 20 minutes more or until the edges are bubbly and the topping is a light golden brown color.

Cool completely on a wire rack, for about 1 hour before cutting and serving.
Deliciousness to your inbox
Enjoy weekly hand picked recipes and recommendations