VERY EASY Crispy Pork Roast Recipe
Crispy Pork Roast has tender and juicy meat on the inside and super crispy and flavorful pork crackling on the outside. The whole thing is infused with flavors from the delicious crackling rub and does not take days of drying or any fancy tools to do. Just a roasting pan, boneless pork shoulder, and some seasonings.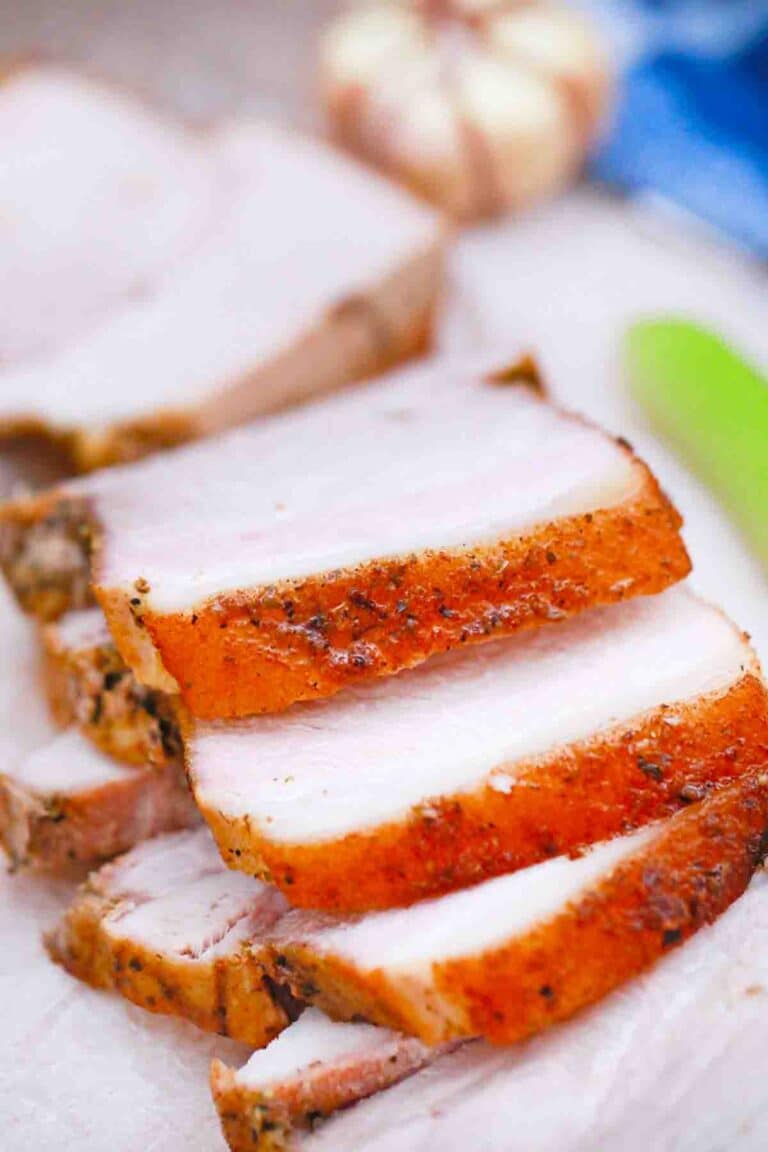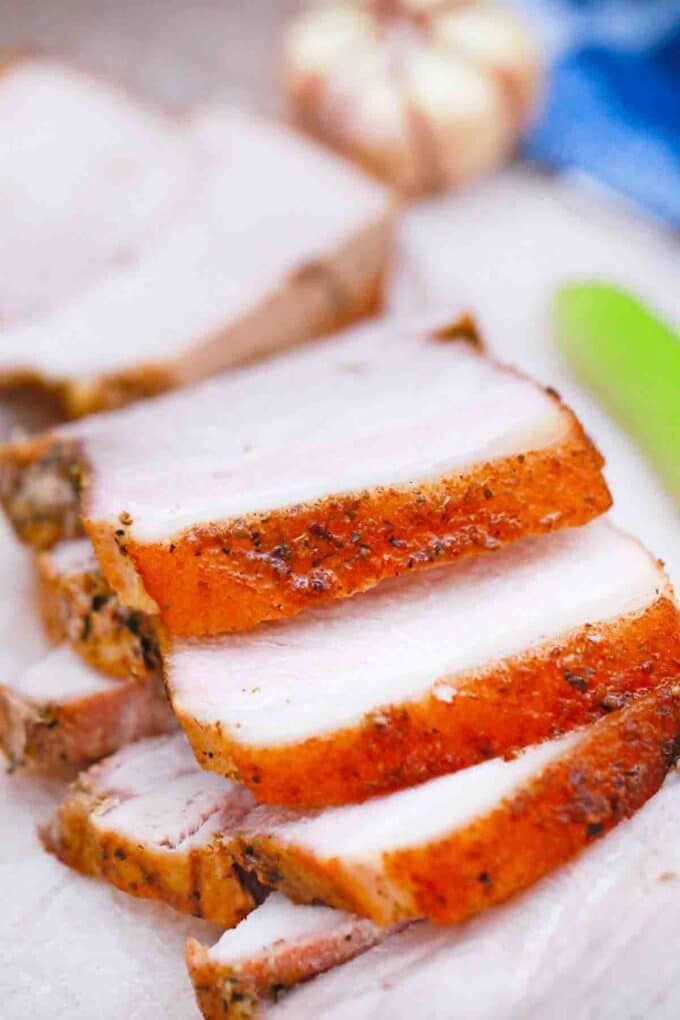 If your family liked this recipe, try our Slow Cooker Pineapple Pork Loin seasoned with brown sugar, garlic, and soy sauce. Another way to make a delicious pork loin is with our Roasted Pork Loin recipe.
Pork crackling, also known as pork rind or pork scratchings, is thought to have been invented back in the 1800s when meat was scarce. The working-class folks in the West Midlands of England kept their own pigs for food and rather than waste any part of it, they started coming up with recipes to make the skin edible. It was then that they discovered how delicious it was when crispy.
Crispy roasted pork is cooked until it is fall-apart tender with crispy pork crackling that melts in your mouth. The rub makes the meat taste incredible with the flavors of garlic, oregano, paprika, basil, parsley, and ground mustard. But it is the cooking salt that gives this pork roast its signature crispy crackling.
Thinking about making a tenderloin instead? Our recipe for crockpot pork tenderloin with balsamic vinegar, brown sugar, and soy sauce is perfect. If pork chops are more your thing, these crispy baked pork chops will wow the family with delicious Italian breading.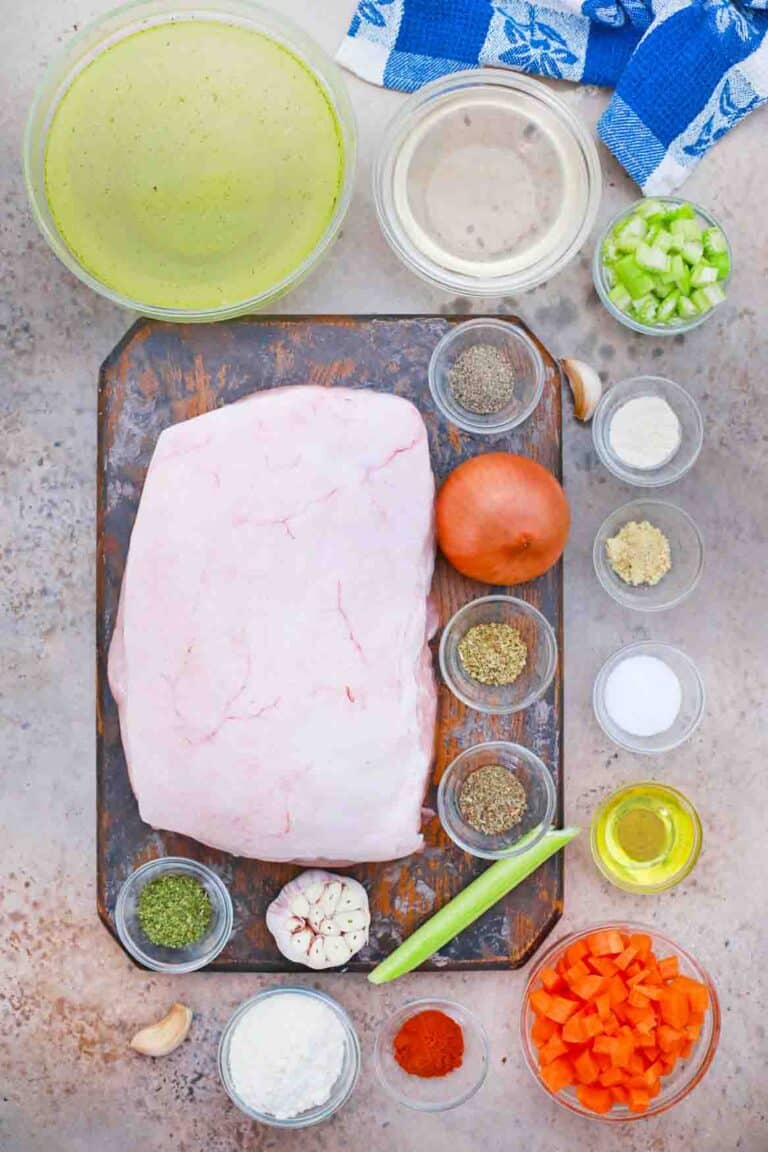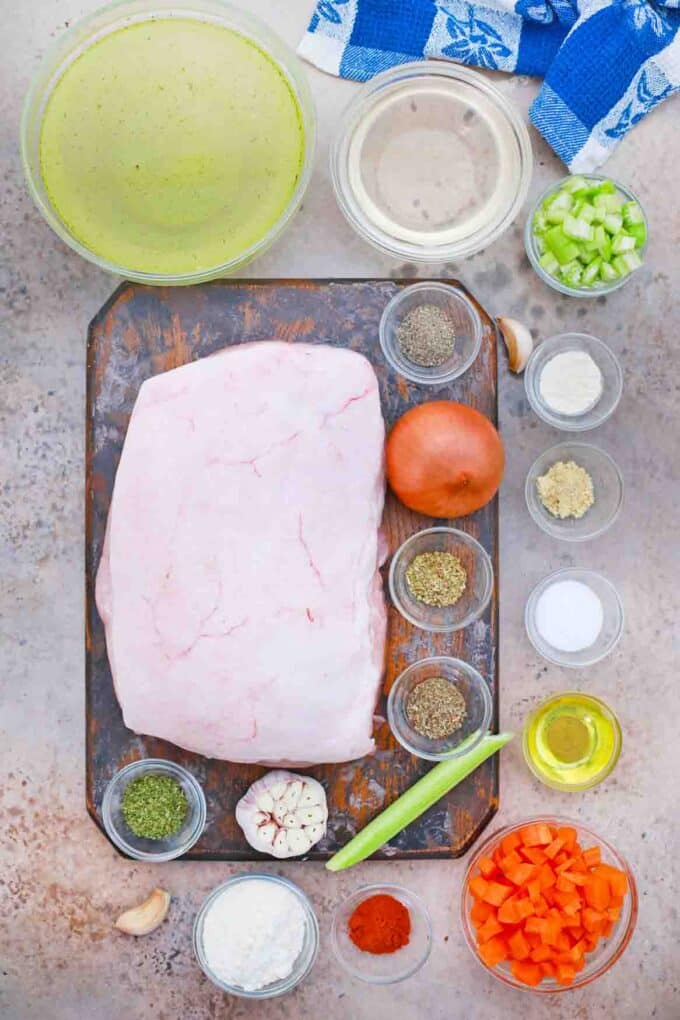 Ingredients needed:
These are the simple ingredients for this roast pork recipe. Scroll down to our recipe card for complete instructions and exact measurements.
Boneless skin-on pork shoulder: Remove netting, unroll, and do not score.
Rub:
Garlic powder
Ground mustard
Dried parsley
Dried basil
Dried oregano
Smoked paprika
Black pepper
Cooking or kosher salt granules: Do not use table salt or salt flakes.
Other ingredients:
Dry white wine
Celery stick: Roughly chopped.
Carrot: Cleaned and chopped.
Onion: Cut in half.
Garlic bulb: Cut in half horizontally.
Olive oil
Gravy ingredients:
Low-sodium chicken stock
Flour
Salt and pepper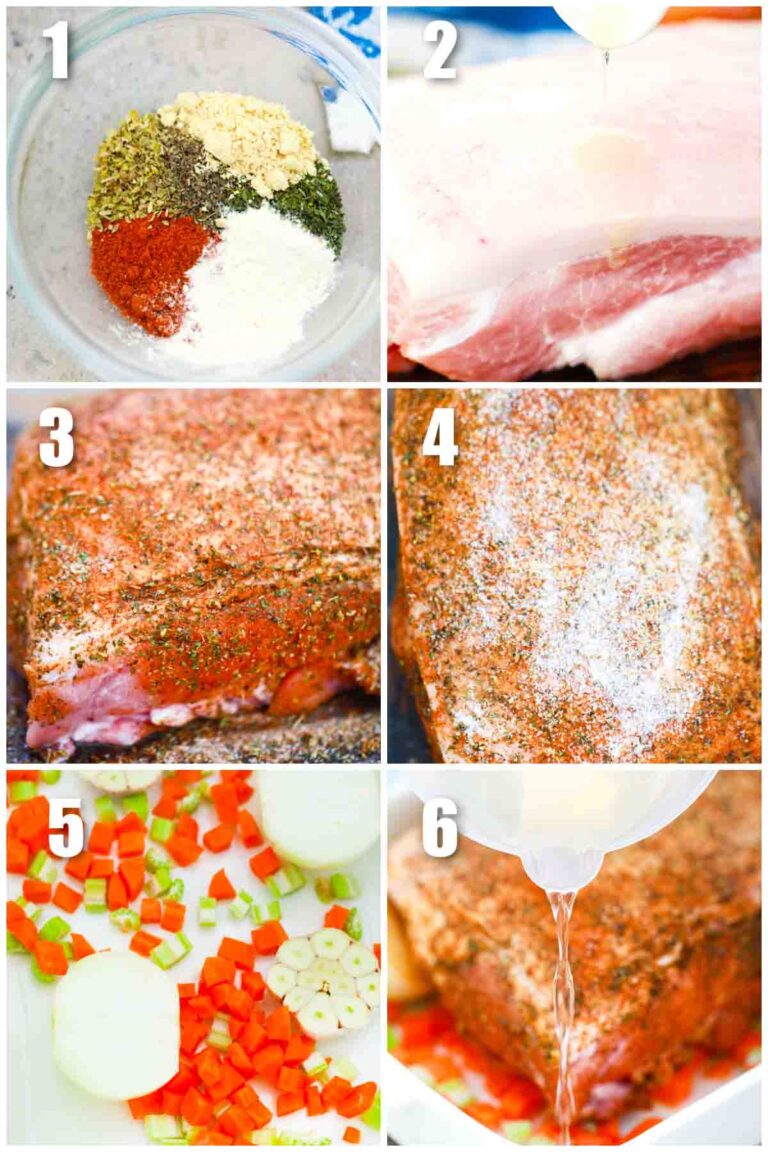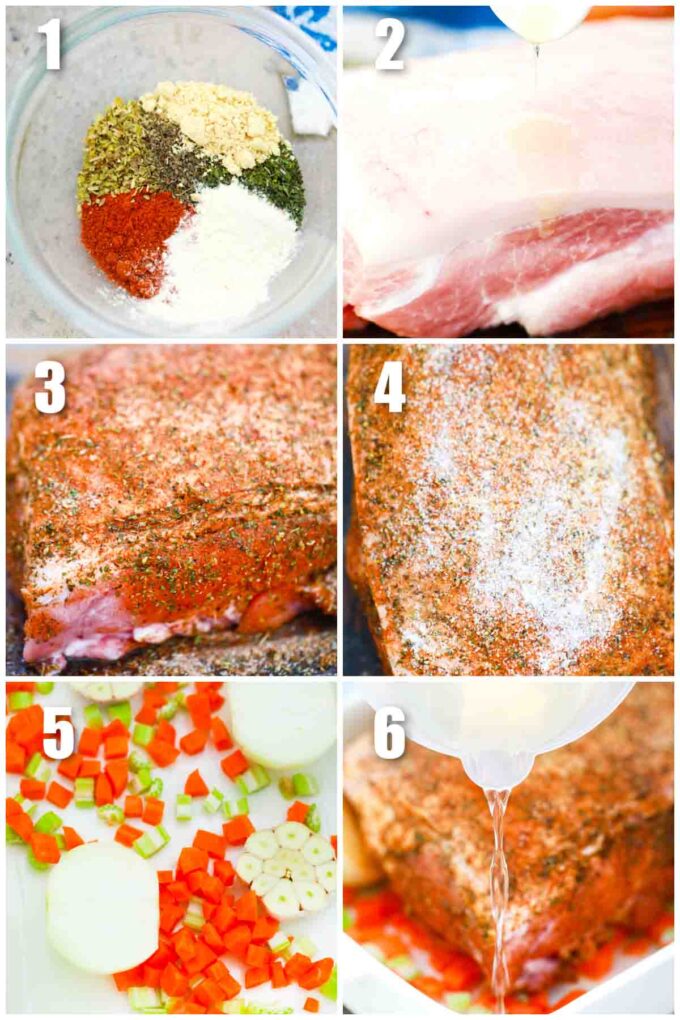 How to make crispy roast pork from scratch?
Prep the meat: To begin, remove the netting with a sharp knife and unroll the pork roast. Pat the skin dry with a paper towel. For best roast pork, leave it in the refrigerator overnight uncovered. If not, just dry it extra well.
Preheat oven: Preheat your oven to 430 degrees F.
Massage and rub: In the meantime, massage oil all over the pork roast. Then, sprinkle the rub mixture into the flesh. Make sure you get it into all the cracks and crevices.
Salt the pork rind: Now, flip the pork over to the skin side and drizzle oil on it, rubbing it into the skin with your fingers. Sprinkle salt all over the skin, making sure it is evenly covered. Any uncovered pieces will not bubble. It will be flat and hard.
Place the veggies: Next, place the carrots, celery, onion halves, and halved garlic bulbs in the bottom of a roasting pan or rimmed baking sheet. Place the pork skin side up on top of the veggies.
Cook on low temperature: Then, pour the wine into the pan without getting any onto the skin before putting the pan on the middle oven rack and immediately turn the oven down to 320 degrees F. Roast pork for 2 1/2 hours. It is important to cook it slowly to break down the connective tissue.
At 1 1/2 hours: After 1 1/2 hours, check the pork to make sure it is still level. If it is unlevel, use balls of aluminum foil placed under the pork roast to level it as much as possible.
Check the meat juices: Also at this time, check the pan juices. If it is drying out, add some water or broth but do not get it on the skin. If there are any bald spots on the skin, brush lightly with oil and add more salt. Return pork back to the oven to continue roasting.
Blast the heat: Once the time is up, turn the oven up to 485 degrees F or as high a temperature as it will go. Put the roast back in for 30 more minutes, rotating if needed, until it is bubbly and crispy all over.
Protect the skin: If certain spots on the top are getting too dark, use foil patches attached with toothpicks soaked in water.
Transfer pork: Last, once the top is fully cooked and crispy on top, remove it from the oven and transfer it to a serving platter. Place a foil tent loosely on top and let your meat rest for 20 minutes.
Slice and serve: Finally, remove any excess fat and slice with a serrated knife. Serve with gravy on the side.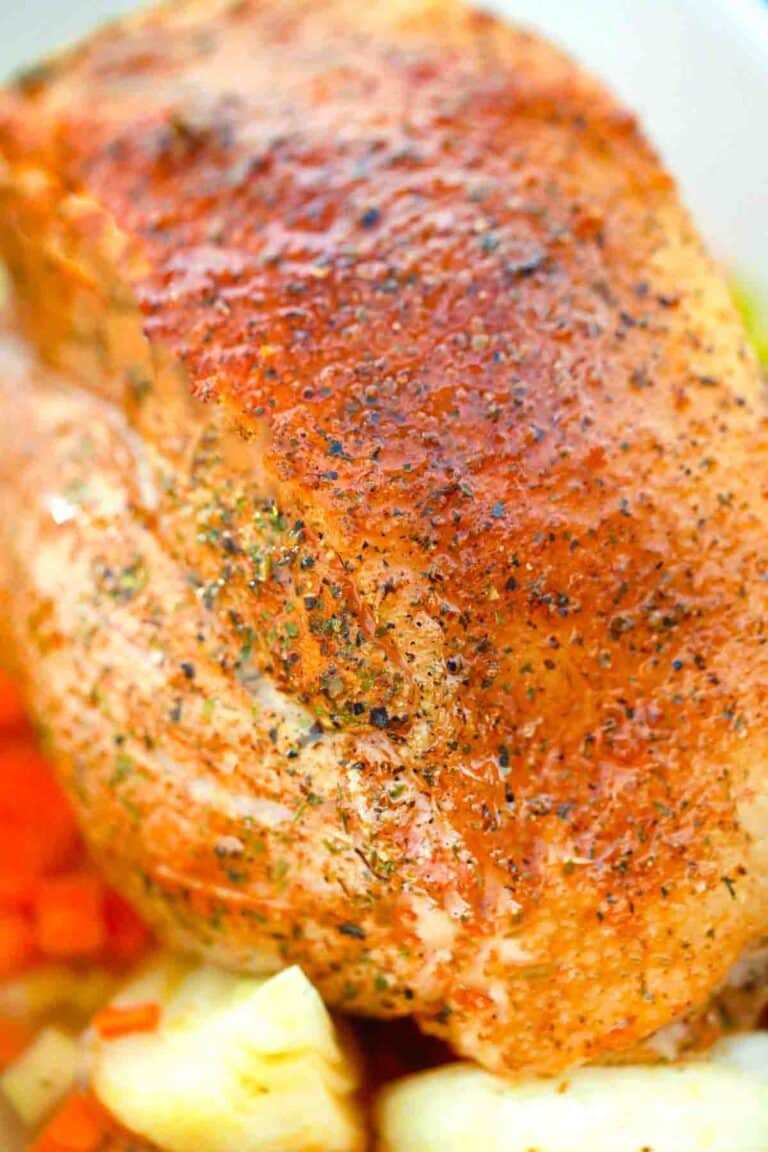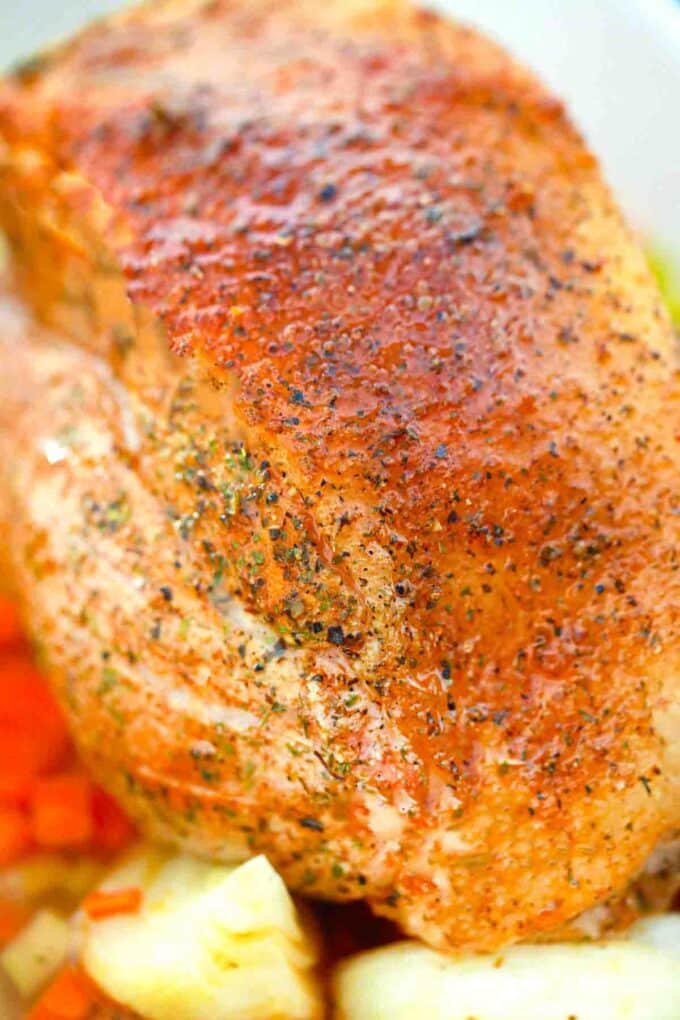 Make the gravy:
Boil the stock: First, heat the stock in a small pot over medium heat until it boils.
Let it simmer: Then, let it continue to cook on low until it is reduced, stirring frequently. Add flour and whisk until it is completely mixed in.
Season: After, add salt and pepper to taste.
Recipe variations:
Different oil: You can use any kind of oil you like cooking with.
Use broth: Low-sodium chicken broth is fine too.
Dry wine: Any kind of dry wine is good for this recipe.
No alcohol: Alternatively, you can also use cider or apple cider vinegar.
Sweeten the pork: Add some brown sugar to your rub for a sweeter pork roast.
No sugar: If you do not want to use sugar, try honey or maple syrup.
Different sweetness: Feel free to use fruit to sweeten your roast instead. Pureed apples, pears, or pineapple would be a great addition to the juice.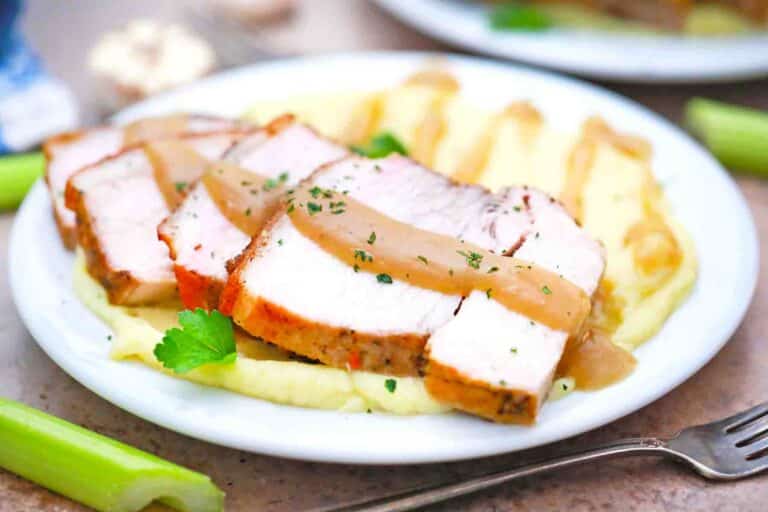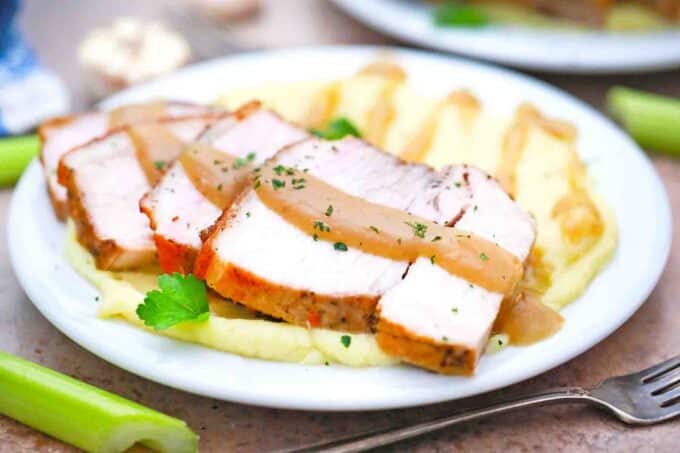 How to serve:
Place your finished pork roast on a serving plate and serve alone or with your favorite side dishes. Try one of our delicious serving ideas here or share your own in the comments section at the bottom of the page. We love to read your recipe tips!
Besides the carrots and celery in the recipe, why not add your own favorite veggies like broccoli, corn, or asparagus? This recipe for slow cooker creamed corn is divine.
Use your own recipe for gravy instead of ours if you like. You can even share the recipe with us in the comments section.
Every roast goes great with a scoop of gravy but pork roast is delicious with cranberry sauce too.
Or you can top your pork roast with dried cheese like parmesan for an extra-rich flavor.
Try our recipe for crispy air fryer potatoes that can be on the table in less than 30 minutes.
You can use your leftover pork roast to make sandwiches for lunch the next day.
Frequently asked questions
What is the best pork roast for this recipe?
Boneless pork shoulder is what we prefer for this recipe. It should be freshly cut for best results and have flat dry skin on top. However, you can also use pork loin, pork belly, pork butt, or any other piece of pork that has a fatty skin layer or pork rind.
Why is my roasted pork not crackling?
It is essential that your pork roast is cooked at a high heat of 485 degrees F for about 30 minutes in the final cooking process. You also have to make sure you cook it uncovered. For perfect crackling, the skin has to be cooked in open heat. Also, do not add too many extra veggies with a high water content such as zucchini, tomato, or pumpkin.
How can I save my pork roast crackling?
If your crackling is not as crispy as you like, do not panic! You can save it. First, preheat the oven to 425 degrees F. Then, cut the crackling off the top and cover the rest of the roast pork with aluminum foil. Next, put the pork rind on a piece of aluminum foil and cook for a few more minutes. Keep an eye on it because cooking time can vary, and you do not want it to burn.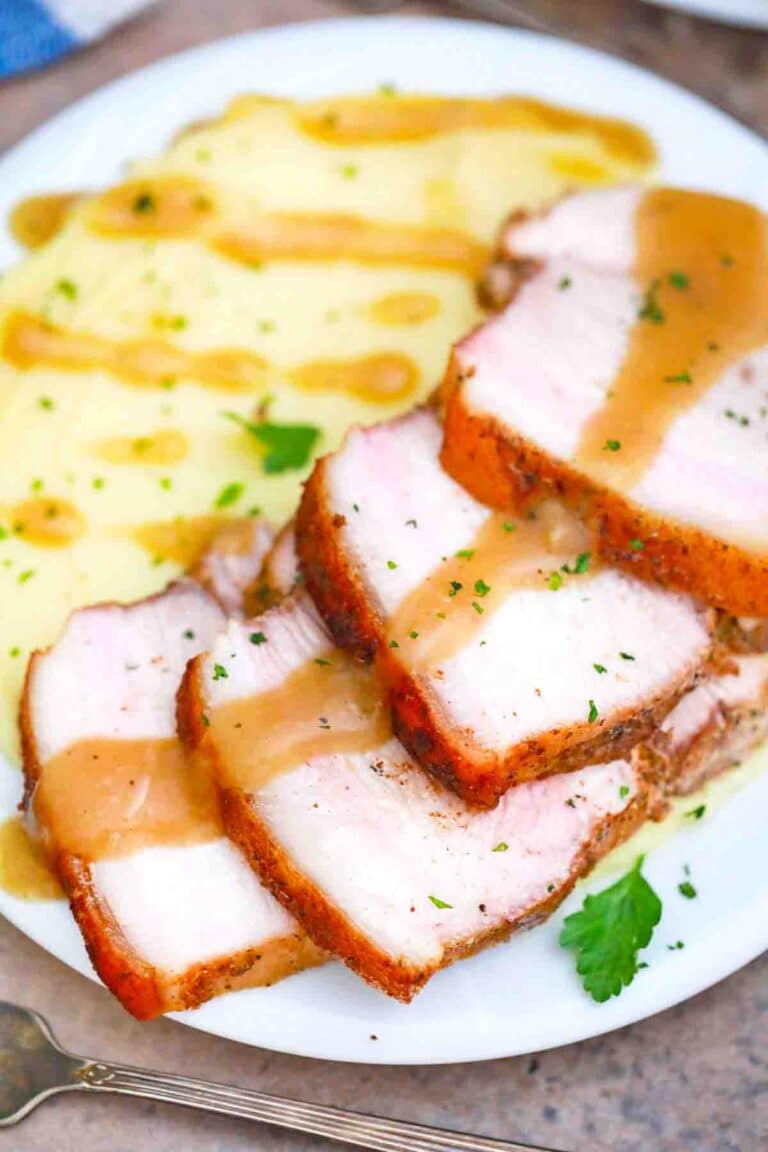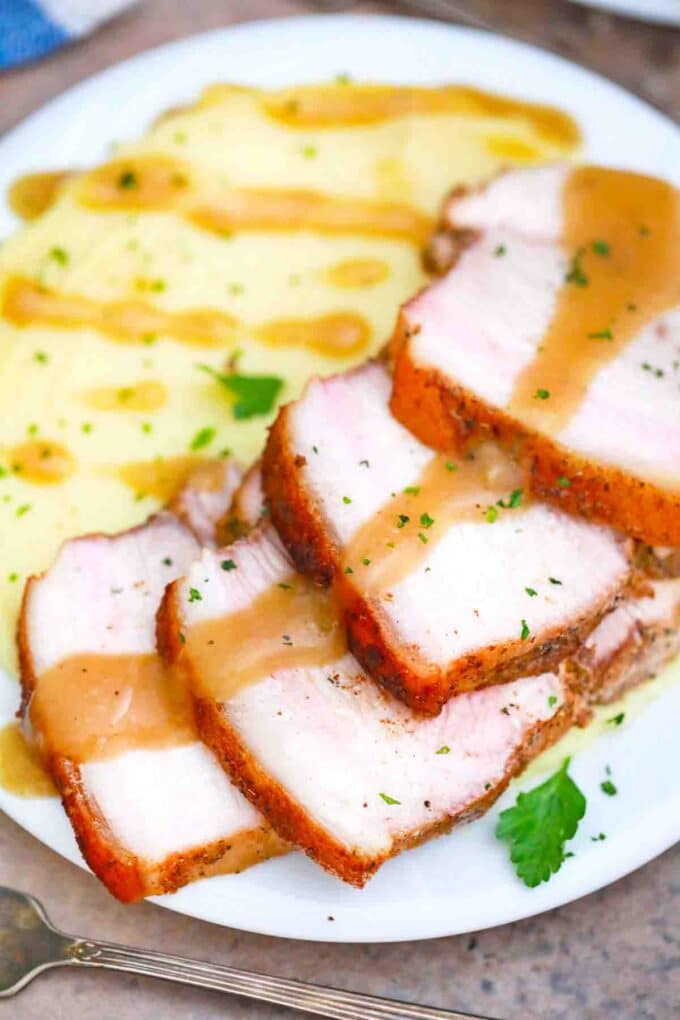 What are the nutrition facts in this recipe?
The nutrition information is estimated and based on these recipe ingredients in the exact measurements. On average, each serving has 440 calories, 33 grams of fat with 14 grams of saturated fat, and 236 mg of cholesterol. It also has about 400 mg of sodium depending on how much salt you use. This is why you should use low-sodium stock or broth. You also get 920 mg of potassium, 55 grams of protein, 3 mg of iron, and 60 mg of calcium.
More pork recipes to try:
How to store leftovers:
Store: To store your leftover roast, wait until it cools completely and then you need to separate it from the crackling. Wrap the roast in plastic wrap and place it in a storage bag or airtight container. Then, dry crackling with paper towels and wrap it with fresh dry paper towels in a different airtight container.
Freeze: To freeze, make sure you dry the crackling completely, wrap it tightly in plastic, and put it in a freezer bag. Be sure to press out all the air. You do not want any air or moisture in the bag. The roast can be wrapped in plastic and put in a separate freezer bag. They will both stay good for 60 to 90 days.
Thaw: Remember to thaw leftovers in the refrigerator overnight before serving.
Reheat: The crackling should be reheated uncovered in a hot oven or air fryer for several minutes. The roast pork should be wrapped or reheated in a covered dish with stock or broth.
Cooking tips:
For the perfect pork roast on your dinner table, you should start 24 hours in advance so you can dry your meat in the fridge overnight.
If you are cooking on a rimmed baking sheet, place a piece of aluminum foil under a wire rack inside and cover that with a piece of parchment paper.
Make sure you use kosher salt or cooking salt for this. Not flakes or table salt. You want the large grains for the best crackling.
Remove the netting and unroll it. Lay it out flat. The flatter the cut, the better.
For extra crispy pork crackling, make sure you cook your pork roast on very high heat. Meat cooked at a high temperature renders the fat away to leave the crispy crackling you want.
You do not need to score your meat. In fact, you should not do it. However, if it was scored when you got it, that is okay.
Drying in the fridge overnight is recommended for vacuum-packed meat in plastic wrap.
Use foil balls to level the skin for even heat distribution and crispy skin.
The cooking time will vary depending on the thickness of the meat.
Always check the temperature with a meat thermometer before serving. The internal temperature must be 145 degrees F after it is cooked and rested.
Do not pour gravy or any other liquid on top of the skin.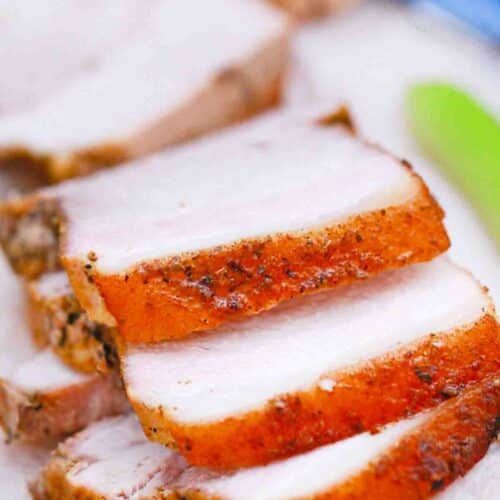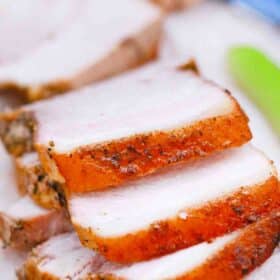 Crispy Pork Roast
Crispy Pork Roast has tender and juicy meat on the inside and super crispy and flavorful pork crackling on the outside.
Save
Share
Print
Pin
Rate
Ingredients
6

lb

pork shoulder

(boneless skin-on - NOT scored, unrolled / without netting)

2

tablespoons

olive oil

1

garlic bulb

(halved horizontally)

2

medium onions

(halved)

1

carrot

(cleaned and chopped)

1

celery stick

(cleaned and chopped)

2

cups

white wine

(or non-alcoholic cider, or chicken stock)
Rub:
4

teaspoons

kosher salt

(NOT table salt)

1

teaspoon

ground black pepper

1

teaspoon

smoked paprika

1

teaspoon

dried oregano

1/2

teaspoon

dried basil

1/2

teaspoon

dried parsley

1

teaspoon

ground mustard

2

teaspoons

garlic powder
Gravy:
1/4

cup

all-purpose flour

2

cups

chicken stock

(low sodium)

Salt and pepper

(to taste)
Instructions
Plan the recipe in advance. Start by pat drying the pork with paper towels. Place it in a baking dish, cover it with plastic wrap, and leave it in the fridge for a few hours or overnight.

Remove the meat from the fridge, and pat dry it again with paper towels. It is important to remove as much moisture as possible.

After that, rub the pork on all sides with 1 1/2 tablespoons olive oil.

Mix the rub ingredients in a bowl, using only 2 teaspoons of salt.

Rub the mixture very well into the flesh.

Next, drizzle the SKIN with the remaining 1/2 tablespoon of olive oil, then rub it all over with your fingers. Sprinkle all over with the remaining 2 teaspoons of salt, making sure to cover the surface evenly.

Place halved garlic bulbs, onion, celery, and carrot on the bottom of a roasting pan.

Place the pork skin side up on top of them and pour the wine into the pan, careful not to wet the skin.

Transfer to the oven and immediately lower the temperature to 325°F. Roast for 2 1/2 hours.

Check the pork after 1 1/2 hours, if the liquid in the pan is drying out, add some water, about 1/3 cup. If there are bald patches on the skin without salt, spray the skin lightly with oil then sprinkle with salt. Continue to roast for the remaining 1 hour.

Turn oven to 480°F and roast the pork for 30 minutes, rotating pan as needed, until skin is crisp and bubbly all over.

Transfer the roast to a serving platter, tent it loosely with foil, and let it rest for 20-30 minutes. Then slice it using a serrated knife.
Gravy:
Skim off 3-4 tablespoons of fat from the roasting pan and add it to a saucepan.

Strain the pan juices in a bowl. Skim off excess fat from the surface and discard.

Place the saucepan with the fat over medium heat, whisk in the flour, and cook for 1 minute.

While whisking, slowly pour in the stock, so it's lump free. Then whisk in the strained pan juices.

Simmer until thickened, about 3 minutes, and adjust salt and pepper to taste.
Nutrition
Calories:
354
kcal
|
Carbohydrates:
9
g
|
Protein:
35
g
|
Fat:
15
g
|
Saturated Fat:
5
g
|
Polyunsaturated Fat:
2
g
|
Monounsaturated Fat:
8
g
|
Cholesterol:
113
mg
|
Sodium:
1134
mg
|
Potassium:
732
mg
|
Fiber:
1
g
|
Sugar:
3
g
|
Vitamin A:
1142
IU
|
Vitamin C:
4
mg
|
Calcium:
48
mg
|
Iron:
3
mg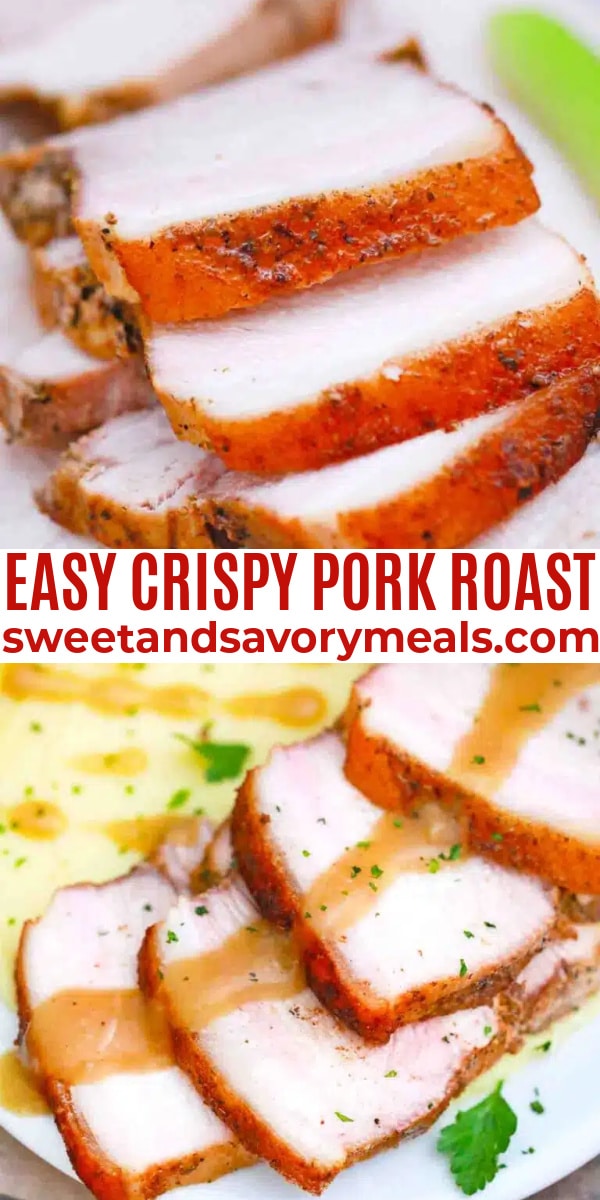 More recipes you might love